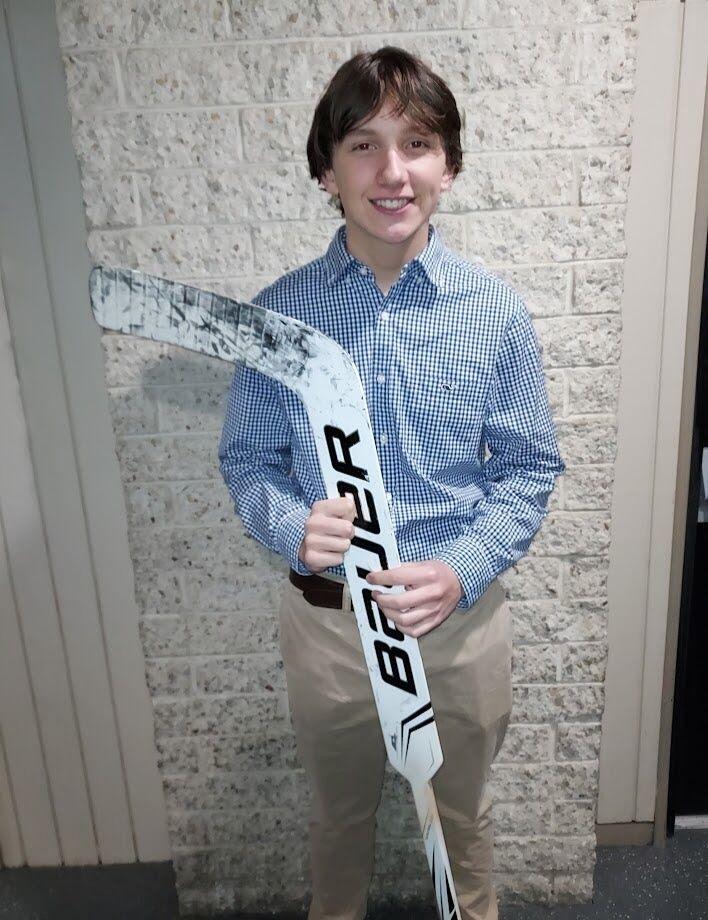 To be an ice hockey goalie is to be of a different breed. The mind becomes a delicate mechanism that must push negativity to the rear, but still keep a mistake on record in order to correct it.
For instance, there is no sense dwelling on giving up a goal and letting it ruin the rest of your game... or beyond. Then again, there is a need to know why that goal was scored so it doesn't happen again.
That is the mindset of Hopewell Valley Central High junior netminder Ryan Morici, who understands the mind game so well.
"You've gotta put it behind you when they score a goal," Morici said. "But at the same time you have to think about it and reflect on how you can do better and move on."
The tall, wiry goalie has managed to do that for the most part since moving into the starting role this year.
Through the Hopewell-Montgomery co-op team's 5-3-1 start, Morici made 141 saves and allowed 15 goals for a save percentage of over .900 through six games (freshman Blake Echternacht played, and won, the other three contests during that period).
Bulldogs coach Jeff Radice says Morici has the perfect mentality for a guy who has hard plastic discs whizzing at him.
"Ryan is one of the most nonchalant, easy going guys," Radice said. "He doesn't let anything get to him. I'll never catch him on an off day. .Even if he's having a bad day, you'd never know it. He shows up smiling with a great attitude."
It does not mean, however, that he does not take hockey seriously.
"He definitely sees the game well," the coach continued. "He's just dedicated his life to it. It's something he's really passionate about."
Morici began playing at age 5, and was a regular position player skating on the ice. At the same time he enjoyed playing knee hockey, which is when players use a foam ball instead of a puck and play on their knees. That made him want to try goalie, although his parents winced at the thought of pucks flying his way. They soon found that to be better than their son getting crunched against the boards.
"My parents weren't too sure," Morici said with a chuckle, "But then when we started checking each other, they wanted me to switch over."
He moved into goal at age 11 and felt "it was a little scary, but you kind of get used to it. You see the puck and just follow it to the glove."
Morici makes it sound simple, but seeing the puck through a maze of sticks and bodies crashing about isn't all that easy; especially as the competition increases.
As a freshman, Morici was forced into action quickly when starter Aidan Schaefer was injured.
"That was a little scary when I first got out there with the seniors my freshman year," he said. "That first game I definitely had some nerves. But I got used to it, and now I'm enjoying it."
Morici's first high school game proved memorable. He only faced eight shots, but made all eight saves to record the shutout in a 3-0 win over Red Bank Regional. He suffered his first loss the following game against Robbinsville, but was stellar in making 30 saves on 34 shots.
Schaefer soon returned to the lineup, but Morici ended up playing another full game that year, and saw bit action in three other contests.
"That's so important to build these guys when they're young," Radice said. "The only way to really learn is to do it. This sport is something where you can practice it as much as you want but the only way you can truly learn is to throw yourself in the fire."
Morici played just two games in last year's Covid-19-shortened season. His best effort came in a 4-4 tie against Paul VI, when he made 36 saves.
Through his first six games this season Ryan forged a 2-3-1 record but was solid in each outing. He had 18 saves for a shutout against Edison and stopped 20 of 22 shots in a win over Lawrence-Ewing-Hightstown. In the three losses he turned back 78 of 87 shots.
"I'm working really hard at it," Morici said. "I'm playing club hockey for the Princeton AA, that team's pretty good. I've played travel since I was four, I've gone to a lot of private lessons and gotten prepared."
And with preparation, comes self-assuredness.
"The private lessons were a big help," he said. "They really just helped me get faster on my feet and more confident. I think confidence is a big thing."
In assessing his play, Morici feels he takes an aggressive approach to try and short-circuit scoring opportunities.
Radice feels his goalie has other positive attributes as well, noting that "He's got great leg strength. His rebound control is great and he has a quick, short memory. He never lets anything really get to him."
One thing is certain: moving to goalie was the right option for Morici. "I wasn't the best as a player," he said. "But switching to goalie made me fall in love with the sport."
When he's not holding a stick, Morici has a golf club in his hand as he has switched from baseball to golf. He played four matches for Bill Russell's powerhouse program as a sophomore.
Morici is hoping to continue with hockey for as long as possible, and Radice will just cherish the time he has with him in goal for this year and next.
"You have to trust your goaltender, and we trust Ryan," the coach said. "If you don't trust your goaltender then you play scared hockey. And scared hockey doesn't win hockey games."