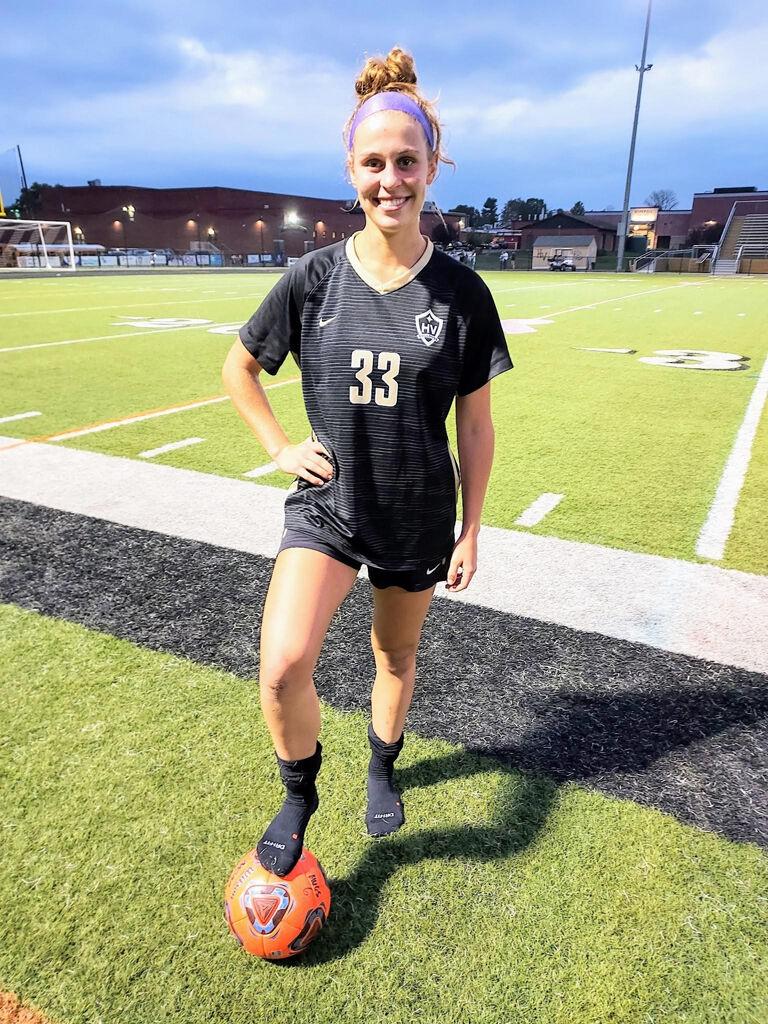 The question was put to John McGinley innocently enough. Where is Sarah Yancey's best position on the field?
There was a pause, then a laugh by the Hopewell Valley High girls soccer coach.
And finally, an answer.
"I think that her main spot is the best place she can help our team," McGinley said. "I'm not being a cop out. Sometimes we need someone to mark a kid, she'll do it. Sometimes we need speed up top, sometimes we need a kid who's just gonna be aggressive in the middle with the ball. Her best spot is where we need her for that game.
"She's played everywhere and she's willing to do it. She doesn't go, 'I can't do that.' She'll say 'OK I'll do it.' The only place she hasn't played is goalie."
Uh, that's not necessarily true.
Yancey played goalkeeper for two or three years in travel for Hopewell Valley Soccer Association. "I loved playing goalie," she said. "It helped me develop a more gritty side of me. As a goalie you just have to go in and dive and get dirty. So it's kind of given me this gritty aspect, I understand the importance of hustling and that kind of thing."
It is that attitude along with the versatility to play anywhere, that has McGinley calling Yancey the engine that makes Hopewell go. The Bulldogs entered the Mercer County Tournament semifinals with a 15-1-2 record, and Yancey had recorded 10 goals and three assists.
She has 23 goals and 16 assists in her four-year varsity career, and that total could be much higher were she left to just play center midfield or forward.
But her contributions may not have been as valuable.
"We basically move her to where we think we need her against certain opponents because we know she can play anywhere," McGinley said. "I played her up top against West Windsor North and the next game I moved her to midfield against PDS (Princeton Day School).
"In our second game this year we played at North Hunterdon. You're on the road, it's a long ride, we're up there and they're all over us for the first 15 minutes and scored. I just put her on their best player and that won the game (3-1). The game was changed. All of a sudden the kid didn't have that space she needed."
Moving around the field is nothing new to Yancey, who jokes that her position is "miscellaneous."
"Ever since I was younger I've been all over the place," she said. "It's always just been that way. My freshman year I played some wing, and then I moved to center-mid. I've been playing some center back. I actually enjoy playing everywhere."
She mainly played attacking wing as a freshman, but even then McGinley shifted her to other spots.
"I always went into games with the mindset of playing wherever he needs me," Yancey said. "It's the same thing in club, actually. I was kind of all over the place."
After starting in rec ball, Yancey began HVSA travel in fourth grade, moved to Y&S and now plays for NLSA.
"I feel like HVSA sparked my love for soccer because I really kind of learned about camaraderie and about the team aspect," she said.
When Yancey first arrived at Hopewell, she impressed the coaches immediately.
"What we loved about her, and it's hard to find sometimes, is she's a kid who was coachable," McGinley said. "She would listen and do whatever you asked her to do. She's the kid that whether you win or lose, you're gonna roll your dice with her because you know she gives 100 percent. There's no half with her. I remember the first time I saw her play, she lost the ball, immediately sprinted and won it back. You don't see that a lot."
There was work to be done, of course. Yancey started as a one-v-one type of player who would pick up scrappy goals. As time went on, she worked hard to refine her skills and become a complete player, which allowed McGinley to move her around.
Yancey admits that at times it has been difficult adapting to a new spot, but credited her teammates for being there to support her and lend guidance when needed.
"Just being able to turn to them when I'm confused or need help has been huge," she said. "But I will say its gotten easier through the years to be that flexible player, because I feel like I have more perspective of understanding everyone's positions.
"When I'm at center-mid, I understand where the winger is gonna be because I used to play that position. And I know what ball I need to play to them. It definitely has helped over the years because I do feel I've gained some perspective and knowledge on every single position. It's been a big learning experience and it's helped me a lot in the long run."
Yancey enjoys playing center-midfield the most because of the numerous responsibilities it entails. She feels the most difficult spot is center-back.
"It's very challenging," she said. "It's a very physical position, and defending is very mental, just knowing where to be at the right time, reading the play. I've had teammates like Mea Allex helping me, but it's been a big challenge."
Aside from athletic ability and desire, it also takes intelligence to master so many positions. Yancey certainly has that, as she possesses a 4.0 grade point average and 4.4 weighted GPA. She is a member of Hopewell's POOF Club — Power Of One Friend — and works with fellow students with mental or physical disabilities.
"I love that club, it's so much fun," she said.
In looking at colleges, Yancey's top two choices are Boston College and the University of Richmond. She has been recruited for soccer by Division III schools, but is looking to go to a larger institution while focusing on either health and sciences, physical therapy or nutrition.
"I'd love to play college soccer, but I don't think it's possible right now," she said. "I'm going to focus on academics, see what schools I can get into. I'm hoping to either play club or walk on, depending on where I go."
If she does end up on a team, rest assured they won't have trouble finding a position to put her.