For many years, the Sourland Conservancy depended on two main events for fundraising: the Sourland Mountain Festival, held annually in July, and the Sourland Spectacular cycling-hiking-running event, held each September.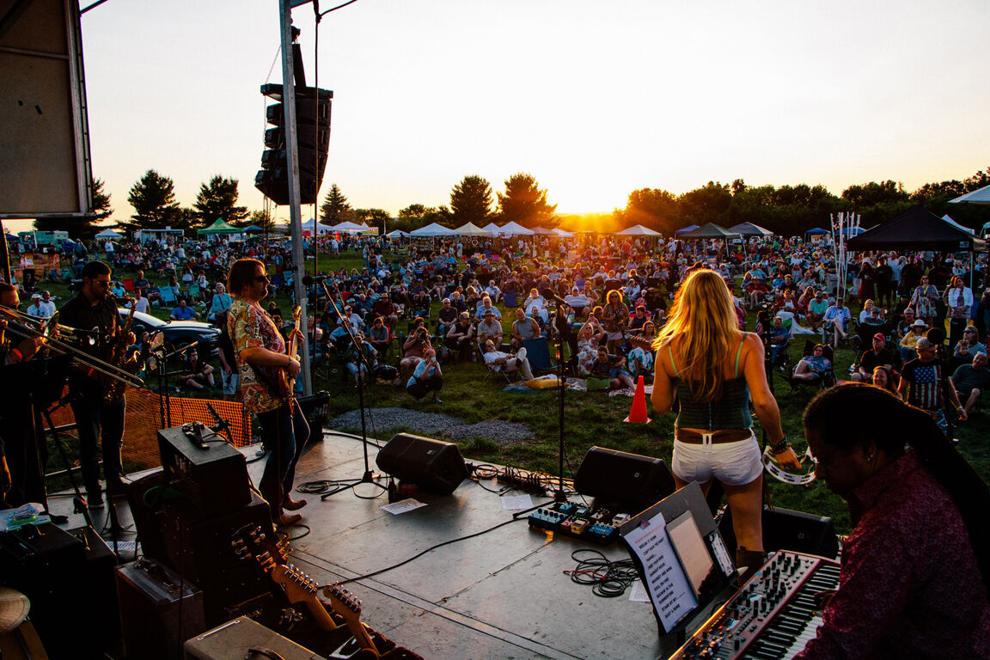 Like so many things the past few years, these traditions were compromised by the coronavirus pandemic. The Sourland Spectacular returned as a regular event in 2021, but the festival was canceled for both 2020 and 2021.
And now it is back! The 17th annual Sourland Mountain Festival is set to take place on July 23, rain or shine, at Unionville Vineyards in Ringoes, a new venue for the event. In prior years, the festival has been held at Hillsborough Golf and Country Club, which announced its permanent closure this January.
The festival, which is set to start at 3 p.m. and go until 8:30, will feature a variety of live musical performers, food vendors, artists and artisans. As usual, local businesses and organizations will also be on hand to do outreach and support the event.
The pandemic came at a particularly painful time for the Sourland Conservancy and the festival committee because the 2019 version was the most successful one ever held, attracting a reported 2,300 attendees.
Unionville Vineyards has a maximum occupancy of 1,000, so this year's festival will not be reaching those numbers. But event co-chair K. Suzanne Parsons says the winery will be an excellent site for the event.
"We didn't actually have the festival the last two years, but we had other things to tie in the festival concept," says Parsons, who has been involved with the festival for about eight years. "In 2020, we had Save the Sourlands Solofest (online), and we got a beautiful film out of it. In 2021, we had Sourland Mountain Happy Hours, one every month for six months, and the last one was live.
"Then the board of trustees said, 'What about reviving the festival this year?' And here we are."
Parsons, who is co-chairing the event this year with Alison Kavchok, says the music is her favorite part of the festival. This year's lineup is set to include The Outcrops, James Popik and Supernova, Rainbow Fresh, and Water Street.
Food and beverages will be provided by Unionville Vineyards, Flounder Brewing Company, Sourland Mountain Spirits, Blauwenburg Bistro, Johnson Family Ice Cream, Barn Find Barrel Aged Coffees, We Squeeze to Please fresh lemonade, and Thai Cha Chak.
Attendees who purchase VIP tickets will be entitled to eat food prepared by Ryland Inn chef Chris Albrecht. VIP tickets are sold on a limited basis and available only for people 21 and older.
Crafts and service vendors set to be on hand include Ben D. Straw Creative, Press Designs DTG Printing, Freitag Arts, Dandelion Wishes, Seeds to Sew International, Nonesuch Studio, Whitehouse Station Sauce Company, Turtlemoon Studios, Carolina's Line, Sailor Tarot Magic, Applied Illustrations, Bracelets From Heart, and Wildbone Alchemy.
Educational programs will include "History Lane," a selection of local historians and geologists on hand to share knowledge and answer questions about the region, and a scavenger hunt open to only the first 250 participants.
Also set to be on hand are organizations including Sourland Stewards, the Department of Environmental Protection, the Stoutsburg Sourland African American Museum, and Sourland Cycles. The New Jersey Audubon Society will also offer a bird-watching nature hike during the festival.
In 2019, organizers began the effort to convert the festival into a zero-waste event. That effort is set to continue.
Single-use plastics are strongly discouraged, and not provided by festival organizers, although some food vendors may still make use of them. Attendees are asked to bring reusable water bottles which can be filled free of charge at the festival.
The festival was originally called the Sourland Music Festival. It was founded by Tom Kilbourne and James Popik, Sourland Conservancy members, circa 2003. It was originally held at Hillbilly Hall in West Amwell. before outgrowing that location. It then moved to the Polo Field at Hillsborough Golf and Country Club, where it was held through 2019.
The Sourland Mountain Festival is intended to benefit the Sourland Conservancy, an organization dedicated to the protection, promotion and preservation of the 90-square-mile region known as the Sourland Region. The Sourland region is a hard diabase ridge starting near Lambertville and stretching eastward toward Hillsborough. It is one of the three major areas of unbroken habitat in New Jersey and is said to be home to the largest contiguous forest in Central New Jersey.
The Sourland Conservancy boasts of the region as consisting of a vast ecosystem of forest, wetlands and grasslands, as well as numerous hiking trails and preserves for the public to enjoy. The region is home to a beautiful array of plant and animal species, some of which are rare or endangered.
Volunteers are needed before, during, and after the festival. Volunteers receive free admission, a Sourland Mountain Festival T-shirt, and refreshments. Register at: sourlandmountainfest.com.
Sourland Mountain Festival, Saturday, July 23, 2022, from 3 to 8:30 p.m. at Unionville Vineyards, 9 Rocktown Road, Ringoes NJ. Tickets limited to the first 1,000 and are available online at a discount until July 22. Children under 12 enter free. Service pets only.
For more information, visit sourlandmountainfest.com.