Uma Purandare can look out the window of her home in Brandon Farms and see the house of Hopewell Township Mayor Julie Blake.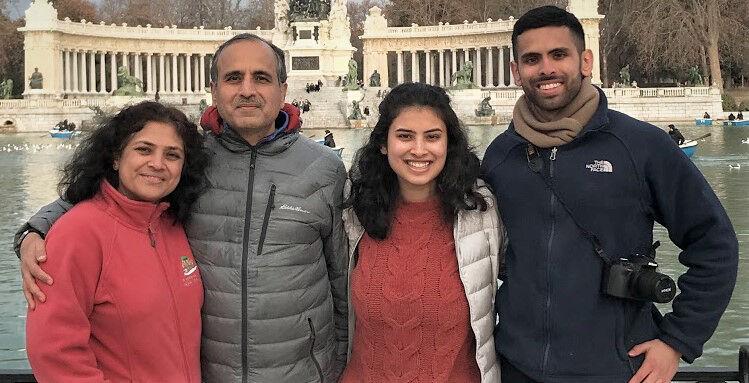 When Blake decided in September not to run for a third term on the township committee, and Purandare stepped in as the Democratic candidate, the mayor did not literally hand over a baton to her neighbor. Purandare still had to run for, and win, a seat that Blake has held for almost six years.
But when all the votes were counted on Nov. 3, Purandare had received 4,210 votes to Republican Edward "Jack" Jackowski's 2,911, meaning she could grab that baton at last — figuratively at least.
Purandare says she has big shoes to fill in taking Blake's seat on the committee. "We've been friends and neighbors for 20 years. She's been my mentor. I have seen her working like crazy during this Covid pandemic, and I would really like to commend her for her work and thank her for her leadership," Purandare said in a Nov. 21 phone call with the Express.
Blake told the Express in September that she did not want to step aside unless she had confidence that the Democrats could name a good candidate to take her place on the ballot. After deciding not to run, she spoke to Purandare about taking her place on the ballot.
"When Uma said she might consider it, I said, 'OK, we're headed in the right direction,'" Blake said. "It's really nice to have somebody who lives in the southern part of the town, who knows what the southern part of the town cares about. We want as many voices on that committee as possible."
Purandare is no stranger to public service. She has served for the last six years on the township's zoning board — as Blake did before her.
"When she approached me, saying she needs a break, I was humbled and honored that she had that trust in me," Purandare said. "At the same time, it was like, 'Oh my God, she has done such a wonderful job.' I was aware that I have big shoes to fill. At the same time I was excited for the opportunity. So I talked to my family and I decided to take on this challenge."
Purandare, 54, grew up in Maharashtra, the second most populous state in India. Mumbai is the capital, but Purandare lived in Jaysingpur, a small town in the southeastern part of the state.
She said her grandfather was a prominent figure in the community. "He was a lawyer and in those days very much a kind of leader," she said. "I grew up in that atmosphere. Helping people, that's kind of ingrained in my brain. I always try to make the world better for people. I don't know how close I am to that, but I absolutely try to follow that path."
She graduated from Shijavi University in Kolhapur with a degree in biology and married her husband, Ashok, while still in India. When he came to the United States to do postdoctoral research, Uma came with him. Today, both are research scientists with Bristol Myers-Squibb.
"When he was busy doing his postdoctoral training, I also found research assistant jobs in those labs," she said. "I took some courses in molecular biology and cell biology and that's where I developed my passion for research."
The Purandares settled into Brandon Farms 23 years ago. Since then, Uma has been involved with many community organizations, including the PTO at Stony Brook Elementary School and the Hopewell Valley Mobile Food Pantry. When her daughter Radhika was younger, Purandare helped start up a local Girl Scout troop and serve as a leader for the group.
And 20 years ago, Purandare founded the Marathi Language School. Marathi is the language of Maharashtra, and the Purandares wanted their young children, Rohit and Radhika, to not only learn the family's native language, but also the family's culture as well.
"When we moved in, we realized that there were 20 Marathi families in Brandon Farms," Purandare said. "So I contacted them and we started this school."
The school was not formally organized. It had no funding and no home. It was run by parents like Uma who wanted their children to have a way to experience the culture and language of Maharashtra.
"When there would be a festival, we would talk about the festival, tying the culture and language together," she said. "We also got some workbooks from India to use to teach language in a way like they were used to learning in school."
Purandare said the idea was never for kids to feel forced to learn. The guiding principle was that the Marathi Language School would give them the skills they needed to both understand where they came from and also the ability to forge strong bonds with their extended families back in India.
"They should be exposed to our culture and they can decide to take the best from both worlds," she said. "We felt that it's our duty to expose them to the culture."
Although the Marathi School is currently on hiatus — many of the children who attended it in the first 20 years are grown — Purandare said she would gladly start it up again if there were interest.
The school even helped Radhika, now 22, become a pioneer of sorts when she was a student at The College of New Jersey. She petitioned the college to allow her to complete her foreign language requirements by taking an exam in Marathi. TCNJ agreed, and Radhika passed the exam.
Radhika, who graduated from Hopewell Valley Central High School in 2017 and TCNJ in 2021, was awarded a Fulbright scholarship that saw her head off to Sweden to study maternal health among immigrant populations.
Rohit, a 2012 CHS grad who attended the University of Pittsburgh and earned degrees in statistics and economics. He works in New York City.
* * *
While Purandare ultimately did win election to the township committee, there were moments on Election Day where it looked as though Jackowski might have pulled off what many would have considered an upset. The committee currently has five out of five Democratic members, and has skewed Democratic for some time.
Overnight results reported by Mercer County Clerk Paula Sollami-Covello on Nov. 2 showed Jackowski leading the vote. But Sollami-Covello cautioned observers that the county had not yet reported the results of any mail-in voting at that point.
Around midday Wednesday, when the mail-in voting results were in, Purandare pulled into the lead. She was certified as the winner of the race on Nov. 22.
"I knew on Election Night that we had done everything we could. I was surrounded by family and friends, some of whom had been through close election experience in the past," Purandare said. "I can't say I wasn't worried, but trying to be optimistic and was very pleased when the mail-in votes started to be reported. Our hard work had paid off. It was one of the happiest moment in my life!"
She offered thanks to her campaign and also to Ed Jackowski, whom she called "an upstanding citizen of this town."
"He actually provided the voters with a choice and gave them the chance to execute true democracy," she said.
When she takes the oath of office in January, Purandare will become the first person of Indian descent to serve in elected office in Hopewell Township. She says that the distinction is meaningful not only to her, but she hopes to everyone in Hopewell's Indian-American community.
"More diversity was brought into the town when Brandon Farms was built. Being recognized as a leader from South Asia is absolutely an honor," she said. "I hope there are a lot of young people who will look at me as a community leader, especially the girls. But we still have a lot of work to do in that area. I honestly encourage everybody, particularly the Asian population, to get more involved in the township and show that we are part of the township and we all bear the responsibility of making this a better place for everyone."
She also said that she is committed to representing all people of Hopewel Township,
"Some people did not vote for me, but I don't hold anything against them," she said. "That will make me work even harder understand what we disagree upon and build a bridge there. Clearly even Mr Jackowski decided to run, he has things that he wants to see in our town. We have a common objective that we want to make this town a better place to live. I want to reach out to everyone, whether they voted for me or not see if we can find common ground."