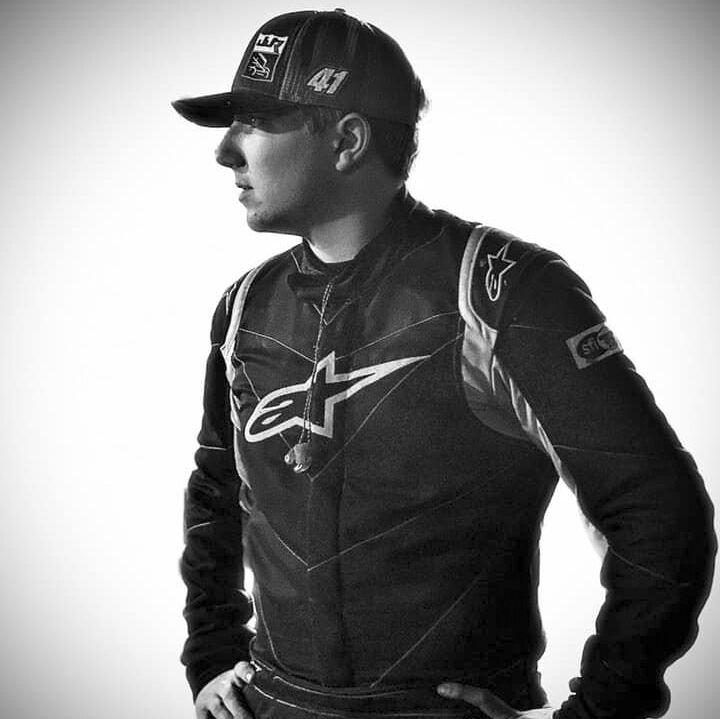 When DJ Hunt was 2 and a half years old, his parents Dave and Michele took him to the Motor Sports trade show in Oaks, Pennsylvania, and placed him in a scaled down version of a race car.
"Ever since then, I never stopped asking them to race," said the 2021 Hopewell Valley Central High graduate. "When I was younger, everything was a race. I wanted to be done first in everything."
DJ's desire helped fulfill the hopes of Dave and Michele, who would attend races at the now-defunct Flemington and East Windsor tracks. Dave would constantly work on cars in his youth and wanted to get into racing, but lack of funding made it tough.
"When my parents decided to have a kid, they agreed, probably before I was even born, that if he wants to race, let's do it," Hunt said.
He wanted it all right, and has been doing it every year since age 4-½. Hunt is in his fourth season of DIRTcar racing on Saturday nights at the New Egypt Speedway. He's in his second year racing Modifieds, which is the track's top level.
As of July 17, DJ was 13th out of 55 racers in the point standings, and was one of just five Modified drivers to win a race this season. That came on June 5, when Hunt notched his first career Modified win in a somewhat different manner.
Ryan Conrad had apparently won the race, with Hunt taking second. But Conrad was disqualified after a post-race review led race officials to conclude that his car did not adhere to equipment rules.
That gave DJ the victory and, although he missed out on the thrill of coming across the line first, he wasn't complaining.
"That was a big one for us," Hunt said. "It was still exciting but it could have been a lot more exciting, to cross the line first and have all the fans still there, and to be able to go out right after you win and be in Victory Lane," he says.
"Luckily we still got to go out in Victory Lane before the night was over. We still got to experience a lot of really good things. It wasn't instant gratification, it was a little delayed, but we'll take it any way we can get it. That was the golden moment of the career so far. That was the one we always wanted to win. Before I even raced, when I was two and three, I was going to New Egypt to watch races."
His victory made a lot of people from HoVal happy, as the Pennington native was one of the more popular members of the Bulldogs' football and lacrosse teams. In his senior year, Hunt was second on the team in tackles with 48. In lacrosse, he changed positions and became a stellar defender.
His character was never in question. A look at social media shows that the 19-year-old gets a ton of support from the racing industry.
"Any time he spoke, you listened," football coach Dave Caldwell said in describing Hunt's character. "He's unique. In my 20 years coaching, he's one of the top guys just because of his team-first attitude and his humbleness and his ability to communicate with his teammates. He's a genuine kid who always gives a good effort, either on the field or on the track. A lot of that goes back to his parents. If you look at Dave and Michele, they're phenomenal people."
The couple got Hunt started at age 4-½ in Quarter Midget racing. That involves driving a Go Kart with a roll cage over it and containing a small Briggs and Stratton motor.
DJ raced predominantly in Quakertown, Pennsylvania, but traveled as far west as Las Vegas, and won a national event in Michigan.
"When I was racing against younger kids, I had a lot of success," Hunt said. "The only time when you race with people in your age group is when you're super young. When you're that young, they just kind of teach you the basics. You can't go super fast, nothing crazy."
At age 11, his next stop was the 600 Xcel level, which is a Dirt Modified, half scale car that contains a Suzuki street engine. Hunt had some success racing dirt tracks across Pennsylvania and New York, but had trouble getting onto the Bridgeport track in South Jersey because he needed special approval from the state police. All NJ drivers need that until they turn 18.
Hunt became the youngest driver in New Jersey history to get approval at age 14, and became the youngest in the state to win a race at that level.
"When we finally got the approval to go out and win one, it was kind of awesome to show that kids can race," he said.
In 2019, at age 15, Hunt began running at New Egypt. He started in the Crate Modifieds, where each car has a crate motor that can contain no more than 350 horsepower. During his rookie year, Hunt won three Crate races, and in 2020 he was winless, but had three top-five finishes.
Last year, he moved up to Modifieds, but was not expecting much at the track's highest level.
"I think we had a couple top fives," Hunt said. "That was more of a learning year for us. We're racing against people who have been in the sport for years. But for us, it was trying to figure out everything. We weren't expecting to go out to win a race. We wanted to learn and build on where we were."
His improvement has continued this year as witnessed by his top 15 placement in the point standings in mid-July. Because of his job as a Snap-On Tools sales rep, however, Hunt will miss some weekends, and won't be able to compete for a high finish. Yet he will still race as much as possible, if only to give Caldwell and HVCHS track and field coach Aaron Oldfield something to do with their Saturday nights.
"Aaron and I went last year, and he was a guest in another person's car for a heat," Caldwell said. "DJ started in 40th place and finished in the teens, and he shouldn't have, he was so far back. He's always been a competitor and always been a respectful competitor who's appreciative of the opportunity to compete. He's unique."
It all starts with his parents. Michele is considered "the boss," and the two men follow her orders. Dave and DJ do "about 95 percent of the work" on the engine, and get help from some other guys at the track.
"The Modifieds are as high as we can get in local dirt racing without taking it to almost a full-time job," Hunt said. "We spend hours together as a family every week; and we have ever since I was five years old. Whether it's working on the car; the travel together, it has definitely brought us together as a family."
Hunt also praises his sponsors, whose backing makes the whole thing work. They include Final Touch Painting, Old Glory Detailing, Crescent Hydraulics, Wyckoff Roofing, Metal Fab Pro Race Shop, Colorco, Sinclair Napa Supply and Cedar Creek Landscapes.
In looking back at his career, Hunt feels that playing high school sports has helped him when it comes to racing.
"Once we got to the 600s, it became a little more physically demanding, your arms get tired easier," he said. "I think playing sports like football and lacrosse gave me a little more stamina, it gave me the strength that I needed in the car."
DJ also feels it helped with his mindset on the track.
"There's a lot of mental focus that goes into it," he said. "Coach Caldwell gave me a lot of training over the years for being mentally tough and it gives me a lot of help in the race car being able to focus. Like he would say, when something happens, bounce back and flush it. Move on to the next play. That definitely helped on the track."
Hunt actually put his games before his races while in high school.
"I wouldn't change what I did for the world because I loved playing sports," he said. "It brought me together with people in school outside of racing. I think playing football set me up a lot better for life because you learn so much more about yourself and how you can apply that to real life."
"Real life" now involves going an average of 104 mph around a quarter-mile track, which calls for a lot of reaction time.
"You're always reacting," said Hunt, who has gotten in a few crashes, but nothing major. "My thing is, you gotta go where the other cars aren't. If everybody's at the bottom you gotta go to the top. If everybody's at the top you gotta pass cars on the bottom. If you just follow you're never gonna move forward. And we're going sideways too (during skids) so it makes it tricky. It's like Lightning McQueen (of the movie Cars) says: you gotta turn right to go left."
Overall, Hunt is moving straight ahead when it comes to racing. He doubts he will go to a higher level due to financial restrictions, but feels he will be dirt racing for quite some time.
"Right now," he said, "I can't see life without it."
That's probably because he has never had a life without it.