Raunaq Saharan is a junior at West Windsor-Plainsboro High School North, a blue ribbon school that is known for its competitive resources.
Saharan never really thought twice about her access to a high-quality education, but after visiting her cousins in a small, rural village in India, her perspective completely changed.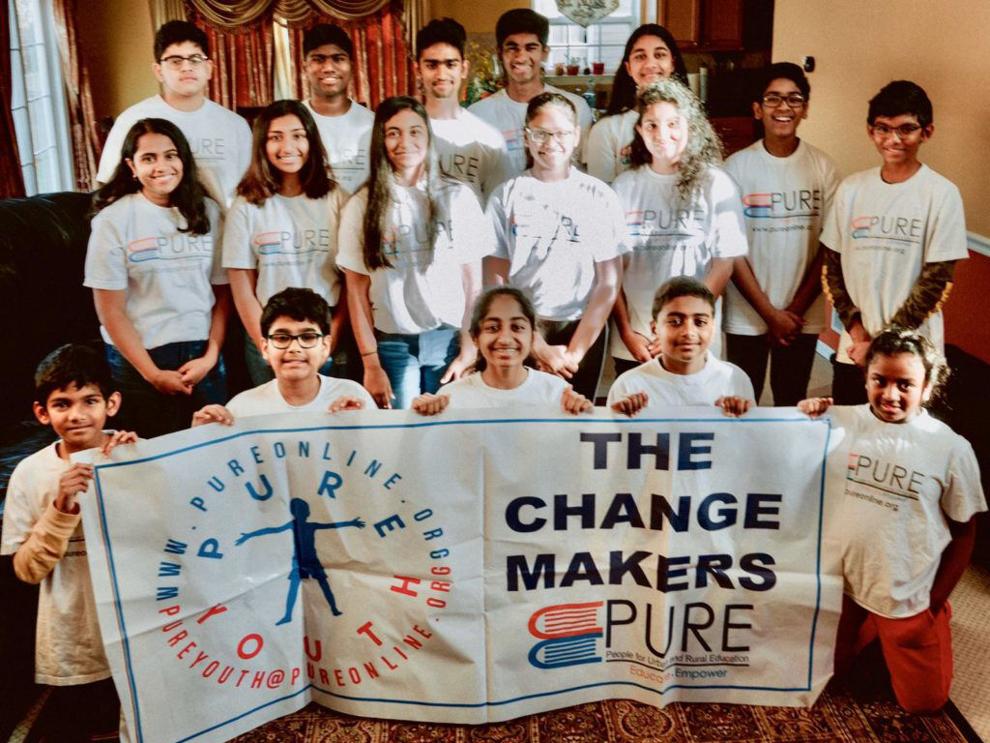 "Their school has one room for 40 students and one teacher," said Saharan. "They don't have a negative outlook on it because it's all they know, but when I think about how my school is one of the most recognized in the country, I consider what I can do to help not only my cousins, but other kids just like them."
Despite the circumstances, what strikes Saharan most about the lifestyle of her relatives is the sense of community across the village.
"They don't have conventional bathrooms or running water, but these circumstances have created a tight-knit community," she said. "Despite having such a small amount of resources, they are such happy people."
After feeling inspired by the perseverance of her family members, Saharan decided to get involved with the Lawrence-based youth chapter of a nonprofit organization called People for Urban and Rural Education Youth. It's mission is to help bridge the gap between students and academic resources.
At large, the organization is dedicated to addressing education inequality from the root by acknowledging the barriers—like period poverty and a lack of electricity—that keep students home from school. Across every initiative, PURE volunteers are united under the common belief that every child has the right to a quality education.
"Pure youth participates in all these overarching programs that are pretty fluid," said Siddanth Pabba, a co-director of the Lawrenceville branch. "Our goal is to do anything that will help connect kids with education and give them a brighter future."
Saharan is the public relations ambassador Lawrenceville PURE Youth, which has 28 members ranging from elementary to high school students.
The group, which is one of the four youth chapters in New Jersey, leads both local and international initiatives.
The Lawrenceville chapter, which is the biggest in New Jersey, has worked at local temples, hosted dinner-to-door events during Diwali, and conducted clothing and school supplies drives for nearby shelters.
The chapter has also partnered with Homefront and Anchor House during past holiday seasons, and manned a booth at the 2019 Elsie's World Fair, where members were given the opportunity to talk to several children, parents and community leaders about the organization's cause.
They aren't only devoted to education issues, though. Last fall, they raised money to support a Trenton family who lost their house in a fire, and now the volunteers are focused on promoting sustainable farming in rural India.
Saharan says she is particularly proud of the group's latest initiative to sponsor 15 farmers from outside Raavulpaadu, India.
They are helping the farmers switch from conventional to organic farming to limit their exposure to pesticides. Through this project, Saharan said she has realized that the chapter is capable of helping communities in need through more hands-on, long-term initiatives. After their work ends, farmers will be able to become more self-sustainable, which will have an immeasurable impact on their communities.
"We're educating farmers about organic and sustainable farming practices, which has kind of changed my definition of what fundraising means," Saharan said. "Now more than ever, we're starting to move away from the foreigner handing people money and saying 'This is enough to fix your problems,' and more towards long-lasting change."
Farmers in India lack support from the government, and because produce is selling for a lower cost than it takes to cultivate, many have turned to chemically-treated fertilizers as a last resort in keeping up with demand.
The youth group has set a goal of $4,000, which will be used for soil tilling and fertilizing. It was planning a "Virtual Ladies Night" fundraiser on March 27, which was set to feature highlights like a DJ, raffle and trivia games.
When COVID hit last March, the organization was preparing for an event called Prerana, which was originally planned as a dance and skit show.
When the event was moved to a virtual format last November, volunteers across several chapters participated. A total of $25,000 was raised through ticket sales, and the funds were used to build five schools in 70 houses in a rural community in India.
"After COVID, we started seeing more and more immigrant and street children not going to school since they couldn't make a living for themselves," said PURE Founder and chief executive officer Shyla Talluri during the live stream. "Our intention is to incorporate these kids after COVID slows down. But it's important for us to be by their side when that time comes."
The four-hour event featured clips of youth and parent volunteers singing, dancing and putting on skits. Throughout the show, they were encouraged to contact PURE's executive team and donate to the cause.
"This organization allows all of us, through any small contribution, to change the lives of many around the world. Those in the audience are helping us make that difference simply by supporting our event, Pabba said. "That is what is so amazing about this group."
The group has also pivoted its efforts to address the effects of the pandemic on a local level. In November, volunteers raised money to donate food, clothing and household items to a Trenton family of seven, which included 160 cleaning supplies, hand sanitizer and hygiene products.
"It is our minimal responsibility as privileged citizens to help people in need," said Lawrence Township resident Hema Kanthamneni, chief program officer. "During these times, this responsibility does not disappear. Teaching our kids these values is the first step. Instilling compassion, instilling empathy in all these kids is how we teach them to lead from the heart."
Upon achieving their goal, PURE Youth Larenceville used the excess money raised from their Fall Project to donate to Lux Gurusamy's War Veteran Project, an initiative hosted by the Wounded Warrior Project. PURE's contribution assisted in the Guruswamy project raising $305, $55 higher than the project's intended goal.
When reflecting on the importance of PURE Youth in his life, co-director Vankayala echoed Saharan's sentiment. He said what initially struck him about the organization was the opportunity to feel more connected to his family in India.
"I've lived in the United States most of my life, and a lot of the things that I do in school, whether it's extracurricular or playing a sport, are for my community here," he said. "When I joined PURE, it was really different. I finally felt like I could make a difference there."
While some students may be initially attracted to service efforts to sharpen their resumes, the members of PURE Youth have an undeniable connection to both each other and their work, which has fostered a strong sense of community.
"I think another thing that really sets this organization apart from everything else is the passion I feel through every single ambassador," said Pabba. "People may get involved in certain things just because they need volunteer hours, but the bond between us, and especially the bond we share with the people we're helping, is what really makes this organization special. That's why I love it so much."