When Amir Rowell was a little kid, he fell in love with football before ever playing it. And football promptly broke his heart.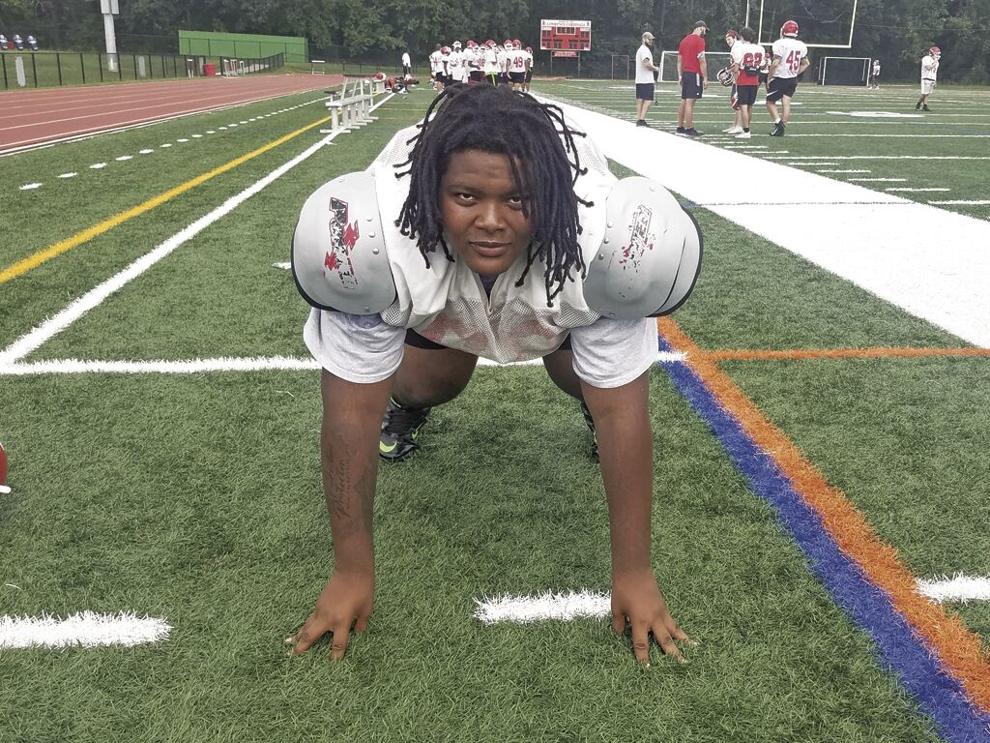 "I tried out for Junior Lightning (in Pop Warner) but my weight was too heavy so I didn't get to play," the Lawrence High senior said. "I was really upset. I cried. I just tried to do it the one time and then waited until high school. My mom was like 'Don't worry about it, you're gonna kill it in high school.' She was always on my side."
Mom's faith has been rewarded and could result in a huge pay-off this year. After making the Cardinals varsity as a sophomore and starting for two years, Rowell has shed 50 pounds since his junior season. He has now added quickness to the strength he always possessed as a lineman.
"The highest I weighed was 370 when I was 15," Rowell said. "Before (Covid) quarantine I was 365."
While most people gained weight during the quarantine, Rowell amazingly lost it. And a lot of it. How could that be?
"There was just less food around me, pretty much," he said. "I stopped taking in so much food, focused on the gym and cut weight."
Rowell's modest approach toward his slim down did not tell the whole story, according to Lawrence coach Rob Radice.
"He made a concentrated effort," Radice said. "He said 'I used to kill a bag of Oreos,' but now he's staying away from them. He looks at the amount of sugar in things and I'm like 'Stay away from Kool-Aid and soda, and treat yourself once in a while.' And he just listens.
"What I really like is, we got the OK to start lifting on February 1st and he was with us all winter, all spring, all summer. He was like "Coach, how do I get in better shape, how do I drop some weight?' He just bought in and just changed his body."
Rowell is now an impressive 6-foot-4, 315 pounds. He was always looking to lose weight and felt the quarantine-induced diet helped speed up the process.
"I was 100 percent slower," he said during a break in preseason practice. "And now I'm over here running around like nothing. It's easy. I was really gassed and got tired a lot during games. Our first scrimmage was so much easier for me."
Radice has noticed a difference, not just physically but mentally as well.
"When his body changed, he got the self-confidence, he's feeling good about himself," the coach said. "I had him in class, I just saw a change in him. Even in the midst of these covid protocols he did such a great job. What a story. You change your body, you change your look. He looks and acts differently.
"He really likes the way he looks and he feels so much better. I told him 'I want you to be a lifelong fitness guy. Football will stop at some point for you, but just to have a long life and be healthy, that's always the goal.'"
During his first three seasons, Rowell was a two-way lineman; first on the freshman team, then for varsity. This year, he will only play offensive line during tight formations as Radice looks to keep his defensive linemen fresh by only playing them one way.
"He's been a great leader all summer on our defensive line," Radice said. "He's our three-tackle, he's a force. He's got great energy, the kids look up to him.
"I can't say enough nice things about the kid. I'm so proud of the man he's become. It's just sensational. It's why we coach. I call him Big Daddy. He's my Big Daddy who gets it done for us."
He was even a bigger daddy when he arrived at LHS in the summer of 2018. Despite the fact Rowell came in with no experience and a lot of extra pounds, he wasn't intimidated.
"I felt right at home because I don't fear nobody," Rowell said. "When I go on the field, if you try to hurt my quarterback, why would I let you do that? So I just played. I wasn't really scared. Just nervous the first freshman game but then I was OK after the first couple of plays.
"To tell you the truth, coach (Anthony) Ammirata was the freshman coach. He really coached us good so those games he had everything locked in and had me mentally right. And practice just helped me out."
When the varsity coaching staff first saw Rowell, they envisioned a talented player underneath the excess weight.
"As a sophomore he looked like a kid who had potential," Radice said. "He's a big boy, he had a huge body, he's tall. I thought we could sculpt this body. He started as a sophomore and a junior, so we saw the potential."
That potential became even more apparent during summer training camp. Aside from controlling his eating and hitting the weight room, Rowell also jogged, jumped rope and did push-ups and sit-ups on his own time.
And while he will miss playing offensive line this year, Rowell has no problem focusing totally on defense.
"One hundred percent," he said with a grin. "It definitely helps out with some frustrations. And losing the weight is gonna help. I've been really close to getting to the quarterback in scrimmages. I just have to work on my technique a little better. But playing the outside run, getting down there to the ball I can see a difference with my speed."
Rowell, who estimates he devotes 50 percent of his time to football, said his plan is to play in college. His coach can see that happening.
"A hundred percent he can go to the next level," Radice said. "If we get some good tape on him this year, he'll be in good shape. He's gonna be a three-year starter for us. Before he was the slow, big kid but now he's athletic. I told him 'Man, you're gonna open eyes with some tape.'"
As for Rowell's own eyes, they are no longer filled with tears when it comes to the sport he loves.