It was a cold, rainy April night and the Lawrence High girls' lacrosse team was en route to a one-sided loss to Notre Dame. But in the midst of the bleak day and even bleaker game, Cardinals coach Heather Phillips could not help but scream out to junior goalie Izzy DePaz "Oh my gosh, I love you!"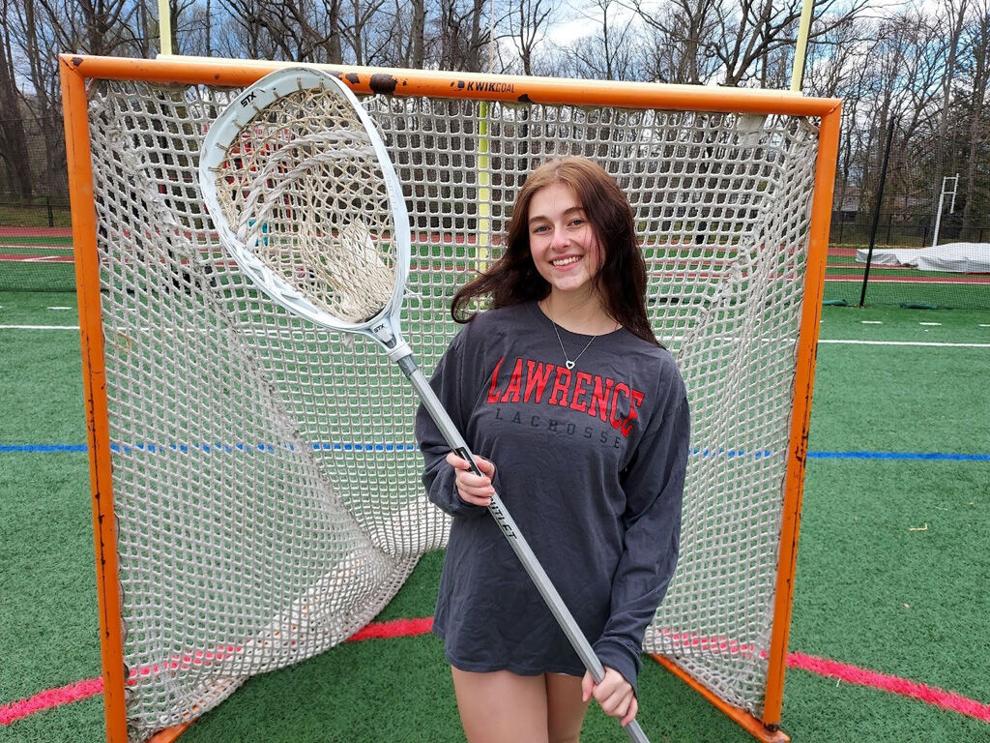 What could have prompted this outburst? Basically, it was just Izzy being Izzy.
"I could hear her on the sideline while she was communicating with the defense," Phillips said. "She wasn't just talking, she was yelling in a good, positive way. She was communicating with the defense, trying to help them out. And when a shot goes off you can hear her. It's a great personality and attitude to have. She literally loves being out there."
And the Cardinals love having her.
"She brings a positive attitude to it and really helps the defense and brings a good light to us," Phillips said. "But she is hard on herself and she works hard."
Which is the right formula for success. Never be satisfied, always keep striving.  
"I work hard and I'm trying to get better," said DePaz, who has the kind of name that belongs on a Broadway marquee. "There's always room for improvement."
DePaz has made rapid improvement considering she did not play goalie until high school. After just one-and-a-half seasons in the varsity nets, she recorded her 100th career save in a victory over Stuart Apr. 11. Unaware that she recorded the milestone until the bus ride home, DePaz got a delayed celebration from her teammates.
" I knew I was getting close but I didn't know I was going to hit it during that game," she said. "After they told me I hit one hundred, everybody on the bus started screaming, and then they got me flowers and a card. It was really nice. I love them so much."
Izzy's journey to 100 (with many more to come) began at age 7 when her dad prompted her to try lacrosse. She quickly fell in love with it; but did not like her few attempts playing in goal, as she feared the ball coming at her a bit too much.
"We were all young, we all just played different positions," she recalled. "I think that's why I fell in love with being a goalie, because it's like the head of the defense. But when you're little, it's kind of scary."
By fifth grade, DePaz needed a break and gave it up to focus on schoolwork. As time went by, a yearning for the sport was re-ignited and when she got to LHS, the effervescent battler knew she would return to it. After playing tennis in the fall, Izzy went out for lacrosse as a freshman and showed promise before the Covid-19 shutdown hit.
She planned on playing defense, but when Phillips asked for volunteers to play goalie for the JV team, DePaz jumped at the chance.  
"The second I was in there I was like 'This is what I want to do," she said. "I love the dedication to doing it and the dedication of your team and wanting to be there for them. The support is just really nice."
Phillips recalled how the freshman began working under the tutelage of varsity goalie Maddie Wingerter. The coach hoped a season of JV would prepare DePaz when Wingerter graduated. But after the shutdown, Izzy came in cold as a sophomore and still made an impact.
"It's sad she lost that freshman year," Phillips said. "But sophomore year you could tell she definitely worked in the off-season. When she came back she was ready for the task. This year she's even better."  
DePaz admitted that at times there is still a twinge of fear when a hard shot comes flying her way, but for the most part she has conquered that aspect of the game.
"A big thing is not being afraid and making sure you're putting your body in front of the ball," DePaz said. "That's the hardest part about being goalie is not wanting to get hurt. And if you're doing everything the right way you shouldn't get hurt. But you work hard, you get it down and you keep practicing. At times it can be a little scary but you just keep working hard.
"I think in the beginning I was a little afraid, but I got a lot of encouragement from the seniors last year. They really pushed me. They were like 'We believe in you, we're here for you.' That's how it is this year too, and everybody just pushes me to continue learning."
As "the head of the defense" as she so aptly put it, DePaz is now providing that same kind of encouragement to her defenders, who include Radini Wijesuriya, Siani Saunders, Rebecca Maccaroni and Maia Coyle.
"The main part of it is all about communication," DePaz said. "If we're all communicating in a way that flows then we can all work together. The defense is like a little family. I think when everyone is as close as we are it works out."
After practicing with her dad last summer, DePaz plans on doing more this year. .
"I want to go further with it and keep working harder," she said. "I think camps and stuff like that will definitely help me; and getting a different perspective from different people who can help me in different ways."
As it was, just working with friends and family last year made a difference in Phillips eyes.  
"Her hard work is showing this year, she took the off-season and made herself better," the coach said. "She was dedicated and willing to work hard, and also willing to learn. She's always learning."
Especially in the classroom, where DePaz sports a 3.7 grade point average. She prides herself on academics and is searching for some internships in the field in Environmental Science. As she looks into colleges, if a lacrosse offer comes along she would certainly consider it. .
"If the opportunity arose I would go for it one hundred percent," DePaz said. "I know everyone would have my back. You've gotta be optimistic.
"I'm obsessed with watching college games. A lot of people in my family went to Temple so I enjoy watching the Temple girls and the Syracuse girls play. It's  just really inspiring to watch them and you think 'If they can do it, I can definitely do it.'"
Phillips, who played for Division III powerhouse The College of New Jersey, also feels her goalie can do it.
"We'll have to reach out to some coaches and see what she's interested in," Phillips said. "She could probably play D II or D III, something like that."
If so, DePaz may find a whole new coach who loves her.