Dan Aubrey contributed to the reporting for this story
Share My Meals, a Princeton-based nonprofit started last year to fight food insecurity, has expanded into Lawrence Township. Last month, the organization added Fedora Cafe as the fifth restaurant in its network of food suppliers.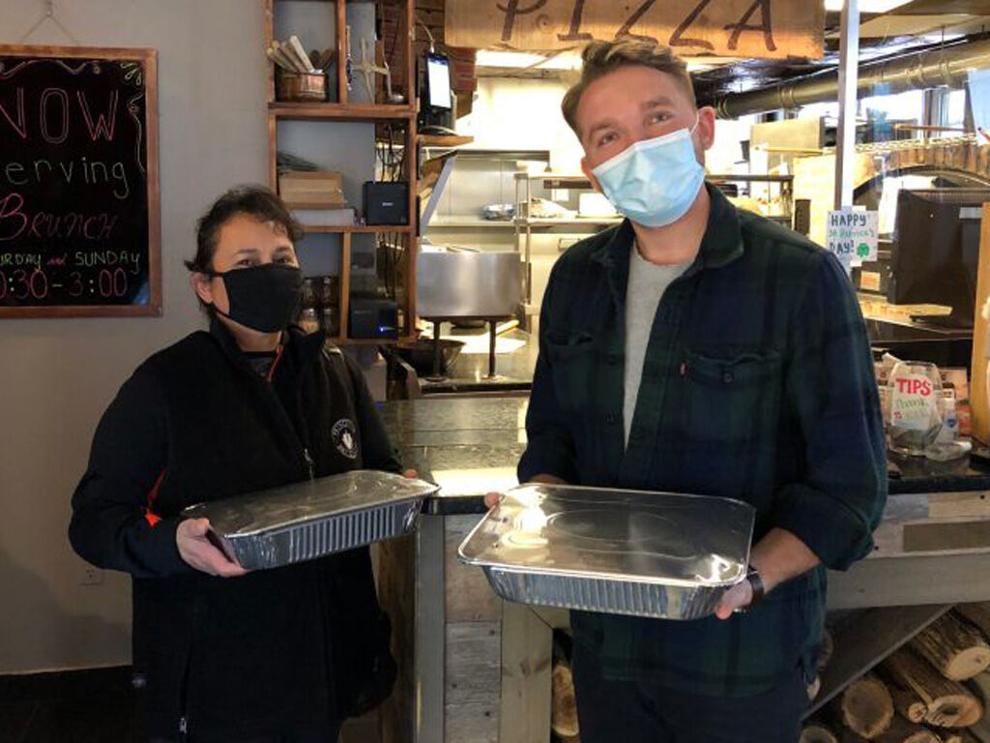 "Every day we see more people needing food. We can't sit there and do nothing," said Ishara Wijesuriya, owner of Fedora Cafe, which is located on Main Street in Lawrenceville. "We have decided to work with Share My Meals to help them extend their operations to our community."
Fedora Cafe will prepare 450 meals per week to be delivered on Mondays, Wednesdays and Fridays to an estimated 20 families..
"We could not be more thankful for the partnership with Fedora Cafe," said Isabelle Lambotte, Share My Meals president.
She said SMM has provided more than 50,000 meals to people suffering from food insecurity since the organization was founded in January 2020.
"The need in Lawrenceville is mirroring what we see in Princeton," she said. "Hunger existed in the community before COVID and has been exacerbated during the pandemic."
According to Lambotte, members of the Lawrence Township community reached out to SMM at the end of last year to help several families in town. The organization began to address the issue with the support of Princeton restaurants, but the extent of the need resulted in having to find a partner in Lawrence Township.
Wijesuriya, who previously worked in finance for about 18 years, said she negotiated the purchase of the restaurant last year before the pandemic hit, and made the decision to go ahead with the deal.
"One of the reasons is that I wanted to make sure that the restaurant stays within Lawrenceville," she said. "I am from this community, so it was kind of important."
She added that going into the restaurant business in the midst of a pandemic was "nerve wracking," and she was unsure whether she was making the right decision. But at the same time, I strongly felt that this is something I should go for regardless."
Wijesuriya said that not being able to run the restaurant at full capacity has made business difficult, and like most restaurants during the pandemic, she's had to rely on take out and delivery orders.
"I just take it one day at a time and think positive," she said.
As for partnering with SMM, Wijesuriya said that one of the reasons she purchased the restaurant was to be able to help give back to the community.
"I felt that it's a good organization. At the same time I always felt that I'm quite privileged. I've always had food to eat and never had to worry about it. But I know there are loads of people out there who don't have the same privileges as I do. This is a good opportunity to use what I have in this restaurant as a platform to help other people."
Macarena de Torres, who is responsible for supply chain operations for Share My Meals, said they were looking for family-run restaurants in the downtown Lawrenceville area that were open seven days a week.
"We didn't want a franchise," de Tiorres said. "We wanted to have someone who was here and working with all the people in Lawrenceville."
She said the plan is for Fedora Cafe to serve people in Lawrence Township, Trenton and potentially Ewing Township.
* * *
SMM's original mission was to provide a bridge between individuals and families needing food and food suppliers (corporations, universities, and schools) with excess to share, fighting food insecurity while curbing the environmental impact of food waste, Lambotte said.
After the lockdown, the organization had to adapt and expand its operations and launched its COVID-19 Program. While the original meal suppliers temporarily closed their doors, four Princeton restaurants agreed to prepare meals at the cost of goods.
This allowed the restaurants to keep some staff members employed while also supporting the community. Thanks to this collaboration and the support of generous people (donors and volunteers), Share My Meals has distributed more than 50k meals since being established in January of 2020.
"We are very food wasteful, and there is food insecurity, and we wanted to fill the gap by distributing the food surplus to people in need," Lambotte said about the organization's core focus.
To address that need she and others developed a "Waste Watchers Program" based on the reality that restaurants, foods service companies, school and corporate cafeterias, and caterers generally prepare excess food to satisfy customers and clients.
However, that practice also leads to healthy and nutritious meals being thrown away — unless there was a simple mechanism food providers could use that would take the food away and distribute it.
"We began in January (2020) with one of the eating clubs at the university, Tiger Inn. We were receiving 100 meals and giving them to families in Princeton."
She said the organization was able to identify individuals and families in need through SMM vice president Liliana Morenilla, Princeton Public Schools community outreach coordinator and founder of Princeton Mobile Food Pantry.
Soon 15 families had been identified and registered with SMM to receive meals once every two or three days.
Lambotte said the project was gaining steam and more involvement, but the state's pandemic-related closures of businesses, restaurants and eating clubs halted operations and created a gap in providing food.
That in turn resulted in business closures, unemployment and more individuals facing economic insecurity.
"I started talking with the restaurants to see if they would continue in the months ahead, and we would cover the cost of food and pay staff members," Lambotte said.
With the participating restaurants and farms wanting to help, Lambotte said, they came up with an approach where SMM pays the food provider a fixed price, and they prepare and pack the meals that volunteers pick up and deliver.
She said the 40 individuals who help in various ways come from word of mouth and from looking at the organization's website.
"It is not just delivering, there are other options. It could be marketing, fundraising," she said.
After an individual fills out the form on the SMM website, coordinators organize a meeting with the applicant and conduct a "preliminary group session where we talk to them and understand their motivation. Some will see it as not for them, but 99 percent go to the next step," Lambotte said.
She said there are a few essential volunteer requirements: a car and car insurance or some other means of transportation to deliver food if needed. SMM provides additional insurance to support volunteers and provides insulated bags for food delivery.
Regarding her background and interest in the creating such a project, the Belgium-born daughter of a university researcher father and lab assistant mother, said, "I am a pharmacist and have been working many years, moving from one country to another. I've been in Princeton since 2006 (when her husband took a pharmaceutical job in the area). I had been working with Liliana at the Food Pantry every Wednesday morning and giving fresh produce provided by Mercer Street Friends."
After seeing more people waiting for less available food, the mother of two said she felt a need to do something to help.
She also saw food going to waste everywhere from Princeton University to even her own home. "We buy more than we need, and when we don't use what we bought we discard it."
She said she then started to look for a model in order to begin addressing the situation.
"It was not easy to start," she said, pointing out that businesses supplying meals to community members is "not their main issue." Yet she and other volunteers developed an approach. "If we provide (the food source) with the trays, and it wasn't too much work to pack the food. And if we supplied the transportation, it would help the company and corporations and it would help the community."
She said adding tax-deductible donations through the nonprofit organization that activated at the start of the year and helping the business show a connection to the greater community "made sense for everyone."
And while things were in place for the project to grow before the pandemic, Lambotte said, "That is what we're going to do when the corporations are starting to open. It was our main objective, and we're waiting to start. Meanwhile, we have gained credibility, and we have a better idea of how to manage 100 families rather than 15 and we are more aware than six months ago."
She said her approach to making connections and finding people to help develop the project was simple. "You know Princeton is a small town. And I started to ask people I knew. It was mainly word of mouth. The more I talked with people, the more people I saw excited. I reached out to people at Princeton University, people in corporations, and on LinkedIn."
An advertisement on an area French community chat site and her familiarity with other foreign-born area residents, such as the Spanish born Morenilla, resulted in an all-European founding board that is now adding two native-born Americans.
Looking back at the organization's first year, Lambotte said, "It was supposed to be a small activity, and all of a sudden there was larger visibility. Originally we started thinking of a budget of $50,000." They ended up raising $300,000" — including support from the PrincetonArea Community Foundation, Bristol-Myers Squibb Foundation, Sodexo, Blackrock, and the Merancas Foundation, which provided a matching grant.
In addition to Tiger Inn and The Meeting House, other participating area restaurants include Bagel Nook, Kristine's Princeton, La Mezzaluna, Terra Momo, and Trattoria Procaccini. Area farms and markets include Cherry Grove Farm, Honey Brook Organic Farm, Skillman Farms, and Pennsylvania Dutch Market. The Hun and Princeton Day schools also participate.
About the coordinating effort, Lambotte said, "We are seven board members who are working 70 hours a week. We are very happy to be volunteers, but we found we have been growing in the future to have some support and some staff."
She said the group actively reaching out to local volunteers wanting to join the nonprofit in the Lawrenceville areas to fight hunger and reduce food waste. People interested in making a positive impact on their local community can go to sharemymeals.org.
"We are trying to get people in the community involved with problems. Share My Meals is more than food," said Lambotte.