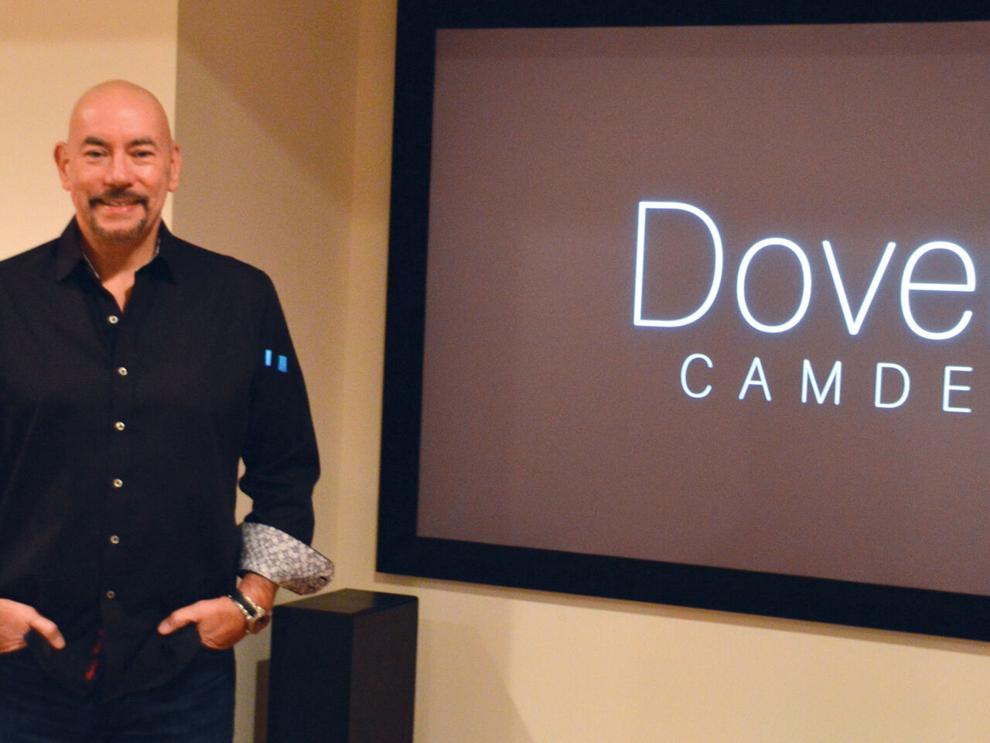 Douglas Clayton decided to take a stab at producing and directing a documentary, and his first effort was a good one—his film "Dovere," a short film describing the return of the arts and live theater to Camden, was featured in the New Jersey International Film Festival at Rutgers University last month. It was selected as one of 23 finalists from a field of 400 submissions, and the film earned honorable mention laurels.
A screening is planned for April 19 at the Luxembourg House in New York City. The Luxenbourg American Chamber of Commerce will host the screening to raise awareness of urban development, and there are plans to raise money for an organization in Camden. More information can be found at laccnyc.org.
Clayton, a senior executive with SES Corporation in Princeton, has produced several work-related films for his employer using professional film production companies. "Dovere" was his first time both producing and directing, as well as his first time working with a volunteer crew of dedicated individuals rather than a formal production company.
"The film is short and is in three acts. In the beginning, it tells how great Camden was," Clayton said. "The middle talks about the downfall of Camden [starting in the 1970s] and then the third part is about the theater." He hopes the film will eventually be used in university-level urban renewal programs and he admits to a hope of seeing the film screened on public television.
The film touches on Camden as a flourishing city of light until the 1960s, when a three-pronged spike burst the city's bubble. First, the shipyard closed, then Campbell's moved soup production out of the city while keeping administrative offices there, finally culminating with RCA moving production to other locations. With 24 theaters in Camden in its heyday, the city reveled in the arts as families raised children in the city's neighborhoods and took part in the rich cultural, ethnic and faith communities.
People were born, raised, educated and worked their entire lives within the often narrow confines of their neighborhoods. These were small communities within the bigger city that provided home, work, shopping, school, entertainment and church, all within a 12 or 15 block area. In the first half of the 20th century, Camden residents did not need cars because everything they needed for life was within a few blocks or a short bus ride away.
Clayton was not a part of the community remembered in the first part of the film, having been raised in Collingswood, just outside of Camden, in the years after Camden had been a flourishing city.
"I read an article about Joe Paprzycki, who I went to high school with in Collingswood," Clayton said. "We weren't good friends, but I recognized the name. He had written a play called Last Rites about an event that happened in his grandfather's bar. A few years later, I read another article that his play was going to be featured in a theater that had actually been his grandfather's bar. My wife and I went and checked it out. I was so moved by the play and the theater, that I actually wept. I talked to Joe and told him I was looking for a project to make into a documentary."
Through Paprzycki, Clayton met Adolfo "Pepe" Piperno, chairman of the board of the AC Moore company, a man who grew up in Camden in its glory days. Piperno, a huge supporter of renewal in Camden, was looking for a way to bring the arts back to the city. He provided more than $700,000 in financing to the South Camden Theater Company, at that time the only live theater troup in the city.
Originally operating from the basement of Sacred Heart Church, the theater, with direction from Papryzcki, was able to move to a new building constructed on the very site that had been a bar and café owned by Papryzcki's grandfather in days past.
Clayton picks up the story of Papryzcki and Piperno, saying "The thing they have in common is that they were born and spent their formative years in Camden. They moved away and as adults who were successful, they came back to Camden. Camden has always held Pepe's heart. He began partnering with Sacred Heart church and started out handing out food baskets. Joe met Father Michael Doyle of Sacred Heart," who encouraged Papryzcki to stage Last Rites in the basement of Sacred Heart, since it was a play about Camden.
"Then, Joe had the idea, along with Father Doyle, of turning the dilapidated building across the street (from the church) that had been Joe's grandfather's bar into a live theater. Along with an organization called Heart for Camden and a wonderful woman named Helene Pearson and Father Doyle, they built the theater," on the very corner where the family business had been.
"Dovere" translates into respect or responsibility in English and phonetically sounds like doh-vair-eh with the emphasis on the first syllable. Piperno had been infused with the concept of Dovere by his Italian family while growing up in Camden.
"In the beginning of the movie, we captured Pepe telling some really wonderful stories including about Dovere, which means respect or responsibility, a word his mother taught him as a child," Clayton said. "It always stayed with him. He had a responsibility to give back," and that became the inspiration for the title of the film. "Pepe gets very emotional when talking about growing up in Camden, how wonderful it was for him. He literally cries on screen because his memories are so intense."
On camera, Piperno says, "When I got older, I understood Dovere was responsibility and it's really like respect and I said to myself, that's what we have to do. I have to do it because it's about respect and responsibility. I've had more success than I ever expected. Can I make a difference? Where better than the city of Camden? Growing up in Camden was just wonderful. To this day, my best friends are my kindergarten buddies."
"In the film, Joe talks about points of light. They felt they were trying to create a single point of light in Camden," by developing the theater, Clayton says. "People have told me the neighborhood has really improved. Most of the people who attend the plays are not from Camden. They come from Collingswood or Haddonfield, even from Pennsylvania. They will now come into Camden," where before they might not have been leery about coming to Camden. Clayton said he and his wife never have a problem coming into the city to see plays.
Clayton has submitted the film to a half dozen or more film competitions, although the NJ International Film Festival at Rutgers was the first such large-scale public screening for the film.
"A few of the judges mentioned to me that they could tell that Dovere was made with a lot of passion," said professor Albert Nigrin of Rutgers.
Clayton has gotten similar feedback, too.
"I've conducted private screenings with 20-plus folks who are both from the area and from outside the USA," Clayton said. "The feedback is consistent: it is a documentary made with love, an emotional story told with passion, a tough story about Camden but one that leaves the viewer with hope…for Camden and for other cities who have fallen on hard times."
Clayton is proud of the initial responses to "Dovere." "I hear from nearly everyone, even those who are from Western Europe and the former Soviet Union, that while most had never heard of Camden, they can relate to the story because they had lived in areas that had collapsed and were working to come back."
Filmmaking became part of Clayton's life through the films he produced for his employer and through his lifelong interest in films.
"I'm really passionate about film and one of the things I'm very interested in is the effect film has on people and their ability to learn and be inspired," he said. "Late in my life, I started a doctoral program at the Wharton School of Business at Penn. I ended up with a degree in corporate learning. One of the blocks in my program was about using technology for learning and specifically it was an emphasis on film and storytelling. That got me thinking more deeply on the impact that film can have on learning."
Papryzcki has taken a new direction in his life with a move to North Truro, Massachusetts, where he works in the theater community. An expert on the playwright Tennessee Williams, Papryzcki is excited to be working with the Board of Directors of Provincetown (MA) Tennessee Williams Festival. He would like to work with Clayton again, adding, "Doug is passionate about his work, and I love this film."
Papryzcki is understandably proud of his accomplishments in Camden. "My grandfather's bar was falling down and was a dangerous eyesore. The theater that stands at the corner of 4th and Jasper Streets will always be a testament to the hard work of many people and I look forward to the day when it is operated by and for the people of Camden."
"Dovere," a film about what Camden was and what Camden could be again, is Clayton's first attempt at documentary, but it is not likely to be his last. Emboldened by his early success, Clayton is looking for new subjects, new stories to be told and shared, stories that can teach and be an inspiration to others.