Gwyn Moore has been playing goalie since her rec soccer days and there was one reason, more than any other, that drew her to the position.
"I thought it was really cool that I got to pick the ball up with my hands," said Moore, now in her third year as Lawrence High's starting keeper.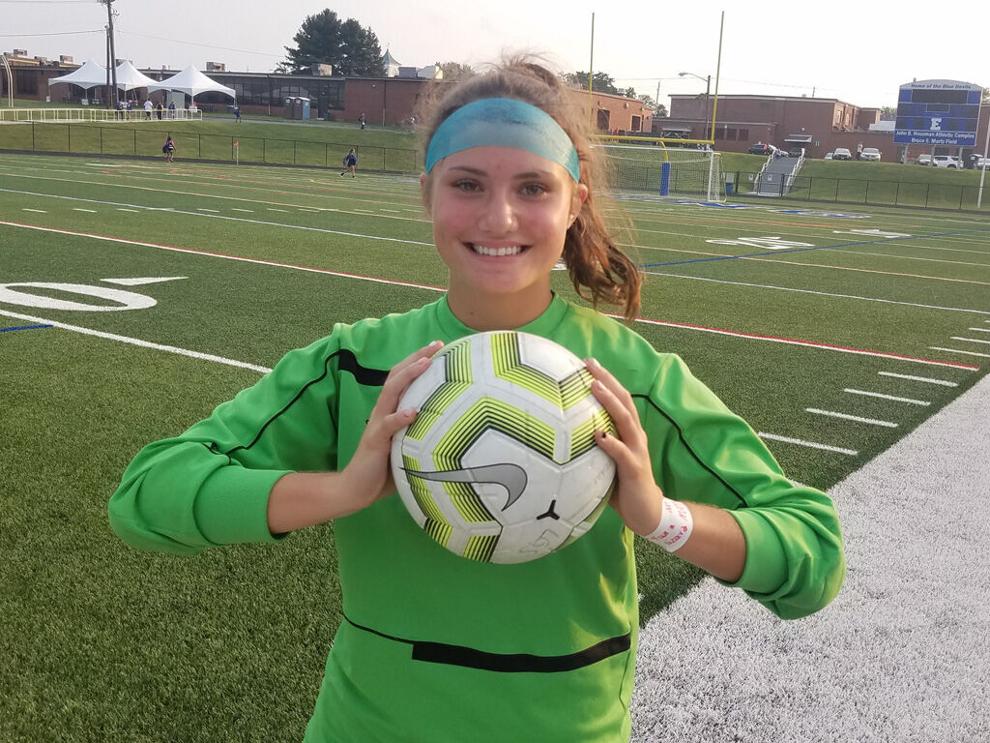 Not only does she get to lord that advantage over 20 other players on the field, the junior also enjoys throwing her body about with reckless abandon. It's what got her started.
"I was the only girl who wasn't afraid to dive on the ball," she said. "I wasn't scared at all. I think that's one of my main strengths is being very confident in goal. As soon as I step on the field all my fears just melt away."
That was apparent when Moore showed up at Lawrence's 2019 preseason practice in ninth grade.
"We noticed her right away and put her on varsity," coach Emily Palombo said. "She started getting minutes and making key saves and had a lot of positive energy. She wasn't afraid to be a leader at a young age. She's been voted as a captain as a junior which is a testament to her ability to lead. We saw that right away."
Moore began soccer at age 4 but didn't consider goalie her main position until age 12. It was then she started full-time training as a keeper.
"I was maybe 10 or 11 when my friend's dad saw I was really good on the rec field and he wanted me to play for an actual travel team," Moore recalled. "I was 11 and started to play actual games with the Lawrence Lava."
From there, Moore went to her current team, the New Jersey Rush. Upon arriving at Lawrence, she had her only bout with jitters on the pitch.
"That was the first time I was really nervous because I knew that Palombo saw something in me and I really wanted to prove myself," she said. "But as soon as I got out there and did what I needed to do, it was really big confidence boost. My teammates really helped me through that."
Moore played a full game just once in the first three weeks of her freshman season, but assumed the starting role in late September and didn't disappoint. She finished the year with 93 saves and a shutout. More importantly, she was not afraid to speak up despite her youth.
"I've always been very vocal," Moore said. "My goalie coaches have told me being vocal and controlling things out there; that goalies need that. I said 'OK' and I took that and flew with it."
In fact, she loved it.
"I said 'OK I'm never gonna stop talking now,'" Moore said with a laugh. "I can see the entire field, people should listen to me. At least that's what Palombo says."
Palombo says a lot more than that when discussing her goaltender, especially when it comes to her ability to keep things straight in her area of the field.
"She's good at making sure everyone's organized," the coach said. "She has a really good tone about her. People listen to her and respect her. She's commanding but it's not anything that makes our girls panic so I think that's important as a goalkeeper.
"She kind of owns her box, she's not scared to come out and tackle people, which is good. She has good instincts. She is always working on some of her weaknesses, and she makes key saves in big games. Whenever I think it's going in, somehow Gwyn gets on the end of it and keeps us in it."
As a sophomore, Moore made 55 saves and record three shutouts in seven games during a Covid-shortened season.
Through the Cardinals 3-1 start this season, she had 20 saves, one full shutout and one shared shutout with Mia Turco after she exited the Ewing game with an ankle injury.
"Oh man; when I came out on the girl when she got the breakaway, she just totally ripped into my leg," Moore said just after it happened. "I'm gonna be fine, it's just a bruise. They felt it was better I came out instead of trying to push on it."
It was her second brush with pain in the early part of the season as Moore hurt her knee but stayed in the game to make 14 saves during a 2-1 loss to Allentown.
"Gwynn works hard and keeps us in a lot of our games," Palombo said. "She made big saves that kept us in it and allowed us to continue and push against a good team like Allentown. She's good at controlling her defense and she has experience after playing since she was a freshman."
Lawrence needs that experience with so much youth in the back. Junior Gillian Kibbey also provides a veteran presence, having played since her freshman year. But sophomore Hayley Jodoin and freshman Liliana Calderone are first-year varsity players and senior Olivia Whittaker brought limited experience into the season.
"They've actually been coming together very well," Moore said. "They know they haven't been on the varsity field before. They are very mature in realizing that; and they listen to everything I have to say. They ask me what to do, and then they do it."
Palombo feels her keeper does a nice job of being a calming influence, while at the same time being demanding and holding people accountable.
"We're working through some frustrations," the coach said. "We lost 10 seniors and seven starters. We need to get the girls to the level where other seniors are and Gwyn is a key component with taking the younger girls under her wing and telling them in a calm but commanding manner what they're supposed to do."
"Gwyn gives us a lot more confidence. We need to get better every game and just learn from our mistakes so that we're the best we can be going into October and post-season, which is when we want to be playing our best soccer. I think Gwynn is a key component to the heart of making sure we recognize our mistakes and keeping us in the games. She works really hard, she cares and she's passionate."
And to think her initial passion was just about using her hands.