By Rich Fisher
All Jahmir Anderson ever wanted to do was dunk a basketball. He had no idea where that urge would lead.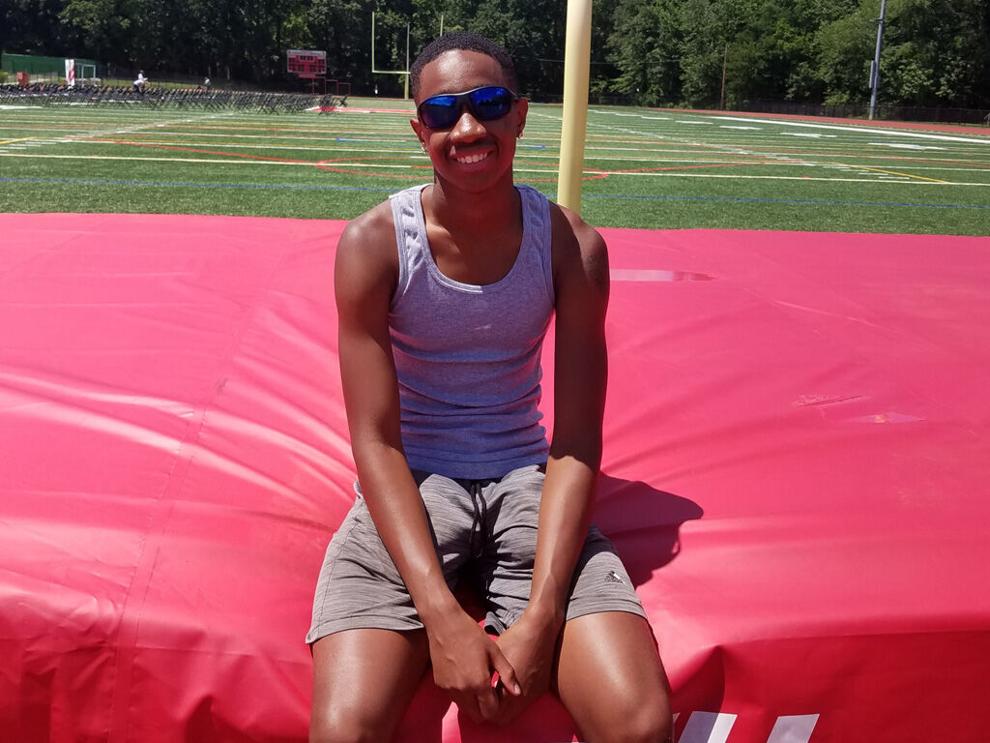 "I was playing in the fourth grade and I don't think I ever actually enjoyed basketball," the Lawrence High senior said. "It was just the love of trying to dunk and then I finally got to that level and it just never translated to real basketball. My freshman year I came out here for track and ever since I hopped on the runway I just fell in love with it."
With good reason. It's always easy to become enamored with something you're good at, and Anderson showed just how good he is at the high jump by qualifying for the June 19 NJSIAA Meet of Champions. It was his first trip to the big event, where he finished 17th with a jump of 6-0, and it capped a sterling high school career interrupted by last spring's COVID-19 shutdown.
And while Anderson couldn't compete in 2020 outdoor meets, he still found ways to focus on track & field.
"I practiced the high jump here, actually," he said while standing by the school's high jump mat the week before the MOC. "Even when they were locking kids out, I still found a way to crawl in here. It's just what I love to do. Honestly, I just used anywhere I had to jump. I'd use the sidewalk, went to the basketball courts and dunked, then did some vertical jump workouts. I didn't have a high jump mat until April. That was pretty devastating.
"But I'll do anything to do it. I had some dumb bells, I had to stay motivated. You always got dogs out here that are trying to kill you and take your spot. I just had to keep working out and I was just hungry. I wanted to win and that's what I've been trying to do all season and I've done a pretty decent job of that."
He sure did, especially in the high jump this spring, as he won the CVC Championship in 6-0, took second in the CVC Valley Division Qualifier with a personal record jump of 6-2, finished sixth in the Group III state meet and claimed second in the Central Jersey Group III sectional meet.
Anderson feels his approach is his strength in the high jump, and credits that to having to get a running start when dunking a basketball.
"I couldn't just stand under the rim and slam it down," he said with a laugh.
Anderson also won the CVC meet in triple jump with a PR of 42-2 and took third in the CJ III sectionals. He took second in the CVC Valley qualifier in long jump with a 19-10¼ PR.
"Jahmir expected that of himself," head coach Nate Jones said. "But a lot of the coaches didn't know what to expect. A lot of guys lost the whole year because of Corona, we didn't know what kind of shape they'd be in. We focused on getting guys out and hoping it would be therapeutic. Jahmir apparently was working the whole time when Coronavirus was going on. He came back and just picked up where he left off."
Anderson's outlook and ability immediately impressed first-year jumps coach Kevin Kamp, who came to the Cardinals from Franklin High School.
"Jahmir's been awesome, he sets an example that's been wonderful for his other teammates but he's also there to have a good time," Kamp said. "From the beginning of the year he blew away our expectations and all season he's been striving to increase from there, so it's been awesome. We've had some difficult luck at times with the weather trying to get good jumps in when the weather may not be in his favor, but nonetheless he's really overcome a lot of adversity."
First he had to overcome his desire to play hoops. Anderson began doing track "just to stay in shape for basketball. Then I pretty much ditched basketball and fell in love with track after the first season."
His freshman indoor season consisted of doing sprints and hurdles, and he put up modest marks. He started high jumping during his sophomore indoor season, and did all three jumps that spring.
"That was always pretty interesting to me, all the different events and just how high they were jumping," Anderson said. "I'd never seen anything like it, especially at the meets. I just always tried to do what I would watch them do there."
After learning the mechanics that spring, during his junior indoor high jump season Anderson was second in the Marine Corps Holiday Classic and Princeton Invitational Series. He also took third in the long and triple in the Marine Corps event and third in triple at the Princeton Invitational.
After a limited winter season as a senior, he finally reached his goal of the MOC this spring.
"I've always been striving for it, just to reach the top level," he said. "Freshman year I came in here, I wasn't too good of an athlete but I continued to work hard and it really just means something to me because I came from the bottom and now I'm at the top of the top."
He got there despite losing a full season that was critical to his development. But rather than sulk, he used it as motivation.
"As far as training goes, it fueled me," Anderson said. "I was angry. It fueled me a lot. Just waiting a year, I was ready to step up as a leader for our team junior year and then, the season got cut. I was pretty mad.
"Junior year (indoors) was my breakout year, I started doing things a lot better. I went from five-foot to five-nine and now I'm at six-two. I thought that would be my breakout year in the spring and I didn't get to have it so I came out with the attitude to tear something up this year."
He tore it up, all right, but that's a lot more difficult to accomplish than just saying you want to do it. Anderson's focus was a big reason for his success.
"Jumps are a more technical event than the other ones and I think he thrives in technical events where you gotta do things right and you gotta be diligent and work hard," Jones said. "I think that's his strength. He just got better and better each week. He's incredibly consistent, which is what you're looking for in an elite jumper.
"I talked to (Kamp) and he'll tell you what separates him with the other jumpers is missed attempts. He doesn't have many missed attempts from doing his technique right. His approaches are correct. Everything is the right way."
Anderson will take that approach up the road to The College of New Jersey next year, where he will do track while also majoring in Exercise Science with hopes of being a trainer.
"I'm interested in the human body itself and athletics," Anderson said. "Our trainer Hillary (Lamb), has helped me so much. She's amazing. I see the change that she gives to people, and I want to help people also. Especially in the athletic field because I've dealt with many injuries."
Anderson feels those injuries slowed his progress this year and likely stopped him from reaching his full potential. But Jones feels his future will be even brighter when he gets into a collegiate training program.
"He's only 17 so he's still developing," the coach said. "If you would have saw him here as a freshman you would be like 'Whoa, this is a little guy.' He definitely sprouted up over the last few years. He's going to continue to develop. They have a great weight room program at TCNJ, I know they're gonna build his body up a little more. He's already one of the best triple jumpers and high jumpers in our area, I think we'll see that continue to increase and we're gonna see his long jump start to get better."
Jones also feels the Lions program will inherit a guy who is easy to deal with. "He's an excellent kid to coach, a lot of fun," Jones said. "Often times some of your best athletes could be a little difficult to coach but he's just a really nice young man and he wants to do well. He's willing to take coaching. He absorbs it like a sponge."
And on the rare occasion he wants to take a break from the track, he can always go out and dunk a few basketballs.