Once he started, it was an easy decision for Patrick Lombardi—and a rewarding one—to just keep on (food) trucking.
He learned that since the recipe for a successful food truck is equal parts determination and delicious food, the stories behind them are worth filling up on, plate after plate. These businesses are run by families, couples, independent owners, and partners, some of whom see their work as an extension of their culinary school experiences, while others consider it a side project to share recipes on more flexible terms.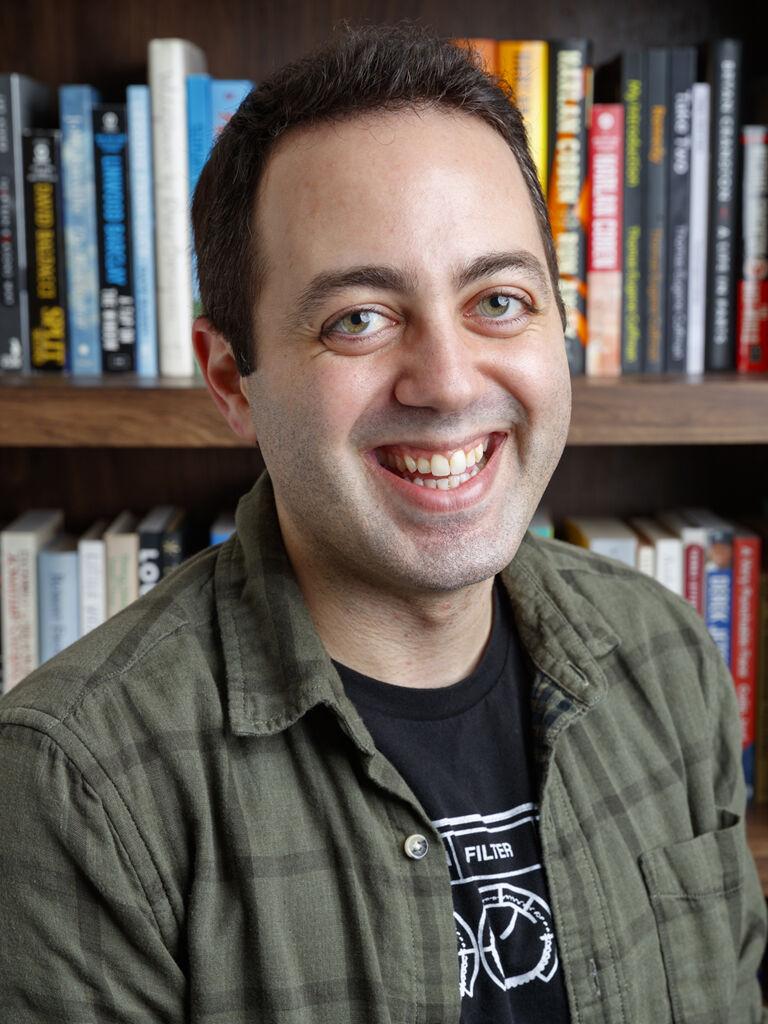 Such diverse backgrounds serve up an explosion of culture and talent for the industry, a niche that Lombardi, a BestofNJ.com contributor and photographer, has written a book about with the publication's editor-in-chief, Vincent Parisi.
The first paperback to come from Best of NJ, "The New Jersey Food Truck Cookbook" evolved from Lombardi's "The Best New Jersey Food Trucks," a web series that has run every spring and summer season—considered the prime time for food trucks due to the increase in outdoor festivals and events—since March 2018.
Released on February 13 through The History Press, an imprint of Arcadia Publishing, every chapter of the book centers on a different food truck business from throughout the state. Of the 20 food trucks featured, Lombardi highlights the biographies of the people involved, over 30 recipes, and Q&As with the business owner(s).
A self-described "foodie" and lifelong New Jersey resident, Lombardi, who graduated from Rider University in Lawrenceville, officially moved to the area at the end of 2020 after marrying his wife, Christine, in July of that year.
Lombardi currently works full-time for the state of New Jersey, yet still has the same love of writing, covering food, hiking ("The Best NJ Hiking Trails"), and history ("Jersey Through History") for Best of NJ, with previous credits for websites such as NJ.com, MyCentralJersey.com, and Patch.com.
The concept for "The Best New Jersey Food Trucks" began as a pitch Lombardi made to Parisi in late 2017, which the latter documents in the book's preface as growing from a standalone piece Lombardi had been writing at the time on Bearded One BBQ, a Monroe-based food truck.
But Lombardi sensed a greater potential than just the one-off could provide when, upon reflecting on the interview, he noted how owners Chris and Jess D'Addario started talking about fellow food trucks "almost as best friends" or "family," the journalist explained in a February interview with the Lawrence Gazette.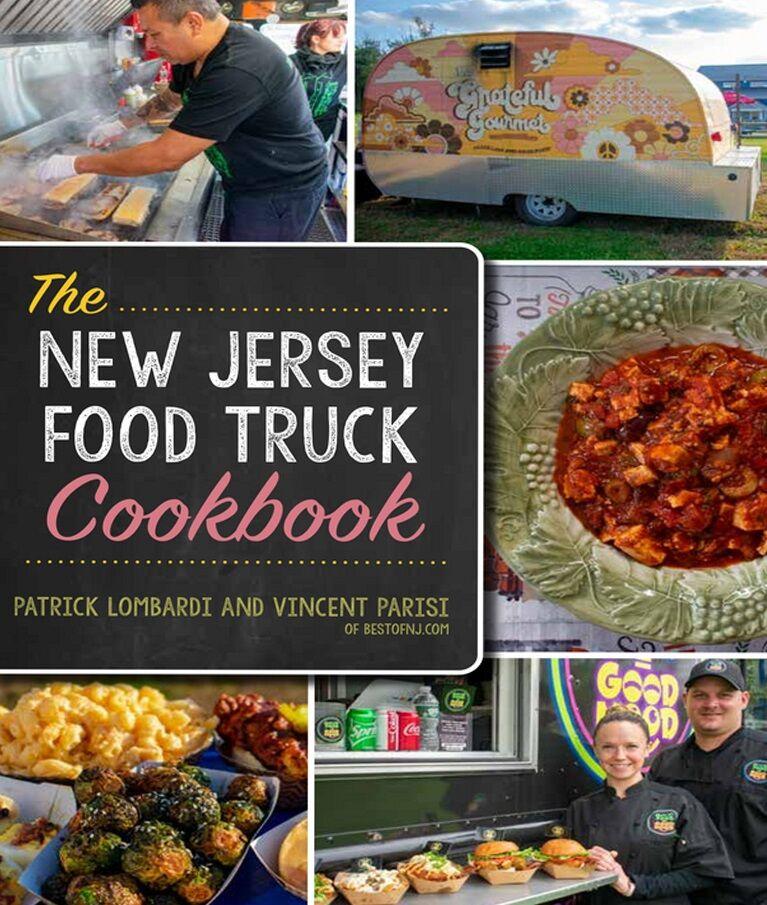 "They sometimes depend on each other, but then they also bond because they'll see a lot of the same owners at different events," he said, and when "everybody has their misfortune, whether their generator dies or they run out of a product or something, those [trucks], rather than being competition, [are] there to lend a helping hand," Lombardi added.
After its successful debut, the web series would continue reporting on six food trucks per year to reach the current number, which is, as of press time, 30 total. By 2021, Lombardi was considering publishing a book about his food truck experiences when Parisi joined him, and "The Best New Jersey Food Trucks" eventually found a home at The History Press.
The book, which divides the state into four areas—south, north, central, and the Jersey Shore—includes names like Bearded One BBQ, Maddalena's CheeseCake & Catering, Good Food = Good Mood, Five Sisters Food Co., and House of Cupcakes in Princeton, as well as Mama Dude's and Surf and Turf Truck in Hamilton.
The personal nature of Lombardi's interviews matches the atmosphere of the ordering process at these mobile munching spots. By simulating this amicable yet intimate environment in literary form, Lombardi invites the reader to learn more about the creative geniuses and culinary talents behind each business.
"You walk up to the window and have people from all different styles of cooking, all different cultures, all different backgrounds, coming together through food, and through this whole industry. I think it's absolutely incredible, because it allows that opportunity," he said.
Lombardi was born in Teaneck, lived in Nutley until he was five, and then moved with his family to Hillsborough to be closer to his father's job. Prior to working for ADT Security Services for about 20 years, Lombardi's father was in the telecommunications industry, while his mother is an avid cosmetologist.
Lombardi's early memories of writing were positive. He recalled that back in elementary school, the students had one assignment a year where, to reinforce their grasp on language, they would get these blank children's books "bound like hardcovers."
"You have to write and draw everything," Lombardi recalled fondly of the projects. "My parents still have them in the basement."
This naturally transitioned into writing beyond a grade, extending from "silly short stories" like one about his pet turtle to "more mature" works as Lombardi was enthralled by novels by Stephen King and mystery writer Harlan Coben.
When he enrolled at Rider, Lombardi declared English as his major, but took on a law and justice minor with the hope of becoming an attorney. However, around his sophomore year, he changed his mind, dropping that and earning a bachelor's degree in his original major with a concentration in writing.
In classes where he felt that many others had a talent for writing "serious, dramatic" works they hoped would be worthy of an Oscar nomination, Lombardi tended to stick with his penchant for humor, peppering his writing with jokes and taking inspiration from his comedic idols David Sedaris, Brian Regan, and Kurt Vonnegut.
With these influences in mind, Lombardi self-published "Junk Sale," his first book, on Amazon in 2018. The "collection of humorous short stories and essays" is based on "vignettes" of Lombardi's life and/or observations—a cue from Sedaris.
Lombardi explained that Sedaris is a prolific journaler who "also keeps a little one on him to take notes during daily occurrences. Whether he's in line at the bank or he's out with his family, he has that on him, so he doesn't miss opportunities."
So Lombardi practiced similar techniques and "learned to flesh those out into actual essays, because sometimes they're just occurrences, and it's this funny or silly interaction, but other times you can really delve into the subject matter."
"Junk Sale" acknowledges this in colorful ways. In "Check the Freezer," a young Lombardi hears his Italian-born and emigrated mother referred to as "an alien," leading him to associate the term with "intergalactic travel" rather than its intended meaning.
What added to Lombardi's confusion is his mother's fascination with the freezer and her frequent cooking to fill it, leading him to believe that the kitchen might actually be able to fit the secrets of the galaxy next to all the homemade food inside.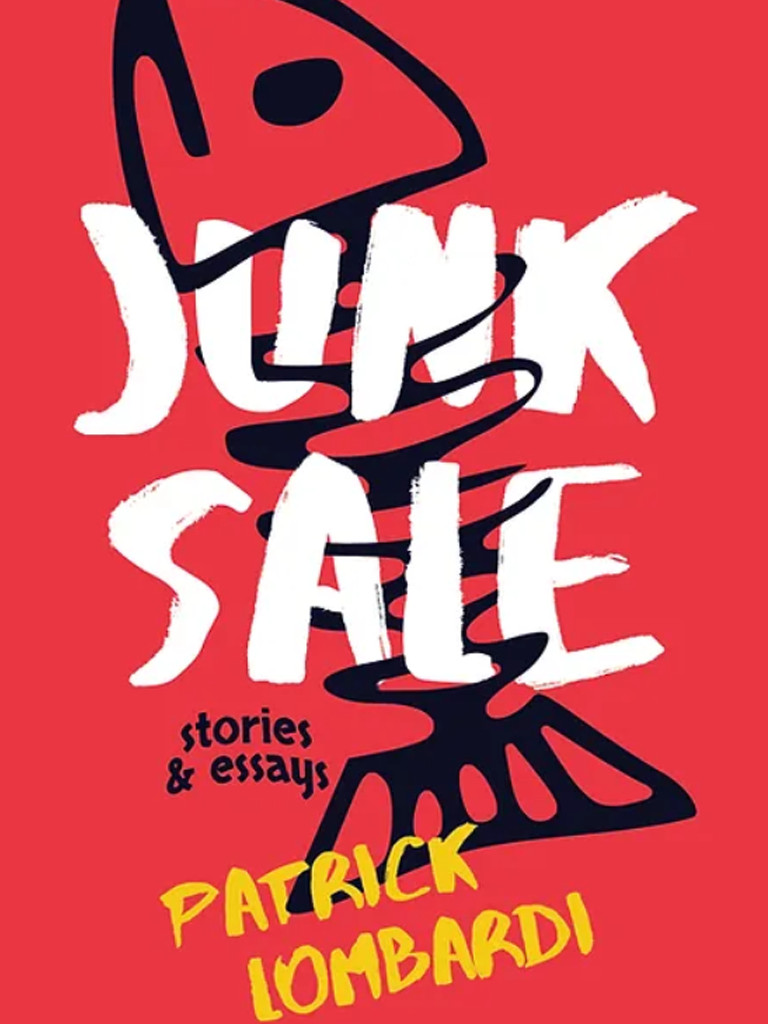 "That essay, especially, was very true and very accurate to how I grew up, where food was such a main focus," Lombardi said, noting that his parents are both Italian. His mother was born and lived in the town of Gravina in Puglia before she moved to Hoboken in elementary school, while his father's ancestors were from Avellino.
"They both were very, very focused on food and everybody getting fed," he added, noting that his parents would insist he fill his stomach with seconds even before going out to eat somewhere else, comparing the moment to "Coco" (2017), one of his "favorite movies of all time," where the main character's grandmother keeps giving him helpings of tamales.
"My mom always cooked. I'd wake up [on] Sunday morning, and she'd already be making sauce—just an amazing scent throughout the house. Then, throughout the week, she'd be cooking different meals and trying different recipes," Lombardi added. "Anytime I'd go to my grandma, she'd always be cooking [too]."
"I know people talk about sitting around the dinner table and that being a great way to bring family together," he said. "My brothers and I played sports growing up, so it wasn't like we had every single evening at the table at the same time, but as much as my parents could have that, we would always be sitting together and enjoying dinner, so it revolved around that food, and then also that, anytime I think about food, I think about family, so it really has certainly been ingrained in my being that food is important."
This style of nonfiction, he explained, helps him keep in touch with his creative writing skills while spending the majority of his time writing for either his state position or for Best of NJ.
After freelancing post-college—and sometimes actually for free, depending on the site—Lombardi's portfolio, which included work for the now-defunct U.K. publication News Hub, opened up new opportunities for him.
Lombardi said that because of his preferred subject matter, he learned to photograph with a simple Canon point-and-shoot camera out of necessity.
"When I started doing the freelance writing, I noticed that a lot of pieces I wanted to write needed photography to go along with it, and a lot of the pieces that I wanted to read, if I went on on a site, the stuff that drew me in more were the pieces with photography rather than the stories," he said, adding with an honest laugh that "sometimes stories can be very interesting, but I guess I may be too drawn to food, to a fault, so I always want to see the picture. 'Oh, you have the best spicy chicken sandwich? Alright, let me see that.'"
The same goes for his landscape shots for hiking articles, with the journalist wanting to convey the "gorgeous" reality of these natural landscapes. Lombardi is proud—and a little surprised—that all the images in his first traditionally published book were shot by him personally, including the "About the Author" photo.
But now armed with professional headshots from a friend and photographer, David Nemec, Lombardi is grateful for the chance to fill a book with his words and images for the first time.
Lombardi started working for Best of NJ in 2015, becoming an events writer and photographer for the publication. Soon, a familiar face in the food scene began to emerge from his beat of street fairs and outdoor gatherings.
During the interview, the D'Addarios spoke with Lombardi and his then-girlfriend, now wife, Christine, "as if we've known each other for years," but throughout the recording, "people kept interrupting—in the best way possible—to compliment Chris on his barbecue and just how much they enjoyed it, and they're going back; they're waiting for their second order because they loved it so much."
"You don't really think, specifically talking about the food trucks—at least I didn't think about—one, what went into the business, and two, the people behind the business," he said. "My dad and I used to go to the city, whether we went to see a baseball game or for different purposes, [since] I have family who live out there, but you see the hotdog vendors a lot."
As a resident of Central New Jersey, Lombardi explained, he grew up near the site of Rutgers University's famed "Grease Trucks," a horde of historic, hunger-satisfying food trucks that served inexpensive campus fare. The institution removed a majority of these businesses and relocated the rest around 2013, which caused many of the "Fat Sandwiches" and other deep-fried delights of legend to drive off with them.
While grease trucks have a charm of their own, especially for nostalgic college students, Lombardi's prior associations with food trucks carried that same imagery. Lombardi now knows just how these owners have "a wealth of knowledge" to impart, and with chefs that pay close attention to menus and ingredients as part of their commitment to delivering a satisfying meal for customers, the people behind the three Mercer County businesses Lombardi has covered so far strive to keep sharing that wisdom.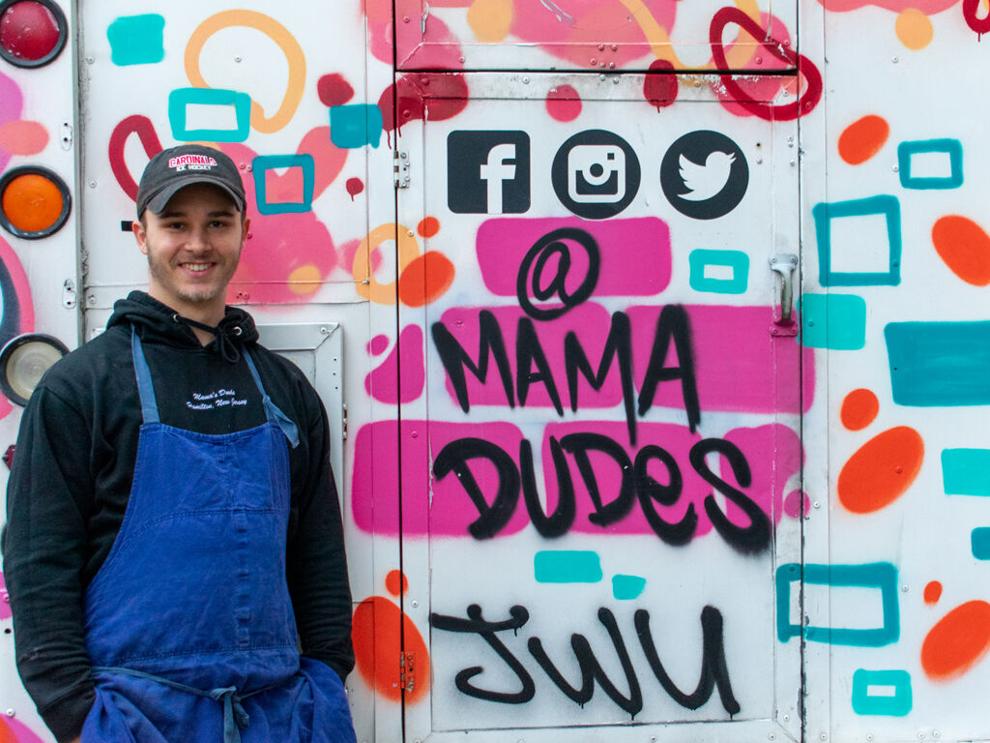 Andrew Dudich, the owner of Mama Dude's, established his signature farm-to-table truck with a name that pays homage to his late mother, who was also a chef and passed away during his senior year at their shared alma mater, the prestigious Johnson & Wales University in Providence, Rhode Island.
Mama Dude's opened under a simple premise: to source all produce from five local New Jersey farms, which would then be featured in a revolving menu that changes per season. Since establishing its Hamilton brick-and-mortar location at 11 Sunnybrae Boulevard, Mama Dude's has continued to build a loyal following thanks to unique additions like burnt carrots, which change up the structured menu of "base, protein, toppings, and sauce."
Dudich's recipe for his Griggstown turkey breakfast tacos utilizes several other components—fresh thyme honey, pepper jam, and tzatziki sauces—which come alive as complementary flavors to the ground meat in the tortilla. Another hack in the book replicates his go-to method for replicating pickled cotton candy grapes (and yes, you heard that right).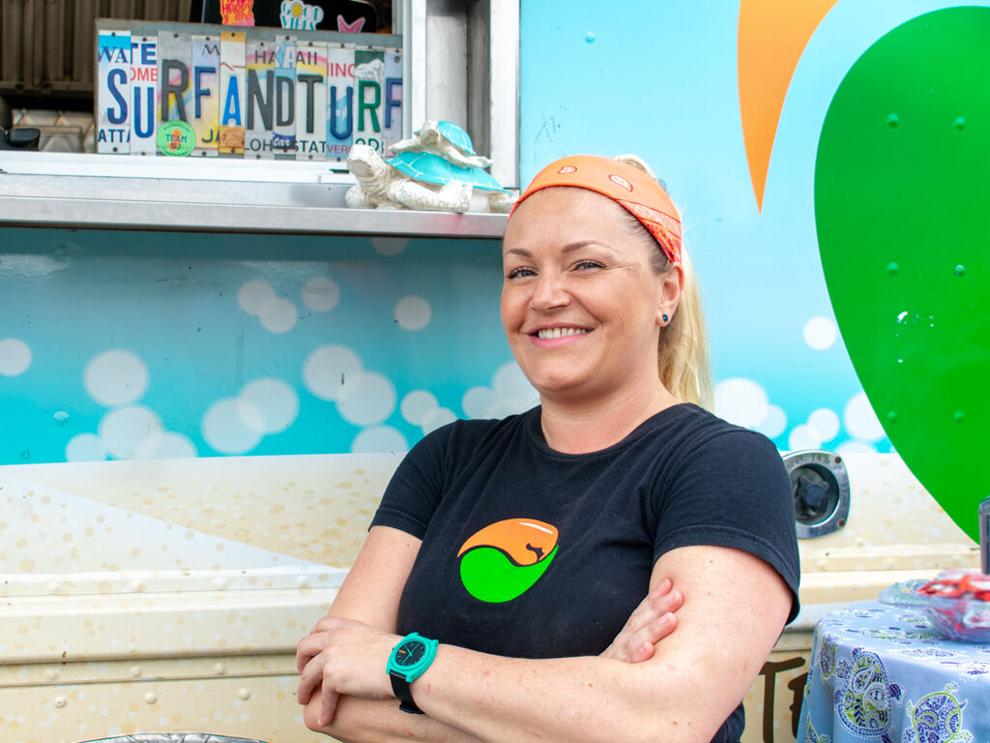 Cindy Matas co-founded the Surf and Turf Truck in 2013 with her sister and brother-in-law, Beata and Adam Browne, after a decade of working in California for the Sony Corporation. Now, the Hamilton native runs the northeast operations for the truck whose menu, developed by Adam, marries the land and sea in glorious, meaty harmony just like the "secret" menu item, a lobster-steak surf and turf sandwich.
House of Cupcakes won the show "Cupcake Wars" a year after opening, which caused them to "explode in popularity" and attract visitors who, as owner Ron Bzdewka added with shocked emphasis in the Q&A, would "even drive two hours to come" to purchase their signature sweets. House of Cupcakes is now a Princeton staple with four locations in total.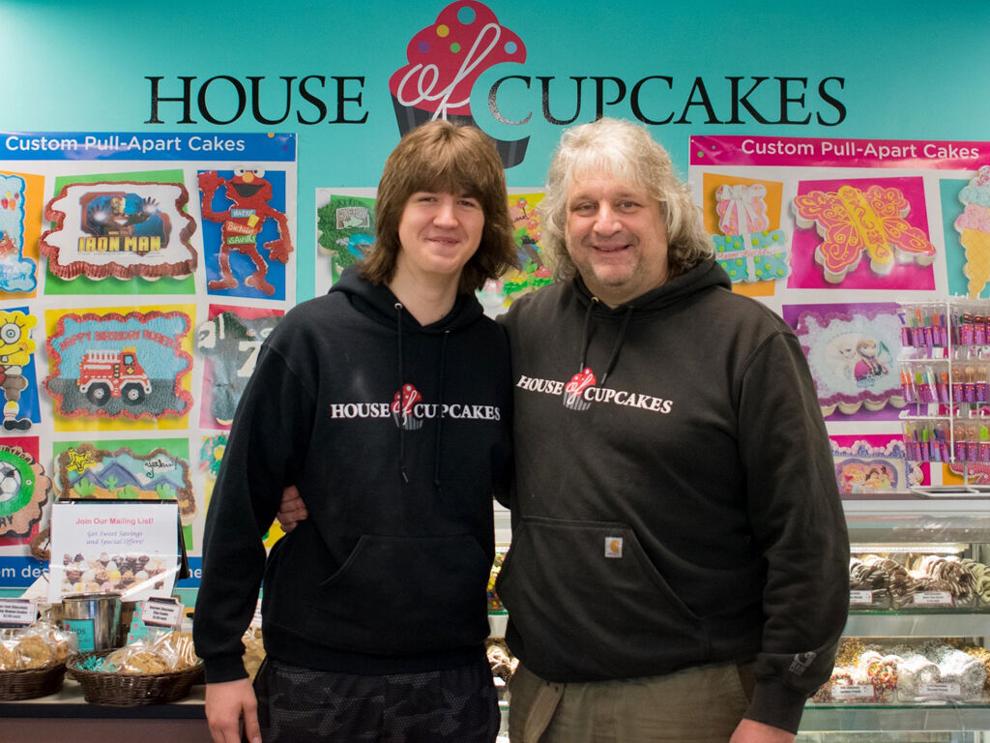 While the northern and southern parts of New Jersey have their alliances with the corresponding cities in proximity, Lombardi conveys how central New Jersey not only exists—a hotly-debated topic among the state's residents—but has its own distinct flair, a feat that is shown through food trucks like Mama Dude's, House of Cupcakes, and more.
Lombardi aimed to "highlight" the tireless efforts of these chefs, regardless of whether their inspirations led them to study at the Culinary Institute of America or prepare a comforting meal for their family following a long day of working at the office.
"A lot of these individuals likely wouldn't have opened their own restaurants, but instead, they have these trucks, and they're able to deliver their food. A lot of these recipes [are] from their families that have either been passed down or that they've created—they're sharing bits of themselves, and I think it's amazing."
"Maddalena's [CheeseCake & Catering] have been in it for four decades already," he said of the Hunterdon County enterprise. "There are all different levels of experience and stories."
"I hope that [readers] take away that there are people behind each and every one of these businesses, and not just the 20 that are featured in the book, but that anytime they go to a food truck festival, there are people behind those businesses," he explained, extending that "on a grander scale" to any local shop, "that there are owners behind it, and there are families behind where they are and what's being offered to them" as customers.
As a former restaurant server himself, Lombardi recognized the importance of people understanding that those in the industry are more than just "nameless, faceless beings behind the counter," especially in non-traditional environments like food trucks.
Lombardi said he was lucky that he had met with the owners of two food trucks the weekend before the March shutdown, which set him up to have enough content for the first few months of his Best of NJ series in 2020.
Once outdoor events began again, though, food trucks emerged as a way to offer safer eating experiences in uncertain times. Food trucks became more accessible in the months before traditional restaurants reopened for business due to the ease with which they could relocate and join forces with other businesses. That feeling of camaraderie that Lombardi found so intriguing was stronger than ever.
Although Parisi's initial vision for the book was an "oversized coffee table book featuring large color photos of the trucks, the teams behind them, and their signature menu items," according to his preface, Lombardi had another idea.
As a way of differentiating the compilation from the webseries, Lombardi thought featuring recipes from the food trucks would add "a little bit more of a draw," since the direct know-how would not give away the star recipe—such as Maddalena's cheesecakes or the Brownie Bar's brownies—but inform readers on how to follow in similar footsteps.
The options, Lombardi said, include "anything from side dishes and sauces up to complete meals where you can feed your family or a party," with the author saying he owes the "enthusiastic" food truck owners for sharing the recipes that made the book possible.
For example, "Massimo's (non) Gingerbread Cookies" is one that Lai Barboni, the co-founder of The Brownie Bar, published and created for her son, "who doesn't particularly like gingerbread cookies but wanted to embrace the celebrations of Christmas," according to Lombardi.
"She shared that recipe, and that was super touching because she was sharing a part of her family," Lombardi said. "It's sharing love."
Lombardi said that when all is said and done, it is important to be proud of your cuisine and remember the value of cooking a meal to sustain you and your family.
"In terms of being at home and cooking in your own kitchen, it's an unparalleled experience. I love going in and throwing on some music—I [have] my own playlist for when I'm cooking—and I'm prepping the ingredients, smelling the aromas, and tasting the sauces. All this can, at times, be a very therapeutic experience," he explained. "I love to encourage that, because I hope that people get at least some of the enjoyment that I get out of it."
Originally, Lombardi wanted to include a personal recipe or two, but space constraints prevented him from doing so; he thinks that could possibly be in store for a "future edition."
Lombardi shared that instead of picking a food truck at a festival that matches his mood, he now "makes his rounds" to the trucks he has previously covered to check in and, of course, sample some more food.
He is friends with many of the food truck owners, having formed relationships through the network and even hiring Emily and Dean from Good Food = Good Mood to cater his COVID-conscious wedding from his mother-in-law's driveway. He recommended all the food trucks featured, gushing over everyone from Kiersten's Creations, Chick Wings & Things, Cubano X-Press, Five Sisters, Ms. Fu's Yummy Food Truck, Bearded One BBQ, and, of course, House of Cupcakes, which he always grabs when he is in Princeton.
Lombardi will be promoting "The New Jersey Food Truck Cookbook" at events like the book signing at Commonplace Reader in Yardley on March 11, Mama Dude's on March 18, and the Lawrenceville Spring for the Arts Festival in Weeden Park on May 6.
He is also in the early stages of launching DevourNJ.com, his own website for foodies that "aims to boost independently owned food businesses throughout the state" and "highlights the best of a booming culinary scene by introducing in-depth profiles and photographical and video tours of local eateries and their owners."
Lombardi hopes to follow this up with new collections of work in the genres of humor and horror, in which he has been dabbling since the end of last year.
By November, Lombardi had decided to stay awake after getting up with his newborn son in the morning, using that time to hone his skills and write short stories. The multigenre aficionado has a few first drafts ready to go, but always comes back to food.
"As much as I love to promote New Jersey in so many different ways, I hope that no matter where everybody [goes], they're taking into consideration just exactly what shop they're in, or what restaurant they're in, and who might be behind that counter," Lombardi said.
"The New Jersey Food Truck Cookbook," Patrick Lombardi and Vincent Parisi, Arcadia Publishing. Available through Arcadia, Amazon, Barnes & Noble, etc.