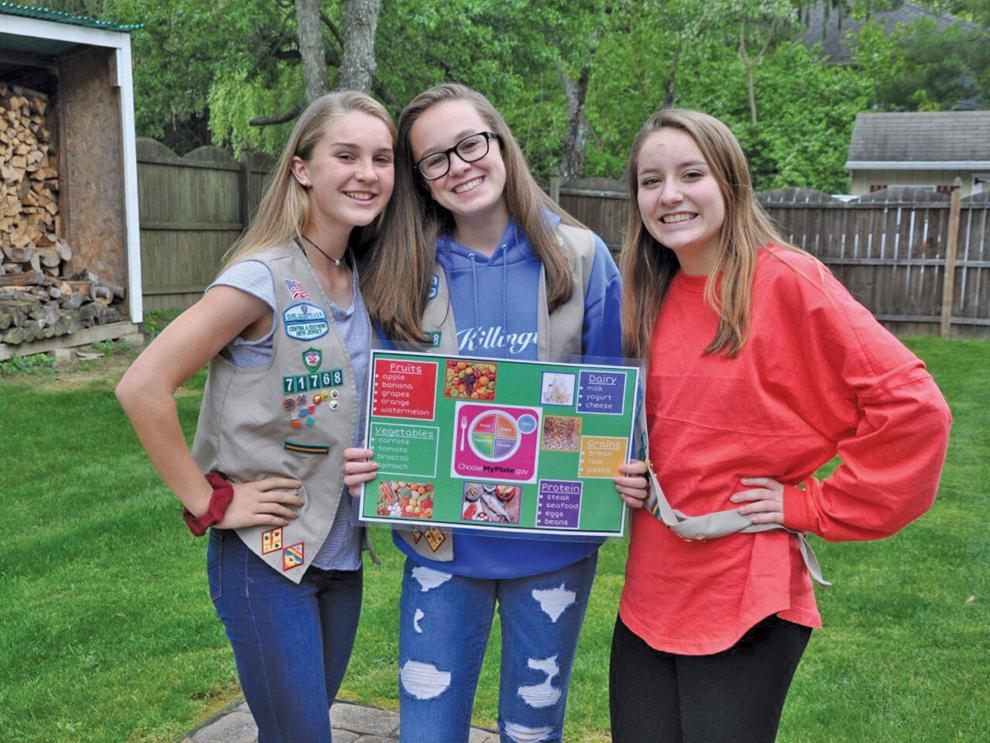 Many Girl Scout troops experience a significant drop off in enrollment, especially as middle school sports opportunities and other activities kick in. But three Lawrence ninth graders—Kaitlyn Maloney, Kelli Collins and Nicole Seeburger—with the support of their leader, Lisa Pitcherello (also Seeburger's mom), have just completed their Silver Awards and are starting to think about their Gold Awards, the high point of Girl Scout service and learning.
Their Silver Award project, which involved teaching healthy eating and dining etiquette to children in aftercare, began with research.
Collins, who attends the Cambridge School, explains the motivation for their project: that children in afterschool care might not learn dining etiquette because their families might not have time to sit down together for dinner. In addition, she adds, "it came to our attention that what they are eating could be affected by their parents working, so we also wanted to teach them about healthy eating."
Seeburger, a student at Lawrence High School, notes that obesity, specifically, is a "problem in our country." She explains that young children often get home and automatically go for a bag of chips rather than something healthier, so when teaching about nutrition "it's good to start when they are little." Maloney, also a Lawrence High School student, says that starting young can create sustainable habits, and "then they teach that to their children and generations on." Having a lasting effect on the community like this is required of a Silver Award project.
To explore what nutritionists recommend about healthy eating, the three Girl Scouts used the U.S. Department of Agriculture website, ChooseMyPlate.gov. They learned that the food pyramid, so popular for decades, has been replaced by the idea that a healthy meal should always include helpings of fruit, vegetable, grain, protein and dairy.
So they decided to create a placemat with a graphic illustrating these five food groups, surrounded by healthy food choices in each category. The other side is a template for how to set the table and a guide to table manners.
They designed the placemats, then printed and laminated them so that each student could take one home and the schools could use them in their classrooms.
Collins says that the process of creating the placemat taught them something about graphic design. She says, "We didn't have a fancy graphics program; we used Google Drawings. We had to be creative to make it look fun, and we chose different shapes and colors to make it pop out."
As far as rules of etiquette, Seeburger says, "We put easy things for the little kids—no big words. We wanted to make the placemat look fun, not just a list of rules of what you can and can't do." She adds that she herself hadn't known where the knife, fork, spoon and napkin go on a traditional place setting, so she had to look it up. "From doing this, it is stuck in my head," she said.
The Girl Scouts taught lessons to 230 students at the four Lawrence elementary schools, Lawrence Intermediate School and the YWCA Princeton pre-K summer camp classes. They all said they learned much from the process. The girls asked the students to draw appropriate food on their "plates" as part of the lesson. To review table setting, the children used plastic plates and silverware to set up a proper place setting as fast as they could.
These props gave them "something to actually touch," Seeburger says.
Collins explains, "It is better when you are learning something to do it in different ways. Instead of us just telling them, using our voices, having them drawing and setting up with their hands, they are doing it physically and that makes them learn it better."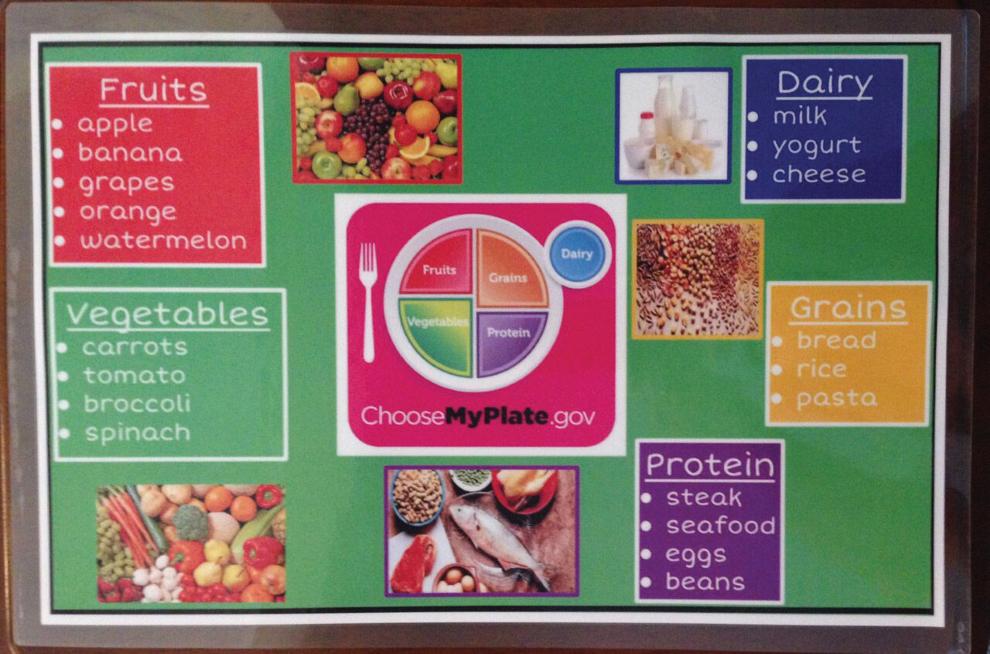 Seeburger says she learned from the project about leadership and teaching younger kids and how to keep them entertained. "You have to be in charge and not let them run off and do what they want," she says.
But the girls realized as they began teaching that they had to make adjustments. "While doing the lessons, we added a wide range or variety of foods," Collins says. "We are targeting younger kids, and they are picky eaters."
After the first class, they reorganized their teaching approach. Maloney says, "At first, we started doing the whole group, with us three teaching 20 kids at a time. Then we split them into three groups of five or six kids at a time, with one of us teaching each group. It was quicker and made the kids focus more."
The Girl Scouts have been involved in many service projects over their years together. They raised money and organized volunteer donations to fill over 100 backpacks for Rise, a non-profit social service organization serving Hightstown, East Windsor and surrounding communities.
They also put on a four-hour dance-a-thon to raise money for people with cancer. They created artwork for HomeFront's new building and then created care packages with games and crafts for its younger residents and personal hygiene bags for families who leave the shelter over the weekends.
All three young women are also active individually at their schools and in their communities. All play sports and do social action work with the Church of St. Ann in Lawrenceville. Maloney is active in Operation Smile, which arranges surgery for children with cleft lips, and in Students Helping Honduras, which raises funds to help rebuild Honduran schools. Collins is involved in Let Us Beat Hunger, which runs a food drive and gives the donation to the Mercer Street Friends School Bank. Seeburger is a competitive dancer in jazz and lyrical dance.
Although each of the young women voiced college resumes as the top reason they have stayed involved in Girl Scouts, when they talk about what scouting has meant to them, they also cite benefits that go far beyond college admissions or potential scholarships.
"You learn a lot and get to meet up with your friends and meet new people," Collins said. "You learn how to handle money through the cookies and how to do things in the community with the projects you do. You learn how to volunteer."
Seeburger adds, "You get to meet people at all different organizations. You learn about people less fortunate than you, and how you can help. It gives you perspective on how people can live and how you can change it."
Maloney says, "You realize how some people live and how you want to help." And regarding college admissions and future job offers, she says that Girl Scouts "shows how much you work hard and are focused on something."