Ever since Jeff Molinelli took over the Lawrence High boys' basketball program in 2012, there have been two constants – the team's mascot has been the Cardinals, and a Mitchell-White has been in uniform.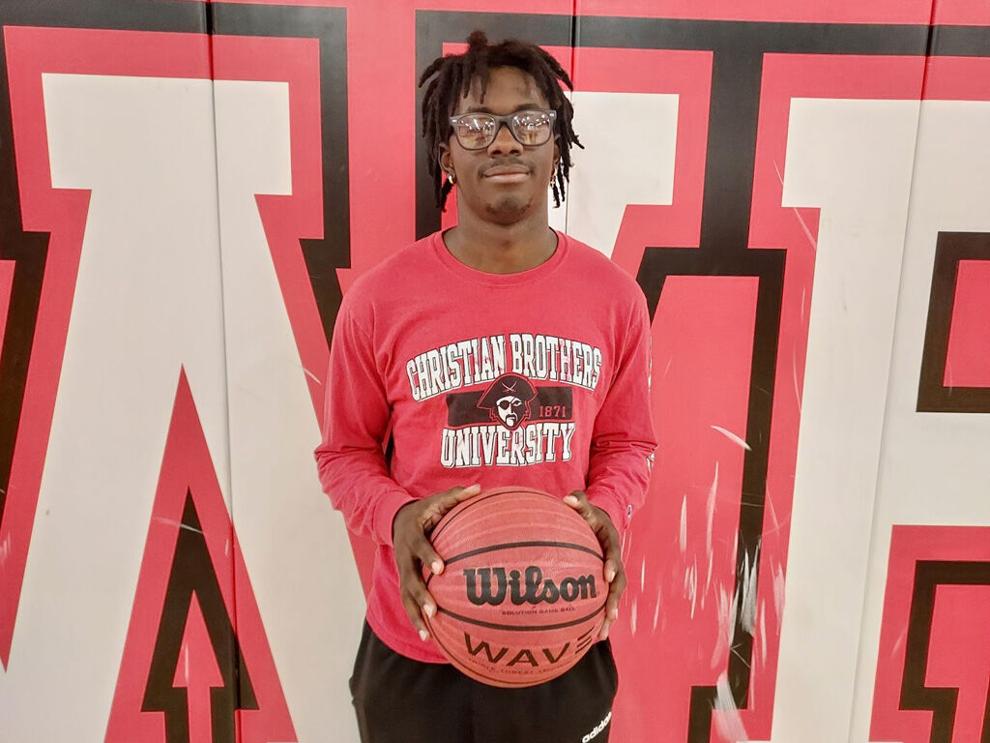 In fact, the mascot could probably have been changed to the Mitchell-Whites since Molinelli's arrival, as there has been just one season without one of the siblings in the program.
The coach will enjoy one last winter before the string runs out, as Gabe Mitchell-White prepares for his senior campaign. Prior to Gabe's arrival in high school, he watched his brothers Steven, Semei and Myles all play for Lawrence.
"I've been around this school for a while," Gabe said. "I used to be here for every game. It was exciting, the energy was high, fans were excited. It was good basketball. It was fun."
But with his mellow attitude, the prized athlete is not feeling too emotional about his final go-around in the gym that has been a second home.
"No, not really," he said. "I'm just doing what I enjoy, playing sports. That's what I'm here to do. It's fun, I feel like it's completing a cycle. I made it through here, my brothers came through here. I'm just trying to have fun."
When Molinelli arrived, he inherited Semei as a junior. The following year, Myles and Semei overlapped for one season. Myles graduated in 2017 as Lawrence's all-time leading scorer and completed a stellar career at Montclair State last year. After Molinelli went through Mitchell-White withdrawal during the 2017-18 season, Gabe arrived in 2018 and became a varsity starter as a sophomore.
This year, he will be key to any success the Cards have.
"They've all been good players and I expect him to be the same thing and be a leader for us," Molinelli said. "We're gonna rely on him a lot."
As a bona fide expert on what makes a Mitchell-White, the coach was quick to point out the thread that runs between them.
"They are very athletic," he said. "They're probably the most athletic kids I've coached. They work hard and they want to win and I know Gabe's gonna bring that work ethic with that athletic ability and he'll be a very good player for us, I hope."
As a player who can do a little bit of everything, Mitchell-White averaged 8.0 points and 5.4 rebounds as a sophomore, while collecting 27 assists, 29 steals and 30 blocked shots. During last year's Covid-plagued season, he averaged 7.4 points and 4.4 boards with seven blocks, 15 assists and 18 steals.
Molinelli feels Mitchell-White can play all five positions on the court but in the preseason his plans were to play him at the two, three or four spots.
"He's very interchangeable," Molinelli said. "Some games if we go a little bigger we'll have him at guard and if we go a little smaller he can play down low for us."
It matters little to Gabe.
"I prefer the two and the three, but I have no problem playing all of it," he said. "I've been doing it for a while."
With last season being cut in half, Mitchell-White admitted he was not in the best basketball-playing shape during the first week of practice but assured "I'll get there." He quit playing AAU but did play in a summer league.
It helped that Mitchell-White enjoyed a standout football season, so it's not like he's out of shape. And Molinelli feels that gridiron success should help with basketball.
"You just have a good demeanor and good confidence and you feel good about yourself, obviously," he said. "If you have that confidence it can definitely carry over and you feel ready to go."
Mitchell-White feels that football has become his main sport and is looking into that as far as colleges go.
"A few coaches have been in touch with us," he said. "I'm still weeding it out."
For now, he will go from weeding to leading as one of the Cardinals veterans. Although he is not an in-your-face type of leader, Gabe does show the way through encouragement and example.
"I feel like if I show what needs to be done and I'm ahead of everybody in doing it and making myself the emphasis, everybody should be following suit," he said.
Molinelli's plans for Mitchell-White are to have him score, rebound, defend the opponent's best offensive player and, if time permits, work security at the front entrance.
"A man of all trades," the coach said with a laugh.
When it comes to point production, Mitchell-White feels he can score from the perimeter or by penetrating.
"I have a pretty good shot but also don't think anybody is really athletic enough to keep up with me," he said. "I feel like I'm fine either way."
Molinelli, however, would like to see him penetrate.
"He can shoot a little, but he'll definitely get more around the basket," the coach said. "He jumps elbow above the rim; he's super athletic and he can get a lot of offensive rebounds. He'll definitely score on fast break transitions, he's very fast. He'll do a good job attacking the rim for us."
In comparing Gabe to the brother who came before him, Molinelli said "Myles was an unbelievable basketball player. But Gabe is the athlete. He has the same winning attitude, wants the team to be successful and he'll do everything in his power to make our team win."
How much the Cardinals win is still a question mark. Along with Mitchell-White, seniors Eric Bruestle and Reilly Cahill are the only players with experience. Molinelli says what the Cardinals lack in height, they will make up for in scrappiness "and get after teams."
Asked what he thinks of the season, Mitchell-White was non-committal.
"It's up in the air," he said. "If I'm being honest, I'm not sure. It could be really exciting or it could be a project. One or the other. I'm looking to have fun. This team has a lot of potential. We're small, though, so we're trying to get out running the basketball. It should be fun."
"Fun" is the key word when it comes to Mitchell-White. He has a zest to enjoy playing sports, which is why he never felt any pressure to live up to his brothers when he arrived at LHS.
"Credit to him, I don't really think he's been like that, which is so hard to do," Molinelli said. "He's handled himself really well with it. He just comes in here and works hard every day."
Gabe is the first to admit he got good advice from his brothers and was always willing to listen to them. But he never felt their shadows hovering over him.
"It wasn't any pressure," he said. "I knew what my brothers did but I'm my own person so I knew I was gonna do something of my own."