With three of his top wrestlers not coming out for various reasons this season, Lawrence High wrestling coach Chris Lynne is only looking to get his young wrestlers match time and is not concerned with wins or losses.
With one exception.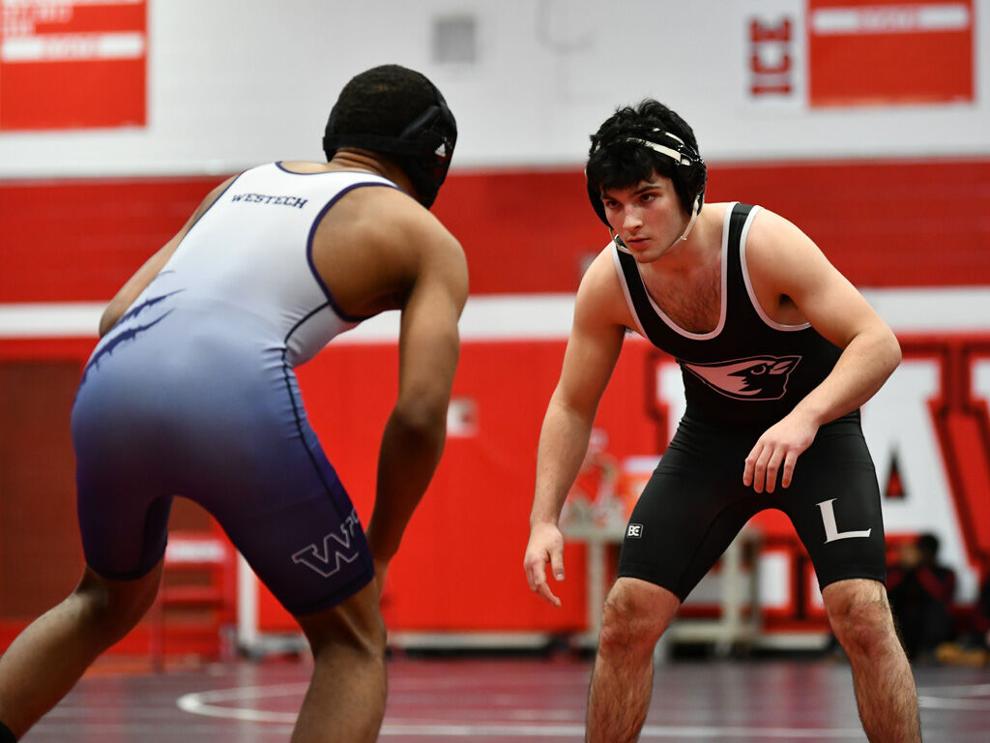 "Jake Dallarda is your bonus," Lynne said. "If he does well it makes it all worthwhile, and that's why I didn't want to lose this season (to COVID-19 shutdowns), because of Jake. That's all (assistant) Jeff Verga and I kept saying all summer long.
"He's that kid that just works so hard. To lose his chance would have been horrible. I know there's a lot more horrible things out in the world these days but in these circles, that would have been a bad thing. He deserves that chance. He didn't do anything wrong."
The veteran coach was discussing Dallarda's chance to wrestle in the NJSIAA Individual State Tournament. And the grappler has a sincere appreciation for those thoughts.
"I have the best coaching staff on the planet," he said. "They do a lot for me. Their whole objective is to get me as far as they possibly can. They know it's something I want and they want that for me. I appreciate that like nothing else. That's very important to me."
The senior 160/70-pounder came tantalizingly close to states last year but lost in the Region 6 semifinals, and lost again in the first-round of wrestlebacks. A win in either match would have sent him to Atlantic City.
This year, he is fully confident about reaching the big dance, and succeeding.
"It's not just about going," Dallarda said. "I'm not gonna go there and be the guy happy to be there. I'm gonna go there and try to place, win as many matches as possible."
Reaching this year's states is somewhat different than the norm. There won't be any district tournaments, as committees will decide which three in each district weight class qualify for regions. Wrestlers are helped in that respect by "prestige points", which are accumulated by how far they advanced in last year's post-season.
Because he was fifth in regions, Dallarda racked up some prestige points. But he cannot falter to anyone this year, or he loses half those prestige points to that opponent. Conversely, if he beats someone with PPs, he gains half of them, among other things.
The Colonial Valley Conference is limited to 15 matches and cannot wrestle out-of-conference, so Lynne cannot schedule tougher opponents for his stud. But he still likes Dallarda's chances of hitting his goal.
"He was a little crushed when he didn't make states last year, and he had improved by leaps and bounds from his sophomore year," the coach said. "You can see another big difference from last year to this year. Strength-wise and talent-wise he's so much better. He found a way to make it work over COVID."
Due to the pandemic Dallarda was unable to compete in tournaments to get any off-season mat time. But he utilized the workout equipment in his house and moved to bigger venues when gyms re-opened.
"That's all I was doing was putting on strength," he said. "And I met a guy at the gym who wrestled D-I (Division I college) who wanted to get back into it, and he helped me train and helped me make some leaps.
"I bulked up to 190 pounds just from lifting an outrageous amount and sucked back down to 160. I feel good, feel strong. I've still got my energy. This is it. This is the year."
Dallarda never dreamed he would be uttering those words when first starting the sport.
He began at age 8 but said "I wasn't very serious with it. I always kind of did it recreationally."
By seventh grade, Dallarda began to realize he had some decent skills and did well at Lawrence Middle School "mostly because I was just stronger than everybody else." He also joined the Princeton Wrestling Club and has remained there ever since.
"I stayed local," he said. "There's all these big clubs people travel real far to. I started getting a lot better with the club I was at. I figured if it ain't broke. . . I didn't want to switch up to what got me to that point."
When he reached high school, Dallarda showed skills, but they were pretty raw.
"He was a talented freshman but he was all over the map," Lynne said. "He had bad hips but good strength. He had good instincts but made freshman mistakes. He was an all-or-nothing kind of wrestler at the time. But we had such a good lineup; he just kind of blended in with the better wrestlers, which I think started to rub off on him."
Dallarda showed substantial improvement as a sophomore, going 24-9 and finishing fourth in districts, just one spot from regionals.
"He was so upset that he didn't make regions," Lynne said. "I think that's what propelled him at that point to work harder."
By then, Dallarda knew he was better than average.
"I never thought about giving it up," he said. "Win or lose I loved the fraternity of it all, the camaraderie that comes with it. Nothing beats getting your hand raised against another guy who's trying to do the exact same thing that you are; and you just deny him and you come out on top. Even though I wasn't getting that a lot I was still getting it sometimes and last year that started coming a lot more."
Indeed it did, as Dallarda went 36-5 and won a district championship. His near-miss at regions convinced him that he was better than just above-average.
"Last year it really hit me when I was one place away from states," he said. "When I was younger that just seemed out of reach for me. I was never one of those guys brought up thinking this is the end goal for me. I was mostly doing it for fun. I wanted to be good but that was never really in sight for me."
Coming so close not only gave Dallarda more confidence, it fueled his work level to go even higher. Of course, with Dallarda, wrestling is never considered work.
"I used to play baseball but never put the effort into it," he said. "That's always been an issue for me, putting effort into things that don't particularly capture my interest.
"But that's never an issue I've had with wrestling. I put so much effort into it because I love it, and I think that's what gives me an edge over other people. They may have this or that, but there's no way in hell they love this more than I do."
Dallarda's passion, combined with a 3.5 grade point average, has college wrestling programs interested. He even got contacted by Williams Baptist University in Arkansas, but his number one choice is New York University because of its wrestling and academics. He also has interest from George Mason, Ursinus and Muhlenberg.
"I'm very fortunate," he said, "to have the options that I have."
Options that he created himself, thanks to relentless hard work.
Or in Dallarda's case, a labor of love.