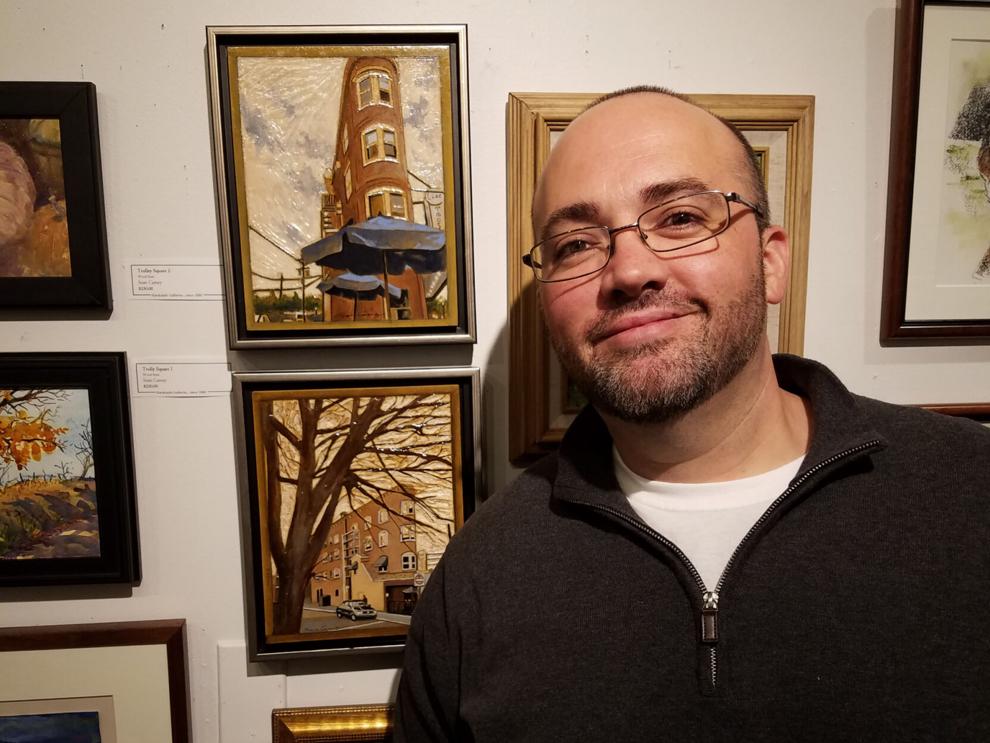 The image of Sean Carney's 8-year-old son, John Phillip, in wood stain was a revelation. He'd always been drawn to painting with materials other than paint; in college he liked to use red wine and coffee. But wood stain…that really stuck out. This spare piece of wood, the etching with the Dremel, the richness of the stain colors, those all struck him exactly the right way.
That was a about three years ago, while Carney, an art teacher at Lawrence High School, was still new at showing his work in competition. He'd been teaching at Lawrence for about 15 years at that point, showing the artists of tomorrow how to make pieces and then make them better.
"I'd do a painting just to show the kids how to do something," he says. "I usually just gave it to one of them when I was finished. A lot of my former students probably own a piece of my art."
He'd also try to teach them how to sell and market their art. Carney is not cut from the starving artist cloth. He says he's obsessed with the business of art and tries to impart upon his students the necessity for understanding that business if any of them want to make a living as artists.
And yet, it took him until four years ago to consider putting his art out there in the world. He wasn't afraid to show it. The idea just never crossed his mind. Now, though, Carney has held five solo shows since 2014 and has had work in over 50 exhibitions in the same timeframe. He currently has work on display at the Arts Council of Princeton's Solley Gallery through Jan. 14.
Carney is about as unsentimental an artist as you can find, but that's only true if you approach him from the business and showcasing side. He's deeply attached to the places he's been and the memories those places give him. But when it comes to showing or selling his work, Carney feels rather pragmatic and detached.
The unsentimental side lies solely in relation to his attachment to the paintings themselves. Other than the portraits of his children, he doesn't have anything he wouldn't sell. He doesn't need to keep originals because pictures of his works exist, and he can always look at those if he wants to revisit an old piece. Also, he has no room to store all of his works.
The experience of painting it is often enough for him. Many of his artistic friends fall in love with their work and can't let it go, he says. But to him, once it's done, the piece exists as a product, not a trophy to hang in his theater of self appreciation.
If you were to look through Carney's catalogue or visit with his work at one of his many exhibits these days, you'd immediately notice that he has a serious interest in painting cities. Those paintings, he says, allow him to capture the mood and feeling of having visited a place. He and his wife, AnnMarie, who teaches kindergarten in Lawrence, like to visit Boston, for example. In his oeuvre, Carney has many paintings of Beantown, richly colored and deeply textured simply by being on high-grade pine wood.
And if you were to look through Carney's work long enough, a curious two-part irony would cross your mind: he paints to capture moods and memories, but has no emotional attachments to the pieces themselves. And, his very attitude suggests an impermanence, and yet he literally etches his work into pieces of solid wood and then stains them with a product meant to beautify, enrich, and preserve the material for as long as it possibly can.
Then again, Carney's main reason for using wood stains on cabinet-grade pine (he has a cabinetmaker friend who hooks him up with some prime pieces) is that he just digs how it looks. The material and the stains lend a richness and a depth to the colors unlike anything else, he says. Plus, there's the added bonus that stain-on-wood makes his work stand out among the competition, which, now that he's involved in it, he's really involved in it.
About four years ago, Carney—who lives in Robbinsville with AnnMarie, JP, and 4-year-old son Liam—decided to try putting some of his work in a show, rather than just giving pieces to people. So he entered some pretty traditional oil-on-canvas works for shows, and those pretty traditional oil-on-canvas works got the appropriate once-over from art aficionados. Nothing made his work unusually noticeable, but people did like it.
At the same time, he was doing some work around the house. He found an old slab of wood that he hated the idea of just throwing away. So Carney etched the lines for a portrait of John Phillip, then set to coloring in those lines with Minwax stain. The result was entirely pleasing.
A little less than three years ago, Carney entered his first wood stain works into a show in Philadelphia, where the gallery hung his work next to a traditional oil painting.
"Suddenly, I was competing, but not competing," he says. "It wasn't oil vs. oil."
His choice of materials and media clearly worked in his favor. Philadelphia art lovers took notice, and Carney had found an entirely new way to express those moods and memories he so loves to capture.
'It can't just be about the medium, the work still has to be excellent.'
A lot of experimentation followed. Different woods, different types of stains, the addition of a little wood glue. Ultimately, Carney settled on water-based stains, because oil-based stains tend to bleed too much into the wood surface. And he settled on pine because, for one thing, he can get his hands on it easily enough without breaking his bank, and for another thing, pine is blonde, so stains take to it very well.
Carney's typical process, as outlined in some videos he's made for his website is to draw out the form on paper, attach the paper to the wood, etch out the form with a Dremel drill, and then color it all in with a surprisingly broad array of available wood stain colors.
As a working artist and not just an art teacher, Carney has learned two important lessons: "It can't just be about the medium, the work still has to be excellent," and get the pieces framed.
One of the toughest parts of being an artist in an unusual medium, Carney says, is that some gallery owners and art patrons view his art as a craft.
"When I go into a gallery for the first time," he says, "I don't show them any art."
Carney tends to wait for a third visit before even mentioning he's an artist, because he has no interest in sandbagging galleries with his portfolio. He'd rather build a relationship with gallery owners. A couple places where he thought he'd had a real shot at getting a showing turned him away. Why?
"They thought I was kind of crafty," he says.
An older gentleman told Carney to have his pieces framed before showing them. The advice proved to be just the trick.
"Once it's framed, you can tell it's a painting," he says.
One art venue that didn't seem especially interested at first was the Princeton Arts Council. But Carney always loved the building the council calls home. He sees it all the time, driving into Princeton to hang out with his family or to go to his second job as a bouncer at Triumph Brewing Co. That's not a misprint—Sean Carney is a painter, a teacher and a bouncer at a bar. And he's not the only creative tough guy you'll meet at the door at Triumph. His bouncer partner there happens to be an artist too, so no, artists are not all brooding, underfed introverts after all.
Carney always liked the Arts Council's Paul Robeson Center building. One day he decided to paint it. He sent the work to the office of Michael Graves, the architect who designed the building, as an homage. Graves's studio did a blog post on the piece that caught the eye of the Arts Council, which then asked him to send some pieces.
He sent 25, and they picked 14 for his current exhibition.
Carney's ecstatic about the exhibit, because the Arts Council is a tough place to get a show, he says. Actually, he's generally ecstatic about anything that gets him talking about art. He loves talking about it, loves making it and loves showing it.
And he'd love to be selling it all. He loves his teaching job, too, but in seven years, he'll have 25 years in the system and will be eligible to retire. And when he does, he'd really find it fantastic if he could make a whole new living selling his art.
So far he's on a decent track. Over the past few years, he's built a considerable name for himself in area art circles. He currently has about 60 pieces out in various shows, most of which he knows won't sell and will come back to take up space at his house.
And we all know by now how Carney feels about holding onto his art when he could sell it.
"I'd love to sell them all," he says. "I'll make more."