Leticia Kitio has been playing tennis at a high level all her life. But it was not until Sep. 22 of this year that the Lawrence High junior convinced herself she was pretty darn good.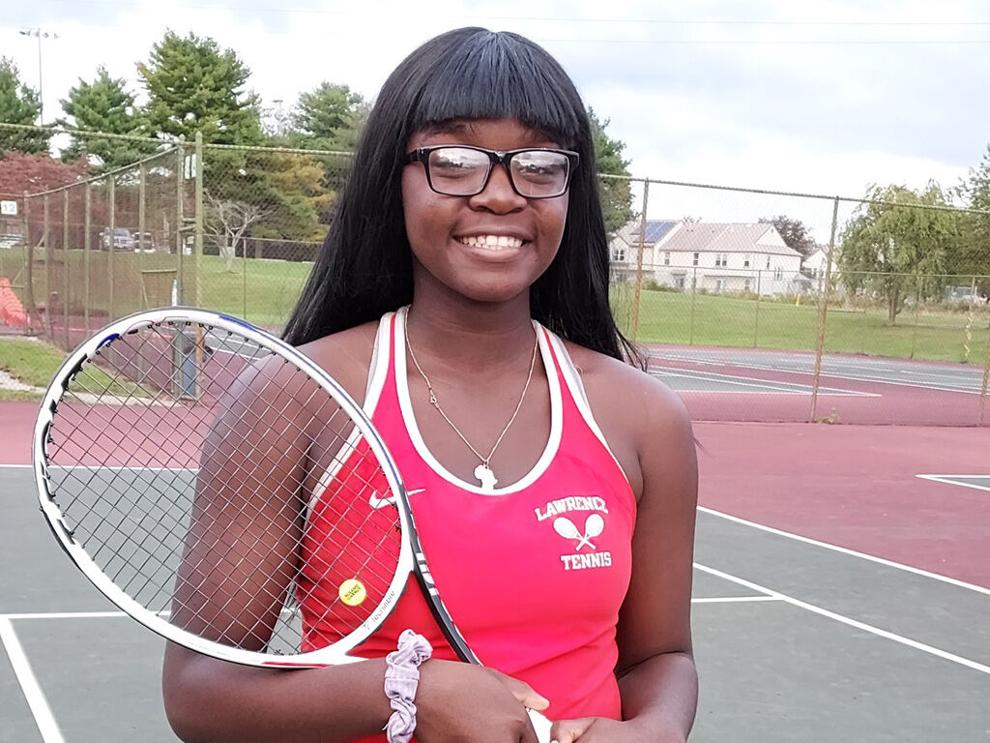 It was on that day that Kitio defeated Hun's Amanda Francis, 7-5, 6-4, in the Mercer County Tournament first singles championship flight at Mercer County Park.
"When I won MCTs, I was like 'Wow, I can really do something now, keep pushing, you got it," Kitio said. "My dad would always tell me 'You're really good.' But every time I'd lose a tournament the confidence or energy I had would go down.
"So when I won MCTs and came close to beating the girl in states, my confidence level was still really high. I still know I can beat her, I can make it."
Ah yes, the states.
Kitio entered the NJSIAA Individual Singles Tournament in the 17-32 seeded group and blew through the first two rounds, winning 6-0 6-0, and 6-0, 6-1.
Then came a third-round match with Demarest's 9-16 seeded Yahil Noy. Leticia fell behind in the first set 2-0, before bouncing back for a 6-3 win. In the second set, she fell behind 3-0 and rallied for a 4-3 lead before overconfidence kicked in.
"Mentally, I was like I had already won and it was all set," Kitio admitted. "And then she came back and won 6-4."
In the early rounds of state play, a third set is played as a 10-point tiebreaker to keep the flow of the tournament going. Once again Kitio had the advantage, going up 8-4. But she couldn't put the hammer down and lost 12-10.
"I just needed the two points," she said. "I couldn't get the two points. I just had so much tension, with the pressure of this ball and that ball. I just never took the chance to finish the point.
"Emotionally, I was a wreck after it ended. I was tearing up a little bit on the court, I'm not gonna lie."
She will, however, use that match as a building block.
"I got through it," Kitio said. "It was a good match for me and a good experience for me to know I could actually compete with her. Her UTR (Universal Tennis Rating) is an eight-point something and I'm like a six-point something, which is shocking to me. It was a good experience to know I could come close to beating somebody that high."
As of Oct. 19, it was Kitio's only loss in her first season of high school tennis. She was 14-1 overall, going 9-0 in dual matches (missing some for USTA events), 3-0 in the MCTs and 2-1 in states. She made Lawrence history by becoming the first male or female player to win a county first singles championship.
"I didn't know I was the first one in the entire history to do it," Kitio said. "I thought I was the first girl to do it ,but knowing it was boys and girls it was just shocking when I found out."
"We've had people make it to the finals, but never win it," coach Antonio Stapleton said. "It was great to watch her. I'm just enjoying the show right now."
It's a show that took some time to reach production. Leticia arrived at LHS in October of her freshman year and decided it would be unfair to disrupt a Cardinals' lineup that was already intact. Concerns of Covid-19 kept her from playing last season.
"I first heard about her last year," Stapleton said. "I was thinking if she came out this year we could make some noise in the CVC. I told her she should come and play and see how it is the first year, and if she liked it, she'd be welcome to come back her senior year and make some history."
As it turned out, she made history this year with her MCT crown. And she had a good time while doing so.
"It was so much fun," Kitio said. "I'd never been part of a tennis team before. Everyone was so nice to me. There were so many things I didn't know we needed to do. I didn't know all the players had to line up (by flight) before the match. What I learned this year was so much fun and I plan to do it next year."
Kitio is a lifelong tennis player, starting at age 3 under the tutelage of her dad, Jean Kitio. Jean started his daughter out by taking her to the clay court club he owned in East Orange.
"I would always throw the ball over the net and clean the courts," she said. "He started me out throwing the ball over just to get the arm strength and everything. I'd throw it over 10 times every day. I got a racket at four years old so then I could hit the ball."
Jean moved around to different training jobs, going from West Orange to Chatham to Connecticut to West Windsor. But he made sure Leticia never had to switch schools as he would sometimes drive her over an hour to keep her situated.
His daughter would play at the various clubs where Jean taught.
"I played in Connecticut when I was 11, but I wasn't taking it serious," Kitio said. "When you're young you don't know what you're doing, you're just doing what your parents want so I wasn't taking it serious."
But when Jean moved to the Windsor Tennis Club in West Windsor, Leticia began to see how serious they took the sport and started to apply herself. While at WTC, Kitio met youth coach Stephanie Howard, who now runs the Outreach Program at nearby Princeton Tennis Program.
In eighth grade, Leticia helped Howard instruct younger players and also improved several facets of her game under Stephanie's watchful eye.
"Stephanie helped me a lot on my serve and my forehand," Kitio said. "She would say 'Oh your set-up is so beautiful,' and helped me get better with that."
To this day, Leticia considers her serve and forehand her strength, and Stapleton agrees, saying "Her serve is nice and it could be a good winner but her forehand is her bread and butter. She definitely knows how to place the ball."
Kitio, who is still working with a private instructor at Windsor Tennis, arrived at Lawrence just hoping to become a starter. The Cardinals were 12-2 and won the Central West B Groups 1-2-3 title in last year's abbreviated season.
But of the top three players expected to return, only Sara Suri -- who finished runnerup in the MCT second singles flight -- made it back.
"When I saw how good they were last year, I was like 'Uh oh,'" Kitio said. "I was really just hoping to get a spot."
As it turned out, she got a spot in the program's history book. And she has done so thanks to some strong physical and mental attributes.
"She's poised, she's under control," Stapleton said. "I want to say she's very seasoned because she's been to some big tournaments; her dad had her competitive. She sees what she needs to command on the court. She definitely puts on that aggressiveness, but other than that, if she knows she can go into cruise control she will apply that to preserve her energy."
That doesn't happen often.
"I'm a very aggressive player," Kitio said. "I may go defensive just to switch it up a little bit if the other player is getting used to me getting aggressive, but I'm usually very aggressive."
One of Leticia's greatest weapons is her demeanor. She rarely shows her hand on the court, always appearing unflappable.
"It seems like she puts up a wall in terms of her expression; like she doesn't show any fatigue, doesn't show any frustration," Stapleton said. "She just plays and she's very respectful to her opponent when she plays. That attitude helps. They see her facial expression and they think 'What can I do to get her frustrated? She's not showing anything.' It's great for her."
Her future also looks great, as colleges have been showing interest.
"I'm actually really excited," Kitio said. "At the MCTs I heard there were college coaches there, I was so nervous. My dad spoke to the coach at TCNJ. . .he never told me what he said though.
"But I'm excited to start visiting colleges, and going through the process of picking colleges, picking the right team, the right competition. Right now I have four major places I want to go, but I want to see where everything goes and see if I have any other opportunities."
For now, however, she has one more year with Lawrence, which makes at least one person happy.
"She's a pleasure to coach," Stapleton said. "I feel blessed to have her."
It's not hard to see why.