There are times Kate Sullivan will climb out of the pool and sit down to ice her shoulder during practice. But she doesn't just sit there doing nothing but hold an ice bag. The Lawrence High junior multi-tasks and begins to do an ab workout.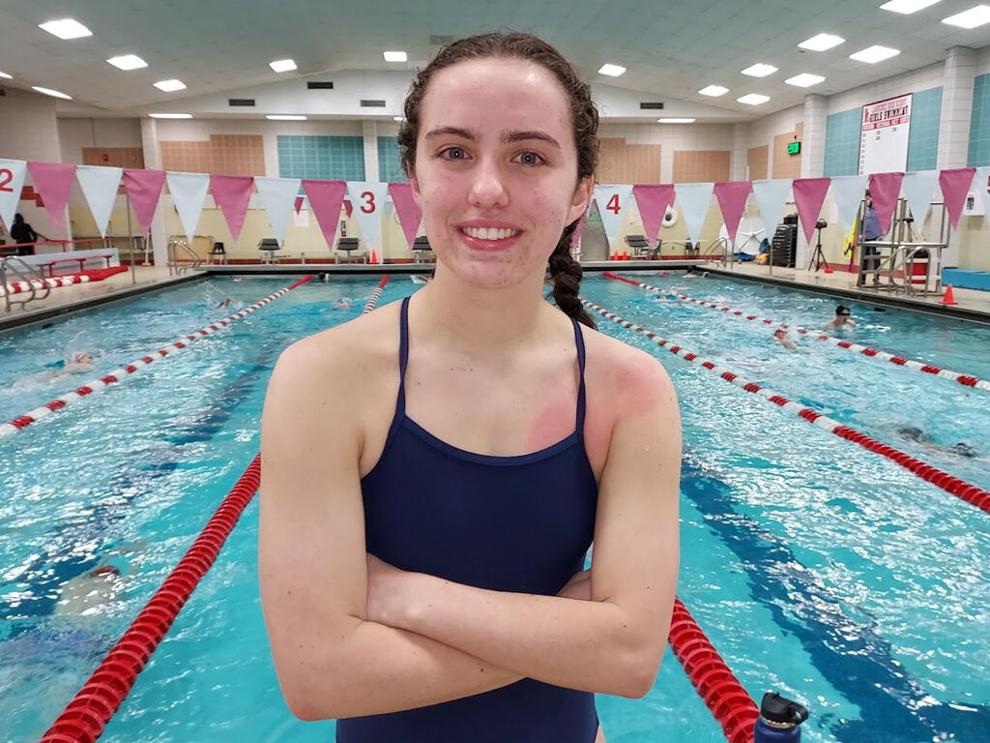 "She'll say 'I'm not trying to get out of a set, I need to ice my shoulder but I also know I need to keep working and better myself,'" Cardinals coach Hillary Hargraves-Dix said. "That's the kind of person she is."
Sullivan just shrugs when asked about that.
"Why sit, when I can be doing abs?" she wondered while pressing the aforementioned ice bag against her left shoulder. "I don't want to be icing just to get out of a set."
It's that kind of attitude that makes Sullivan one of the Cardinals top swimmers and one of the Colonial Valley Conference's most versatile performers.
Through Lawrence's 5-2 start, her diversified success was downright remarkable in dual meets. Sullivan had two first-place finishes in the 100 breast, a first, second and fourth in the 100 fly, a first and second in the 200 free, three first and one second in the 200 individual medley, a first in the 50 free. If you lost count, Kate won at least one race in five of the eight individual events that are held during a meet.
As for relays, she helped Lawrence to five wins and one second in the 400 free, three firsts and three seconds in the medley, and two firsts in the 200 free. That made for a total of 18 first-place finishes in eight different events.
If swimming were a chess game, Sullivan would be a newly invented piece called the wild card – move her to any spot on the board whenever the situation is warranted and get a positive result.
"Katie's one of our most versatile swimmers," Hargraves-Dix said. "She can do everything from freestyle to the most grueling events – butterfly, 500 freestyle, 200 IM. She really does it all. I can put her anywhere. That's one of the biggest qualities about Katie.
"She definitely blossomed into a more versatile swimmer when she got here, but was always the type of athlete who's like 'What do you need me to do, coach? I can do it.' She might complain in, like, a loving, joking type of way. But she's always happy to do what I need her to do. She's always been a hard worker."
When the coach says "always" she is not exaggerating. Hargraves-Dix has watched Sullivan grow up in the pool. Kate's parents were members of Ben Franklin Swim Club before she was even born. Naturally, when Kate came along, they took her there too and she immediately took to it.
"My parents got me in the water early, teaching me the basics of keeping my head above the water," she said. "I just loved it."
And little Kate was also being observed by her future coach as she competed for the Ben Franklin PASDA team.
"When I used to lifeguard and manage there, she was a young kid running around the pool, always at the pool, always in the water," Hargraves-Dix said. "She was very energetic and outgoing and then it was amazing to have her join the team all grown up now and she turned into one of my best swimmers."
The coach, a former standout swimmer herself at LHS, could see that talent at an early age.
"She's always had that competitive edge," Hargraves-Dix said. "She comes from a very athletic family so they always have that focus on sports and sportsmanship; and just the urge and drive to compete."
From PASDA, Sullivan graduated to the Lawrence Lightning travel team, which she said "really fostered my love for the sport," and then moved on to the high-powered Eastern Express club team. Throughout her stops, different coaches gave Kate different strokes to try, molding her into a hybrid performer.
Sullivan has since given up club swimming as she needs to focus on her Advanced Placement courses if she hopes to maintain her 4.2 grade point average.
Upon arriving at Lawrence, Kate was part of a large flock of talented freshmen, the nucleus of which now leads the Cardinals. She had some early success and was a little daring when it came to her first Mercer County meet.
"I let the kids give me some input about what they wanted to do in counties and she chose to swim the 100 free and 100 fly, which are back-to-back events," Hargraves-Dix said. "They're her best events but she quickly learned that might not have been her best choice because she was exhausted afterwards.
"But that also says a lot about her. She's up for the challenge, she's not afraid to back down from something that's intimidating to other swimmers. I'm excited to see what she goes with at counties this year."
It is interesting to watch Sullivan's metamorphosis. Hargraves-Dix noted that when she arrived, her weakest stroke in the IM was the breast, which would start to cost her in races as she would fall behind. But again, she took the challenge, began working on it more specifically and honing her technique.
"That's really brand new," she said of the event. "I got a lot of tips from my coaches and decided to give it a shot because I was doing the 200 IM a lot and breaststroke is really important for the two IM so I wanted to get better at it. I got some pointers and worked at it every day."
Not surprisingly, it paid off.
"Now she's one of my main breaststrokers," Hargraves-Dix said. "It's great to have her there but I really like her in the 200 IM and butterfly."
Sullivan, who had to decide on her MCT events by the end of January, says she is most confident in her 100 fly "because I've trained for that event for so many years."
But her ability in other events make her a valuable asset to the team's success.
"She's like my lucky charm," Hargraves-Dix said. "I put her wherever I need her to because I know I can count on her to perform and win."
What makes Sullivan's performance even more impressive, is that she competes while struggling through some slight discomfort. A pectoral injury suffered from overuse a few years ago flares up on occasion, forcing her to ice it frequently and give it ample rest in the off-season. But she never uses it as an excuse to slack off.
"She gets in the pool and works the hardest in practice, finishes everything, gets up to race and is super competitive," Hargraves stated. "This season she's had some amazing finishes beating out someone on the last lap, the last touch. She definitely has that drive and that motivation to win."
She also has the desire to make up for a petite frame, as Sullivan stands just 5-foot-4.
"I do abs to get those strong," she explained, "so I can beat people on the flip turn when I can't beat people in length."
When Sullivan is not racing or getting A's on her report card, she is busy participating on Lawrence High's debate team. Asked what the key to a successful argument is, she said "Make sure you have your sources cited. You always gotta have your sources."
And no matter what source one consults, they will all confirm that Sullivan is a standout swimmer.