When Lana Mueller embarked on a career as a dental hygienist after graduating college, little did she realize the circuitous route her life would take.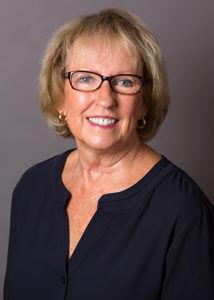 Now, at age 73, she is retiring from the Lawrence Public School District after having worked there for many decades. Her retirement is effective at the beginning of May.
"Never did I dream I would live in New Jersey," she said. "Now, we've been here the longest of anywhere we've ever lived."
Mueller has worked for the LTPS since 1995—most of the time as operations manager. In that role, she worked closely with the district's superintendents and also served as its communications director.
When she first went to work for the district it was a part-time position as a secretary to the instructional supervisors.
"I was actually physically located in the assistant superintendent's office, who at that time was Bruce McGraw, and I also assisted his secretary," she said.
In 2001, Mueller was selected to fill the position of assistant to the superintendent, a job which ultimately evolved into operations manager.
The oldest of four children, Mueller was born in the Saint Louis area and was the only one of her siblings to go to college. Her father worked for a lumber company for some 40 years, and her mother was a homemaker for most of that time.
She attended the University of Missouri at Kansas City and graduated with a bachelor's degree in dental hygiene.
She got her license after graduation and then worked as a dental hygienist for a number of years, before moving to Denver, Colorado, and meeting her husband, Jonathan.
After the two married, the couple had their three children in Denver, where they lived for 14 years. Jonathan changed jobs and the family lived in southern California for seven years before moving to Lawrence Township in 1993 after another job change.
Mueller's children are now grown to adulthood. Two of them graduated from Lawrence High School, and the third graduated from a high school in California.
The Muellers lived in Lawrence until last July, when they sold their house in anticipation of moving west after she retires to be close to her youngest daughter and her husband, who live in South Jordan, Utah.
"I had always wanted to move back to Colorado when we retire, but Utah's pretty similar, so that's why we're going to go there," Mueller said. "We knew we would get out of New Jersey, but we thought we'd just go to Pennsylvania because of the high taxes in New Jersey."
Meanwhile, the LTPS Board of Education appointed Eshaya Draper to fill Mueller's position at its April 21 meeting. He started on April 27.
Prior to joining LTPS, Draper orchestrated aspects of the New Brunswick Public Schools' communications and public relations initiatives. Throughout the COVID-19 pandemic, Draper focused on crisis communications while supplying students with platforms to express their opinions to district administration.
His background also includes extensive work in community engagement and performing arts programs.
Draper earned an associate's degree in liberal arts-communications from Middlesex County College and anticipates earning his BA in Communications in 2022 from Thomas Edison State University.
* * *
The Lawrence Gazette recently sat down with Mueller to discuss her years with the school district and to talk about her plans after retirement. Below is the first half of the interview. The second half will appear in next month's issue of The Gazette.
This Q&A has been lightly edited for length and clarity.
Lawrence Gazette: How did you make the transition from dental hygienist to working for a school district.
Lana Mueller: I got tired of getting my license each time we would change states because of my husband's job, and I got kind of bored with it.
I liked using the computer and those sorts of things, and I became aware of the position that they (LTPS) posted for the part-time secretary. At that time my kids were still in school, so working part-time was perfect. They were both on the swim team, and I was able to attend their meets and so on. Then by 2001, when the position opened in the superintendent's office, my kids were out of school, and I just thought it looked like a good opportunity.
LG: How did you eventually evolve into the role of community outreach?
LM: When the job for the superintendent's office was posted, nothing was mentioned about doing communications, or community outreach or PR, but the superintendent at the time—I've worked for five superintendents—was strong in communications.
The superintendent, Max Riley, believed so strongly in it that he connected me with the National School Public Relations Association (NSPRA).
Every year NSPRA has an annual seminar in July, and he had already made arrangements for me to go to the annual seminar that year, but I couldn't because I already had a family vacation planned.
But every year after that I've gone to the annual seminar, and most of the years the district paid for it. One year, I totally paid for it because it was so valuable, and then some years we kind of split the expenses.
Dr. Riley also started a group called operations assistance and it was all the principals' secretaries as well as the lead secretaries in this building. They brought in additional training to try and improve internal and external communications.
I've also been a member of the New Jersey School Public Relations Association (NJSPRA) for several years and currently am the vice president of membership.
Most of what I've learned, and the growth that I've had, has come from NSPRA. I was lucky enough to serve on the NSPRA executive board for three years from 2016 to 2019.
The annual NSPRA seminar each year is in a different city, so that's an experience, but it's not only the sessions that you attend, it's also the networking. So many times I've reached out to somebody who I met there.
That's kind of how I've grown into the role. Although initially the position was advertised as assistant to the superintendent, when Dr. Riley was here, he did a variety of things to improve communication, and the district changed my title to operations manager.
LG: Why did you decide this is the time to retire?
LM: I've asked myself whether I would be retiring if our younger daughter and her family hadn't moved to Utah. I do love my job, but since everybody, except one of my children, is towards the west, I just thought it was a good time.
I've worked a lot of years past what some people have worked, again, because I've enjoyed it. The people here are great. It's been a privilege to see how hard educators work. It's been a great opportunity.
LG: Is your husband retired?
LM: Partially. He's self-employed. He's a manufacturer's rep. He's phasing out, and he has already started doing that
LG: What are your post-retirement plans?
LM: I heard one new retiree comment once that he wasn't making any obligations until after he was retired six months, because he's heard of people who just get involved with different boards and volunteering right away, and then they're overly committed.
The place we're moving is a beautiful area to explore. We were just out there and rented an RV for a couple of nights, and my daughter and her husband have a big pop up. So we had six of the grandkids and went camping by one of the national parks. That's the kind of thing I'm looking forward to.
LG: What are your thoughts on Eshaya Draper, who has been hired to fill your position?
LM: He's very young, but very capable, and he's going to bring a lot of fresh ideas and so on. So I think it'll be great.
LG: Having been here so long, you have a long-term view not only of the Lawrence Township Public Schools, but also how education has evolved. What are some of your thoughts on those issues?
LM: Well, it seems like we have to be responsive to more and more requirements from the state, and it seems like more and more is placed on the plates of educators, without much coming off. The big challenge you hear about in a lot of areas is (racial) equity, and we're working hard on that.
We're working with two national consultants, and we're going to have a conversation with some parents.
So that's one of the things that I see has evolved.
LG: Has the internet and social media changed the way that the district both communicates/has had to communicate?
LM: Absolutely. Just the other day I was thinking about the new person coming on, and you don't know which principle goes to which school, you know, or just anything.
I made the comment that when I started here we didn't have email and so on. We would do our memos and with the distribution, I remember standing out there not knowing which principle went with which building. It was as basic as that.
Social media is just fantastic. It can also be a challenge, because the communication is so fast, and some people vent so irresponsibly on it. So that can be a challenge too, but all in all I think it's a very positive thing.
LG: Over the years, what are some of your favorite projects or initiatives that you have worked on?
LM: I was recently sending an email and I saw #LawrenceStrong in my signature. I was reminded about the #LawrenceStrong campaign that I started when it appeared the pandemic was going to be around for awhile.
I challenged administrators to offer hashtag suggestions and I selected #LawrenceStrong. I wanted to generate hope and positivity whenever anyone saw it and wanted people to feel "it's going to be OK."
The hashtag really took off. A then-Board of Ed member who is a graphic designer surprised us and incorporated the hashtag into a graphic with our district logo. Posters appeared in home windows with rainbows and #LawrenceStrong on them, and the hashtag lives on in various places.
LG: Are there any people that you've worked with over the years that you believe were formative towards your career and also towards the school district?
LM: Well each superintendent has definitely been a big part of my growth. Each one was very different, but equally as passionate about educating kids and their leadership.
Another person is our business administrator, Tom Eldridge. He and I have been here the longest in this building. Last year, he was named New Jersey Business Administrator of the Year.
I learned a lot from him. He's done so much for the district. His position covers so many departments, it's just enormous, and he is just steadily going through, and so ethical, and always looking out for not only on the bottom line in that, but what's best for students.
He will do whatever it takes to make something happen if the people in the classrooms really need something. So he's one of the people in addition to the five superintendents.
LG: What are some of your thoughts about what it's been like the past year since the pandemic happened. How has it affected your job and the school district in general?
LM: As far as my job, we were remote right in the beginning and then when we saw it was going to go on a while, we came in. There were a couple of people that have some health issues who couldn't
It's been frustrating. I can't imagine having young children and having to work at home. And in fact, that's the situation that my daughter and my daughter-in-law were in.
It's been frustrating at times seeing that families don't realize all that's being done by the district to try and make things as good as possible to help their education to continue and to understand the reasons why we didn't bring students back as soon as some people would have liked, and as some districts have.
There have been some districts who seemingly have not observed the six feet social distancing
It's been hard for the teachers, too. And you hear so much about depression and mental health.
We're putting more things in place, because we know once we get students back full time they are going to be those sorts of issues to address.
It just seems like it's just put everybody off. It's just been unsettling for everybody and it's gone on so long.