When Michael Boiselle went out to work on his jump shot last summer, he needed someone to rebound for him.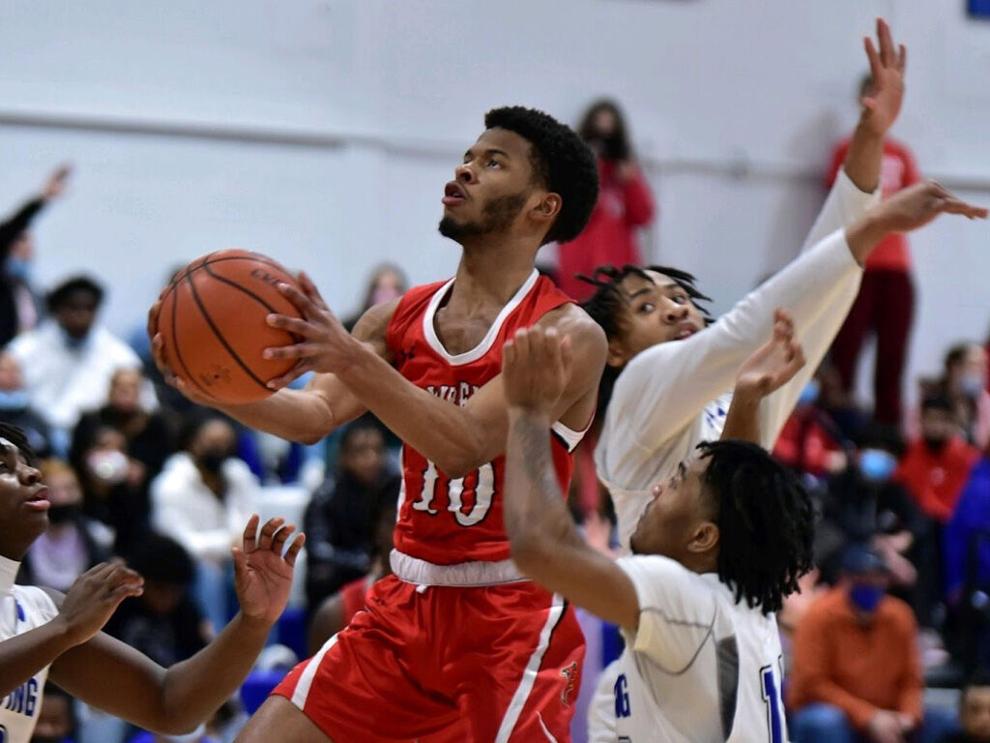 Who better than the person who taught him the game of basketball in his formative years—his mom, Ortha Allen.
"She was a good player," Lawrence coach Jeff Molinelli said of the 2002 LHS graduate. He added with a laugh "She's better than him!"
Boiselle didn't deny that, but did say, "I still play her sometimes, it's not a tough match-up anymore. I can beat her now."
He probably beats her because of what he learned from Ortha as a kid. "She brought me into the game of basketball, she introduced me to it," Boiselle said.
"I actually started playing basketball in second grade but never played on a team," he added. "She used to take me to the court, let me shoot around, just give me the ball. I used to play her for fun in one-on-one in third grade. That's when I really started to get into it, and she built me up from second to fourth grade. Affter that my coaches took over."
The combined effort of mom and travel/AAU coaches has produced a pretty good finished product. Through the Cardinals first 13 games this year, the senior point guard led the team in scoring (13.7 points per game), rebounding (5 per game) and steals (15), and was second in assists (22).
Probably the most impressive stat is being the leading rebounder at just 5-foot-11 while playing guard.
"He just has a good nose for the ball and loose balls," Molinelli said. "He's a tough kid, and when that ball goes off the rim, he sprints and gets it."
Michael has also hoisted his scoring average by over four points per game after working on his jumper over the summer.
"I knew I had to improve my shot so it could be something else that they had to worry about besides me just driving to the basket," Boiselle said. "My mom would come to the court, I would shoot the ball, she'd give it right back to me. I'd take jump shots, three point shots. I'm definitely more confident in my jumper; but I still feel my go-to is definitely going to the basket."
Molinelli feels that by virtue of an improved shot, Boiselle is able to penetrate easier.
"He likes to go to the basket, attack, finish around the rim," the coach said. "Adding his shooting ability this year has made it easier for him to get by people. He's very elusive getting to the paint and finishing around the basket. He's got some crafty moves in there, I gotta give it to him."
It has been an evolution of sorts for Boiselle, who started as a center while playing AAU in sixth grade, and then became a point guard when he stopped growing. He credits current Trenton High senior Calvin Moore for teaching him how to run the show.
"He used to play AAU with me; he was my point guard," Boiselle recalled. "I watched him, followed after him. It taught me to pass the ball more. I was not passing the ball in AAU at all, I was just shooting all the time."
Molinelli first saw Boiselle playing in a middle school game and immediately felt he had varsity talent. The two found out quick enough. Michael made the JV team as a freshman, but injuries pressed him into varsity action that season.
"We threw him in the fire right off the bat just to help us bring up the ball," Molinelli said. "He has a pretty calm, cool demeanor. He came out, he played hard. One of his first full games we played a showcase in Montgomery against South Brunswick, they won Group Four that year. We threw him right in the fire. He played hard, got us in our stuff and we played them pretty tough that game. He handled himself well."
Boiselle played 16 games as a freshman, averaging seven points and handing out 38 assists, which were second on the team.
"I would say the first couple games I was a little nervous, but after the first few games, I got used to it," he said. "I played a lot against the varsity guys in practice. That got me used to playing against other teams. Plus playing AAU I played at a high level of basketball. It wasnt anything too crazy, I just had to get used to my teammates and learn how to play with them."
He did that quite well. Unfortunately, Michael was unable to build on that much the following season, which was crippled by Covid. He still managed to lead the team with 25 assists and 23 steals in 16 games.
Last year, Boiselle led the Cardinals with 87 assists and 58 steals; but knew he had to become more of a scorer this season so he could distribute the ball to open teammates Particularly from the perimeter, in order to get defenders to come out on him. He has answered that challenge, making 14 3-pointers through 13 games after hitting 11 all of last year.
"I started to realize that other teams just saw me as a facilitator, not a scorer," said Boiselle, who is looking to major in engineering or computer science in college next year. "I wasn't really that big of a threat on offense, because I wouldn't shoot. I'd just worry about other people scoring. So if I helped improve my scoring it would be easier to run the offense and get better shots for other guys, and also let me drive to the basket more."
Molinelli feels that Boiselle has done everything asked of him.
"Throughout his career he became a better facilitator, better at getting us into our offense," the coach said. "The last few years he's more of a scorer. I think he improved overall from last year, but definitely his shot got better this year. He's hitting a lot more threes, he's definitely helping us from the perimeter a little bit. It's been a pleasure coaching him the last couple years and working with him."
Michael has also maintained his talents around the basket, which he picked up while playing center in AAU.
"I actually used some big man moves around the basket," he said. "Now I use my pivot foot to get around defenders. Playing center helped me a great deal with my footwork."
Much of Boiselle's success comes from watching others and learning from them. Molinelli feels his teammates now help themselves by watching Michael.
"He's our captain and I would say he's definitely more of a lead-by-example guy. He may not be the most vocal; but from an example standpoint he works hard every day. He's always on time. He's nice to all his teammates, his teammates definitely care about him and like being around him."
Sounds like a guy whose mother raised him right­—off the court as well as on it.