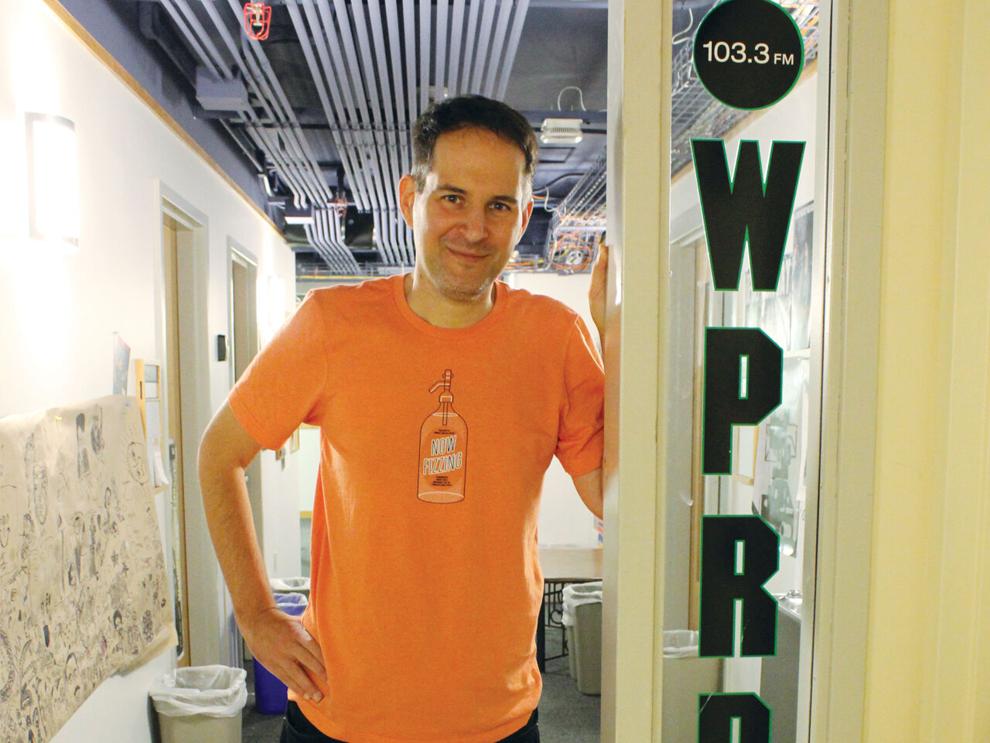 Jon Solomon has always been destined for radio. Just ask his dentist.
Solomon moved back to New Jersey from Chicago in 2000 and started going to the same dentist he saw when he was a kid. There, in his file, was a survey he filled out in grade school outlining his major interests: science fiction, basketball and the radio. It's a list adult Jon could have filled out, Solomon said, a reflection on how his personality has been fully-formed since he was young.
Solomon is a deejay at Princeton University's 103.3 WPRB, hosting a show every Wednesday from 7 p.m. to 10 p.m. He's been on the air since he was 15 years old, starting out in an overnight slot that required him—and his parents—to wake up in the middle of the night and head to the studio.
He finally caught a primetime break later that year when he was greeted with an empty sign-up sheet after most of the station's hosts, largely students at the school, left for winter break. Solomon, who is Jewish, didn't have any Christmas Eve plans, so he took the slot, went on at 10 p.m., and played nothing but Christmas music until the morning. Twelve or so hours became 24 hours for the following year's show, and Solomon's day-long Christmas marathon has been a WPRB staple since then.
Two years ago, the show grew an extra hour (and stayed that way) in honor of its 25th anniversary. Solomon, a Lawrence resident, has only missed one show since 1988: in 1995, when he drove out to Pasadena, California to see his alma mater, Northwestern University, play in the Rose Bowl.
It was that missed show, though, that helped Solomon realize where he "needed to be on Christmas." He graduated with a degree in radio, television and film from Northwestern in December 1995 and lived in Chicago on and off until 2000. But he always came home to New Jersey to do the show.
"It's something that people were looking forward to, but at the same time, and this might be historical revisionism, I think if I had done the show in '95, I wouldn't still be doing it now," he said. "I would've just hit some sort of wall or have burned out. It really kind of drove me to make sure I was going to be in New Jersey come 1996 and all of the Decembers since."
The station has been home to some of his highs (proposing to his now-wife, Nicole, on-air) and some of his lows (blowing his back out carting crates of records to the studio just before one marathon). More often than not, the Christmas shows fall into the category of the former.
Five years ago, he started asking friends, musicians, comedians and others to record Christmas stories to be played on the show. Some fans have written and recorded songs about the marathon, while other listeners call in with specific requests or tune in at the same time every year. A couple who often listened to the show together got engaged during one year's marathon. The scope of the program, Solomon said, still gets to him sometimes.
"I'm always amazed that the program touches people to that degree," he said. "When it's happening, I'm so in the thick of it. I can definitely appreciate it in moments I can allow myself to catch my breath, but it's a much different experience on the other side of the microphone."
Solomon, 43, grew up in Princeton. He recalls always being interested in radio, sometimes recording America's Top 40 on a tape deck and creating his own little shows.
A classmate clued him into WPRB around sixth grade, and he immediately became an avid listener. He especially liked Thanx IV Sharin', a call-in show that aired Sunday nights at midnight. He'd set up the longest cassette tape he could find and set it to record the show so that he'd have something to listen to on the school bus in the morning.
Thanx IV Sharin' had an active group of fans who contacted each other throw letters and phone calls in its pre-internet days. Listeners had meetups, and got together for an annual barbecue.
"That show was one of the first things that showed me radio as community," Solomon said. "That was huge."
He was a student at Princeton High School when he first started on air at WPRB, after trying unsuccessfully to get a radio station going at PHS. Sometimes he found himself still in awe of being surrounded the deejays and hosts he admired so much.
He also got his first taste of the directness of radio.
"When I started actually being on the radio and playing these records that I would discover or that I'd already heard and interacting with callers, there is an inner activity and an immediacy to radio that other broadcast mediums don't have," he said. "With limited exceptions, you can't talk to the person on TV. If you're going to yell at the movie screen, they're not going to yell back. Callers can pick up the phone and let you know immediately what they liked or didn't like."
Solomon's parents, Robert and Susan, took turns waking up at 2 or 3 a.m. to drive him to and from the station (formerly on Nassau Street, now in Bloomberg Hall on the university's campus). Susan, an architectural historian and author, was a graduate student at the time, so she appreciated Princeton's quiet early-morning hours—almost as much as she admired her son's passion for his show.
"I'm the original stage door mom," Susan said. "I take a lot of pride in it. I can't say I always understand the music, but I really do get a kick out of hearing him, what he puts together and the observations he makes."
Robert agreed.
"He had an intense interest in it, so we accommodated him and helped him along," he said. "It was something that he really liked, so we were all for it."
Their support, Solomon said, has influenced his own parenting. He and Nicole have an eight-year-old daughter, Maggie.
"They remain probably the biggest champions of what I do," he said. "It wouldn't have been possible from jump without that. Their generosity with their time has influenced me as a parent. If Maggie wants to do something at a super inconvenient time, I'll figure out a way to make that happen if it's clear that it matters to her. So far, it just means tap dancing is at 6:30."
Susan and Robert still live in Princeton and make it a point to stop by during Solomon's Christmas marathon each year. Inevitably, they fall alseep, and Solomon takes a photo for Instagram or Twitter.
'It's the perfect medium for me. I remain exceptionally grateful that radio and I found each other.'
Nicole and Maggie also come by in the morning on Christmas Day. It's those visits that Solomon counts on for a little energy boost once the marathon starts creeping into its later hours. Sometimes, Maggie will go on-mic with her dad to sing a couple of Christmas carols or just to chat.
Solomon's family helps him power through in the weeks before the marathon, too. In its early days, his parents stopped by periodically to drop off coffee and food. He gives up coffee for tea on the first Monday of December and doesn't pick it up again until Dec. 26. He also cuts outs sweets and does whatever he can to avoid getting sick. During the marathon, he eats a sweet potato, mushroom and ginger stew that Nicole makes, and drinks lots of seltzer water, green tea, and a ginger, carrot and orange juice. He's constantly tweaking the formula behind his regimen, he said.
And he's constantly tweaking the show's formula, too. Solomon ranks each holiday song in his catalog (digital and physical) using a five-star system. He has enough five-star songs—nearly three days' worth just on his computer—that he can play only those during the show. His collection is always growing, and so he's able to keep the show as fresh as possible. The show has its staples—a 42-minute version of "Little Drummer Boy," a block of Ramones-style Christmas songs—but Solomon switches it up as much as possible. He's always discovering new songs through Christmas music blogs, sites like SoundCloud, and listeners and friends tipping him off to new things.
There's a scripted yet on-the-fly nature to the show that Solomon appreciates. Certain songs, he said, take on different meanings in different years. When James Brown died on Christmas Day in 2006, he quickly gathered every James Brown Christmas song he had and played a block. Lou Reed passed in 2013, and so Solomon looked for anything Christmas-y related to Reed, like a mashup that used part of a Velvet Underground song. This year, he anticipates Prince's "Another Lonely Christmas" will strike a new chord.
"It's always very important to me that the program not kind of rest on its laurels from year to year," he said. "I know people don't always listen at the same point or at the same time. I want to make sure that there's an infusion of as much new material as possible every year."
The Christmas story submissions have injected a new element in the program, Solomon said. Listeners call into the show requesting specific recordings from years past—they range from a holiday greeting from wrestler Mick Foley, to comedian and podcast host Tom Scharpling expressing his gratitude for the show, to an annual song from musician Joel R.L. Phelps, one of Solomon's favorites.
Just like the show has grown over the last 27 years, so has Solomon. Though he and his parents agree that his personality and dry sense of humor have gone almost entirely unchanged since he was a kid, he said he's more comfortable and confident both on and off the radio. Susan said it would be interesting to go back and listen to a tape of one of Solomon's early shows.
"It was clear that he always had a good sense of humor and a droll view of the world that has always been there," she said. "He has steady fans of the show, and people who are very reliable. We get a real joy from hearing him. The people he connects with, and the connections from other connections, people from faraway places—I think that is really gratifying for him. There's a whole sort of variety of circles that have merged out of it."
Solomon attributes much of that to being able to access a "top-notch" freeform radio station like WPRB and the Princeton Record Exchange right down the street at a young age.
"It's the perfect medium for me," he said. "I remain exceptionally grateful that radio and I found each other."