This article was originally published in the October 2017 Princeton Echo.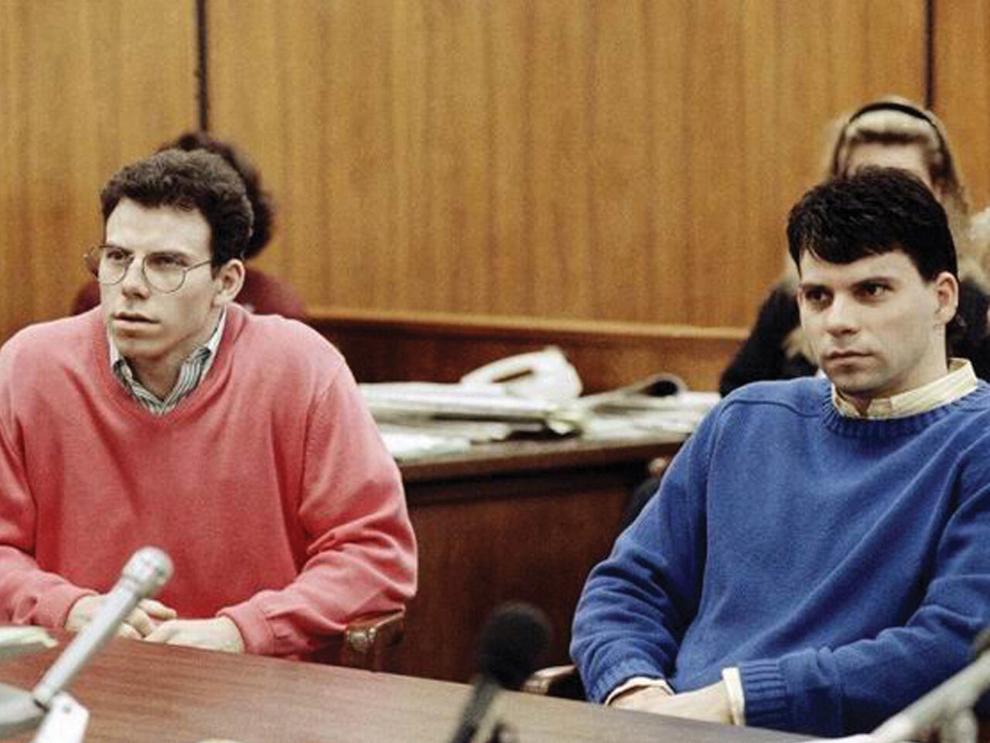 They're back. They are Lyle and Erik Menendez, the two brothers who lived the good life growing up in Princeton in the 1980s, a good life enabled, encouraged, and — perhaps — enforced by their parents, Jose and Kitty Menendez.
Then, when Jose's corporate star rose to new heights, the family moved to southern California. It was there, in a Beverly Hills mansion in 1989, when the good life turned suddenly bad. The two brothers brutally murdered their mother and father. After they were arrested almost a year later, another view of the good life began to emerge, as painted by the defense attorneys hired by Lyle and Erik.
That view put the parents in the crosshairs. Where Princeton neighbors might have viewed the Menendezes as good parents, making every opportunity available to their sons, the defense team painted the parents as demanding to a fault, with a hidden agenda of psychological, physical, and sexual abuse, presented in graphic terms that — even today — defy the imagination.
Through the first trial, which resulted in a hung jury, and the second trial, which resulted in guilty verdicts and sentences of life in prison, and through countless number of documentaries and made-for-television docudramas, the two sides of the Menendez "good life" continue to draw audiences. This month the parade of Menendez dramas continues, with the NBC series, "Law and Order: True Crime," starring Edie Falco and airing Tuesday nights at 10 p.m. through the second week in November.
In the show's eight episodes, viewers can expect to see the full range of possible theories for this brutal parricide, all developed in light of courtroom testimony, interviews with family and friends, and theories nurtured through the years. The Princeton Echo presents below excerpts from contemporaneous accounts, reported and written for U.S. 1 newspaper without benefit of knowing what facts or allegations were lurking around the corner.
The first excerpt is from a story in U.S. 1 written by Lawrence Tabak, at the time of the killings a staffer at the United States Tennis Association in Princeton and an accomplished tennis player who had been hired by Jose Menendez to serve as a practice partner for young Lyle — players the same age as Lyle were not considered strong enough to fully test him. Tabak, also a freelance writer for U.S. 1, interviewed dozens of family and friends, and his research was augmented by staff reporters at the newspaper.
The first excerpt is taken from the June 13, 1990, issue of U.S. 1, two months after the arrest of the brothers on murder charges.
The U.S. 1 headline: 'A family tragedy'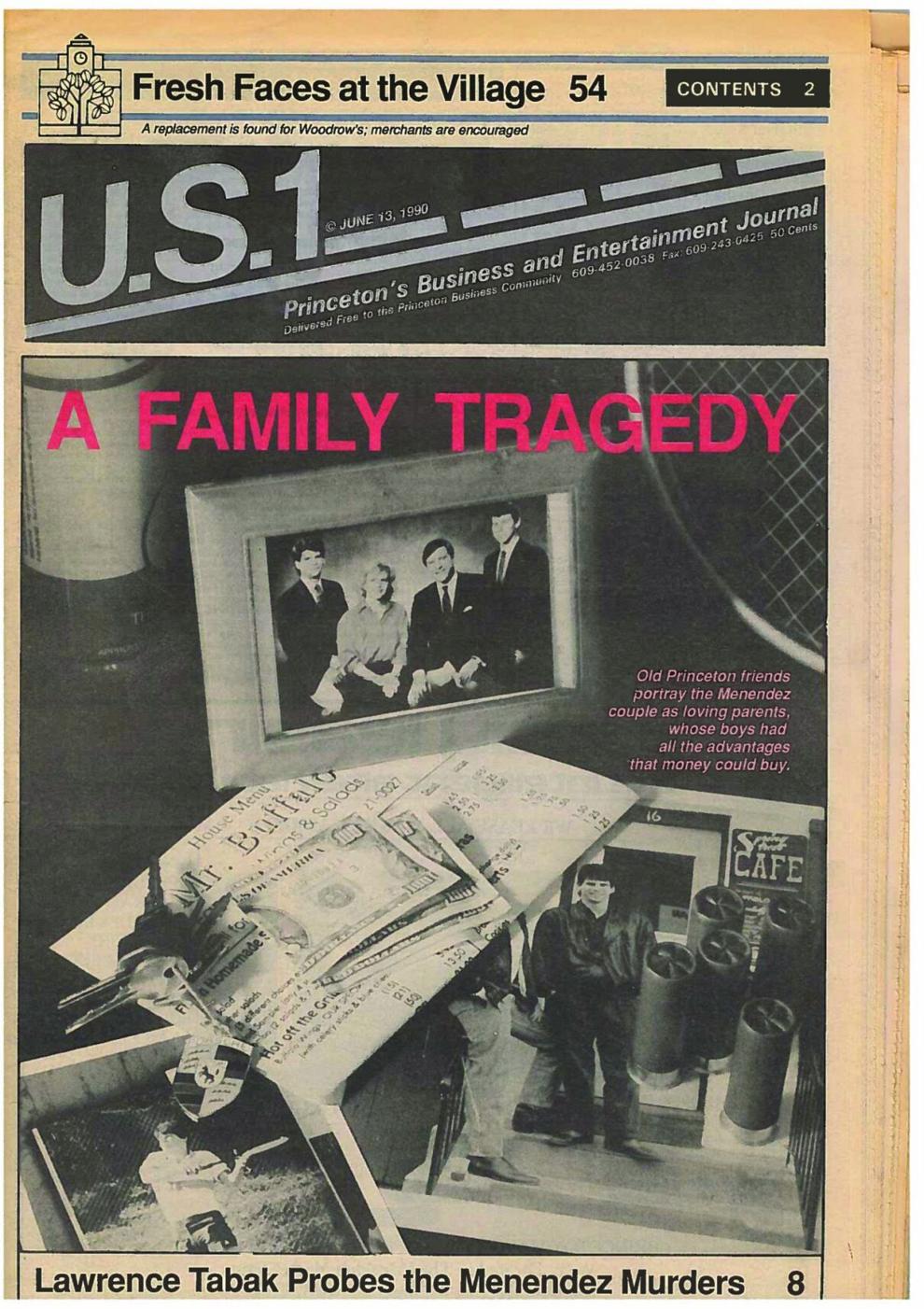 The bulk of the 16 years the Menendezes lived in the Princeton area were spent on West Shore Drive in the Elm Ridge Park section of Hopewell Township. Theirs was a moderately sized Tudor-style home with a well-used backyard tennis court tucked above the neighborhood's artificial lake. The boys attended Princeton Day School. Jose was marching up the corporate ladder at RCA. Kitty managed the house, the boys' tennis, played a little herself at Bedens Brook Country Club, ran a free morning exercise class for neighborhood friends, and volunteered on various tennis projects.
Jose's corporate success was displayed in some of the normal conspicuous ways in their Princeton years. He drove a Jaguar, Kitty a Mercedes, and before leaving town the Menendezes purchased a large estate in what is now the Mountain Lakes preserve near Community Park North in Princeton. Jose's financial success seemed to mushroom with his move to California in 1986, where he was quickly becoming a major player in the entertainment business.
Lyle had spanned the gap between immigrant father and establishment elite by enrolling in the fall of 1987 at Princeton University, and Erik's tennis career, which had seen a momentary lag, peaked in his 18th year, when he leaped from the bottom of the Southern California rankings to No. 7, and finished the year as the 44th ranked 18-and-under player in the nation, the highest national ranking either boy had ever achieved.
On the surface, things could hardly have looked rosier for the Menendez family. Then, on Sunday, August 20, 1989, Jose and Kitty were brutally shotgunned to death in the television room of their recently acquired Beverly Hills home. On March 9, 1990, Lyle and Erik were charged with pulling the triggers.
* * *
Business colleagues have characterized [Jose] as driven, hardnosed, and focused. In 1980, at the age of 35, he was named RCA executive vice president, in charge of the domestic Hertz rent-a-car division. A former subordinate acknowledged Menendez as a "young hot shot" whose business meetings could be day-long ordeals that would leave the participants drained.
About the same time as his Hertz appointment, when his boys were 9 and 12 and active in other sports including soccer and swimming, Jose asked them to concentrate on one sport. When their choice was tennis, Jose, who was never a serious player, began to study the game. He read everything he could get his hands on, studied televised and videotaped matches, and talked and listened.
One of Lyle's Princeton-area coaches, who had been taking lessons, playing matches, and coaching tennis for more than 20 years, is still amazed at how much tennis he learned from Jose Menendez. Ed Fenno, a Princeton University graduate and erstwhile tennis professional who lived with the Menendezes for six months in 1988 and 1989, ranks Jose as "a great tennis coach," better in his mind than many of the professional coaches he has worked with.
Three years after his Hertz appointment, in 1983, Jose was promoted to executive vice president of RCA records. In this capacity he signed numerous pop groups and stars to RCA contracts, including Duran Duran, Jose Feliciano, the Eurythmics, and Menudo. He and Kitty were regulars at the Grammy Awards.
* * *
Many people have characterized the Menendez family as "close," but are all close families close in the same way? Jose's sister and her family, and Jose's mother settled in the Princeton area. For Kitty and Jose and their two boys, tennis became the focus of much of this family togetherness.
Kitty arranged matches, chauffeured the boys to lessons and tournaments, and got involved in Princeton-area tennis events. She helped raise funds for the Princeton Community Tennis Program. She also took on the volunteer assignment as transportation chair for the women's professional tennis events that were held for a number of years at the Princeton Indoor Tennis Center, Princeton University's Jadwin Gym, and Rutgers University, even though the event itself coincided with the Grammies.
Other tennis volunteers give her high marks for efficiency, but note some sharp edges to her personality. Outside of her husband's business successes, name-dropping, and bragging about her boys' tennis, they claim she had little to say. In her capacity as transportation chair Kitty was said to insist on virtual exclusivity when it came to contact with the event's stars, including Martina Navratilova. One fellow volunteer recalls that Kitty was "livid" when she found out that she had arranged to give Martina (whose car wouldn't start) a ride to the courts. Kitty quickly straightened out the problem, and whisked Martina away.
Meanwhile Jose was becoming as involved in the boys' tennis as was possible for a high-flying New York executive. He would regularly call Lyle's coach during the business day for in-depth discussions of coaching strategy, and occasionally took on the match-making duties himself, placing calls to adult sparring partners. When I practiced with Lyle, Jose Menendez was frequently there.
I remember one practice match in particular. Lyle and Jose had recently returned from a trip to a major international tennis tournament. I believe it was the Orange Bowl, in Florida, where Lyle had been demolished by a top-spinning Swedish player, Kent Carlson. Carlson was soon to become one of the youngest players to ever break the world's top ten. Jose had decided that Lyle would do well to change his style towards Carlson's. It was a business decision. The other guy had come up with a better product, and there was no point in pretending it wasn't.
At regular intervals in our practice session, Jose would quietly, but forcefully, signal his reminders to Lyle, a word or two with a gesture, like a bidder at an art auction.
This kind of subtle coaching would be the bane of junior tournament officials. Tennis rules prohibit any coaching once a match is underway, and the officials always suspected that Jose was working the matches illegally, but were essentially powerless to act. The boys had also established reputations as "bad actors," likely to get engaged in on-court disputes, and to be regular recipients of conduct warnings.
One tournament official recalled the typical scene: Lyle on the court, screaming and receiving warnings, Kitty Menendez leaning over the tournament desk making some sort of forceful appeal, Jose pacing nervously, sending out coaching signals. Interestingly, this same official felt impelled to add that she felt Lyle was unfailingly honest in line calls (players call their own lines even at major national events).
Tennis was so central to the family that it must have seemed natural to include Lyle's tennis coach (who developed into one of his closest friends) for Christmas celebrations at the Menendez home. Thinking back on that event, the coach (who asked that his name not be used) best remembers the way in which the family spent the evening together, in one room, and not splitting up before or after dinner, the kids going one way, the parents another.
It can't be pleasant for family members to have Tom Brokaw on an NBC news special discussing innuendoes about a long-term affair of Jose's that dated backed to Princeton days, and allegedly continued in California. Or to hear the only sound bite from what must have been a long interview with a friend of Kitty's — Irene Elkins, a former Elm Ridge Park resident — quoting her as saying that "something was wrong," in Kitty's life, which could, in another context, mean almost anything.
In 1986, the year Lyle graduated from Princeton Day School, Jose left RCA, and the Menendezes sold their new home in the Mountain Lakes estate near Princeton's Community Park North (having held it just long enough to throw a party or two), and moved to the Los Angeles area.
* * *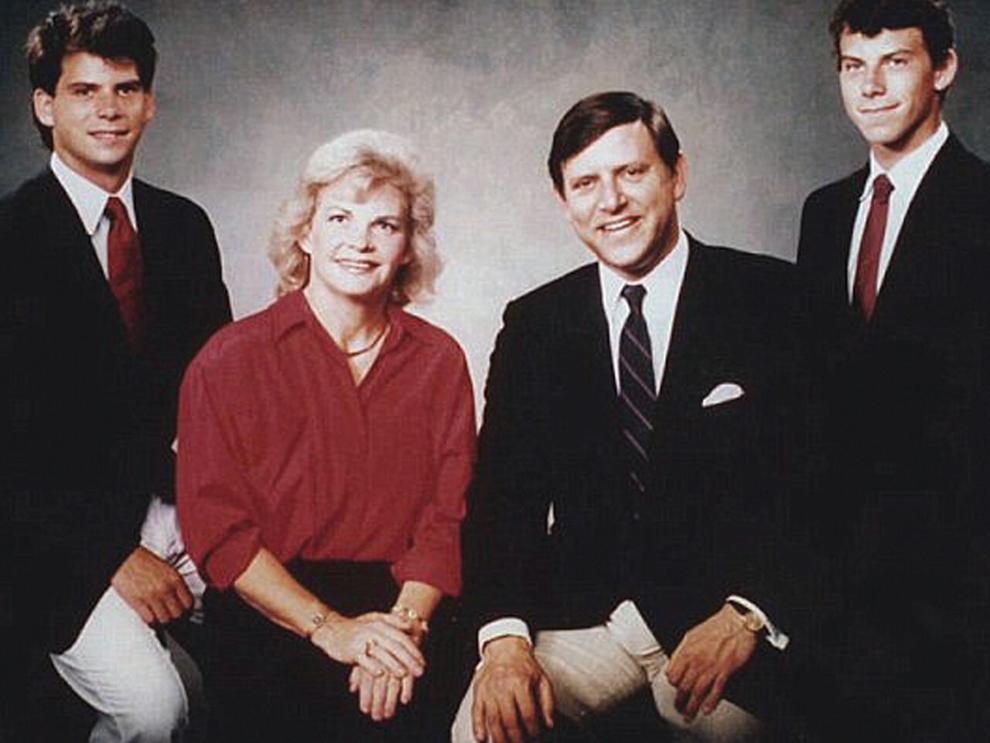 Observers of the Menendezes have characterized Lyle as his father's son. In high school he and his girlfriend were voted "most married." Like his father at the same age, he seemed to have foregone close male companionship for a romantic relationship. He would later, as a freshman student at Princeton, become engaged to a girl four years his senior.
Princeton native Mark Leschly, who competed against Lyle as a junior tennis player and later starred on the nationally ranked Harvard team, characterized Lyle as "a fierce competitor." Off the court, he found him quite different, "a nice guy, who had charm. He was entertaining, funny, I suppose even charismatic. His father was like that, too."
In the 1986 Princeton Day School yearbook the students put together a traditional fortune chart in which phrases and words are completed in personalized style for each senior. For Lyle this humorous name game is not without some deep irony.
For Lyle the question "can you imagine him…" is answered "doing manual labor."
Lost without? The answer is "Chuck's," apparently a reference to the fast food emporium on Spring Street that Lyle would purchase using funds from his parents' life insurance.
Intrigued by? "Money."
Found? The answer: "In trouble."
His classmates apparently were having some fun at Lyle's expense over his growing list of speeding tickets. His "bete noir," as reported in the senior fortune chart: "speed limits."
It might have been because Lyle's driver's license was suspended on several occasions. (It would not be the first time the Menendezes had to bail their sons out of trouble.) Despite the tickets, his parent bought Lyle a new Alfa Romeo Spider for his graduation.
In 1986, the year Lyle graduated from Princeton Day School, the Menendezes moved to the Los Angeles area. Jose began to turn around the fortunes of International Video Entertainment, and the Menendezes began to shift from a high-income family to one of real wealth.
Lyle was initially interested in attending Princeton University, and applied there as well as Brown and Penn. As an Ivy League candidate, he had a lot going for him. A Hispanic background, national caliber tennis, and family wealth — each qualified him for special application categories. During the application process he withdrew his application to Princeton, and was accepted and seriously considered enrolling at Brown or Penn. He later reconsidered, deciding instead to sit out a year, and begin classes with the Princeton Class of 1991, rather than 1990.
Lyle used the year off to work on his tennis game. As always, Jose was willing to hire personal coaches for his son and support his travel for tournaments. Lyle met and began an on-again off-again relationship with a woman three or four years his senior who was attempting to break into professional tennis. During his sporadic Prince­ton career she would be seen wearing a large engagement diamond. Their original plan was to marry after his college graduation, but at one point when it became clear that was no time soon, she returned the ring. The ring may have gone back and forth between the couple several more times.
In the fall of 1987 Lyle began his freshman year at Princeton and had an immediate impact on the tennis team. Jacob Leschly was captain of the team. Leschly could see that Lyle had worked hard on his game in the year off. "Lyle was a great boost for the team. He brought a lot of fun. He was a very funny guy, with a terrific wit." In practice situations Lyle was an indifferent worker, but when a competitive element was added he could be fierce. He had a tendency to be a bit loose about team obligations, often showing up late for practices.
He was also taking a light attitude toward his studies. "He wasn't much of a scholar," was the way one of his classmates put it delicately. During his first semester he copied another student's psychology lab report. A classmate who had just described him as "street smart," admitted that as far as cheating schemes went, this one was "pretty lame," since the teaching assistant was just reading a small number of reports, including Lyle's and the one he copied. The two students were brought before a dean, and Lyle was expelled for a year. His father flew in from California to argue his son's case. The expulsion stood.
It's hard to imagine what sort of blow this must have been for Jose, whose failures, if there were any, are not currently recorded, unless you count the overthrow of Castro, (and he hadn't given up on that one yet). Lyle's girlfriend was off playing international tournaments that fall, and it's possible that Lyle was consciously or unconsciously aiming to get out of school and into tennis full time. He did ask Jose to advance him the funds to join his girlfriend in Europe, but his parents felt if he was out of school, he should be working — a spot at Jose's company was available.
He went to Europe anyway, dragging along a portable stringing machine. According to his girlfriend (who had received a modest amount of private sponsorship money), he began stringing rackets for the women players to pay his way. He did not simply live off her good graces, the girlfriend claims, despite reports in some national publications.
Upon his return Lyle began a routine of tennis workouts, and working days at LIVE, Jose's entertainment company. Erik, in the meantime, was adjusting to California life. No better evidence could be had than the project he and his new best friend undertook about the same time Lyle was returning home: a 66-page screenplay written with Craig Cignarelli. From the scanty, but more than sufficient quotes, it's an awful piece of writing. However thin the plot, it did thicken with the weight of real events. The 18-year-old protagonist, Hamilton Cromwell, murders his wealthy parents (details left to the imagination), plus three others, before being gunned down by a friend. Kitty helped type the manuscript.
* * *
Lyle returned to Princeton for the second semester, and quickly made a memorable impression on his hallmates. Upon arrival he appropriated a single room by simply moving another student's belongings out. No doubt a major incentive was the arrival in Princeton of Lyle's girlfriend, who became a regular visitor to his newly acquired private room.
* * *
Rumors, followed by faxes of newspaper clippings from the fatal shootings of Jose and Kitty Menendez began arriving in our U.S. Tennis Association office on August 22, 1989. The picture that eventually emerged was that Lyle, now 22, and Erik, 19, had called the police a little before midnight on Sunday, August 20.
They said they had been out for the evening, to see "License to Kill," which was sold out, and had gone instead to "Batman," in which Bruce Wayne avenges the shooting of his parents. Afterwards the brothers reported that they went to a food festival in Santa Monica before returning home to discover the bodies. A neighbor was reported to have heard something like shots at around 10 p.m. The police first speculated that it was the work of organized crime. The Wall Street Journal drew some links between Jose's business and businesses alleged to have mob connections.
Following the burst of initial publicity, little was heard about the case. Eight days after the murders, a memorial service was held at the Princeton University Chapel. Lyle read from a letter he had received from his father. "I believe that both you and Erik can make a difference. I believe that you will. I encourage you not to select the easy road. I encourage you to walk the road with honor, regardless of the consequences, and to challenge yourself to excellence."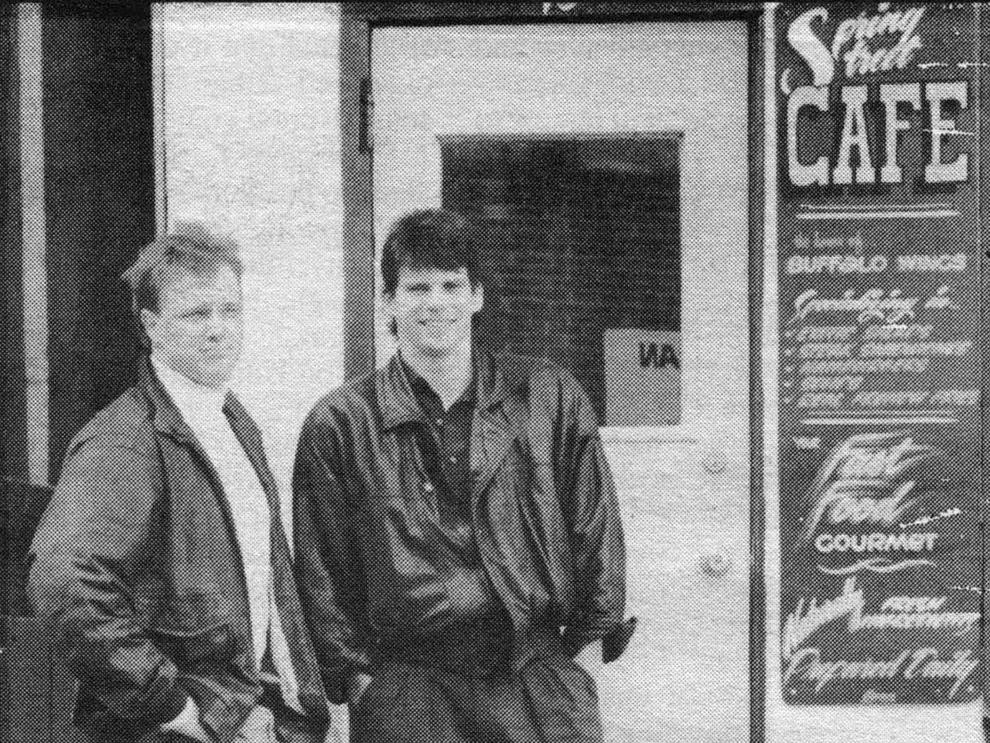 The Mather-Hodge Funeral Home arranged for a burial at Princeton Cemetery.
The Menendez family, most of whom reside in the Princeton area, rallied around the boys. Erik, who was now a Californian at heart, had been planning to enroll at UCLA. Lyle had been planning to continue his Princeton career, and the family unsuccessfully petitioned Princeton for a late admission for Erik, so the entire family could be together. As it turned out, neither boy could bring himself to start school in September.
An insurance policy in Jose's name, valued initially at $400,000, and more recently, at $600,000 was issued to the boys. It was this fund that apparently funded Erik's tennis career, and that launched Lyle's much-scrutinized business undertakings.
Lyle purchased a $60,000 Porsche from a Princeton-area dealer, and then a townhome in Colonnade Pointe across from the Carnegie Center. Reported purchase price: around $131,000. Lyle's expensive Rolex wristwatch did not go unnoticed.
The Menendez name was in the papers again with Lyle's purchase of Chuck's Spring Street Cafe. The cramped Princeton eatery went for a reported $550,000. Lyle brought a couple of his Princeton University friends into his new investment enterprise, which involved franchising the "Chuck's concept" as Mr. Buffalo's, possibly purchasing strip malls, and sponsoring a rock concert.
When acquaintances offered condolences or asked about the murders, Lyle acted as if he hadn't heard the question and proceeded to talk about other things. This attitude, when the questioners were detectives, did not endear Lyle with the authorities. Erik was more willing to talk, and told at least one friend that he thought the killing had been the work of "the mob."
Erik was interviewed for three hours by a freelance writer for the Miami Herald. Parts of this interview were taped. Erik talked haltingly about the death scene. "I've never seen anything like it … they weren't real. They looked like wax." Erik told the reporter that if he and Lyle had been there, they might have done something to stop it. When asked about his aspirations, Erik astonishingly came up with a pipe dream for the brother that sounds like a fantastic twist on a Kennedy mini-series. "It would be nice," he said, "if I were a senator and he were president." Their mission: to liberate Cuba.
* * *
Outside the legal proceedings, those who believe that the boys are guilty have their own questions to answer. What set of circumstances could have turned the boys who seemed to have everything to criminal activity of any sort? What could have made otherwise intelligent, college caliber young people think they could get away with it?
We can only speculate. Lyle always had a brash, selfish approach to problem solving. From his own father he learned that the rules of tennis, for example, didn't always apply. One former coach recalls Lyle's typical response when he thought he got cheated on a call: he simply called his opponent's next shot out, even if it was three feet in.
When Lyle needed a single room at college, he physically moved his roommate's belongings out into the hall. Before he bought Chuck's, Lyle supposedly had been determined to buy Teresa's Pizza on Nassau Street. When the owner declined to sell out, Lyle flashed $100 bills to try to gain the favor of Teresa's employees. [Gus] Tangalos [a former Chuck's employee], the manager at Mr. Buffalo's [with help from Lyle's uncle, Carlos Baralt of West Windsor], thinks that story is apocryphal, but it seems consistent with what we know about Lyle.
Lyle possibly revealed a great deal in an interview with the Daily Princetonian prior to his arrest. He explained why he was postponing his education. "I have a progressive philosophy that a person only has so many years in which he can devote a tremendous amount of energy to his goals."
Perhaps Lyle's business frenzy was not a liberation from his father, but a sign of continued enthrallment. Jose tells the Wall Street Journal of LIVE's plans to "dominate the strip-mall music-retailing market." Lyle tells the Daily Princetonian about plans to invest in strip malls. Lyle sets in motion plans to franchise Mr. Buffalo's while LIVE was in the midst of expanding the Strawberries chain nationwide. Lyle spends $10,000 furnishing an executive office for himself in Princeton, an echo of his father's executive suite at LIVE.
The same could be said about Erik's dreams of entering political life to liberate Cuba. Who else but Jose could hope to construct a family legacy that would rival the Kennedys'? Erik's focus on a tennis career may have been a youthful indulgence, but in what other aspect of Erik's life did Jose take a greater or more serious interest?
In the end, even if the guilt is incontestable, one great mystery will be left to haunt those of us who knew the family or who have become drawn to the story. Just what awful confluence of pressure and predisposition, of bad nature and misguided nurture, of twisted ambition and profound hatefulness, could have possibly driven not one deranged soul, but two brothers, to step through those double doors in Beverly Hills, look their bewildered mother and father in the eye, and begin pulling the triggers?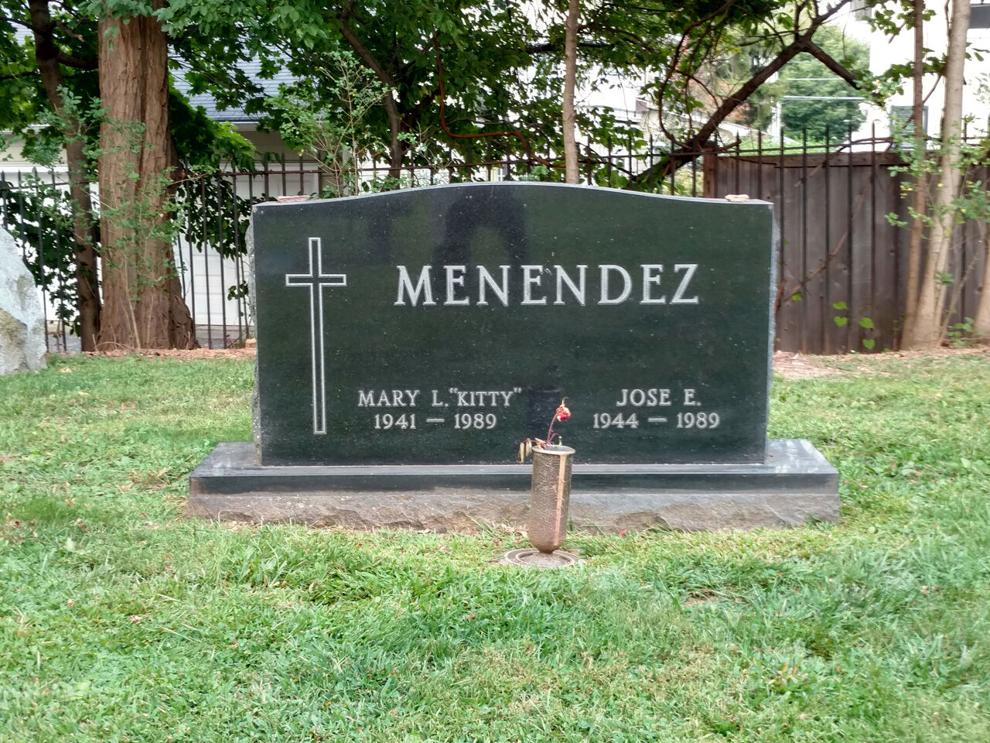 The trial begins
Fast forward to July of 1993. In 10,000 words in 1990, the phrase "sexual abuse" never came up. By the time the Menendez brothers came to trial in July of 1993 the air was redolent with the phrase. In an article published July 21, 1993, the day after the trial began in Los Angeles, U.S. 1's Barbara Fox reported on the new vibe that was in the air:
For months the lawyers have been discussing a defense of child abuse but three years ago some insiders — referred to anonymously in Dominick Dunne's story for Vanity Fair (October, 1990) — were whispering about incest. Last week Erik's lawyer fired a pre-trial bombshell, saying Jose, an "abusive, sadistic father," sexually molested Erik from age 6 until the time of the killing."
Leslie Ambramson, Erik's lawyer, claims that the father whipped the boys with belts and the mother had uncontrollable rages, calling them "dopes and dummies" and allowing the father's sadism to continue. She says that Erik believed his father would be molesting him forever and told Lyle, that Lyle then threatened to tell the authorities, and the parents threatened to kill the brothers. So, says Abramson, Erik's plea will be self defense.
Parents on trial
By September 15, 1993, the trial was in full swing, and the parental abuse defense was in full flower. Lawrence Tabak, Lyle's former tennis practice opponent, chosen by Jose to toughen up the younger Lyle, filed another report for U.S. 1. The tiger parents described by friends and acquaintances in Tabak's first article have morphed into sadistic child abusers, or so they are described by defense attorneys and the boys' statements on the witness stand:
Jill Lansing, Lyle's attorney, asks Lyle if he killed his parents for money — no — or to pay them back for mistreating him — no again.
Why did you kill them?
"We were afraid," Lyle responds. His voice trembles, his eyes brim with tears.
. . . Then come the tougher questions:
Between the ages of six and eight did your father have sexual contact with you?
"Yes," Lyle responds. "It started after sports practices. He would massage me. He would fondle me, and ask me to do the same to him."
Did this practice change into something else?
"Yes. It became more involved. We would be in the bathroom. He would put me on his knees. He would guide me in all my movements. And I would have oral sex with him."
. . . Finally, Lyle testifies that at around age 13, he suspected that his father was beginning to abuse Erik, who was then 10. Lyle says he confronted his father and asked him to stop.
The father's reply, as recounted by Lyle: "He told me that we should keep it just between us and that if I ever told anyone he would kill me."
On Monday, September 13, the defense questioning turns the courtroom's attention to Kitty. Lyle paints his mother as a heartless creature who cared more for the household pets than she did for the children . . .
Then, as in the first day of his testimony, the defense attorney asks Lyle to look at some family photographs. They are bathing suit shots of Kitty as a younger and more glamorous woman. Lyle testifies that his mother had shown him the photos, in an apparent attempt to win compliments for her physical appearance.
How was she dressed when she asked you how she looked, the attorney asks Lyle.
"She'd be topless or have an open robe, or with her clothes off."
Did you sleep in bed with your mom at the age of 11 and 12? "Sometimes."
Did you touch your mom? "Yes."
Was your dad in bed also? "Sometimes."
Where would you touch her? "Everywhere."
Writing at a time when the trial was only about half over, and believing that people are innocent until proven guilty, Tabak chooses his words carefully when summing up his article in U.S. 1:
As my files fill with clippings and the VHS tapes pile on the counter, I'm confident that I, along with many others, will hear more details of the Menendez lives — true or fabricated — than we care to. At the same time, perhaps the testimony will answer some of the more troubling questions remaining: How could such intense abuse exist without the series of small signs, begrudging confessions, and surrounding suspicions that are typical in such cases? How could Erik confess to the murders to his best friend and then his psychologist, and yet apparently never have mentioned the abuse?
. . . Whether or not you or the juries are ever convinced of the criminal accusations being made about Jose and Kitty, whether or not the parents crossed the border from psychological abuse to physical and sexual abuse, whether or not they threatened to kill Lyle and Erik, at least one truth is emerging. Jose's values and single-minded ambition did not evolve and flourish in a vacuum. In their misguided, cruel, and eventually fatal way, Jose and Kitty mirrored and magnified central values of their community regarding success and its trappings. This aura of success insulated the Menendezes from criticism or intervention, even when Princeton Day had to compromise its standards, when coaches saw clear evidence of Jose's excesses, or when relatives witnessed abuse.
As such, the emerging story of the Menendezes not only condemns a shattered family, but also implicates the hollow values that illuminated their lives and blinded all of us to their awful plight.
Hung jury
January 13, 1994. Superior Court Judge Stanley Weisberg declares a mistrial after jurors considering the case against Erik say they remain hopelessly deadlocked after 19 days of deliberations. The prosecution says it will try the case again.
Having heard the testimony, and the ever escalating tales of abuse perpetrated by the parents on the children, not a few Princeton residents wondered how anyone could believe the boys' claims. On February 16, 1994, drawing in part on an article by noted crime writer Dominick Dunne in the March, 1994, Vanity Fair, U.S. 1's Chris Mario took a final look at the Menendez trial:
[Dunne concludes] that the boys made the whole thing up to save their skins. Dunne comes to this conclusion by asking the seemingly obvious questions that make it so difficult to understand how Lyle and Erik managed to avoid the gas chamber after blowing their parents to very small bits.
Questions like, wouldn't it have been easier, not to mention less wearing on the upholstery, to just run away?
Why was Erik suddenly so comfortable disclosing to basically the whole world the graphic details of the alleged abuse he suffered at the hands of his father when he was supposedly so ashamed before the murder that he didn't tell his friends, his brother, or his therapist?. . .
For Dunne the answers to all these questions can be found in a book called "When a Child Kills: Abused Children Who Kill Their Parents," by Paul Mones. A study of true cases and how they were defended in court, the book provides many details on the cases — details that are suspiciously similar to the details presented in the Menendez trial. "When a Child Kills" was, according to a Menendez relative, the brothers' playbook, Dunne reports.
. . . To Dominick Dunne — and to many other observers, both in Princeton and elsewhere — there's just too much that doesn't click. But unlike most people who have followed the trial . . . Dunne is obviously angry and disturbed by the result. It's not just hard to understand, or confusing, or odd. For Dunne it's wrong.
"The Menendez brothers should have walked," Dunne writes. "They should have walked out of the house at 722 North Elm Drive in Beverly Hills. They should have gotten into the red Alfa Romeo convertible Jose Menendez had recently given Lyle for his birthday, the car Lyle didn't like, the car he called 'a piece of shit' because he had wanted a $70,000 Porsche. They should have driven and driven and driven, as far as possible from their 'lifetime or terror, their lifetime of threats,' as the defense characterized their lives, and started over. It was a viable alternative to the violent choice they made."
Mario concludes his U.S. 1 report with this post-script:
By the way, Jose's brother-in-law told Dunne that Jose was thinking about taking the boys out of the will. Just in case you're looking for a motive.
Let's try this again
October 11, 1995: In opening statements, prosecutors say the brothers planned to kill their parents to get their hands on the family fortune, while Erik's lawyer counters that the two killed in self-defense after years of horrific abuse. The re-trial took five months — no courtroom television coverage was allowed. Erik again testified at length about the abuse handed down by the parents. Lyle did not testify. The guilty verdicts were returned on March 20, 1996, after several weeks of deliberations and after two sick jurors were replaced by alternates.
In what might suggest how unsurprising the verdicts were, U.S. 1 marked the news with a one-paragraph item in its March 27, 1996, issue:
Lyle and Erik Menendez were convicted of first degree murder, conspiracy, and special circumstances last week. At press time the jury was deciding whether to recommend the brother suffer death by injection or life in prison without parole for the 1989 slayings of their parents."
The sentencing matter took just two days for the jury to decide: life in prison without possibility of parole. Lyle and Erik remain in separate prisons in California.