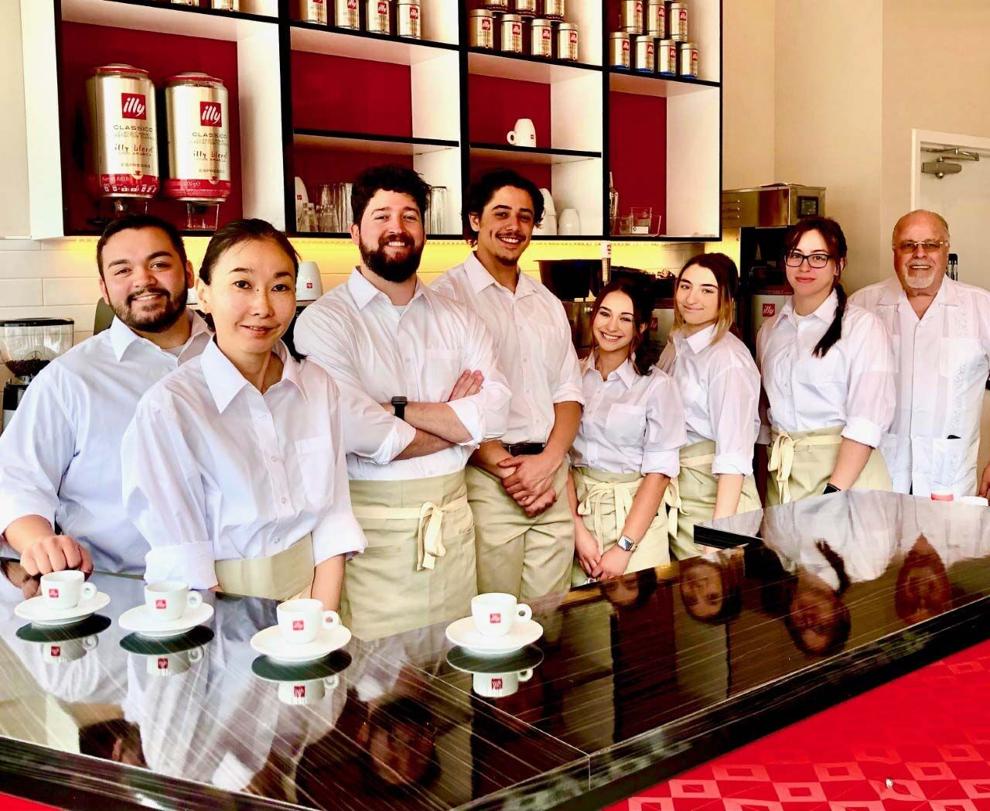 You could go to the ends of the earth for a coffee, or you could just walk to 45 Spring Street, where patrons can reflect on the dimensions of a new caffe—one that is steeped in history as rich as their Italian espresso.
The caffe is located on the ground floor of the Nelson Glass House, whose legacy of being the town's main glass company has moved elsewhere. When Nelson Glass' original owner passed the property onto his daughter, Robbie Nelson, who then relocated their facilities to Alexander Road in 2018, she added new, modern apartments on top of the former space. This left the building below vacant until California native Mitch Gorshin decided to venture into the world of coffee.
Created and designed by Gorshin, Caffe by illy at Earth's End is the first expansion for parent company Ends of the Earth Brands, whose prototype in Haddonfield features a relaxed lounge environment, an exclusive membership program, and a selection of cigars.
Princeton has a similar tasting room and club area, but the distinguishing feature is a fully-fledged caffe exclusively utilizing illy coffee, which is a single blend crafted over nearly nine decades with nine Arabicas from around the world.
Gorshin has had entertainment "baked into" his DNA ever since childhood, as he explained, growing up as the son of Frank Gorshin, who played The Riddler in the 1960s Batman live action series. In travels from California to Las Vegas and everywhere in between, Frank Gorshin, an Emmy-nominated expressive character actor and impressionist, instilled these ambitions and nonstop movements into Mitch.
But Mitch did not create puzzles. Rather, he wanted to solve them, studying film, photography, and design at the School of Visual Arts in New York, then later acquiring an aeronautical engineering degree from Embry-Riddle Aeronautical University in Arizona.
Gorshin even worked for the Walt Disney Company as an executive creative director for 13 years, serving entities like their "Imagineering" program that designs, then constructs, Disney rides, attractions, resorts, and cruise ships.
In recognition of his talents, Gorshin was asked to help "reinvent" how the U.S. Navy trained potential recruits, eventually developing a virtual concept of the training experience, or simulation, that serves as the final encapsulation of their boot camp learning. Imitating a ship with storytelling and special effects, "Battle Stations 21," the 12-hour course that brings potential candidates as close to the real experience as possible, became a success — one that also registered as Gorshin's "Seinfeld moment" of absurdity that told the award winner, who received the "Outstanding Achievement" title presented by the TEA (Themed Entertainment Association) for his position as creative director, that he needed another change of pace.
He thought back to summer breaks from school in the 1970s, when his father performed in Las Vegas. Mitch lived in the penthouses, getting a firsthand taste of the hotel industry in his youth before a famous mouse and the Navy came along. He started his own "guest experience and brand consulting firm" to acknowledge the flaws of the hospitality industry.
In 2010, Gorshin changed the name of his business to Gorshin International LLC, of which he is the chief creative and design officer. To be closer to Atlantic City, where Mitch was working with Revel—before the brand declared bankruptcy and sold the property currently in operation as the Ocean Casino Resort—Mitch and his wife, Maria, moved to Haddonfield in 2011 alongside their son, Brandon.
While he would often consult on designs for global entities like Mariott, Hilton and Coca-Cola, carrying out their artistic visions, he knew he wanted to capitalize on his own understanding of customer desire.
"I would go and work at these hotels, and especially at the higher end hotels, I would see customers spending upwards of $700 a night for a room. They work all day long, and at the end of the day, they want to have a Scotch, they want to smoke a cigar, they want to relax," he said. The bar would have cigars, but any enjoyment of them would be delegated to a bench 25 feet away from the building, separate from the luxury experiences they paid for.
This rubbed Mitch the wrong way, as he recalled, because the corresponding brands and individuals both suffered as a result. In 2017, Gorshin opened the Haddonfield prototype, now standalone as Ends of the Earth, seeking to remedy his hospitality dilemma. The name is influenced by a famous dinner club composed of British and American figures.
Fronted by Rudyard Kipling, author of "The Jungle Book," the Ends of the Earth, with "over 100 explorers, artists, authors, academics, and business adventurers," met at the Savoy Hotel in New York City in an annual discussion of current events from 1903 onwards. Other members included men such as Mount Rushmore sculptor Gutzon Borglum, one of two ever "General of the Armies of the United States" John J. Pershing, and literary giant Mark Twain.
"All these dignitaries, they would get together and pack their meerschaum pipes, light a cigar, and it would level the playing field, [it] made everybody an equal," Gorshin explained. "I wanted to bring that back to life, and that was sort of an incubation of the idea, creating this club atmosphere that I haven't had."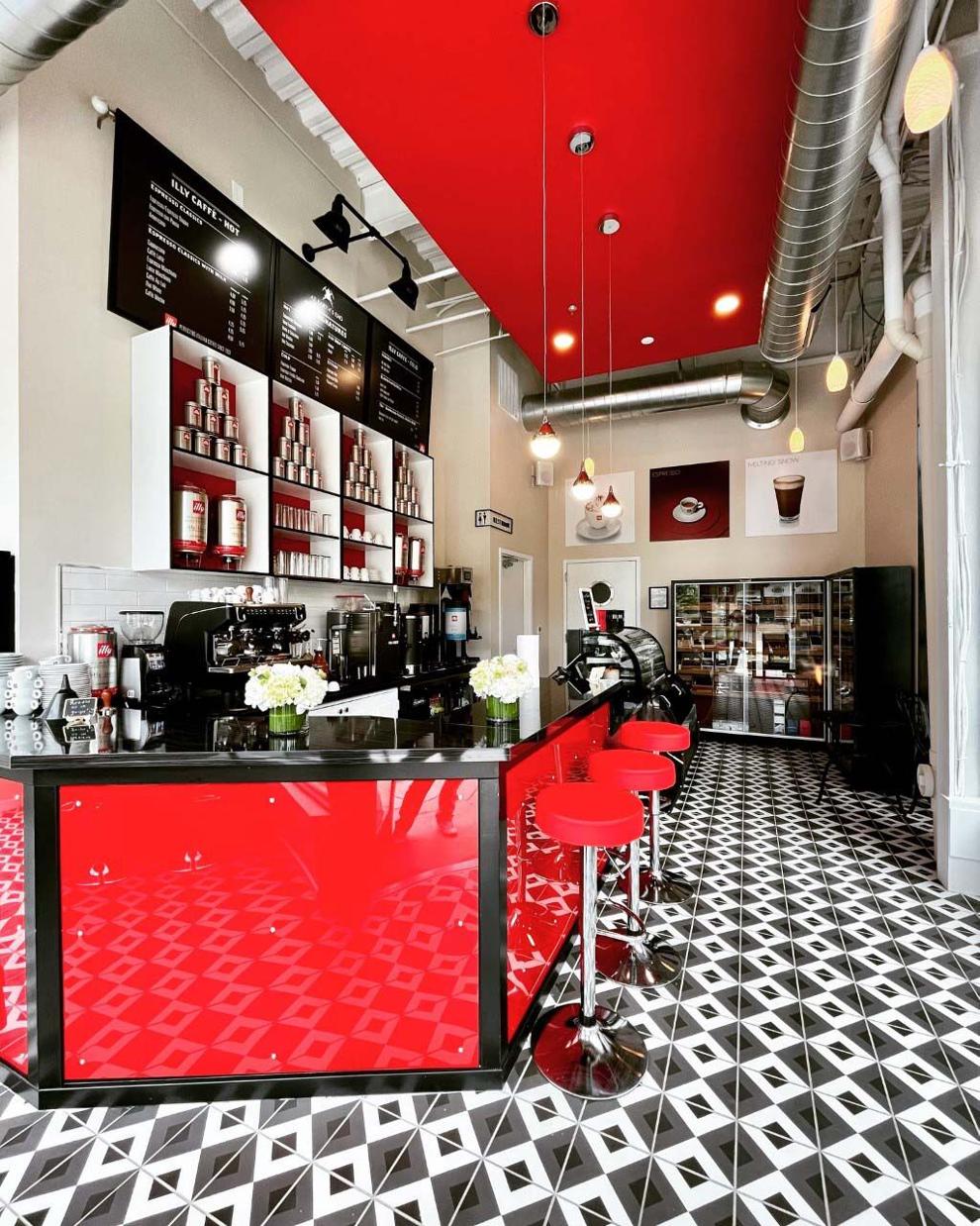 The Haddonfield original is built out of an old 1776 carriage house, while the retail cigar shop adjacent to it was a horse stable. The business model grew to be successful for its mellow environment, which Gorshin called "delightfully analogue," as it features no televisions and a strong emphasis on conversation.
Between chit chat and socialization, people can form genuine relationships. There is still internet service available, but the lack of other distractions is intentional for the ambience.
"The idea was really just to solve a problem that I saw happening in the hospitality industry amongst the luxury tier brands, in watching these pinch points between where the customer's mindset is, what they wanted to do, and what they have available to them in order to do it, and trying to perfect that. There's a better way to do this," Gorshin said, continuing that his answer was to establish an atmosphere separate from breweries and distilleries.
"In my opinion, the dynamic that unfolds there, it's a little loud, it's raucous, and there's live music, which is fine. But Ends of the Earth and At Earth's End, it's all about calm, cool, and collected. It's a different fidelity that happens at our place," he said.
Haddonfield has "a similar dynamic" to Princeton, in Gorshin's eyes, because of the towns' shared importance in American history. At Haddonfield's Indian King Tavern in 1777, for instance, the New Jersey Legislature met and declared that the former British colony would become an independent "state" during the Revolutionary War.
"We do not have a university in Haddonfield. However, we do have a lot of world travel that comes through here. It is baked in history, tradition, heritage — it's a historical landmark, and the audiences are similar," Gorshin explained, noting that people tend to work in these areas for their proximity to the big cities of New York or Philadelphia.
"There's a brother-sister relationship, in my mind, to them, and they both have a vibrant, downtown experience, and with the right amount of residential and residents that live in the area. So it just was the right space to be."
But Gorshin did not tackle Princeton alone. The expansion efforts enlisted the help of Gorshin's longtime friend and colleague Sid Yu, a former SVP for Marriott International, as well as Reece Wilke, a member of the Haddonfield club who now oversees the new caffe's operations.
Likewise, Mitch's wife, Maria, is a writer who serves as the communications director for At Earth's End, bringing along her background in delivering guest experience to the business. The couple has been together for 31 years, working in tandem on projects throughout their relationship.
The name change from Ends of the Earth to At Earth's End is to give them the "mobility" to encompass more in the future, because with an openness in mind, they are interested in pursuing opportunities for adventures and travel.
Mitch Gorshin hopes to spread the company both statewide and beyond New Jersey, with the main requirement for an At End's Earth location, besides having the "Haddonfield and Princeton feel and dynamic," is historical relevance.
As Nelson Glass' family-owned, generational business moved from Spring Street, the lower half of the building was left as a blank canvas. Gorshin set to work putting together the aesthetic of his stylish new caffe, giving special attention to the separation of the public and members-only, private sides that would define his enterprise. There are three distinct sections for Princeton's At Earth's End — the illy Caffé, the Parlour, and the House.
Based on the illy branding's signature red hue, the caffe is entirely designed by Gorshin with a "modern classic" Italian approach in mind, providing a lush, European-style environment with daylight that "spills into the space," he said. Combining accents like exposed spiral ducting for "an industrial flair" as well as traditional tiled floors, the appearance remains contemporary while Gorshin's choice in color palette pays homage to the illy brand they retail.
Inside the caffe, baristas can prepare drinks for customers, with cigars available for purchase in several humidors. This leads into a smoking-free patio space in the direct, warm glow of a sunny day in Princeton.
While typical drink choices like Americanos and caffe au lait are on the menu, illy and Gorshin aspire to stun with options such as the Cappuccino Viennese, Espresso con Panna and Melting Snow. The latter juxtaposes both hot and cold, as well as tastes of cocoa and milk, in a "temperature sensation" for the coffee lover's tongue.
At Earth's End is currently in discussion with several bakeries to possibly include Italian sweets in the near future such as flaky sfogliatelle, also known as "lobster tails," and Bomboloni, or Italian donuts.
Gorshin says that his partner, Wilke, helped coordinate "the whole coffee experience" with illy representatives, who then trained the At Earth's End staff. illy coffee gave the baristas "an entire education on what makes their coffee so different" in terms of sourcing, quality control, and techniques, including their 24-second extraction process.
The love for illy, and the reason for the affiliation, brewed organically from not only Wilke's handling of the caffe, but Gorshin's many years of late nights.
"Because of the work that I do in creativity and production with Disney, coffee is like water. You drink coffee all the time," Gorshin said, finding that illy was his brand of choice. "My favorite by far and always has been, and anybody who knows me, is I drink iced coffee. I don't care if it's 100 degrees out or it's a blizzard, I will always have iced coffee."
Don't believe him? Gorshin drives the 40 minutes from Haddonfield to Princeton every day for his coffee. Occasionally, he opts for a single espresso, but the chilled drinks are his "little 10 minute vacations." For the active businessman and creative with little free time to spare, these moments of caffeinated bliss are much appreciated.
Also open to the public is the Parlour, the tasting room where patrons can take their cappuccino, buy a cigar, and enjoy both, Gorshin explained. The House is the private membership club "based on the notion of adventure and camaraderie."
While the program has an "extensive waiting list" for Haddonfield, Princeton members are encouraged to join, then bring their own spirits or cigars to keep in designated lockers. The room is not a bar, nor can they sell alcohol, but conversations, cocktails, and coffee can be savored in the company of others.
Besides bridging "history, contemporary, and classic" with tall ceilings, Gorshin designed custom-made smoke extracting equipment that moves over 3,000 square feet of air per minute, with fresh air coming in while the inside draft exits. This strives to make it easier, and more comfortable, for smokers to be in the same room as those who are not doing the same.
Gorshin also called the location of the caffe perfect for being "off the beaten path."
"It's not on Nassau. It's not on Witherspoon. It's not in Palmer Square. Spring Street has this neat identity as this bridge between downtown and residential, which is a really neat place for us to put our illy coffee operation, as well as our private membership club," he added. "It's the right place, and the right community, for an offering like this."
At Earth's End Princeton is now open, hoping to appeal to people of all age groups despite Princeton's status as a university town. It's possible, Gorshin said, because of the team that includes his partners, frontline staff, contractors, builders, and others who helped the location spring to life.
Gorshin anticipates one day running At Earth's End full-time, but for now, he is still consulting for other projects such as an unrelated coffee experience in Costa Rica. While the Princeton venture is "still very much a startup," he has more control on everything, able to flex his creative muscles and drink an iced coffee at the same time.
"We create places that let people have this alternate place in their lives. You have work, you have home, and then you have our place. It's that place that sits in the middle where you can go, and you can get with your colleagues and friends, not be distracted by technology, and engage in great conversations," he said.
There are plans for future group activities between the properties. Still, Gorshin maintains they are not a country club, nor do they adhere to that mentality.
"What I find really interesting, and it's proving true in Princeton as well, is that especially in the house, our membership base, we have representation from all over the planet — men, women, everybody is recognized in this. Everybody has this common appetite to have a place that's unique to go to, where they can go and interact with like-minded people, no matter where you're from, what you do, or what language you speak."
"That's really part of the Disney model, too. It's a world audience," Gorshin added. "I think that brings a lot of color to the overall experience, whether you're just in the caffe, or going to the parlour."
As the business was set up outside, he continued, some older individuals mentioned in passing that the design of At Earth's End reminded them of former travels in Rome.
"They hear the music playing and the flowers outside, and the little tables, and they feel like they're being swept away. We're taking them a little bit into their imagination and memories," Gorshin said. "That's the goal for me, is watching people's reactions."
Caffe by illy at Earth's End, 45 Spring Street, Princeton. Hours: Closed Monday, 7 a.m. to 7 p.m. Tuesday and Wednesday, 7 a.m. to 8 p.m. Thursday, 7 a.m. to 9 p.m. Friday, 8 a.m. to 9 p.m. Saturday, 8 a.m. to 3 p.m. Sunday. earthsend.com or email info@earthsend.com.