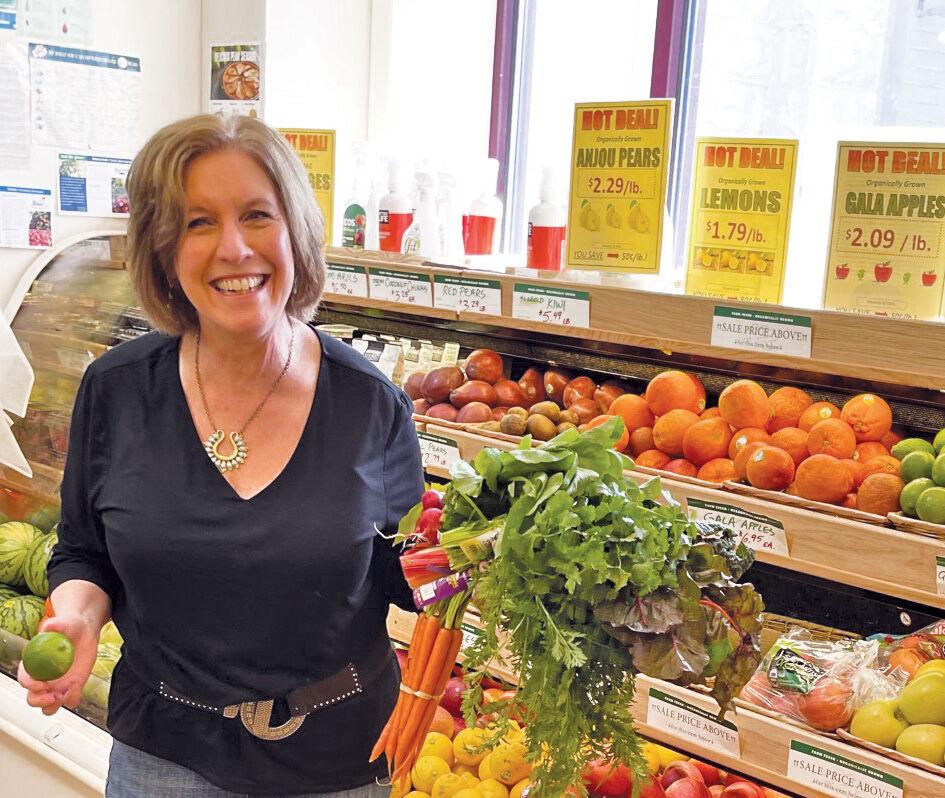 Marion Reinson needed someone to babysit her fermenting sauerkraut. It was an epiphany she never intended to have, the "ah-ha" moment coming from her involvement with the organization Eating for Your Health by Suppers, formerly known as The Suppers Programs or just Suppers. Reinson, now the executive director, was an advisory board member for the group under the guidance of founder Dorothy Mullen, who created the Princeton-based nonprofit by coordinating shared meal meetings in homes and public spaces.
The approach, influenced by Mullen's background in counseling and gardening, originated with "Suppers for Sobriety" in 2005 as a resource for recovering alcoholics. Her programming evolved into food-based counseling in 2009, transforming into the group that influenced Reinson, after a friend's recommendation, to come to an "At the Table" meeting — in-person events where a host gathered members around for food consisting of whole ingredients, healthy nutrients, and with as minimal processing as possible.
"I didn't expect to have a program like this have the impact that it had on me," Reinson says of learning about topics like how to improve gut health and best use a green thumb. "I just couldn't look at food the same again."
Reinson grew up in Edison, then graduated from Rutgers University, where she majored in psychology. She eventually worked in marketing and business consulting, becoming adept at strategic planning during her professional career. Reinson joined Suppers, cleaning out her pantry with gusto, until grave news disrupted the organization's system.
Mullen was diagnosed with lung cancer. The shock, and coming to terms with the reality of the situation, activated Reinson's tactical instincts.
"I saw that there was a risk that the organization was not going to make it," Reinson says. At the time, Reinson was in a transitional period in her career.
"I then made the decision to offer to lead this organization as its executive director, because I just felt so passionate about the work that Dorothy had done, and the number of people that she has helped," she continues, having taken over in September of 2019. "I took my experience of helping businesses and nonprofits over decades to structure a way to operate in an effective manner."
Mullen died in March of the following year.
"[With] the work that Dorothy put into this organization, she was way ahead of her time. But what we're doing now is spreading that word of how you eat and how you feel are interrelated, and the science is also caught up with food and mood," Reinson says.
Because of the pandemic, Suppers, which recently changed its name to Eating for Your Health has done away with tableside meetings and hands-on gardening lessons. Now, webinars and online resources abound, the group pivoting from its function as a support group to providing "education and awareness to help people understand the direct correlation between what you eat, how you feel, and your health," as Reinson describes.
Their foundational principles are exemplified through the seven pillars of EFYH — how you feel is data, biological individuality, develop a taste for healthy food, support, medical practitioners and community partners, nutritional harm reduction, and non-judgment — with the last principle being essential to EFYH's mission.
For beginners, EFYH tries to encourage a soft introduction to its concepts, including tips such as adding fruits and vegetables to a diet or limiting takeout, before taking a deep dive into ambitions like making onion powder from scratch.
"We have moved really towards supporting people in their journey to better health with the lens of prevention and reducing the impact of chronic disease," Reinson continues, citing the rates of conditions like Type 2 Diabetes, which the CDC estimates as 90 to 95 percent of the 37 million Americans with diabetes. Many of those affected are racial and ethnic minorities, especially Black women, whose chances of developing the condition are disproportionately higher.
"[We are] looking at what's happening to our at-risk people, and we provide the information that can help turn [around] or reduce the impact of that disease," she says.
Part of that is expanding access to fresh ingredients, but Reinson explains that for many people, they often want to make healthier choices if they receive proper education on the subject. She says that the knowledge in understanding that a can of Coke, which contains 39 grams or nearly 10 teaspoons of sugar, is convincing enough on its own.
"That's a lot of sugar, and your body just eventually is unable to keep on filtering that out. That's when you get diabetes, or people are suffering from inflammation, and it might be just a few ingredients that are in their diet," Reinson says. "Instead of going on all these medications, if you just eliminate those foods, then you can feel better and be better. We look at the cures in the kitchen or try to help people to understand that direct correlation of how you feel is data based on what you eat."
The best introductory programming, according to Reinson, is the "What's in Your Grocery Cart?" course, which spotlights healthy options in a virtual walk through the grocery store. Reinson urges that "working on the perimeter" of a supermarket is not going to give someone their full nutritional benefits, when beans, spices, canned and frozen foods, etc., can all provide the same merit.
When it comes to labels, Reinson maintains that besides calories, sugar, and salt, the optimal choices contain a wealth of different vitamins, minerals, and fiber.
"We want to guide you to the selection that is going to support your health. It goes back to the way humans have always eaten. Before we had the food manufacturers that created all these shelf-stable, food-like products, we grew our food, we harvested our food," she says. The EFYH style of eating reflects that by consisting mostly of plants and a protein.
This month's online "What's in Your Grocery Cart?" session is on Wednesday, April 6, from 7 to 8 p.m. Registration is required, and a suggested donation amount is $10. Those who are interested can find more information, as well as other courses and events, at suppers.wildapricot.org/events.
The connection between mood and food, Reinson says, comes from a stressed-out brain that is not getting what it needs to properly function. This leads to a feeling of hunger which, if satiated momentarily by foods without enough nutritional value, causes the brain to be hungry again as blood sugar goes on a roller coaster of spikes and physically taxing traps.
"Our body needs sugar," she says. "That's what our body does. Everything that we eat, all the nutrients that we have get broken down into some form of sugar, which feeds us. But when it zips through, it's an overload on the system."
Reinson continues that with complex carbohydrates, fats, and a lack of processing, the beneficial "build from within" approach of EFYH is a way to negate those effects.
"Calories that you get from that food, calories that you get from almonds or nuts and seeds and plants without a label on it are going to feed you more, and you won't be as hungry as quickly," she adds.
Another option that Reinson recommends is the "Breakfast Challenge," where participants "eat different styles of food for 10 days and see how it makes them feel," she explains. The next iteration of the challenge is scheduled from May 6 to 16.
"For most of the people who have done that program, at the end, they just see food differently. It's really a mindset shift that we want to help people along with. Then, once you see food in a different way, you start to behave in a different way when you're hungry, or when you're planning, because also eating healthy requires planning," she says.
Each month tackles a different health topic. For May, it will be "Nourish to Flourish: How to Live Successfully with Diabetes," a five-part, interactive series aimed at those who are prediabetic, have the disease, or are a loved one or caretaker of someone with diabetes.
"We like to bring in doctors, dietitians, chefs, gardeners, and farmers who will share their wisdom. Then, it's up to you to decide how much you're prepared to change, and especially how much your family might be prepared to change with you," Reinson says. She is cognizant that making the decision to adapt this lifestyle is not easy, or for everyone, especially because of hectic schedules and the many responsibilities of being a caretaker.
Still, those eating decisions start to negatively impact a person's health.
"If I look at where I started in 2017, and where I am now, it's not like I have a pristine diet, but it's very different. My pantry looks very different than it did before. It's a gradual process, it's a gentle process. We know that people are human, and you have to deal with whatever you're dealing with," Reinson says.
Reinson continues that no one has to deprive themselves of everything, but there are easy tricks to avoid late-night cravings or dodgy ingredients. By not having "guilty pleasure" foods in the house and making sure labels contain only pronounceable ingredients, there are simpler shortcuts to better health.
"We provide the information, and it is our belief that when people are given information, they're going to want to do the best thing that they can for themselves. They're going to want to advocate for themselves, and especially if somebody has been diagnosed with something, it's scary. We want people to feel that they're empowered to make a difference in their own health, and food is that frontline," Reinson says.
During the pandemic, EFYH continued to prioritize the creation of factual content focused on nutrition, working together with a team to sort out its future virtual programming. Reinson thanks Fiona Capstick, EFYH's Board president, a registered nurse, and a national board-certified health & wellness coach, for helping to develop their programs.
By going down the route of a curriculum-based environment, EFYH also has facilitated connections with dietitians, nutritionists, and doctors for further assistance, as the only thing EFYH can prescribe is whole food ingredients.
Suppers changing to Eating for Your Health is a titular evolution, but one that is befitting for them. Instead of being mistaken for other organizations and groups, what is in their name is "what we do," as Reinson says. She hopes that more people will be aware of the development, as well as their openness to connect with other entities as a way of introducing EFYH programming into new spaces.
As part of their strong focus on science and research, Maria (Adi) Benito-Herrero, M.D., is EFYH's chief medical advisor who reviews their programming. EFYH is in the process of building a scientific advisory committee with a group of subject matter experts who will deliver programming based on their areas of expertise. Although not every topic can have an exact consensus, all the health professionals who partner with EFYH offer their knowledge to help stay on top of the latest in nutrition.
While others in the program may not have shared Reinson's divine sauerkraut moment as a sign of progress, members have informed her they no longer have symptoms of brain fog, felt starved after eating, and even avoided a surgical procedure — all because they made the necessary lifestyle changes for their health.
"I didn't see it coming when I started," she says. "I feel a passion around sharing [this] information with as many people as possible so that they can just live a healthier life. It's one step at a time, but a lot of little steps make a big impact."
Eating for Your Health by Suppers, 211 North Harrison Street, Suite A4, Princeton. www.eatingforyourhealth.org.
For any direct inquiries, EFYH can be reached at info@thesuppersprograms.org or 609-373-1400.