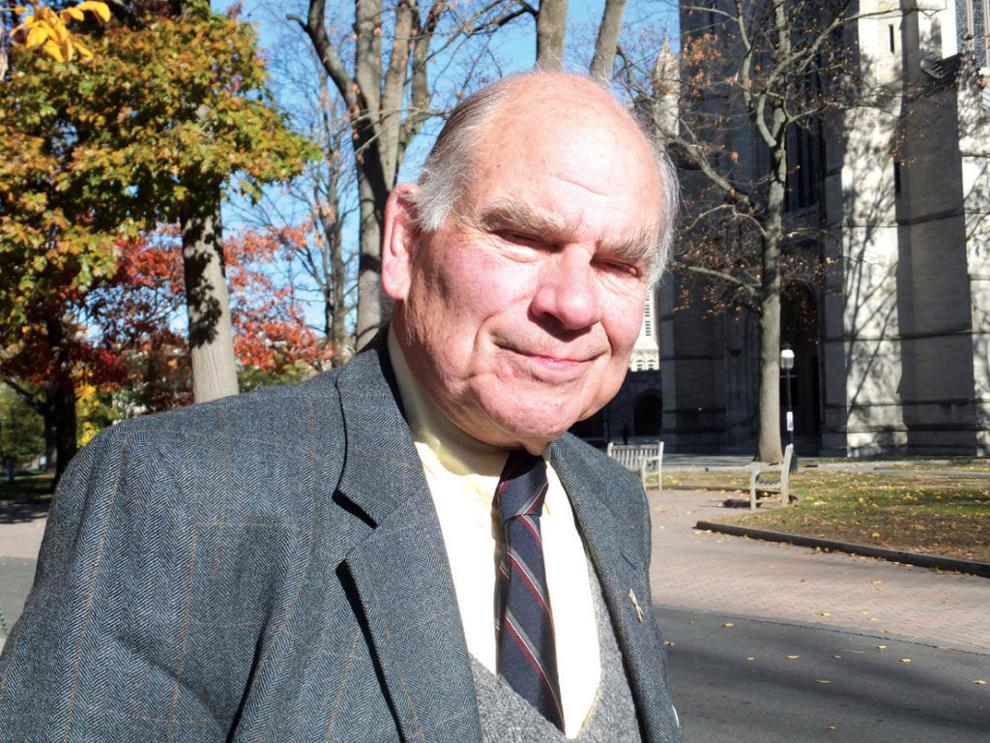 'I'm calling to just say you haven't lost your nerve." The encouraging caller was Stu Duncan. The receiver was me a few days away from the professional premiere of my stage adaptation of "Beowulf."
The two of us had been friendly rivals as theater reviewers for two central New Jersey newspapers. We also had theater producing experience.
While the Princeton-based Duncan, who died April 30 at the age of 93, hit pay dirt as a producer of the 1971 major Broadway musical, Godspell, I only get to say that in the early 1980s, I changed regional culture by producing the play that launched the capital city's first professional theater company.
Nevertheless, we connected by being a strange breed of person who would exhaust ourselves to raise money in order to assemble a group of artists of all stripes and opinions to create a temporary piece of art while becoming a very visible target for public and professional criticism — and strangely enjoying every moment.
As I already noted, another connection was that we were theater reviewers who over the years spent hundreds of nights in theaters in New Jersey, New York, and Philadelphia.
Yet, unlike others, as producers, and in my case a playwright, we knew how painful an unthoughtful review could be and, I would like to think, considered the weight of our own words as we rushed from theaters to write our reviews — as quickly and as reflectively as possible.
It was all of the above that made it seem very natural when Stu and I found ourselves colleagues at U.S. 1.
And over the last decade, I gave him reviewing assignments and edited his copy while he would call or show up at the office to deliver something, tell a cringe-worthy joke, or wonder if his copy was balanced and not dispiriting.
After all, he was so in love with theater he left the security of his family-owned business, the sole U.S. distributors of Lea & Perrins Worcestershire Sauce, to go into the uncertainty of the theater world.
Yet, it obviously loved him back. It's where he met his wife of 65 years, Petie; produced two important New York revivals, Waiting for Godot and Long Day's Journey Into Night; and saw Godspell royalties roll in day by day.
In 2013, I sat down with Stu Duncan to talk about his career and how he and fellow New York theater producer Edgar Lansbury took a modest little work by a devoutly religious college student, brought it to a Princeton living room, and launched a legend.
As a memorial of my print and stage colleague, here's the producer talking fast and lose about the creation of his biggest hit, Godspell:
Godspell was a master thesis by Carnegie Mellon student John-Michael Tebelak, who arranged a brief showcase of the show in New York City. "Edgar Lansbury, Angela's younger brother, and I were producing in New York, Lansbury/Duncan. The shows we were producing were 'A Long Day's Journey into Night,' a revival, and 'Waiting for Godot,' also a revival," says Duncan.
"Our company manager, Joe Beruh, went to Carnegie Mellon. This professor there knew that (Beruh) was with us, called, and said, 'Hey, you might be interested in (Tebelak's) show.' So the three of us on a cold February night in 1971 went to (off-off-Broadway experimental theater) Cafe La Mama, where this show was playing for the weekend. It had no music, except one guitar song, 'By My Side,' written by a cast member."
Duncan says that one of the first things that struck him was the overtly religious nature of the work and the minefield of politics of producing such a show. Godspell is based on the Gospel of Saint Matthew. Yet it uses a modern setting to present Christ's message of peace and love, his conflict with religious and public authorities, and his persecution. In 1971 that setting included the anti-Vietnam War protests, and the women's rights, black power, and environmental protection movements.
Despite his partners not being fully in tune about the show, Duncan says there was opportunity. "Joe was Jewish and recognized a small part of it, like the ending. Edgar claimed to be atheist (he really isn't; he's an agnostic). I was the Episcopalian and had a reasonably formidable New York social religious education — that is, I got sent to Sunday school. So I recognized it. I also knew who Saint Matthew was, that he was dead, and that he didn't have a lot of family members left," alluding to the fact that producers need to purchase producing rights from the original author or their descendants.
After some discussion about how a play with religious themes is a two-edge sword that can attract and offend audience as well as generate publicity, Duncan says that he and Lansbury decided that they would let audience members make up their own minds, and they talked to Tebelak, who, Duncan says, "was real devout and wrote it from a real love. We said that it should be a musical. He said that he wrote it as a celebration, 'I don't write musicals.'"
The solution was, in a sense, an act of God. "We had these two hits ('Long Day' and 'Godot') and people were interested in what we were doing. A week earlier we had a young kid coming in and presenting a musical. It turned out to be a major show, a thing with magic and music, 'Pippin.' But we felt that it was far too big for us," says Duncan, adding that with two shows running he and Lansbury were maxed out in raising money.
But, he says, "this kid can write music and he's a nice kid." The "kid" was Stephen Schwartz, who would eventually collaborate with Leonard Bernstein on "Mass," provide the hit stage adaptation of Stud Turkel's "Working," was the lyricist for Disney's "Pocahontas," and is the composer and lyricist for the popular Broadway show "Wicked."
Duncan says that he and Lansbury decided to try to team Schwartz with Tebelak and were surprised to find that the two young artists had attended the same directing class at Carnegie Mellon. "We teamed them up, and we had a score in 10 days. The score included 'Day by Day,' which was so good. Edgar and I had no musical background, but we said that it could be the thing to make the show."
The producer says that they started rehearsals for an off-Broadway production with no money but lots of faith and naivete. "I said we have two shows running — how hard could it be to run another? Which shows you what an ass I could be," says Duncan, whose advice to young producers has been summed up with "when you think you know what you're doing, you're in trouble."
Undaunted and resourceful, Duncan remembered (from previous experience) that charity and investment began at home and rented a bus, brought the cast to Princeton, and had them perform for a gathering of potential backers at his home at 114 Elm Road. With the production's start-up value estimated at $45,000 (approximately $250,000 in today's economy), $22,500 (or $126,000 today) was needed for a cash infusion, and the plan called for selling shares for $900 ($5,000 today).
The response was providential. "We raised the money in my living room in one afternoon. This happened with the cast showing up a little bit into rehearsal and a few songs just written. Everyone (there) took something, and it made a lot of people rich."
Duncan says that the investors "were people we knew who were interested in theater and had said so." That included familiar area names such as the Sturhahns and Stackpoles, Herb Kendall, and the late Sam Kind (owner of LaVake Jewelers and father to sitcom actor Richard Kind). He adds that their investments "paid out about 50 to 1 over the years."
The arrangement to meet the entire budget, he says, was a mixture of hard cash, invested services (including legal fees), revenues, and partnership with the presenting venues, including a theater that Lansbury owned.
Since the production company had developed with actors and musicians already working, there were irregularities in the arrangements for a traditional professional production that includes contracts with various unions integral to creating a professional production in New York.
Duncan says, "When we opened we were not union. We opened non-(Actors') Equity. They were furious, but it became obvious that we were going to be running a hit. So we went back, paid everyone to enter (Actors' Equity), and gave (each actor) one percent of the show if they stayed in for a year."
"We never completely revealed this before, but it has been hinted at," says Duncan. "We broke all the rules. The cast was back-paid from the first day of rehearsal. The union didn't want any part of it; they hated us. In the process, we tied the cast up for a year, which was unheard of. The people showed trust in us, and we showed trust in them too. It was unusual. It has never been done before and never been done since."
The result, he says, is "that eventually the union ended up with a show that employed over 500 people (over the seven years that it ran off and on Broadway). The original cast — who were hired at Equity minimum — all made over $200,000 from their investment. These kids have done well over the years."
Listing a variety of factors — the simple, familiar, and popular show with no set — Duncan gives a quick list for the show's success: "The show was cheap; we paid the cast off; we paid our investors back; and the next thing we began to put the show on the road in London and San Francisco. We had five shows going on at one time."
The creation of a major motion picture version, produced by Edgar Lansbury, added to the revenues as do the royalties of the ongoing performances around the world. And, in theater parlance, the show still goes on.