This article was originally published in the May 2018 Princeton Echo.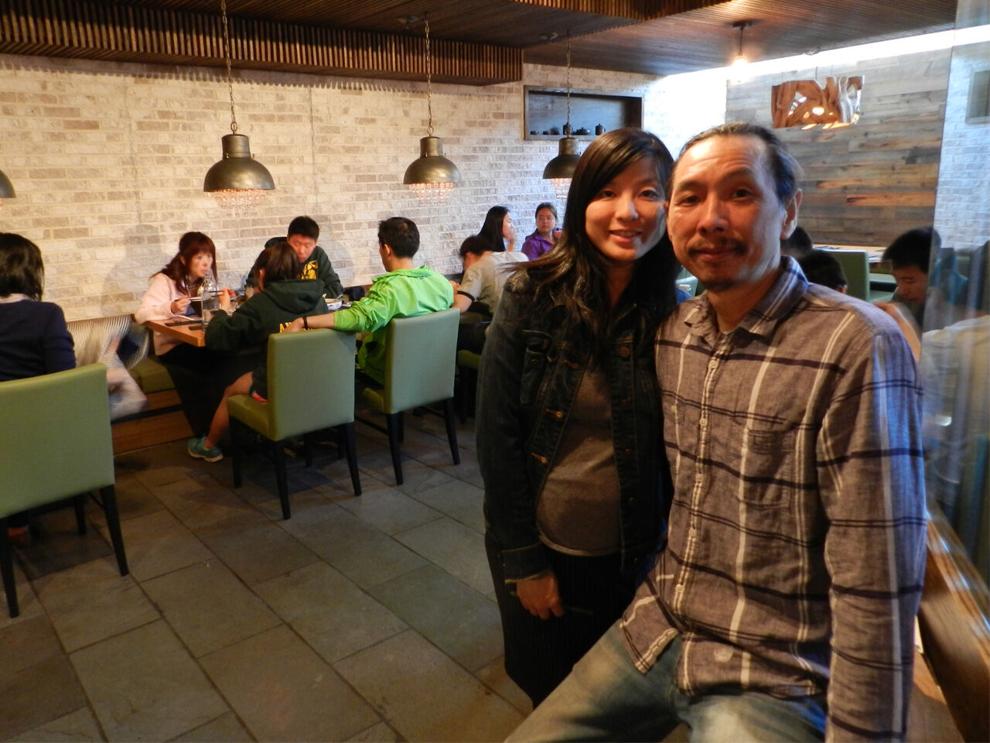 Two Princeton restaurateurs have at least two things in common: career paths that took radical turns and choosing Princeton as the stage for the second act of their professional lives.
"When you come to a fork in the road, take it." Apocryphal or not, the aphorism attributed to Yankees Hall of Famer Yogi Berra came to mind while delving into the back stories of the owners of two restaurants in Princeton; one establishment new to the ever-changing dining scene here, the other a venerable Princeton institution entering its third decade following a recent move to a new location.
The connection? Although each had begun their working lives pursuing very different professions — one a concert pianist, the other a chemist — each came upon that metaphorical fork in the road and, knowingly or not, followed Yogi's sage advice.
Jessica Xiao opened LAN Ramen, an inviting space at 4 Hulfish Street formerly occupied by infini-T Cafe, in January. The menu features the style of hand-pulled ramen she fondly remembers from her childhood in Lanzhou, the capital and largest city in Gansu Province, northwest China. The city is known as both an industrial and agricultural center.
Opening a restaurant was the furthest thing from the now 37-year-old Xiao's mind back then; the piano was her passion.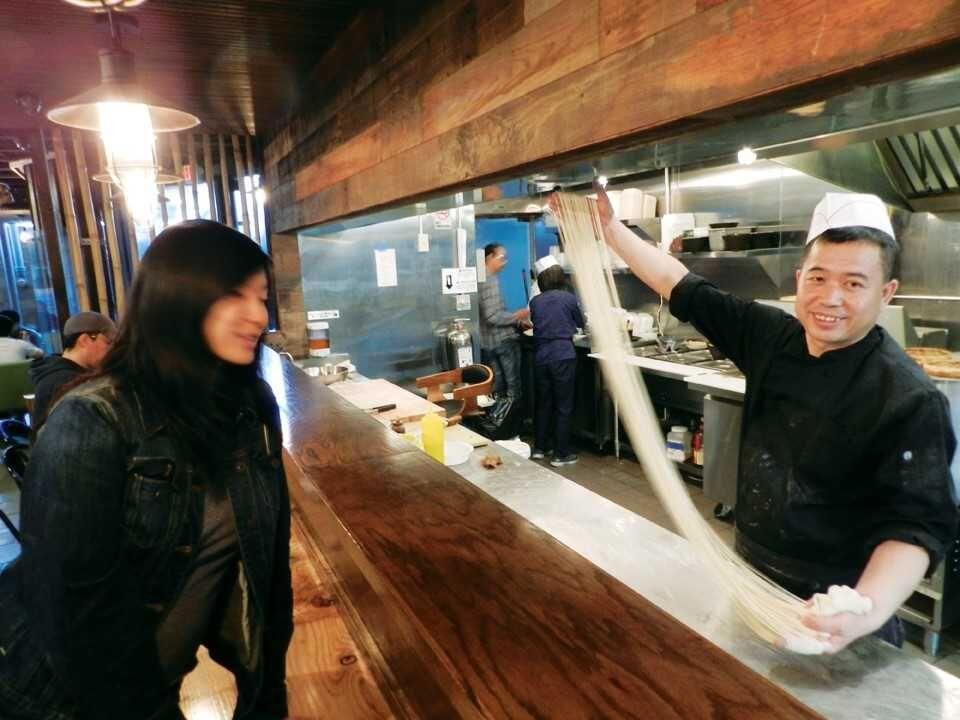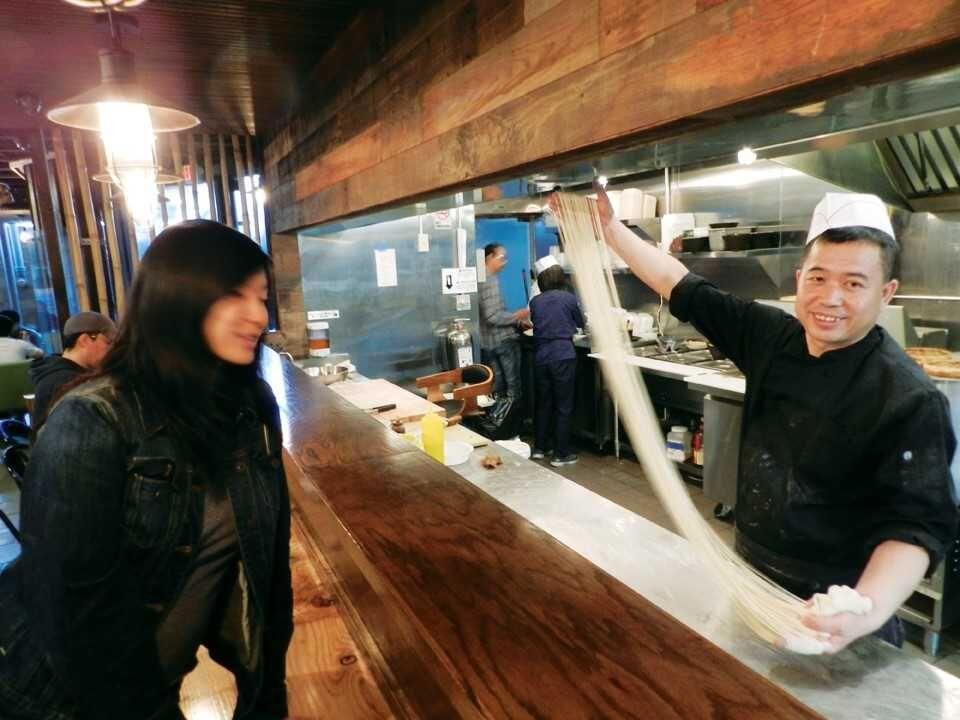 "My father was an archeologist, my mom was the concertmaster for the symphony orchestra in Lanzhou," Xiao says. "I've played piano since I was three years old, and I'd been bugging my parents about it since I was two.
"I really wanted to play, and I'm kind of stubborn, so when I was three-and-a-half my aunts and uncles got together and bought me a piano," she says. "It was very unusual to do that, a piano cost the equivalent of a whole year's salary. We found a good teacher, and when I was five I won the prestigious nationwide Golden Key competition."
Not to say that the love of food didn't play a role in young Jessica's childhood. She remembers her time in Lanzhou as "the best time of my life. I ate organic food, went to the farmers market every day, ate hand-pulled noodles whenever I wanted. I was raised to appreciate fresh food made from local ingredients, everything made from scratch."
What was her earliest food memory? "Shish kebab, when I was two-and-a-half years old," she replies without hesitation. "I had it almost every other day, from the night market. We have night markets in Lanzhou from 6 p.m. to 4 a.m. Hundreds of vendors come and fill five or six streets. That was a big part of my childhood.
"My uncle would take me everywhere on his bicycle, and whenever I smelled shish kebab I would try to jump off," she recalls. "He would literally grab me by my collar to keep me on the bike. I would have my shish kebab spicy, with cumin and peppers. I could eat three of them when I was three years old!"
At age 10 Xiao came to America with her mother and father to participate in the Stravinsky Piano Competition at the University of Illinois. "One of the judges was on the faculty at Juilliard," she recalls, "and he wanted me to stay and audition for the school. We didn't have any money at all; we had to borrow money for the flight to come here for the competition. The first time we went to a restaurant here we refused to have a glass of water until we learned that water is free. I auditioned for Juilliard and was awarded a full scholarship; my parents were able to find jobs, and we stayed here."
Despite her success, Xiao's thoughts kept returning to the night markets of Lanzhou, and those shish kebabs. "I really missed the food from Lanzhou," she says. "You just couldn't find it anywhere here, they just didn't have it, and it was even hard to find the ingredients. My mom didn't have the time to cook, working 11 hours a day. So from age 10 up through college I ate pretty much like any American. Cereal in the morning, lunch boxes at school — I don't know how I survived. It was weird, but I got used to it."
After teaching piano for 16 years in her own studio at home, Xiao came to her fork in the road. "I love kids and I like to mentor them, because I know how hard it is to pursue that career and have a balanced life," she says. "A lot of my students have attended Juilliard and the Manhattan School of Music. They've won major competitions, played Carnegie Hall.
"I ended up where I am today because teaching was taking too much time away from my own two kids." Not to mention the issue of missing the food she grew up with. "Sometimes we went to Flushing, a four-hour trip, just to get a good bowl of ramen. I decided that, even though I was making a good living, I needed to pursue something that's more suitable for the life I want to live."
After talking to more and more people, Xiao decided that there was a need for the cuisine from Lanzhou she missed. "I would have parties at home and introduce people to the cuisine," she said, "and they were very encouraging. That's what got me started."
She notes that picking the location of the restaurant was a major decision; Xiao, her husband, and their two children were living in Basking Ridge at the time. "I chose Princeton because people in this community are sophisticated and know­ledgeable, and I believe they'll be open to trying and appreciating a different cuisine," she says.
The use of industrial and natural materials is carried throughout the dining room to good effect, the look a subtle fusion of Asian, industrial and mid-century modern that come together to evoke a warm, sophisticated contemporary look and feel.
Industrial-style metal stools face the open kitchen and offer seating for eight at the counter, a beautiful slab of lacquered wood. A vertical divider of bamboo shields diners at the counter from the entry door. The space also offers table seating for 44, on comfortable high backed chairs and low, mid-century modern banquettes, all covered in a tranquil, muted shade of green.
"My parents thought I was crazy. They said 'We did everything for you. You've been doing this (playing the piano) since you were three years old, and you want to throw it all away?' They've since come around and become very supportive. And I still have two students and make time to play and practice, so the piano will always be with me.
"My husband was the only one for it at the time; he saw my struggles every day, how much I loved food and wanted to share it with people. I wouldn't have had the guts to take this on without his support," Xiao says. Chi Cheng, her husband, now works at the restaurant with her.
Xiao had no previous restaurant or business experience. "I didn't have any at all, no, just a dream. Before I opened LAN Ramen, I worked in a restaurant kitchen part-time, just to get a feel for it and see if I'd really like it. I did it and I liked the idea of having my own restaurant even more.
"Now I love chatting with the customers, and knowing that the things that we make for them makes a difference in their lives. I really like that."
LAN Ramen, 4 Hulfish Street. 609-356-0383. Open daily, 11 a.m. to 10 p.m. Appetizers $6-$14, ramen $12-$14, mains $14 to $27.
From titration to Tiger Noodles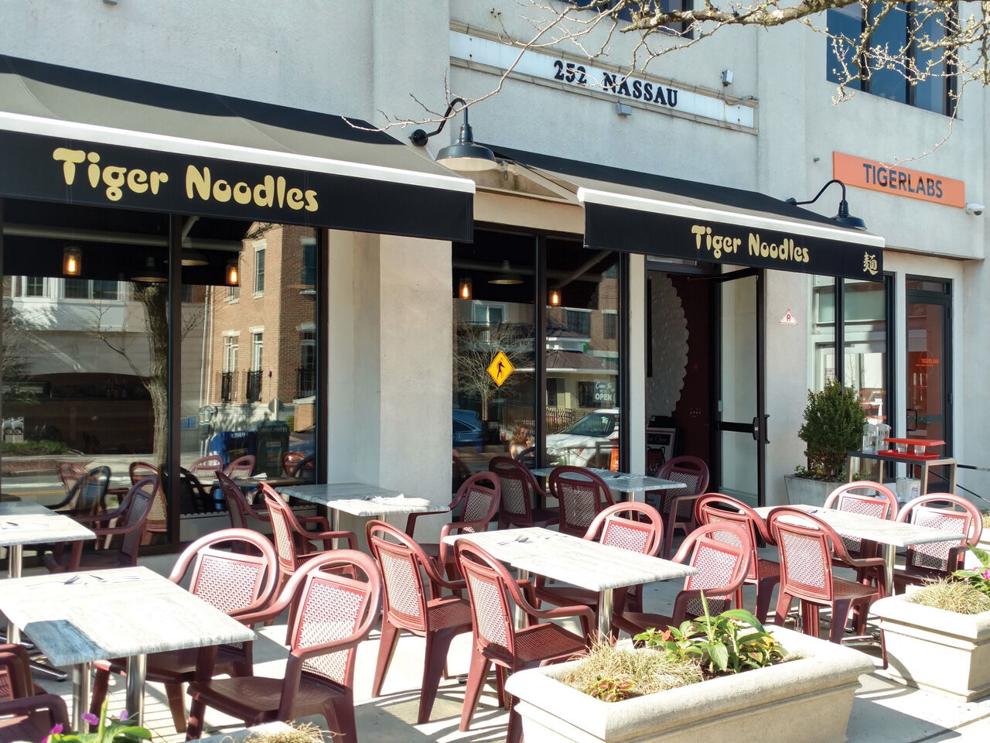 There was a time when Hui Yang, the proprietor of Tiger Noodles for more than two decades, felt most at home in a laboratory. "My young life was spent in Taiwan," he says. "I was born, raised, and educated there. I studied chemistry. At that time everyone had an obligation to spend two years in the military, so after graduation I served in the Air Force. Afterwards I went back to my alma mater for two years as a teaching assistant, and that's when I got the idea to come to America to do my graduate study."
Yang recalls a modest existence in Taiwan. "We lived in a small village, started out as farmers," he says. "My parents had to work hard to pay for school, we were not a wealthy family. I had three brothers and two sisters. My brothers all went to university; one became a medical doctor, one is a teacher."
Yang arrived in America in 1984 at age 26. His first stop was Texas Tech University, again to pursue the study of chemistry. After two years he attended the University of Texas at Austin to earn his PhD, but doubts about his career goals began to seep in and it took him a while to graduate.
"I was debating whether I should continue with chemistry or try something else," he said. "But I managed to graduate and get my PhD. After that I attended Texas A&M for three years of post-doctorate studies."
Yang's concentration was in physical chemistry, a focus on the behavior of matter on a molecular and atomic level and how chemical reactions occur, often working in concert with materials scientists to research and develop potential uses for new materials.
"That three years was really, really tough for me," he recalls, "because I found I was losing my enthusiasm for science. That left me with a dilemma; I'm in my early 30s, what should I do?"
His first challenge was to decide where to live. "My wife and I visited the northeast in 1988," he says. "We liked to visit university towns and campuses wherever we went. We drove from the Boston area down to D.C., and Princeton was in the middle, so we stopped. I liked the Palmer Square area, we had a good experience here, but I was still working on my studies."
Yang had dined at local Chinese restaurants while attending Texas A&M and began to think about the restaurant industry. His wife supported a career change, and they finally made the move to Prince­ton in 1996. Though he applied for positions in the chemical industry, the idea of opening a restaurant persisted.
"I began to look for an opportunity," he says. "The first few months I went to work in small restaurants, delivering food, working as a bus boy, just to see what it was like. That's how I got started."
Yang was hoping to buy an existing business and was lucky to come upon an opportunity in Princeton. In late 1996 he was hired by Sunny Garden on Farber Road, initially to pack takeout orders.
"I told the owner I was interested in learning the restaurant business," he says. "At the time he owned two restaurants. I started at the one at 260 Nassau Street, next door to where the Carousel restaurant used to be. He was looking to sell one of the restaurants and in 1997 I bought YY Noodles from him. Many Princetonians still remember YY Noodles; some of my customers still call Tiger Noodles YY Noodles."
Six months after he took over the restaurant, YY Noodles was rechristened Tiger Noodles. How did the name change come about? "We already has some frequent customers," Yang explains. "One was a Princeton University professor of philosophy; I only remember his first name, Phil. He came up with the name, combining the noodles we had on the menu with the Princeton tiger. So we had a name. Then David, a Princeton University student and also a customer, designed the logo."
In January, after 21 years at the same location, Tiger Noodles moved just down the street, to 252 Nassau Street; coincidentally, within a week of the opening of LAN Ramen. Why the move? "I had to update my restaurant," Yang says. "It's been 21 years, the place is old, and there was a limit to what we could do there. We have so many loyal customers; they've become friends and family, because of the food but also because of our staff, and knew I needed to make a change, to offer them a better dining experience.
The move came about partly by chance. Jack Morrison, owner of Witherspoon Grill, Nassau Street Seafood, and Blue Point Grill, also owns the building Tiger Noodles moved to. He came in to buy some dumplings, Yang says, and "out of the blue I asked him if he had some space for me to rent. He thought about it, and just as I suspected, he and I were thinking about the space at 252 Nassau Street. We took a look and talked about it and that's how it happened."
True to Yang's goal of offering his customers a better dining experience, the bright, attractive space makes a welcoming first impression. Rather than hire a designer, Yang incorporated many of the design elements of the previous tenant, Nina's Waffles, as a starting point, then added some touches of his own, like a handsome wooden shelf and a decorative design element on one wall, constructed from wood salvaged from the renovation.
He noted that many customers, who only ordered takeout at the old location, now come to dine in and watch the world go by on Nassau Street. Warmer weather will permit sidewalk dining as well.
And the new space has enabled Yang to expand and evolve the menu, retaining customer favorites like Moo-Shu and adding an extensive selection of sushi, sashimi, and other Japanese delights.
Looking fit at age 56, thanks to time well spent on the golf course (he proudly claims a handicap in the single digits), Hui Yang shows no sign of slowing down. "Over the past 21 years Tiger Noodles has become a hub of the community," he says. "Generations of students return to Princeton and return here, and remember Tiger Noodles was part of their time here. It gives me a feeling of pride that my restaurant has become a community tradition, and also a feeling of responsibility to continue."
Tiger Noodles, 252 Nassau Street. Sunday, noon to 9:30 p.m., Monday through Thursday, 11:30 a.m. to 9:30 p.m., Friday and Saturday, 11:30 a.m. to 10 p.m. 609-252-0663 or princetontigernoodles.com