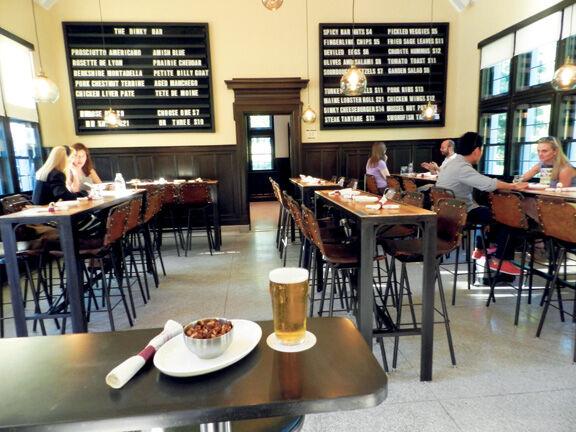 'When I was simultaneously building the farm and opening Agricola, I didn't know exactly where that all was leading," admits Jim Nawn, whose Fenwick Hospitality Group is behind that Witherspoon Street eatery and Skillman's Great Road Farm.
He and his team recently opened the Dinky Bar & Kitchen in one of two vintage train station buildings on University Place, in the midst of Princeton University's multi-million dollar arts and transit project. "But I did know that at this stage in my life — having done the broader-based Panera franchise — I wanted to do projects located in Princeton exclusively."
Prior to establishing Agricola in 2013, Nawn had built 37 Panera Bread franchises in North and Central New Jersey. "With Agricola, we chose to do rustic American food. About a year after we opened there I began to think about what I could do next and a couple of things jumped out at me. One was that although there are bars in town, what I was thinking about was a bar that had ingredient-inspired food."
By that he means, in part, spotlighting of the output of Great Road Farm, which these days includes not only produce, eggs, and livestock but also a butchering and charcuterie program run by Dan Brunina, who is also sous chef at Agricola.
"Coming up with the idea is the easy part," Nawn admits. "Finding the space that's suitable is something that I don't really control." The challenge at the Dinky building, he says, was its small size. "Because of that, the university was envisioning a grab-and-go place. Not only wasn't I going to get that many seats in there, the kitchen is very small."
Part of the solution, Nawn says, was Fenwick Hospitality's purchase earlier this year of the Main Street enterprises — the bistro in the Princeton Shopping Center, the cafe in Kingston, and the catering facility in Rocky Hill. Much of the food on the Dinky Bar's menu is prepped in Rocky Hill and brought to the bar's kitchen once or twice daily.
The menu features sections for charcuterie (including Agricola's own mortadella, pork terrine, and chicken liver pate), cheese (among them Amish Blue from Oasis in Lancaster County), bar snacks (sourdough pretzels with pimento cheese, for example), and sections tagged New Jersey Farm Stuff (e.g., deviled eggs, fingerling potato chips) and Plates (lobster roll, cheeseburger, meatballs with cucumber yogurt, etc.) Selections range from $4 to $21.
Overseeing the menu and its execution is Jason Hall, executive chef for all the hospitality group's properties.
For the last 15 years Hall, 37, has been working in New York City restaurants, including at Gotham Bar and Grill and Tom Colicchio's Craft restaurants. For the Dinky Bar, he says, "we took some classic bar food and elevated it with specific ingredients that are kind of in our DNA at Agricola and Great Road Farm, incorporating some nuance and seasonality into these very recognizable dishes."
One example, he says, is chicken wings. "People identify wings with bars, but there's actually a bit more to our sesame wings, which are Korean style. We made kimchi from a thousand pounds of cabbage that our farm produced. Then we made a kind of Korean-based hot sauce from all the different peppers that the farm produced. So it brought the two worlds together into a crispy-spicy wing."
Billy Van Dolsen, general manager of Agricola, is also in charge of the beverage program for the organization. In addition to the Dinky Bar's list of cocktails, spirits, and beers he has included three sakes and New Jersey's own Ironbound Hard Cider. Among the choices of wine by the glass, carafe, or bottle are four wines on tap.
"As we have thought about Agricola — what we serve, price points, those sorts of things," Nawn says, "we come here and we decide, OK, smaller portions, the prices a little bit lower, and, you know, there's been this movement in wine of having wine on tap." He points out that because the wine remains in a controlled chamber, the quality isn't compromised, and there are cost savings.
For converting the interior of the former station building — a stone structure with domed ceiling dating to 1918 — into a bar, Nawn called upon Vincent Celano of Celano Design in New York, who had also designed Agricola. "I've lived in Princeton for 20 years but had never set foot in the building," Nawn admits. "But this space is really pretty special."
The dining area seats about 60 at the bar and at communal high-top tables topped with reclaimed wood (another 30 can be seated outside). Original features kept include the remains of two ticket windows behind which is the kitchen, and, dominating the rear wall, two black wooden boards with big, white, movable letters that these days spell out the menu rather than train arrivals and departures.
Over the long term, Nawn expects to draw customers from "the commuter set, the late night stuff that goes on — whether it's the cast that's at McCarter performing, or something going on up at Richardson Auditorium, or it's visitors to the university or it's university people themselves. You know, university people tend to be a little more nocturnal, so our plan is to keep this place open 'til 11 or so during the week and later on the weekends."
"Now is this place going to be full at the late hours?" Nawn asks. "No, I don't expect that. But the other thing about this particular operation, it's structured so the staff in here is scalable. The Agricola operation requires that I have seven guys on the line at lunch and dinner, and that's what makes in-between-meal periods so difficult. Here, if it's 11 o'clock on a Wednesday evening and there are six or seven people in the place I can have one line guy and one bartender, and they can run the place. This is one of those things I learned at Panera: the ability to scale up and down is really important."
When it comes to concerns that have been raised about parking — McCarter Theater is across the street and the new configuration has removed spaces from in front of the two buildings — Nawn says he is cautiously optimistic.
"It's true that there's not a lot right outside the buildings, but I've been watching how all the meters are being used. There's discussion at the council level about having a shorter term meter for some portion of them," he says of the meters lining University Place, which now allow for all-day parking.
He adds, "I think the number of spaces that will result from this arts and transit center when it's completed represents a 65 percent increase."
As mentioned previously, a bar with ingredient-inspired food was just one of two ideas floating around in Nawn's head after Agricola was off and running.
"The other was a French bistro/brasserie, because there's not a French place in town," he says, adding that in its final years, even Lahiere's had strayed from French into new American.
"Now, I'm not talking about formal French, but rather about approachable French," he says, adding that he also thinks there's "something missing" on the town's dining scene in the price point and niche between Panera and Agricola. "Something that's casual, that value-wise may be a little more affordable and that can be visited with a little more frequency. Something that can absorb the family that wants to come in, the Little League team that wants to come in, and also the couple that wants to seat themselves."
"But," he says, "until the right space shows up, there's not a lot you can do. The economics of a restaurant, from my perspective, require enough seats. If I don't have enough seats, I can't have an extra manager, I can't have the cooks that I need to make the food that I want. So the space has to be large enough to have enough seats to make that whole formula work. That's the way it worked at Panera. At the time I was there, a $10 check average was the base. You had to have 1,000 people come in every day, so you had to have 100-plus seats." His bistro/brasserie would need more seats than the Dinky Bar building would provide.
"So there I am with some ideas and there was a call for proposals by the university for this multi-unit project," he says. "Part two of this — the other side of the proposal — is the other train station building, which was the freight and cargo building. The university is doubling that in size, so it will be 5,000 square feet. Now, I can work with that as a restaurant."
A name has been chosen: Cargot (pronounced "cargo"]. "It's a combination of 'escargot' — a typical brasserie dish — and cargo for a train," he says. Cargot, expected to open next spring, will operate like a traditional brasserie, serving breakfast, lunch, and dinner every day in a casual, setting. "We're trying to update the food, make it very approachable to most everybody, and a good value," he says. "There may be an omelet on the menu all day, and there will be an oyster bar, and dishes using local products, but with French technique."