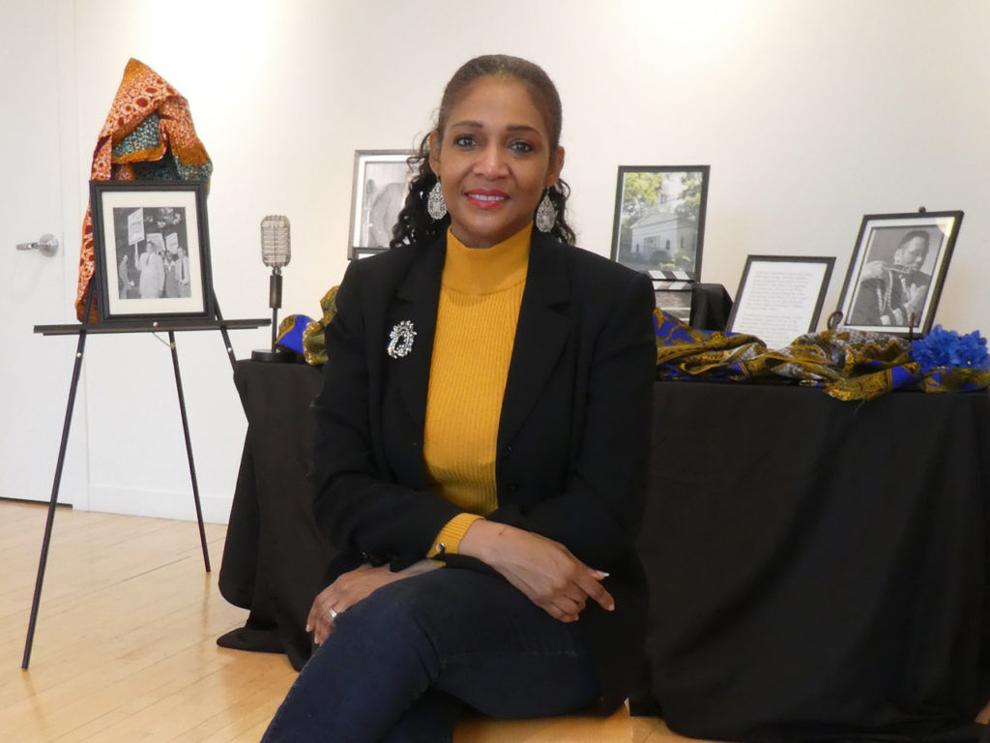 It's a bright Wednesday morning and Kayren Carter-Mjumbe and her daughter, Leah, are waiting to launch a Zoom-based African American history program from the Arts Council of Princeton's main floor gallery.
That's where Carter-Mjumbe curated the exhibition "Legends of the Arts: A Black History Month Exhibit" — one of several African American physical and virtual exhibitions that the Princeton resident produces through Museums in Motion.
She says Museums in Motion exhibitions and programs look at the time span between 1800 and today to highlight the contributions of both "the legendary and unknown" Americans of African ancestry.
"The legends are legends for a reason," says Carter-Mjumbe. "Dr. Martin Luther King and Rosa Parks are written into the school curriculum. But the unknowns' importance to American history is huge. There is an enormous amount of information that needs to be presented and known about — so people can expand their knowledge of themselves."
One such exhibition is "African American Firsts" and its focus on astronaut Mae Jemison, Navy diver Carl Brashear, and Harvard-educated disability rights lawyer Haben Girma, who is also deaf and blind.
Carter-Mjumbe says the idea for the organization started in 2012 when she was teaching at the Chapin School. "Every Friday the older students were allowed to select a class — an elective — I came up with 'Pioneers.' It dealt with African American history and culture. It went for several years.
"The very first February we needed to do an activity for Black History Month. And I said, 'Wouldn't it be cool if we did a walk-through museum?'"
The response was yes, and Carter-Mjumbe says, "We featured photos and brought in props. We went to Goodwill and asked other teachers to look for materials that students could put their hands on."
She says the result was "a phenomenal activity in the library."
It also led her to realize how children and adults of all races had a limited knowledge of African American history and prompted her to explore ways to replicate the effort. The result was a nonprofit organization formally established in 2016.
Referring to the Arts Council exhibition — a gallery filled with photographs, recordings, period clothing, and other materials to highlight the cultural contributions of such greats as poet Langston Hughes, Motown Records' the Supremes, singer and film star Lena Horne, and the Princeton-born singer, actor, and political activist Paul Robeson — Carter-Mjumbe says, "This material is not even 30 percent of our collection. We have six or seven different themes. Clients, mostly principals, can select them and we can bring them in."
In addition to "African American Firsts," other exhibitions include "Amazing African American Women," examining figures such as ground-breaking American playwright Lorraine Hansberry, self-made millionaire Madam CJ Walker, and innovative entertainer Josephine Baker; "Civil Rights Movement and Voting"; "Black Lives Matter"; and "The Tuskegee Airmen."
"I think our most requested is '20 African Americans & Events Everyone Should Know.' That is always in demand," she says about the exhibition that includes Black Wall Street, inventor and businessman Garrett Morgan, the racially motivated murder of 14 year-old Emmett Till, and the Civil Rights-era Greensboro Lunch Counter Sit-in Movement.
During COVID, Carter-Mjumbe says she has seen an uptick in virtual presentations. That includes her live presentation of the life of Madam CJ Walker, who despite numerous obstacles during her life from 1867 to 1919 created a cosmetic and hair product business that helped her become the first female American self-made millionaire.
"I dress up as Madam Walker," says Carter-Mjumbe. "My daughter plays her daughter, and we have a full stage and hair dryers — it's about 15 minutes long. The kids enjoy it."
"I'm the senior curator," Carter-Mjumbe says about the organization. "I have a board of directors. We're a team of seven. We have an outreach coordinator and historian, Shirley Satterfield," a sixth-generation Princetonian instrumental in the designation of the Witherspoon-Jackson Historic District and the president of the Witherspoon-Jackson Historical and Cultural Society."
About herself, Carter-Mjumbe says, "I'm Birmingham, Alabama, raised. Birmingham was the center of Civil Rights activities. My father was a Freedom Rider and among the riders arrested in Mississippi. He later evolved to a chaplain in VA hospital. My mother was a professor and raised in associate dean.
"I came to Princeton when my husband (Lukata Mjumbe) received a scholarship to Princeton Theological Seminary. He is the full-time pastor at Witherspoon Street Presbyterian Church."
A learning specialist focusing on students with special needs, Carter-Mjumbe graduated from Alabama State University and took additional courses at Tuskegee University.
While Carter-Mjumbe grew up surrounded by Civil Rights history and stories, she says her involvement with an African American book club made her realize that she needed to learn more about African American history.
Now it is a full-time involvement that she lives with — including storing exhibition material at her Walnut Lane home. "Right now, with the pandemic, overhead is important (to keep low). I make do. But I'm always looking for places where I can store mannequins and props."
She says she is also looking for people to help out. "Physical labor is needed. It is a lot to set up and break down the exhibitions." She also needs people for "driving U-Haul trucks and keeping materials organized, making sure that everything looks like it needs to look when we set it up."
Although Museums in Motion is still young, Carter-Mjumbe says she is finding resources in the area, especially the Arts Council of Princeton. "(They) invited me to do this display. This has been huge and people want to know where we're going to be next. They also connected me with other galleries."
She says she is also currently in discussion with writer and performer Todd Evans and his Don Evans Players to add small performances to the exhibitions to create a "fuller experience," and she is about to present a two-month trial.
While she currently is writing grants and seeking small donations, she says the organization's unnamed "budget changes, but never decreases" and is maintained by out-of-pocket payments, board and individual contributions, and sales of services — ranging from a small exhibition ($100) to a large museum experiences (starting at $4,000), along with other offerings and prices in between.
"This is my full-time passion, and I'm trying to grow it," says Carter-Mjumbe. "We have exhibits set up two or three times a year — but I want to do seven or eight."
In order to accomplish that, she envisions hiring crews to support simultaneous exhibitions while she develops others.
In addition to the challenge of fundraising, Carter-Mjumbe says another is the perception that African American and women's history should be addressed only in February and March, respectively.
"There is an over whelming response (during those months), then it dies down," she says in front of the exhibition's Paul Robeson display. "People need to be exposed to this throughout the year."
"Legends on the Arts" is on view at the Arts Council of Princeton through Saturday, March 6.