Princeton Makes to celebrate grand opening
Princeton Makes, a new artist cooperative, is celebrating the grand opening of its artists' studios and retail space in the Princeton Shopping Center on Saturday, September 18, from 2 to 6 p.m. The free event will include plein air painting in the courtyard, artist demonstrations, open studios, and live music.
The Princeton Makes cooperative will include 25 local artists, and its location will include studio space for up to 12 artists and a retail space featuring the work of all cooperative members for purchase. All artists will take turns working at the space when the store is open, and the artists who have studios on-site will be able to work seven days a week.
According to Jim Levine, the founder of Princeton Makes and a stained glass artist, "The Princeton Shopping Center has been tremendously supportive of the concept and the way that it supports local artists. Princeton Makes is able to bring a much-needed location for artist studios in the Princeton area, and the cooperative nature will allow for interaction and inspiration among the artists. The initial reaction to the concept from both artists and residents has been overwhelmingly positive."
The cooperative will initially be open from 10 a.m. to 6 p.m., Thursday through Sunday. Whenever the store is open there will be at least one artist working in a studio, so customers will be able to interact directly with artists to learn about their process and technique.
The art made and sold at Princeton Makes will cover a range of artistic genres, including painting, drawing, stained glass, sculpture, and jewelry. Customers will be able to support local artists by shopping for a wide variety of art, including large paintings, prints, custom-made greeting cards, stained glass lamps and window hangings, jewelry in a variety of designs and patterns, and more.
For more information visit www.princetonmakes.com.
Sukkah Village 2021 comes to Princeton
Princeton-area architects and designers are marking the eight-day Jewish holiday of Sukkot with an 11-day display of sukkahs, or temporary shelters, on public sites around town.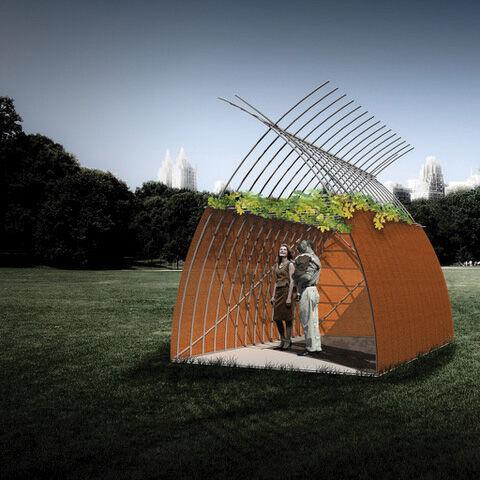 The event, which runs from Sunday, September 19, through Wednesday, September 29, is being produced by managing partner of Nassau Street-based architecture firm JZA+D, in partnership with the Jewish Federation of Princeton Mercer Bucks.
The sukkahs will be designed by eight architecture and design firms from across the state along with the winners of a New Jersey Institute of Technology student design competition. A total of 12 sukkahs will be erected on sites provided by venue partners, with 10 designed by eight practicing architects from across the state and two designed and built by student teams.
Additional Sukkah Village programming includes panel discussions, walking tours, a film screening, and a family-oriented arts and crafts gathering.
The event will also promote the impact of design in addressing key social issues including homelessness, food insecurity, sustainability, and the struggles of refugees.
Sukkah Village 2021 will also be a platform for fundraising efforts for associated charitable organizations. To that end, the sukkahs themselves — all of which can be taken apart and reassembled each year for Sukkot — will be sold via an online auction that will open to bids just prior to Labor Day at close at the conclusion of the village.
"Sukkot is a harvest celebration, but it is also meant to highlight the importance and fragility of shelter," Zinder said in a statement. "Thanks to the phenomenal professional and student designers involved, and to the commitment of key partner and sponsor organizations, we expect Sukkah Village 2021 will capture the imaginations of eventgoers and inspire them to contribute to solutions for the range of critical issues facing New Jersey, such as homelessness, hunger, and a growing affordable housing gap."
The Princeton venues where the sukkahs will be displayed include the Jewish Center of Princeton, 435 Nassau Street; St. Paul Roman Catholic Church, 216 Nassau Street; the Arts Council of Princeton, 102 Witherspoon Street; Hulfish Street at 3 Palmer Square; Nassau Presbyterian Church, 61 Nassau Street; Trinity Church, 33 Mercer Street; and the YWCA Princeton, 59 Paul Robeson Place.
For more information visit www.sukkahvillage.com.