In grayscale tales of human experience, their souls conveyed by genuine observance rather than a photographer's presence, Sheila Bodine has been capturing cities around the world since retirement. Her latest exhibit, "Princeton Together," is an ode to the town she lives in, shown at the Arts Council of Princeton through October 9. A free opening reception takes place Saturday, September 11, from 3 to 5 p.m.
Bodine is originally from Philadelphia, but many of her family members went to Princeton University, giving the former teacher exposure to the area. The local residents reflect changes in customs and backgrounds that she has always wanted to showcase.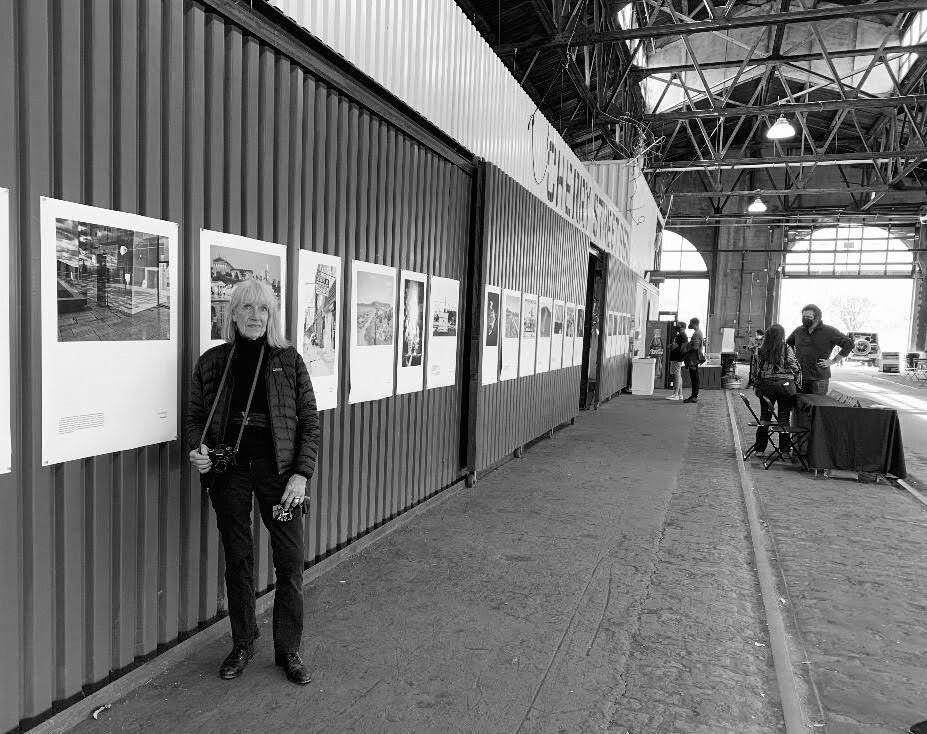 "My camera's always with me, wherever I am," she said. "I was drawn to the many events that take place in Princeton, mostly sponsored by the Arts Council, because they provided great opportunities for photographing people."
"You are in the public and you are, in many cases, you're happy to be photographed. People are happy, people are relaxed, people are having fun. As I did that, I've become increasingly aware that there's a great deal of diversity in our community," she said.
Bodine has "enjoyed photography since her teenage years," she said, and worked as a teacher full-time. Around seven years ago, she retired, ready to focus on her passion. Her favorite subjects are those in street scenes, where people can be naturally observed.
"I have known Princeton since birth," she said. "This is a totally different Princeton, the town, as opposed to the gown. It's been very exciting."
Whether cultural events like Day of the Dead and An Evening with Bollywood, demonstrations, or environmental marches, she immortalized the beauty of human beings in their celebration of life, and sometimes, in their defense of it.
As an educator, Bodine instructed "everything from pre-K science and computers," to ninth grade English. Her interest is photographing people, especially children, yet combining both in her academic career faced the constraints of student privacy in private schooling. She either photographed her friends' little ones or took to public spaces for material. Now, revelling in the freedom of retirement, she can take shots that depict youth in its innocence on a much more regular basis.
One of her favorite pictures is of a girl wearing a traditional Day of the Dead mask, which showcases Bodine's love of children in their pure, wide-eyed view of existence. Some of the older subjects are holding signs in protest, while others are enjoying cultural festivities. Daily life, as well as the special holidays, gave her access to reflections of both compassion and opposition.
Bodine is constantly inspired, but she had a great uncle "who devoted his whole life to photography" and left her his camera when he passed away. That, accompanied by her natural attraction to the art, helped her learn more about the technicality of an ideal photograph.
"Sometimes, you don't know what your influence is, you're just drawn to enjoying something," she said. The photographer worked for Schwarz Gallery and volunteered at the Winterthur Museum, always connecting herself with the beauty of visual compositions.
For her work in the current exhibit, Bodine used both a Fuji XT-3 and a Fuji X100v camera in a variety of lenses, switching from DSLR to mirrorless over time. She does a minimal amount of post-processing with computer software programs like Adobe Lightroom, happy to have her modern dark room accessible through technology.
To go along with the display, Bodine made 10 zines, which are self-published printings of original work resembling magazines in style. She wanted to let prospective purchasers take or "carry" away parts of the photography. "I thought this would be a good adjunct to this exhibit," she said of the learning process. "I've also been exploring video a bit, because I think also as far as presenting your work, it's been such a multimedia world now. Many professional exhibits include artwork, videos, zines, and a variety of multimedia ways to tell the same story."
When asked about her style, she maintained that she takes in scenes organically.
"I react. I don't go with a purpose of any kind, I just go. And then if I notice something that I think tells a story or is representative of what's going on, then I take the picture. But there are two kinds of photographers, those who go out specifically to do something, and those who just react to what they see. I would put myself in the latter category."
Bodine has experience with group and juried exhibitions, as well as several publications, but this is her first solo endeavor. In the past, she took photographs in Cuba and participated in multiple workshops, which she still actively enjoys, particularly during the pandemic.
"I've taken a lot of courses, either with people in-person, or I've done quite a bit traveling with people out of the country in Italy and France, which I enjoy because I speak both languages, therefore I can interact with the people," she said.
When there were no events or crowds, Bodine had to look elsewhere for engagement, thus allowing collaboration to take center stage. In 2020, from the comfort of her Princeton home, she had one-on-one sessions with a teacher from New Delhi, India, giving her the opportunity to learn even more.
"Especially in this last year, to be able to be in a class with people from all over the world, be it South Korea, be it Sweden, and to be with people, that from whom, not only do you learn a lot about photography, but you learn a lot about their particular culture, it's quite extraordinary," Bodine said.
She is also a member of the Princeton Photography Club, which connected her to similar minds and talents. "[It was] one of the things that kept me going when I moved to Princeton, because I had that resource," she said of the monthly lectures and valuable tools.
The Arts Council has asked her to photograph more events, and she hopes to follow up with more of those projects as society reopens — the woman behind the camera is even planning on leaving the country to travel soon, excited for the future.
For the messages her show conveys about Princeton, Bodine is unwavering.
"I would like them to take away two things. One is the wonderful variety of cultures we have in Princeton, and the other is the amazing role that The Arts Council plays in supporting these communities," she said.
Princeton Together, Arts Council of Princeton, 102 Witherspoon Street. On view through October 9. Opening reception Saturday, September 11, 3 to 5 p.m. Free. 609-924-8777 or www.artscouncilofprinceton.org.