It all started innocently enough. The Robbinsville High field hockey team was taking part in a "Play Day" at Hightstown, which is a series of preseason mini-scrimmages against various teams.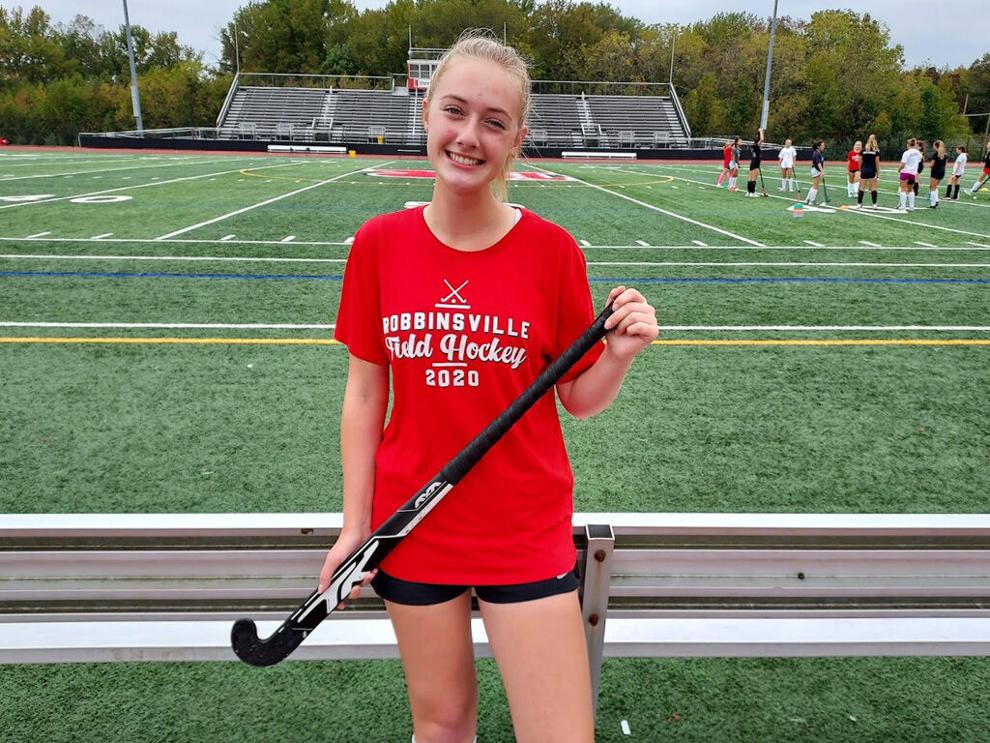 The Ravens were playing Lawrence and, even though the game didn't count, coach Jennamarie Colicchia was not happy with the lethargy her team was showing. Thus, she inserted sophomore Alyssa Palagano, and the rest is history.
"She just was a spark off the bench," Colicchia said. "Sometimes when you put a kid in for the first time they freeze up. She did the exact opposite. She played with that rookie mentality where she was gonna give all that she had and from then on she was on the field. I knew she had something special just from that."
Palagano, however, did not feel special upon entering the game.
"I was incredibly nervous," she said. "We were not playing at our greatest potential. Colicchia decided to just throw in a hopeless little sophomore and I guess I used my nervous energy to my advantage. I guess I played decently well."
So well, in fact, that after the game the coach lectured her team and pointed to the 10th-grader, saying "Look at the impact she had coming off our bench."
Needless to say, Palagano wanted to dig a hole to hide from the glares of potentially angry upperclassmen.
"Pretty much," she said with a laugh. "I was kind of hidden, but it did make me feel good about what she said. And I got a text from one of the seniors saying she was proud of me, and that made me feel appreciated."
Colicchia's appreciation goes well beyond what Palagano does statistically. In last year's abbreviated season, the forward scored a team-high seven goals. This year, the senior has just two. But stats were never the measure of her value, which was apparent in her first season.
"During the year she was that one player that always picked up everybody else," the coach said. "She got Teammate of the Year at our banquet, which sounds so silly but it's one of my favorite awards to give out. It's that player on the team that goes out of their way to make everyone feel so important.
"You don't realize how much of an impact that makes on an individual's game play until someone is consistently doing it in practice. She's always everyone's hype girl. To have someone who is everyone's biggest fan is big. As a senior, she has set that tone where people respect her. She commands the field and everyone just looks up to her. To have a leader like that where I can just give her direction and she can go and get it done, is very important for our team."
Palagano's mindset should not be surprising to those familiar with her family background.
Her mother, the former Kristen Bell, was one of the top tennis players in Mercer County during her high school days and, at one point, held the Steinert record for most singles victories. She also played first singles and first doubles at West Chester University. Her dad, Tony, was a soccer and baseball standout at Hopewell Valley High and swings a pretty mean golf club. .
But the biggest legacy of all was her grandfather, Jack Bell, who is still one of the most recognizable names in Mercer County sports history.
Bell is in every athletic hall of fame imaginable. He was a star soccer/basketball player at both Hamilton West and Trenton State College (now The College of New Jersey), played semi-pro basketball for the Hamilton Pat Pavers and coached the boys soccer teams at all three Hamilton Township high schools. He guided West to a state crown and took Nottingham to the first sectional title in any sport in that school's history.
"He's one of the big influences on my life," Palagano said. "Everywhere I go it's like 'Oh, you're Jack Bell's granddaughter!' No matter what state I'm in. It's unbelievable.
"He's at every single game. He doesn't know anything about field hockey, but he's a little better now. He wants me to call him, win or lose. He wants to hear all about it."
Much like Jack, Kristen and Tony aren't keen on the nuances of field hockey. But they attend every game and provide support in different ways. Palagano chuckles at what she hears, but truly appreciates it.
"My mom is my best friend," Palagano said. "She doesn't know much about field hockey, so it doesn't matter how I play, she always has something positive to say. Even if I play the worst game of my life she'll say "You made a good pass. I heard you say good things.' It doesn't matter what it is. She's just the biggest supporter of me.
"My dad is a little frustrating; because he thinks it's soccer and there's the same rules in soccer. He likes to be the coach, but he doesn't necessarily always know what he's talking about. I know it's from the goodness of his heart to try to help me out a little bit. But he tells me things that are illegal. I'm like 'Dad you can't do that.'"
Ironically, Palagano was the same way when she started in field hockey. Her interest was sparked by a cousin who played for Princeton Day School.
"She gave me her old stick and one day I just tried out for the middle school team in sixth grade," Palagano recalled. "I made the team, but I had no clue what I was doing. Absolutely no clue. They took four sixth-graders and it was just luck I was one of them."
While Palagano slowly learned about the game at Pond Road, it wasn't until her season on the Ravens freshman team that she fully began to grasp what was important.
"She progressed so quickly," Colicchia said. "She was so willing to learn, ask questions. She was very vocal. The kids who are the most vocal are the ones who I know are getting it and paying attention. Whenever I hear people giving input, asking questions, I know that's a kid I should be zoning in on."
Palagano has not disappointed. Despite the fact her goal output has dropped this year, her contributions were still key to a Ravens team that was 7-4 entering its regular-season finale with Princeton (followed by a state game with Northern Highlands Oct. 27).
She has played with pain for most of the season after suffering a slight left ankle injury against Nottingham in September. It's one of those nagging sprains that never quite goes away, but Palagano keeps it taped and muddles through.
"It's taken a little bit of a toll on me," she said. "I'm just happy it's not keeping me out."
She is also happy with the way her season is going, despite her decline in goals.
"I would like more, but I'm not a stat kind of girl," Palagano said. "It doesn't bother me, I don't need it if we win. I count a team victory as my victory."
Not to mention, she is still an integral part of those team victories.
""She distributes very well," Colicchia said. "She's always on our post. She's very scrappy. She's very good on corners. And just her overall game play. I feel her dribbling has gotten a lot better. We don't really have one big person scoring. But her presence is definitely felt. She's in the right spot at the right time, she's making the right passes. Her game smarts are there."
So is her leadership.
"She's so coachable," Colicchia continued. "The way she leads and the way she fosters relationships with teammates is a big reason why our team is successful, and I'm not just talking about on the scoreboard."
This will be Palagano's final year playing field hockey, unless she plays intramural or club hockey in college. She plans on pursuing a career in occupational therapy.
But as for now. . .
"I'm just basking in my last month in high school in my small little town," Palagano said. "We're having fun, and I love this team."
Apparently, that love is mutual.