When the high school softball season ended last year, Kailey Pacifico felt a bit unfulfilled.
Having played shortstop most of her life, Kailey was asked to be the starting catcher for Robbinsville High's softball team. She had done a little catching at Pond Road Middle School and actually prepared to catch in high school, but always considered herself a shortstop.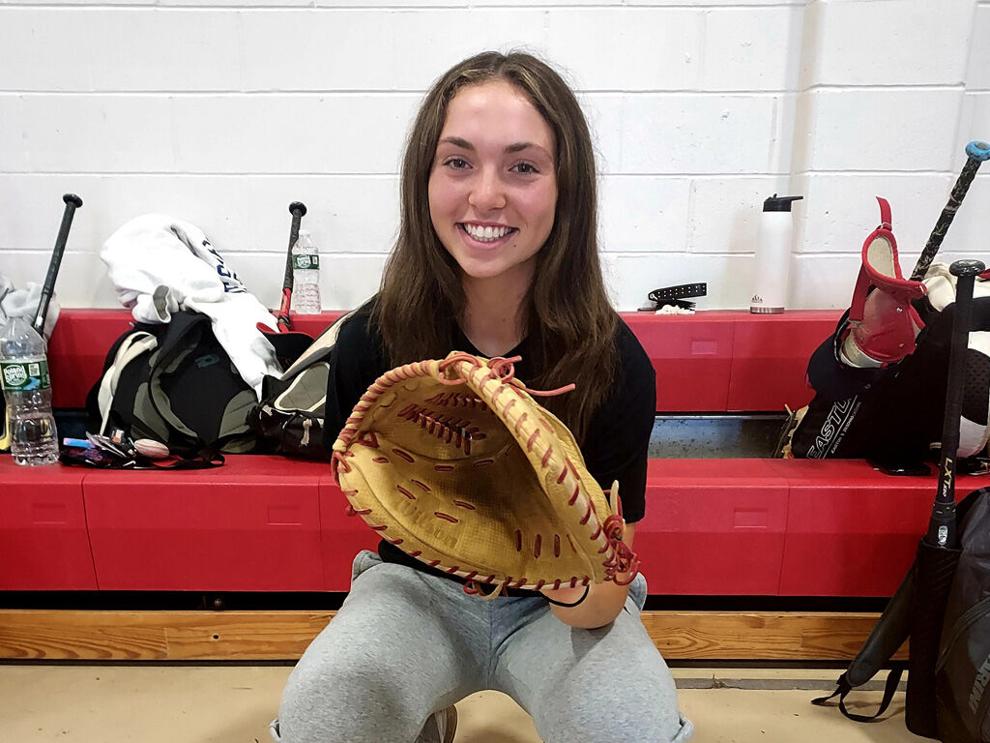 Despite hitting .412 with 24 RBI as a junior, Pacifico felt like she was short changing her team defensively. When Christine Levering took over as head coach after three years as an assistant; the former Robbinsville soccer/softball great had a talk with her catcher.
"At the end of states last year I was like 'I don't want to be the catcher anymore, I just want to play somewhere else,'" Pacifico recalled. "I felt like I wasn't doing enough. I talked to coach Lev this year and she just helped me work through those feelings."
Having been through countless athletic wars herself, Levering knew just what to say.
"Lev is always very nice and helpful and just builds your confidence," Pacifico said. "She just said, 'It's OK you got it. Don't think so much. You know what you're doing, you're just in your head.' She got me through that. I want to have a spot on this team, and I feel the only way I can help the team is catching, so I'm gonna keep doing it."
She could help at shortstop, but the Ravens were set there with Haley Krebs. So Pacifico bore down and is doing what no one else on the team can do better – catch.
"She's the best catcher we have right now and she's taking on that role and doing so well with it," Levering said.
As Pacifico improves as a catcher, she has maintained her strong hitting. Through the Ravens 14-7 start, Kailey was batting .420 with five doubles, a home run, 15 RBI and 13 runs scored. Despite being a lefty swinger, she tends to try and hit straight away opposed to slapping balls.
"A lot of times people think she might be a slapper because she has some speed too," Levering said prior to her team's Apr. 23 Central Jersey Group II game with Allentown. "Sometimes she might take a slap then hit the ball,
they're not expecting some of her hits. But she's had some great hits for us, especially the HR against St. Thomas Aquinas (during which she had three hits and three RBI). She ripped one to the left side, it was great to watch."
For her part, Pacifico feels she doesn't actually have good speed, so she never had the desire to slap; nor does she feel she has the ability. She started as a right-hander, but her brother Josh worked to make her a lefty.
"When I first started, they said I picked it up quickly," Kailey said. "But I'm not really speedy so slapping won't do anything for me so I think I just learned how to adapt to hitting."
Pacifico began in T-Ball, then moved to Robbinsville Rec and travel ball. At age 11 her All-Stars finished third in the Little League World Series, and at age 12, they reached the East Regional Tournament. She went on to play travel ball with the Rampage and Jersey Outlaws; and those big-time moments in little league proved invaluable when Pacifico got to high school.
"I think it prepared me mentally because softball's such a mental game, so I feel I was always prepared for the next step," she said. "Just the emotions that come with softball are sometimes overwhelming. When I was at the World Series I was always very nervous but I think that helped me coming into high school.
"My freshman year I had such great role models that were seniors. I was a little nervous around them, but not as nervous as I would have been if I hadn't gone through the World Series."
She noted that those role models on the 2019 Ravens, who reached the Central Jersey Group II finals, were players such as Shea Walsh, Olivia Moser, Chelsea Manto and Devon Witt. She got just 18 at-bats that year, collecting six hits, and was ready for 2020 before Covid shut everything down.
By the time play resumed last year, the reluctant catcher was starting behind the plate after some calculated training by her dad and brother.
"I caught a little here and there but I was mostly at shortstop; and my dad had said 'If you want to be on varsity you have to try and be a catcher so you can be a back-up catcher (as a freshman),'" Pacifico recalled. "I tried, I wasn't very good but at first I was there as a back-up. So I kind of just made myself a catcher."
For the Ravens, it was a good thing she did as her services were needed last year. Pacfico worked hard, spending countless hours in the front yard with her dad throwing balls into the grass so she could practice blocking.
"That was always my biggest problem," Pacifico said. "I feel like I know how to frame, but blocking I still need help with today. I just adapted it to being a shortstop where you have to field groundballs. I did that in catching and just dropped to my knee."
She also had to adjust her throwing style since she threw sidearm from shortstop.
"At the beginning of last year I was throwing sidearm down to second," Pacifico said. "So I practiced with my dad and just focused on the elbow staying straight."
Pacifico's work ethic and team-first attitude got her the most votes when it came to voting for team captains this year. That did not surprise Levering.
"I saw those qualities a little in basketball," she said. "She's a leader every single day with how bad she wants to win. That part of her mentality is contagious. Every day at practice she works hard and it trickles down."
What many people do not realize, is Pacifico sprained her thumb last year and still has issues with it today. She wears a brace and wraps it before every game and, if a pitch hits her mitt the wrong way, it's a new sensation in pain that she must battle through.
"I'll need a break and the next pitch I'll wince, but I get through it," Pacifico said. "But catching does take a toll on you mentally and physically."
It also demands that the player be a conduit between the coach and players. As a first-year head coach, Levering knew she needed to have a strong relationship with someone who could get her word across by being a coach on the field. Pacifico turned out to be the perfect girl.
"I had talked to her before the season about what my expectations were and her expectations were as a catcher and as the voice of the field," Levering said. "Anything I relay she relays on the field and she doesn't even have to ask at times, she knows what we want in certain situations."
That comes from having intelligence as well as athletic ability. Pacifico has a 4.1 grade point average and is a member of the National Honor Society. She is going to West Chester University to major in Nutrition next year, and has decided to forego softball to focus on her studies.
"Softball's a huge part of my identity so it was really tough for me to make that decision," said Kailey, who was a Mercer County Softball Hall of Fame scholarship winner this year. "But I wanted to focus on my major and have passion somewhere else other than sports. But I really want to do sports nutrition in the long run so I still want to work with athletes."
She will always look back on her softball career as something special. "It's been a great experience," Pacifico said. "I've learned a lot of lessons through softball. It's always been about learning lessons."
And with the help of Levering, one of the biggest things she learned is that she's a lot better catcher than she ever realized.