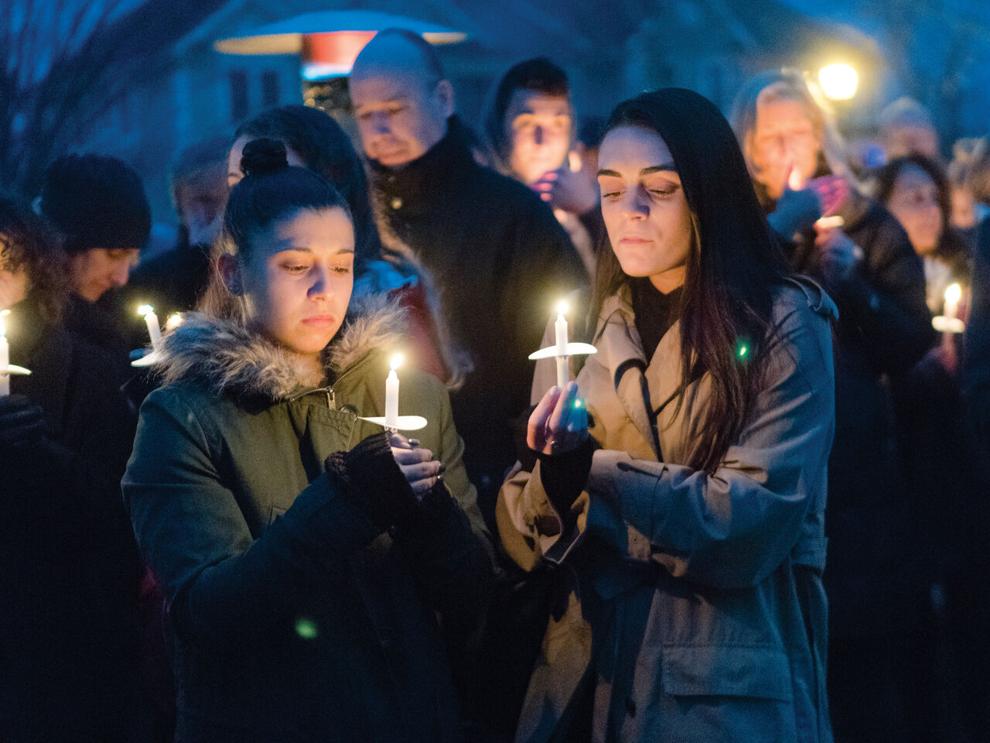 Seymour Josephson took the stage at West Lake Park in downtown Robbinsville April 2, facing a few hundred silent onlookers and a dozen national broadcast cameramen. He collected himself for moment before speaking, as those moments had recently become scant.
Just four earlier, on March 29, Josephson's daughter Samantha, 21, was enjoying her last semester at the University at South Carolina. A day later, on March 30, he was trying to grasp her horrific death at the hands of a stranger. And just the day before, Josephson was at her campus in Columbia, South Carolina, facing another group of onlookers and cameras and speaking on a bill that could only hope to stop the thing that happened to his younger daughter—his Sami—from happening again.
PHOTO GALLERY: Hundreds attend candlelight vigil for Samantha Josephson
In three days, Josephson's and his family's lives had become an unimaginable cycle of grieving, shock and anger. As best he could, he explained this to the family, friends and neighbors at his daughter's vigil.
"I'm telling you, this is nothing you would ever want to do," Josephson said. "You don't want to go through this."
Samantha was a lifelong resident of Robbinsville, with a list of friends that likely makes up a good portion of her small hometown. She was a political science major at USC, two months away from earning her bachelor's degree and preparing for courses at Drexel University Thomas R. Kline School of Law, where she was offered a scholarship just months before. Her standing as a disciplined, inspiring student was offset by her reputation as a fun-loving, clumsy girl with a penchant for pranks and memorable stories her loved ones described as "Sami-isms."
More than two dozen friends from Robbinsville and Columbia took turns telling their favorite story of Samantha at the vigil, each one complementing the history of a girl people found impossible to not be happy around.
There was the time she convinced her longtime boyfriend Greg Corbishley that he failed some kind of "new boyfriend test" with Seymour after he ate an extra slice at Papa's Tomato Pies. Another story of how she dressed as Jesus for her high school's Halloween costume contest was met with laughter and unsurprised nods. Even smaller memories—smearing a friend's bagel with peanut butter instead of butter, renaming a friend's dog "because it sounds better"—lent to an idea that Samantha was still there. Every so often, someone would let slip a present-tense phrase—'Samantha is,' not 'Samantha was.'
The mourning was reserved for reflection on what could have been for Samantha. Corbishley admitted he hoped to move to the Robbinsville area with her one day, having seen her love for her hometown. Many friends highlighted what reaching law school meant to her. One friend called Samantha one of her future bridesmaids, and broke down at the thought.
Speaking on her actual death proved nearly impossible. As Corbishley said, there are no actual words for what happened. "This is an unspeakable evil," he told the crowd.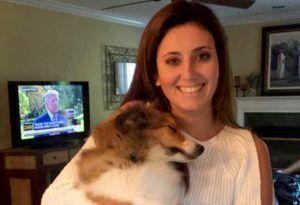 Samantha was leaving a bar in the popular Five Points area of Columbia at 2 a.m. on March 29. She had work the next morning, Josephson said, and was taking an Uber back to her apartment by herself. Corbishley, who was two-and-a-half hours away at the time, said he was tracking her location on his cell phone. Very soon, he sensed something was wrong.
Samantha got into a black Chevy Impala allegedly driven by 24-year-old Nathaniel Rowland, mistaking the vehicle and driver for her Uber. She never made it home that night, and she was reported missing by her roommates the next afternoon.
Her body was found by law enforcement shortly thereafter, and Rowland was arrested and charged with kidnapping and murder the very same day. Blood was found throughout the Impala's back seat and trunk, and Samantha had suffered multiple stab wounds.
Josephson sought out Rowland's arresting officer upon his visit to Columbia that next day. He thanked the officer for catching the man charged with murdering his daughter. When recalling this to the Robbinsville crowd the other night, Josephson gave pause. The idea of Samantha being murdered ate away at him, but it had to be said.
"I want it out there because he was a monster," he said. "I don't want anybody else to go through that, as a parent."
* * *
Josephson and his wife Marci began the call for bolstered ridesharing safety laws March 31, just a day after learning of their daughter's death. At Columbia, they advocated for measures that would ensure more responsibility from ridesharing services—specific license plate requirements, rideshare driver indicators such as mounted lights, or a policy that drivers would greet their passengers in person, to name a few.
These small improvements to safety—improvements which any one on its own could have potentially given Samantha pause before she entered the Impala that night—have picked up momentum since the Josephson's pitched them just weeks ago. Rep. Chris Smith (R-NJ), who represents Robbinsville in Congress, is currently writing what he calls "common sense safety provisions" to be included in the new "Sami's Law" bill.
The josephsons launched a
website, whatsmyname.org, to educate people on rideshare
safety tips and precautions.
The bill will include ridesharing safety recommendations from the Josephsons, including an authentication requirement through a scannable code or quick response, and required front license plates on rideshare vehicles. The hope, Smith said, is the bill establishes "national protocols that will save lives."
"Through unspeakable tragedy the Josephsons are selflessly leading the way to ensure that others do not have the same pain and loss they are suffering since the murder of their daughter, Samantha," Smith said. "The Josephsons have channeled their sorrow into action for legislative and policy changes that will protect others who use ridesharing vendors."
A similar bill, the "Samantha L. Josephson Ridesharing Safety Act," was introduced by South Carolina House legislators within days of Samantha's death. It would require ridesharing companies to provide a specific, illuminated sign with the company's trademark or logo to its currently employed drivers. The light must be patently visible for passengers to see at night—a requirement currently held for taxis or rideshare vehicles in larger cities, but not in areas such as where Samantha was taken.
Bill co-sponsor and South Carolina State Rep. Seth Rose called Samantha's death a very disturbing event. He and his family live just down the road from where she was taken.
"In the wake of this tragedy and examining the law, I realized that we need to do more," he said. "Having the light illuminated is a step in the right direction, so we can decipher who is who."
The bill was passed on a 99-1 vote and progressed to the state Senate.
The Josephsons went on Good Morning America on April 15 to discuss the current state of safety laws in place for ridesharing services. They continued to pitch simplistic measures of driver and passenger verification hosted under currently-available technologies—the car window scannable barcode that indicates whether or not the driver is their assigned pickup, for example.
"You put your phone up to it and if turns green, that's my ride. If it's not your ride, it turns red," Seymour said. "The technology is already out there."
They also took time to announce the launch of their new website, whatsmyname.org, the host for their efforts to educate people on rideshare safety tips and precautions "to ensure no other family has to suffer this unspeakable tragedy."
"I think it's just become such a natural or new phenomenon, using Uber," Marci said on the show. "We trust people, and you can't. You have to change the way that the laws are to make it safer because that's our nature. We automatically assume that we're safe."
Samantha's loved ones didn't let her memory die. The young woman who lightened the lives of people in Robbinsville and Columbia was present at the vigil—the very same people made sure of that, sharing every story they could recall.
Samantha is gone, but her story won't end with her death. There's lessons to be learned from the night she was lost, laws to enact that would protect another person. Robbinsville High School announced a scholarship in her name for students pursuing degrees in political science.
USC announced their intention to honor Samantha's political science degree posthumously this May. Her family will attend her graduation, as they always planned to.
And of course, there's the ways she touched the people she loved—when her life wasn't a tragic story, but one bursting with promise and joy.
"She is as kooky, as lovable, as light-hearted, and just one of the best kids you'll ever meet," Josephson said.