First there was Colton, who is now 7. Then came Rebel, now age 3. And now, there is Robbinsville High School athletics, the latest child in the Dalessio family.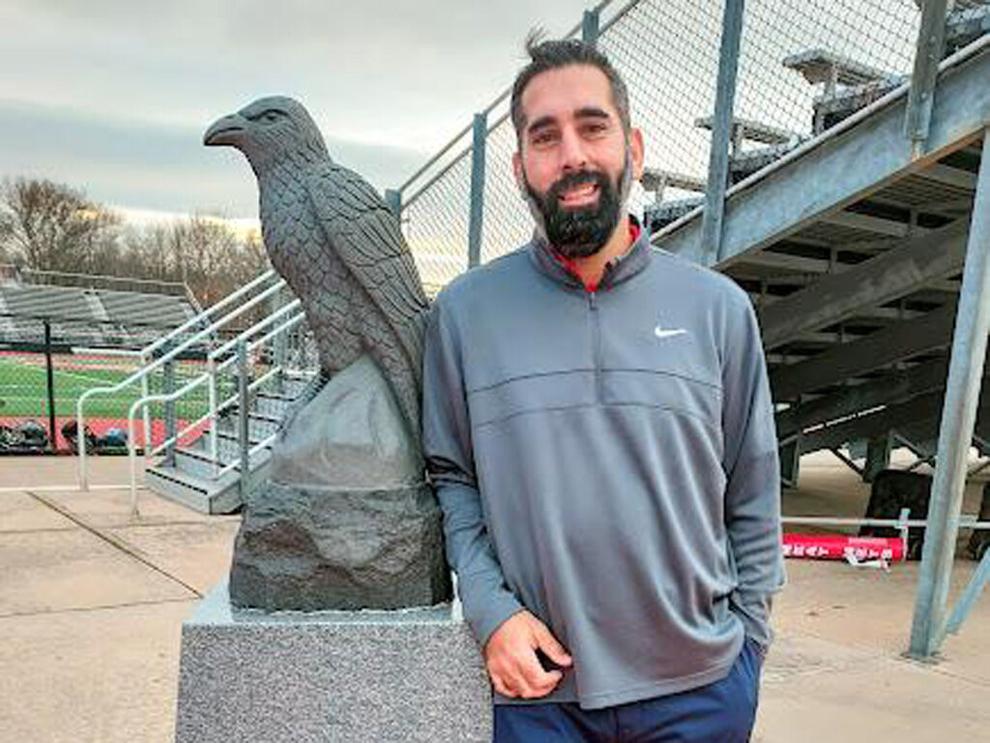 That's the way Matt Dalessio looks at things as he prepares to take over as the RHS athletic director Jan. 24. After 13 years as a teacher and coach at Ewing, Dalessio is going from running individual teams to overseeing the entire program.
Is he ready?
"I kind of feel it's a little bit like parenting," Dalessio said. "Who's ever 100 percent ready to be a parent? You have to figure it out on the go. You work through the way to do things and how you want them to be as a parent. Just like I'll work through how I want this to be as an athletic director. I'm just trying to make decisions the best I can for the entire athletic program—not just one sport or one individual program, but all of them."
In taking that approach, Robbinsville can be considered the Dalessios fourth child, as Matt's wife Adrienne took over as the Highland High School AD in July.
"She's learning on the job herself," said Dalessio, who met Adrienne his very first day at Ewing, "but she's helping me out already."
Highland is in South Jersey, not too far from Cherokee High School, where Dalessio wrestled and played football before playing football at The College of New Jersey. Upon graduation, he got a job at Ewing as a health & physical education teacher, and embarked on a busy coaching career.
Dalessio was either a head or assistant coach for football, wrestling and track & field all 13 years he was with the Blue Devils. He was head track man for six years, guided the wrestling program for the past 10 and the football team for the past three.
"I always wanted to be a head football coach, I always wanted to run a wrestling program," the 36-year-old said. "As I was getting older and getting in the job longer, I went back to school to be an administrator with my eye set on being an athletic director.
"After the football season this job was posted and I said "Let me see what happens.' It was a whirlwind, I'm very excited. Obviously it's a little bittersweet but I'm very excited."
Dalessio stepped down as wrestling coach in October and was replaced by Darren Basich, the Blue Devils former head coach. He guided the football team into the state playoffs this fall, and his replacement is still in the works.
"We are very appreciative of the efforts of coach Dalessio on behalf of our student-athletes and wish him the best in his new duties at Robbinsville," said Jim Woidill, who took over as Ewing's interim athletic director when Ernie Covington resigned in the summer.
Dalessio's departure means the district is now trying to fill two positions. "Ewing has posted and is currently interviewing for a permanent tenure track athletic director," Woidill said. "We anticipate the process being concluded by early 2022. One of the first significant initiatives of the new athletic director will be to hire the new head football coach for Ewing High School, which we hope to have completed in the spring."
The move was not made easily by Dalessio, who will look back on his years at Ewing as a coming-of-age period.
"It was a great 13 years," he said. "I matured a lot there. I went in as a 20-something year old single guy who thought one way. I came out on the other end, 36, married, kids with a different outlook on life. I'm so thankful for that district, the administration. Everybody kept giving me opportunities and allowed me to keep proving myself. That community there is great."
Dalessio felt the toughest part was saying goodbye to the athletes who he worked so closely with over the years.
"Seeing them in the hallways, asking me not to go anywhere, it tugs at your emotions," he said. "There's uncertainty that's always there for high school kids when they get a new coach. I reassured them the district would do their due diligence to do everything they can to get a good guy in there as head coach for football. That bond with the kids, their families, the whole community was amazing over the past 13 years."
It is now time to form new bonds, and Dalessio cannot wait. He was approved by the Robbinsville Board of Education on Nov. 23 and was in the high school Nov. 30 filling out forms and getting the lay of the land.
Dee "The Wizard" Taylor, Robbinsville's interim AD the past two years, will remain for a while to help Dalessio through the transition period. Matt already has the blessings of Taylor, one of the CVC's most respected figures.
"He is a great choice," the Wizard said. "He seems to be ready to take his athletic vision and advance the programs of Robbinsville."
One of their first projects together will be the Mercer County Wrestling Tournament, which is a good place for Dalessio to ease into due to his familiarity with the sport.
"The school year is split up into three sports seasons," he said. "I'm fortunate enough to come in midway through the winter where I'll have my opportunity to get my feet wet with Dee there to help me out. And I'll be here to help set up the spring sports season, which is great."
Due to his coaching experience, Dalessio already has relationships with Ravens wrestling coach Sean Flynn and football coach Andrew Patterson.
"They'll have some tricks to help me with here and there," he said. "I don't know the building outside the athletic facilities too well; so I'm hoping they'll help me figure it out or give me a map," he added with a laugh.
"But coaching against them for 13 years, you develop bonds with guys who you're going up against. I would say I talk to Andrew pretty regularly; and during wrestling season I talk to Sean pretty regularly, so I envision a very smooth transition in this role."
He also knows several athletic directors in the Colonial Valley Conference, and has little doubt they will be there to help him.
"I'm not super close with anybody in particular; I wasn't super close with any of the coaches when I started but it's a fraternity out there," Dalessio said. "I do know (Nottingham's) Jon Adams really well. In general, in Jersey the athletic directors are a fraternity, everybody's got each other's back."
Interestingly, with Ewing looking for an AD, there might have been the temptation for Dalessio to remain there and take a shot at that position. But he saw too many positives with Robbinsville not to want the position.
"I'm just fortunate enough to be here, I don't want to think about any other opportunities that could have been out there," he said. "It's a good community. They're very invested in athletics and providing the best for their kids. I'm very excited and eager to take on the role to help coaches provide that to the student athletes and provide the best experience for the school."
One of the more draining aspects of the job is having to stay after school for games throughout the school year. But since Dalessio coached three sports, he is used to that schedule. He feels other challenges will be akin to the tasks he faced as a coach.
"There's going to be difficulties you're going to come across and have to navigate," he said. "I think just gaining experience is going to be the tallest task of all. As I get used to the job more and more I'll become more confident in my duties. Same way with coaching. It's something I grew at and became better. That transformation process I had at Ewing will take place here, just in a different kind of way."
When a new department head comes in, they usually discuss the vision they have. Dalessio feels every AD should have the same goal – make it a positive experience for coaches and players.
"That's really my focus on high school sports in general," he said. "Making it inclusive, making it equitable for everybody and just making it fun. Right now that's the core of my values as an athletic director. From what I've seen, they already are on that road. It's not so much a vision as it is continuing that vision that's already going on in the district, maintaining the tradition of excellence."
It's all part of that growing Dalessio family.