Charvi Yetish's love for her family of four is apparent in her words, her actions, and most crystalline of all, her award-winning artwork.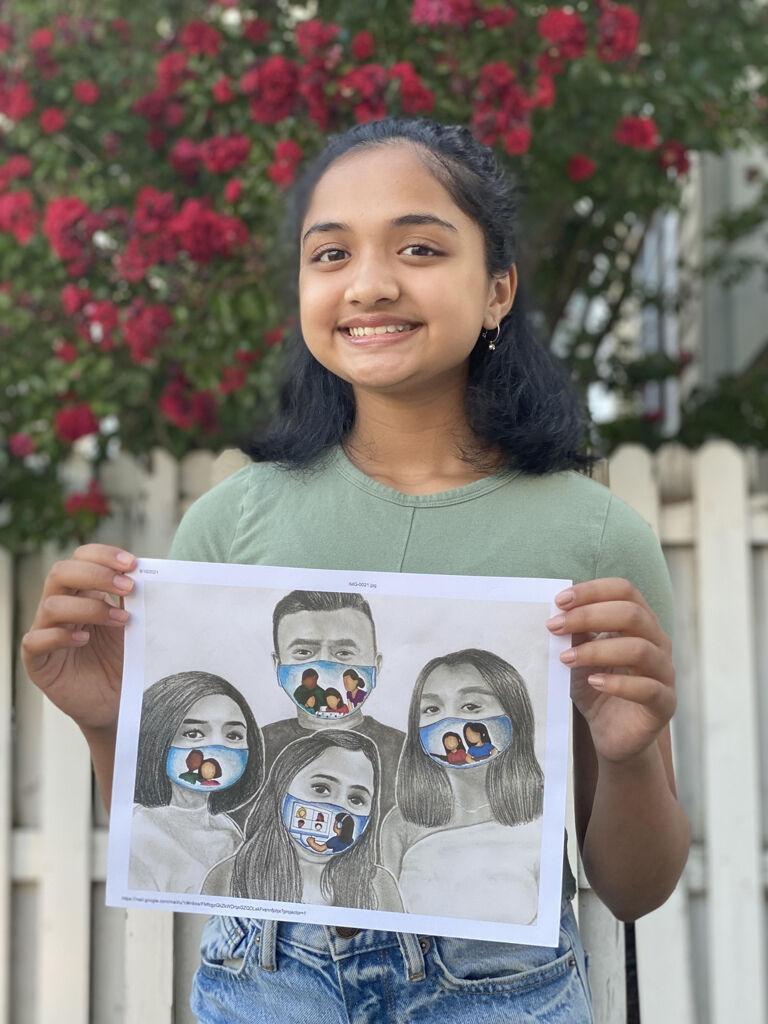 "I got into drawing because of my sister, because I saw her drawing for the first time and I thought I should try it out when I was little. I started to really like it, so I decided to continue drawing," Yetish, a student at Pond Road Middle School, said of her inspiration.
She won first place in the 2021 New Jersey Child Support Teen Media Contest, with a hand-drawn piece entitled, "We Are in This Together and Forever," that depicts her support system during the COVID-19 pandemic.
The people each represent Yetish's father, mother and older sister, with their bodies in black and white, while the face masks boast a colorful contrast.
The young girl, 13, was among a dozen New Jersey high school and middle school students chosen by New Jersey Human Services to illustrate the myriad of ways that loved ones stayed connected despite the challenging times.
For Yetish, she advanced artistically, as well as emotionally, consistently lifted up by her family members.
"They comforted me and made me feel better, and I also drew a lot during COVID, so they told me 'Oh my god, your drawings are amazing,' and they helped me figure out what was going on. They helped me be happy," she said.
Yetish likes to paint as well, but her passion is usually expressed through colored pencils and graphite illustrations. Occupationally, she wants to use those skills to create a bright, new future.
"It's something I definitely wanna use in my career, 'cause I really like doing it," she said brightly.
While her original idea was to configure aesthetically how her family worked together during COVID, it soon came to her that they were emotionally available for each other.
"I decided to put each of our memories inside each of the face masks, and I also made those in color so it would stand out more next to the black and white," Yetish said. Besides the unmistakable scene of school over Zoom, she drew a series of positive recollections.
"In my sister's mask, I was showing how my mom helped me, and so did my dad, when I had Zoom problems or any computer difficulties," she explained, talking about all the assistance they offered from home.
"In my dad's face mask, it's all of us playing board games together, which made us really happy. It was like our family time. In my face mask, I drew me and my dad, because he always comforted me when I was sad, and so did my mom."
The title was "more of a last-minute thing," Yetish said. Her family bonds helped to choose the fitting name. "I just knew that we would be together during COVID, and I knew we would always be together forever," she said.
She said she is happy to attend school in-person once September comes, and her positive outlook towards COVID-19 is just as colorful as her work.
"I'm keeping the mindset that it'll all be gone soon. If we just follow what people are saying, then it will all be good," she said.
Yetish said she wanted people to feel comforted at her drawing, and that their family could also help them in dark times. As one of the adolescents who placed in the final results, she will have her piece featured in the upcoming 2022 Child Support calendar, and receive a gift certificate, as well as a plaque, made in honor of her success.
Having individually submitted the piece, Yetish felt empowered for creating a drawing that spoke to her unique experiences during the months she spent at home. She put all she had to feel into the work to ensure the judges understood her intentions. "I wanted to show that the main thing about my piece is that my family definitely helped us through COVID," Yetish said.
"[Winning first place] felt amazing, really, because out of all the places, I actually got first place, which was really nice," she said. "It made me feel really, really, happy, and that I could actually win other contests. It gave me a nice, big hopeful [feeling]."
–Rebekah Schroeder