Lynsey Parrott lives for lacrosse.
She plays for the Robbinsville Lacrosse Association and the Garden State Elite travel squad, and she's constantly cheering for the Penn State Nittany Lions women's team.
So when the 12-year-old Pond Road Middle School student realized that Community Park was missing an important lax resource, she enlisted the help of her dad, Tommy, and got to work. Parrott decided to raise money for the construction of a lacrosse wall at the park, where the RLA girls' program recently moved from Blakely Park.
"They didn't have a lacrosse wall, and they're really used to improve our stick skills, catching and throwing," Parrott said. "It helps us catch and throw, because it's an automatic back-and-forth. Everyone uses it. It makes us better players, so we can grow the program."
Tommy started by setting up a GoFundMe page to raise money and set a goal of $15,000. It would be the first lacrosse wall on the east side of Route 130, he said, which would make it accessible to lots of Robbinsville families. The wall can be used by athletes who play other sports, too.
So far, the Parrotts have raised about $7,000. They're working with the RLA and Robbinsville Township, as well as a number of corporate sponsors—the celebrated the groundbreaking at the future site of the wall with a ceremony on June 14. They've also received video messages of support from lacrosse players Marie McCool and Tyler Dunn.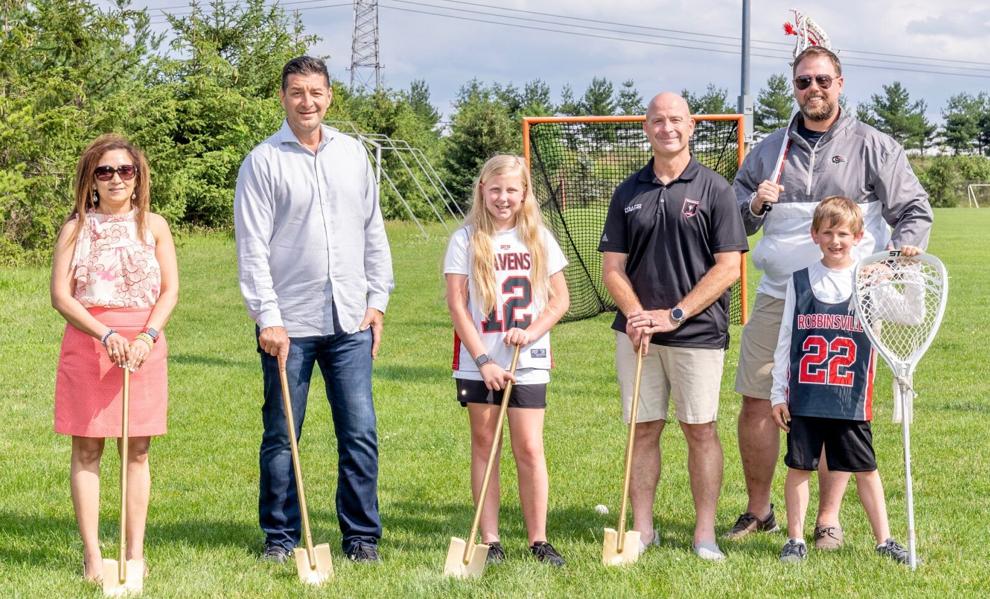 The first thing Parrott did was establish a plan. She and Tommy figured out how much they needed to raise and sent letters to potential donors and sponsors.
"We're continuing the fundraising and we're going to reach out to the community," she said. "Soon, we're hoping it's going to be built."
Tommy said RLA president Matt Coyle played a big part in helping them get started.
"They had two walls built already, so they kind of had an idea of how much it would cost," he said. "We were surprised because of COVID and shortages on supplies, one quote we got was three times what they had paid in the past. We finally got somebody local from Robbinsville who gave us a great quote. Our goal is based on that, how much signage will cost, how much it will cost to paint it and all that stuff. Lynsey has been involved with all of those meetings."
That's been a huge plus for Tommy.
"For me, watching her do this is great," he said. "It's a great experience for a young girl to learn how all of this works."
The process of constructing a lacrosse wall is more detailed than it might seem, Tommy said—it's not just concrete and brick. The wall is reinforced with steel beams and metal that run four feet into the ground. It's topped with a metal header.
"All of that is just so expensive these days," he said. "It's more than just a wall."
It's definitely more than just a wall for Lynsey, too.
"I've always loved lacrosse, and helping the community learn to like lacrosse and help them improve with it makes me feel proud,"Parrott said.
Parrott also hopes to run clinics with younger players once the wall is completed.
"I've been playing lacrosse for a very long time, and I work in improving all the time," she said. "I have a little brother, too, and I love working with him."
Ultimately, she added, giving lacrosse a wider reach in Robbinsville is just about the best thing she can ask for with this project.
"I hope people learn to play lacrosse and catch and throw," she said. "And other sports, like soccer, can use it, too. Just to help people grow with sports is awesome."
Lynsey Parrott's lacrosse wall fundraiser is currently live on GoFundMe. She has hit just over half of the $15,000 goal. In addition to standard donations, multiple sponsorship levels for $100 to $500 are available.
For more information or to donate, visit gofundme.com/f/RLALaxWall.