Vivenne Halm felt a little stuck at the start of the coronavirus pandemic. So she ventured out on two wheels.
Halm, a Robbinsville High School senior, kicked off the summer by teaching her 12-year-old sister how to ride a bike.
"One day, she finally got up the courage to do it," Halm said. "I took her outside and started the process."
It was love at first ride.
"It was incredible to see someone who was once so timid about learning become so fulfilled with the freedom of riding a bike," Halm said.
Watching her sister's experience inspired her to pass that freedom onto other kids. Last month, she hosted a bike drive for the Boys & Girls Club of Mercer County Bike Exchange and collected 64 cycles for the organization.
The Bike Exchange sells used, repaired and refurbished bicycles out of a Ewing storefront. Its aim is to promote "biking for transportation and pleasure among low-income families."
Proceeds from all sales go directly to the Boys & Girls Club of Lawrence and Trenton. The Bike Exchange has raised over $1 million for the organization since it was founded.
Halm decided to work with the Bike Exchange because she had experience with the Boys & Girls Club. Her father was a trustee, and she had attended events and fundraisers for the organization in the past.
Not long after her lessons with her sister, Halm got to work. She contacted community members, local businesses, township administration and the Boys & Girls Club to work out details like where and when the drive could be held. She researched other bike drives—since this was her first time hosting one—and got the word out.
"I reached out all over social media to share the flyer," she said. "I posted it on my own social media. The township posted it. I sent it to all of my coaches and friends. It really was a group effort."
Halm set up shop on Aug. 1 under a tent in the municipal building parking lot. She collected 64 bikes in all, plus a few scooters, helmets and other equipment.
"Kids grow out of bikes so quickly, so a lot of people have older bikes in their garages."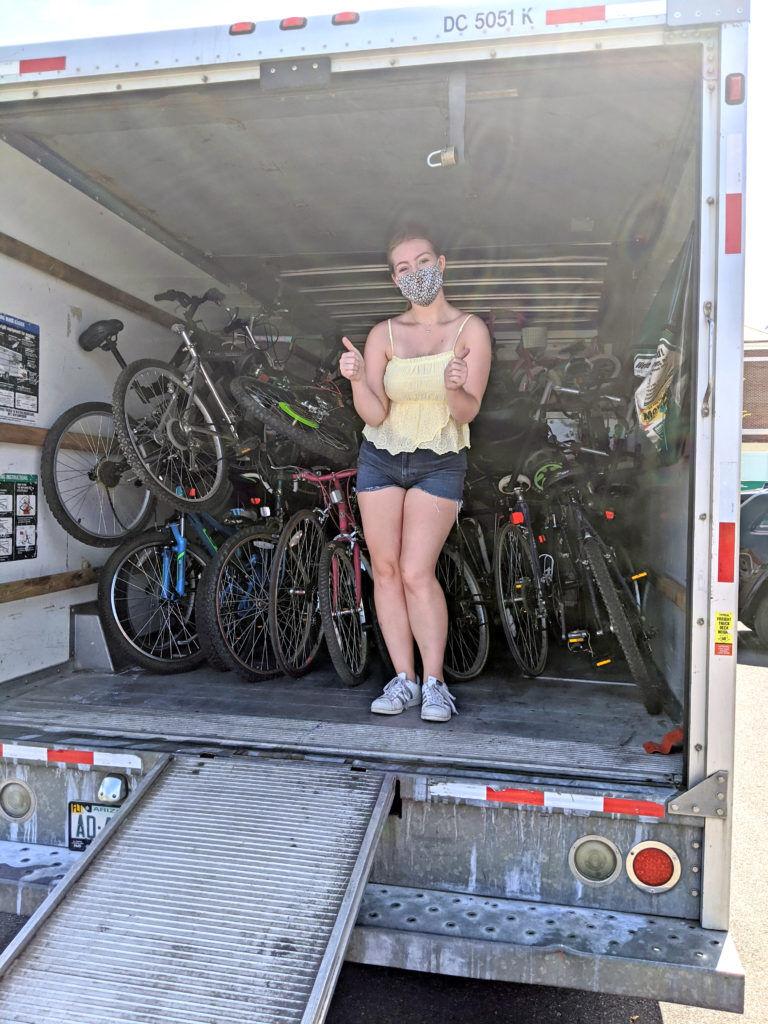 The Bike Exchange sends a U-Haul truck to each collection site on the day of a drive, so the truck was on-hand in Robbinsville. Halm said there was another collection in West Windsor that same day, so the plan was to pick up bikes from both drives with the same truck.
"Because of how many bikes we collected, they weren't able to go back to West Windsor," Halm said. "I did hear back from the Bike Exchange, and they said it was incredible to see the full truck. They weren't expecting that many bikes."
Halm was surprised, too. Given the pandemic, she wasn't sure what to expect.
"It was incredible to see everyone coming together, especially during COVID," she said. "It makes everything so much more difficult. It's in the middle of quarantine, so it was really incredible to see everyone come together to help this effort, especially during the craziest time we've ever experienced. Everyone was really excited."
She's also grateful she was able to help her sister get outside during a period of isolation.
Halm said she always rides her bike everywhere, even after getting her driver's license. She rides around Robbinsville, down the shore with her friends, and anywhere else she's able to bring her bike. Sharing that with her sister became a go-to summer activity.
"Once I taught my sister, it became more of a family effort, especially during COVID," she said. "Being able to ride bikes together as a family made it even more special. It's part of our routine now."
Halm added that she hopes to make the bike drive part of her routine, too. She's going away to college next year, but she hopes she and her family can make the drive an annual tradition.
"It's an incredible organization," she said. "I love everything they've been able to do. It was nice to give back after everything Robbinsville has given to me."
The Bike Exchange takes used bikes in any condition. Donations are accepted on Tuesdays and Thursdays from 1 p.m. to 7 p.m. and on Saturdays from 10 a.m. to 3:45 p.m.
The Bike Exchange is located at the Capitol Plaza Shopping Center, 1500 North Olden Ave., Ewing. To volunteer, host your own bike drive or for more information, visit bgcmercer.org/bgc-bike-exchange.