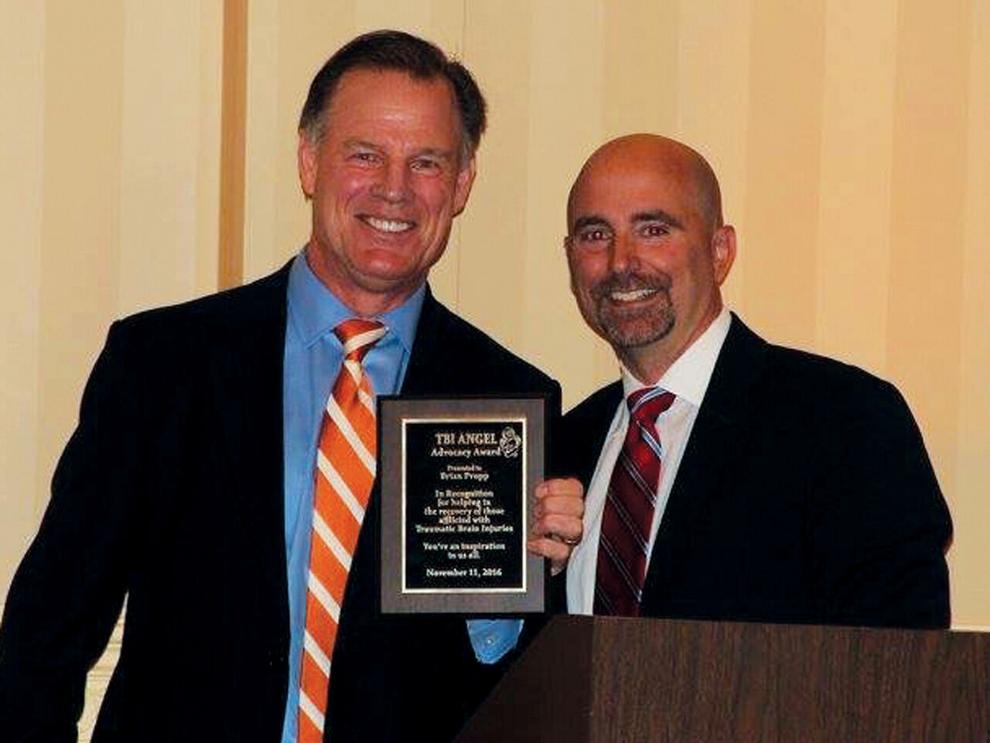 In an instant, Eric Toppy's life changed forever. After surviving a car accident, the Robbinsville resident has found a new focus in life—helping other individuals suffering from traumatic brain injuries get the help they need.
"It was really a game changer," Toppy said. "I felt very fortunate to be alive, and I knew there was something I needed to do differently with this gift."
On Nov. 11, Toppy hosted the first annual TBI Angel Gala at the Hilton Garden Inn in Hamilton. The gala was the first step in his vision to bring the nation's first holistic traumatic brain injury center to Robbinsville.
Toppy knows first hand the difficulties individuals who sustain a traumatic brain injury face before and after they receive the diagnosis.
On his way to a work event one morning in October 2010, Toppy was approaching the Turnpike toll booth in Robbinsville. A dump truck suddenly slammed into the passenger side of his car, spinning the Lexus sedan out of control.
Toppy's head shattered the glass of his driver's side window. When he came to, he felt immense pain in his head, neck and back and couldn't get out of the car. The Robbinsville Fire Department arrived at the scene and cut his door out to remove him from the vehicle.
"In the ambulance, they were asking me who the president was, and I was saying Ronald Reagan," Toppy said.
He was taken to the nearest hospital where he was met by his then-wife. He says he spent about half of the day in the emergency room before he was discharged. He was in immense pain throughout his body, but had no idea the severity of his injuries.
At the time, Toppy had worked in pharmaceutical industry since 1991 and was an executive for a large pharmaceutical company responsible for a global brand. He gave himself just a week off to recover but when he returned to work, the underlying injury to his brain became evident. He was having trouble organizing his thoughts and was getting feedback from his supervisors that was not typical for him.
At home, the symptoms of a traumatic brain injury started immediately. The father of two says he went from being an extrovert to introvert. He felt depressed and disengaged from his family and friends. He had sensitivity to light and noise, and he couldn't sleep and suffered flashbacks from the accident.
"I saw that dump truck hit me over and over again, so it would keep me up at night," Toppy said. "I wouldn't get any sleep and then the commute to work was really difficult because I didn't feel comfortable driving."
Unbeknownst to Toppy and his family, he was experiencing the textbook symptoms of a traumatic brain injury.
"Things just weren't right," Toppy said. He had trouble reading and processing emails and noticed issues with the executive functions of his brain. "All those things, really—the things I took for granted—just weren't working the way they normally would."
After two months, Toppy finally underwent tests and was diagnosed with a TBI.
According to the National Institute of Health, a TBI is a sudden injury from an external force that affects the functioning of the brain. The most common cause is a concussion. The Centers for Disease Control and Prevention (CDC) states 1.7 million people in the United States experience a TBI each year and approximately 53,000 people die from TBI-related injuries per year.
TBIs are most commonly attributed to motor vehicle accidents, sports injuries and falls and according to the CDC, occurrences of documented TBI's spiked in 2008 and the rates continue to rise every year.
On top of the TBI diagnosis, Toppy also had a broken back. He needed physical therapy and surgery for his back, and needed treatment for his brain by a neurologist and required cognitive therapy.
Once Toppy sought treatment for his TBI, he realized there is no system in place for patients suffering TBIs.
"I knew how to navigate care better than anyone because I know how the health care system works, but when you have a head injury, even someone like me who knows the system, everything just falls apart," he said.
According to TBI Angel creator Eric Toppy, his proposed traumatic brain injury treatment center in Robbinsville would be the first of its kind in the United States.
Toppy said there are barriers to receiving treatment including long waits for neurological care, unqualified providers and no coordination of care. Appointments and services are delivered at multiple locations, sometimes far away, and there is no transportation provided. Patients are also responsible for handling insurance and disability claims. The financial burden, he says, can be devastating.
"I was so fortunate to be able to afford care because with high deductibles, high co-insurance costs, this is what's causing bankruptcies for many people who can't afford multiple treatments or waiting for reimbursement," he said.
Toppy also found there wasn't proper emotional support or education for patients and their family members.
"Their spouses don't know what to expect and all of a sudden, there's emotional changes and this isn't the person they married. What they find is there really are no resources for them," Toppy said.
There are many people just like Toppy, even in this area. Cassy Bartzak of Robbinsville had no idea how bad things were for her brother Bruce Broadbent until months after his accident. Broadbent, a 46-year-old pharmaceutical representative, was in a car accident on June 30, 2016. He also suffered a TBI that went undiagnosed at the hospital despite a severe concussion.
Broadbent said after the accident he was sleeping all the time, had sensitivity to light and noise, had memory issues, could not concentrate and had trouble forming thoughts and sentences.
He returned to work after a month, but most days was overcome by nausea. Finally, he saw a concussion specialist, and three months after the accident was diagnosed with a TBI.
"I didn't know what was wrong with me," Broadbent said. "I wasn't the same person."
Broadbent, a Howell resident, was married with two children. The TBI caused tremendous strain on his marriage, and is currently separated from his wife.
When Bartzak realized how bad things had become for her brother, she knew she had to intervene and become his advocate.
Currently, Bartzak, who works in the insurance field, has taken over getting him the care he needs, finding specialists and communicating with his human resource representatives and insurance providers. Because Broadbent has trouble reading mail, she is helping him pay his bills and takes off of work to go to doctors' appointments with him.
Even simple things, she says, like grocery shopping are overwhelming, so their mother has been making his meals.
"There doesn't seem to be a support network for people who have gone through this on any level," Bartzak said. "We have to be that rock for him, my mom and I."
Broadbent goes to physical therapy three times a week to help him with his balance issues and has not been cleared to go back to work.
Bartzak says her brother, who was once active, social, and coached his son's baseball team, is isolated from his friends and coworkers. Social situations prove too much for him due to his light sensitivity and nausea.
And this is where Toppy and his greater purpose come in. During his recovery, Toppy met other executives and veterans who had the same struggles and realized there had to be a better way to treat TBIs.
With 25 years in the population healthcare field, he knew he had the experience and resources to change the way TBIs are treated. He came up with a model: a holistic approach in which medical care, therapy and counseling would be available under one roof. He had the vision, but hadn't acted on it.
He was at the Hilton Garden Inn on Route 130 one day, and decided it was time to make his vision a reality.
"I was feeling really badly that I had this plan and hadn't acted on it," he said. "I thought if I put money down to hold an event here, I'm going to have to do it. I'm going to force myself to do it."
Toppy organized a gala to raise funds and awareness for a holistic TBI treatment center which he plans to open in Robbinsville's Town Center.
The first annual TBI Angel Gala was attended by 100 guests including guest speaker Brian Propp, a former NHL player who is a stroke and brain injury advocate, and Robbinsville mayor David Fried.
Toppy purposely held the event on Veteran's Day and invited members of Robbinsville's American Legion. Military service members and veterans have a high occurrence of TBIs, and Toppy wants the treatment center to be equipped to treat them as well.
"There's a lot of members of our military in this community," Toppy said. "We sit on top of two bases and there are veterans who wait anywhere between 18 months to 24 months to get care."
The gala was also attended by the Knights of Columbus, who Toppy said in his darkest days, drove him to his appointments when he was unable to drive himself.
At the gala, Toppy presented the Robbinsville Fire Department with a check for $1,500. After his accident, he felt a tremendous debt of gratitude to the fire department who were the first responders on the scene after his accident.
"The money will assist our department in obtaining necessary training in numerous areas, including TBI," Robbinsville fire chief Daniel Schaffener said in a statement to the Advance. "It was an honor to be part of the first annual TBI event in November and support the organization as it strives toward its goal of becoming a first-class holistic traumatic brain injury center."
Toppy's vision for the treatment center will include care teams that will provide coordination of care, cognitive and physical therapy, research, employment training, a research center for new treatments, acupuncture, art therapy, yoga and meditation, and group therapy for patients and their families.
According to Toppy, this treatment center would be the first holistic TBI treatment center in the nation.
Toppy is currently assembling his board and is in the process of hiring a case manager. For now, he is personally guiding individuals, including Broadbent, through their recovery.
"Eric can speak my language and he knows exactly where my head is and what the side effects are and what needs to be done," Broadbent said. "He calls every day and checks in on me. He's guiding me; he's like an angel."
"The challenge is you have a patient going through this in his darkest days," Toppy said. "Right now, it's me. It's me to hold his hand and get him through it."
Toppy, who has lived in Robbinsville since 1999, has a location picked out in Robbinsville's Town Center. Because of Robbinsville's central location, diverse population and supportive community, he believes it's the perfect location for a treatment center of this kind.
'Our first responders are true heroes, and seeing Eric and TBI Angel return the favor is what it is all about. It is what Robbinsville is all about.'
Robbinsville Council President Dan Schuberth, who attended the gala, agreed, stating the town has a nurturing, supportive community with professionals from all fields who can participate in the treatment center.
"It's very exciting," he said.
The administration agrees as well.
"TBI Angel is doing amazing work for not only those who have suffered a TBI, but also for their families," Fried said in a statement to the Advance. "Eric's very unfortunate and traumatic introduction to our terrific fire department was just another example of what it would be like in a world where if we all called 911 and no one answered. Our first responders are true heroes, and seeing Eric and TBI Angel return the favor is what it is all about. It is what Robbinsville is all about."
For more information about TBI Angel, visit tbiangel.org. Anyone who is currently dealing with difficulties related to a TBI or individuals who want to get involved should call Toppy at (609) 468-3789 or email him at eric@tbiangel.org.