As a Robbinsville resident, the nearest Parochial high school for Jackson Wargo to attend is Notre Dame. Wargo could live on the moon, however, and he would still be playing baseball for the Lawrenceville institution.
His blood type could easily be ND-positive.
Wargo's dad, Chris, won state championships in football and baseball with the Irish. His grandfather, Jerry, a former minor league ballplayer, was coach Joe Drulis' assistant coach from 2001-08. His uncle Jerry won a baseball title at ND while his uncle Mike claimed a football championship. His aunt Dianne was the Irish's long-time cheerleader coach. Grandmother Lorraine MiMom has long supported the school's sports programs and various other activities, while mom, Michelle, has been general manager in getting things organized with summer sports.
Closer to his own age group, Wargo's older sister Hope was an All-County track & field performer and is now on scholarship at Rider.
"I always knew I'd be a Notre Dame boy, I've been around it my whole life," he said. "It means a lot to be a Wargo and wear the Irish jersey."
He is living up to the family legacy as he wears it. After his chance to be a varsity regular as a sophomore was derailed by last year's Covid-19 shutdown, Wargo has emerged as one of the Colonial Valley Conference's top shortstops as a junior.
As of May 23, Wargo led the Irish in hits (19), batting average (.539), walks (13) and on-base percentage (.750) batting second in the lineup, as he and leadoff man Dylan Palmer form a dangerous 1-2 combination.
"He's having a monster year for us," Drulis said. "He's dialed in and seeing the ball real well."
"I'm definitely very happy with how I'm doing," said Wargo, who was on varsity as a freshman but did not play. "When I'm in the box I always think 'Just catch a barrel, let the ball work and let the bat work.'"
When Wargo is on the diamond, he is at home.
A baseball junkie?
"Yeah, my whole life," he said. "Always a baseball kid, from day one."
Wargo played Robbinsville Little League for a few years but moved to the Hamilton A's travel program at age 8. He is currently on the Five Star National team, which will play in three national championship tournaments this summer.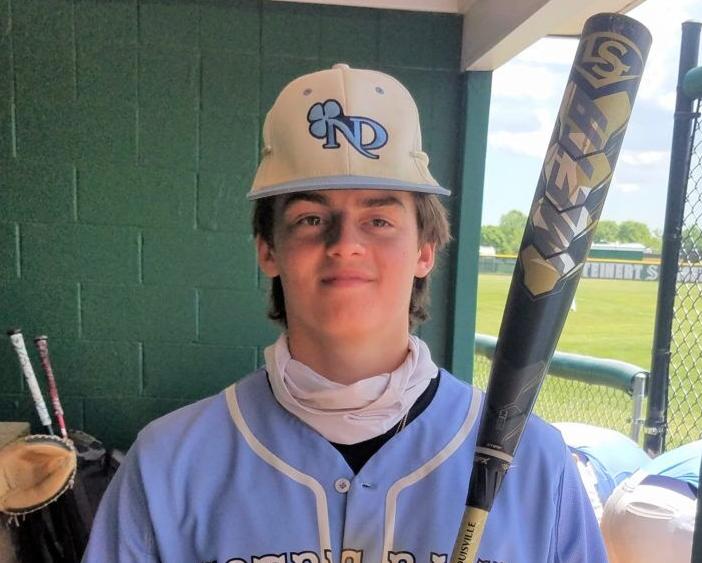 "I'm really looking forward to all the scouts who will be there and all that," said Wargo, who hopes to play college baseball. "That's the best of the best in competition. Varsity baseball is great but you're talking the best kids from around the country. I've got kids on my team from Utah, Connecticut, we're up and down the northeast and it's more competitive down south. You go down to Georgia and Florida for the national championship, and you play kids from Puerto Rico, the Dominican, all over the country."
While showcase baseball has helped Wargo's career, much of his knowledge comes from Chris, who taught his son to become a switch-hitter at an early age.
"You don't see that a lot in high school," Drulis said. "He works hard at both sides of the plate. I can't remember having too many switch hitters. It's great to have. His father did a lot of work with him through the years to make him a switch-hitter. It's paid off for him and it's paid off for us."
Another lesson Chris instilled is to have an intelligent approach at the plate.
"Since I've been a little kid my dad has preached to me 'Be a smart hitter and be disciplined,'" Wargo said. "He's always been a guy who said 'Don't be a first-pitch guy if you don't need to.' If you love that first pitch then absolutely go for it but I've been a guy who takes some pitches. I really just wait for my pitch. I feel like I'm very comfortable with two strikes."
Having that confidence is huge for a batter. It gives them the ability to foul off pitches, run up pitch counts and show his teammates what the pitcher is throwing. Wargo has little problem falling behind 0-2, knowing he can grind out an at-bat until getting a delivery he likes.
"One thing Palmer and I absolutely pride ourselves on is not striking out," Wargo said. "We tell ourselves we're gonna work the pitchers no matter what. No matter how we go down, we're not going down easy. That's the biggest thing for me."
That's not the easiest approach to take, as it provides a slim margin for errors, but Wargo has the ability thanks to another tip from Chris.
"One other thing my father preached to me is shorten up with two strikes and aggressively protect," Jackson said. "That means the zone can be big but you gotta find a way to catch a barrel and don't strike out.
"It feels good being able to do that, but you really gotta have confidence in yourself and trust yourself to be able to shorten up and still get a good piece. That takes a lot of work in the cage and a lot of work off the tee just to be able to shorten up and still find a consistent barrel to drive the baseball."
Wargo stands just 5-foot-9 but through a non-stop regiment of lifting, learning how to shift his weight in the box and taking endless cuts, he has developed decent gap power. He also works on his fielding as much as his hitting, and Drulis raves about his base running instincts and intelligence.
"He just has a really high baseball IQ," the coach said. "He's always been a good player, but this year took that leap to be a great player."
Not surprisingly, he's been great with the name Notre Dame across his chest.