It's not often a soccer player has to live up to her footwear's reputation. But when Sophie Berman wanted a pair of flaming pink cleats, she took on just such a challenge.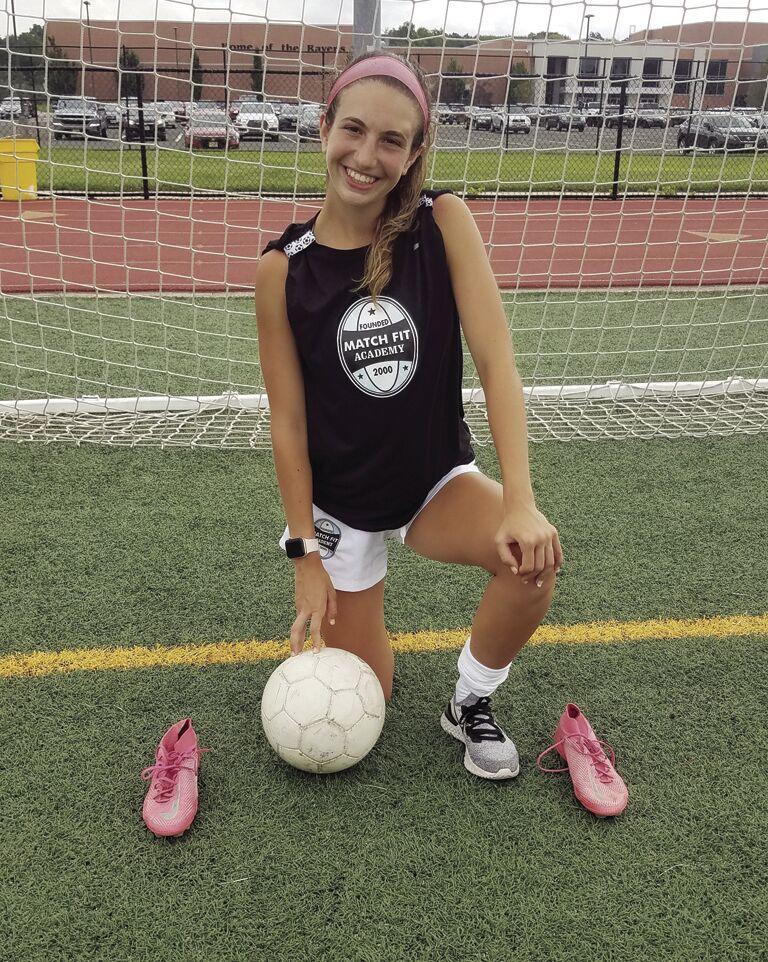 "Before we got them, my dad said 'If you want to be this vibrant on the field you have to play vibrant," the Robbinsville High senior said.
So she did, lighting up the pitch in the same way her feet were all aglow.
In the eight games she wore them, Sophie scored 14 of her team-high 15 goals and garnered nine assists. She was prettiest in pink during the NJSIAA Central West A championship game; scoring five goals in a 6-1 win over Delaware Valley.
"Needless to say," coach Caitlyn Curran observed, "she did wonders with those shoes."
"I was playing well," Berman said, 'but as soon as that (title) game came around it was the shoes that did it."
The Ravens did not gather as a team on the field again until Aug. 16 for the first day of practice. When Berman showed up, it was with a pair of bland cleats.
"I said 'We're gonna need to those magical boots, where are they?'" Curran said.
Sophie assured the coach they were in her bag and will still be a weapon.
"I think they'll be game cleats," she said. "I can't retire them."
And while that's a sigh of relief for the Ravens, there was one other factor that may have been a tad more helpful in Berman's scoring explosion.
After playing as an outside midfielder as a sophomore, she was moved to center-mid last year. That experiment lasted two games into the season before Berman was shifted to center-forward while Kenzie Martin dropped back to center-mid.
It looked like a precarious move when Robbinsville dropped two straight to Princeton and Hopewell, but suddenly things started to click and the Ravens won eight of their last nine to finish 9-3-1.
It was the first time Berman played up front in her career. She couldn't have felt more at home than if she were in her living room.
"She's always been goal hungry," Curran said. "In her four years here, she has always had very high expectations of herself, perhaps higher than even we expect. It's worked out because of her drive, her passion and her willingness to help us win.
"She is very aggressive going forward. She's very technical with her feet as well. We saw an opportunity with her speed and her stamina to go forward and be fearless about it. We made the switch hoping it would open things up for us up top."
Another key reason is that, like most goal scorers, Berman is hungry to find the back of the net.
"She loves to shoot," Curran said. "We figured if we got her a little closer to goal it would help us out, and it definitely helped us out. She was taking a lot of shots from the center midfield and just wasn't hitting the mark. So making that adjustment and putting her at a forward position and getting her closer to the net to see the angles better; she just took off with it."
Berman started soccer in Robbinsville rec at age 3, when "my mom signed me up and I just kept going."
She actually began as a goalie, which didn't last long.
"Everyone goes through that little phase," she said with a laugh.
Moving on to club soccer, Sophie played for Robbinsville and Bordentown before settling in at Match Fit. Most of her time was spent at outside back, where she still plays on occasion in club.
After playing JV for the Ravens as a freshman, Berman made varsity and was moved to outside mid. The player and coach did not seem to agree on her effectiveness there.
"Sophomore year was a little hard for me," Berman said. "I kind of struggled keeping the width of the field at outside mid, so I don't think that was the place for me. It had nothing to do with coaching, I just needed to work on myself. After Covid shut down everything I started really putting in the work."
Curran had a slightly different view of Berman on the outside, saying "she did a great job transitioning up and down the field. She plays the ball to teammates really well. We saw an opportunity for her not only to do that but get forward while doing it and take advantage at the net."
Both parties agree that Berman belongs up front. Aside from shooting and passing skills, she is also able to beat defenders one-v-one which gives her added scoring opportunities.
"I've always been one to have a knack for goals and shooting," Berman said. "That was real exciting getting moved up. I like being up there working hard and knowing I was the highest point of attack and had everyone around me.
"I have a left foot which a lot of people didn't know about, but now they do. In the beginning of a game it's very helpful but as soon as they catch on it's a bit less helpful. But I also do have a right foot so I think I can kind of throw off people with that."
Because of her newness to the forward position, Berman did not receive much extra defensive attention last year. Defenders were aware of her, but not to the point of suffocating coverage.
"Her name was on the map," Curran said. "She might have had a tighter mark to her, but there weren't people following her all over the field so she was able to find space.
"She also creates a lot of space. Even in the games she was man marked she's non-stop moving all the time. She's a little frustrating to mark, I'm sure, so that always helps us out."
Things could change a bit this year, however.
"I just know if I was coaching against her, that's definitely a name on the grid for me," Curran said. "I expect her to be marked more. I do expect her to a name other coaches are talking about when they're coming into games with us, but I don't expect her to do anything less than what she did."
Well, if the Ravens reach another championship game Curran might not be expecting five more goals. And in looking at that performance, there was probably a little more to it than the pink cleats.
"She went in confident, she was at the peak of the season in her performance," Curran said. "She kind of kept doing what she was doing. It was unbelievable."
The coach is certain that Berman will play at the next level and looks forward "to watching her make her mark."
Sophie has chosen a Division III college, but will not reveal it until it becomes official in several weeks. In the meantime, she is focused on going out a winner at RHS.
"We lost some people and that will hurt but we have a ton of people that can fill in," Berman said. "We have a really good team, a lot of success will come from the culture of our team. We don't have freshmen, sophomores, juniors, seniors, we have one team. Even JV and varsity are all friends, so that really helps."
And, of course, the flamboyant footwear brings it all together.