In order to fight suburban sprawl and to fend off competition from big box retail stores located on major regional highways, many towns—including Robbinsville—have embraced the concept of town centers. These mixed use, retail/office/residential developments have created many positive outcomes, even as they have also faced their own challenges.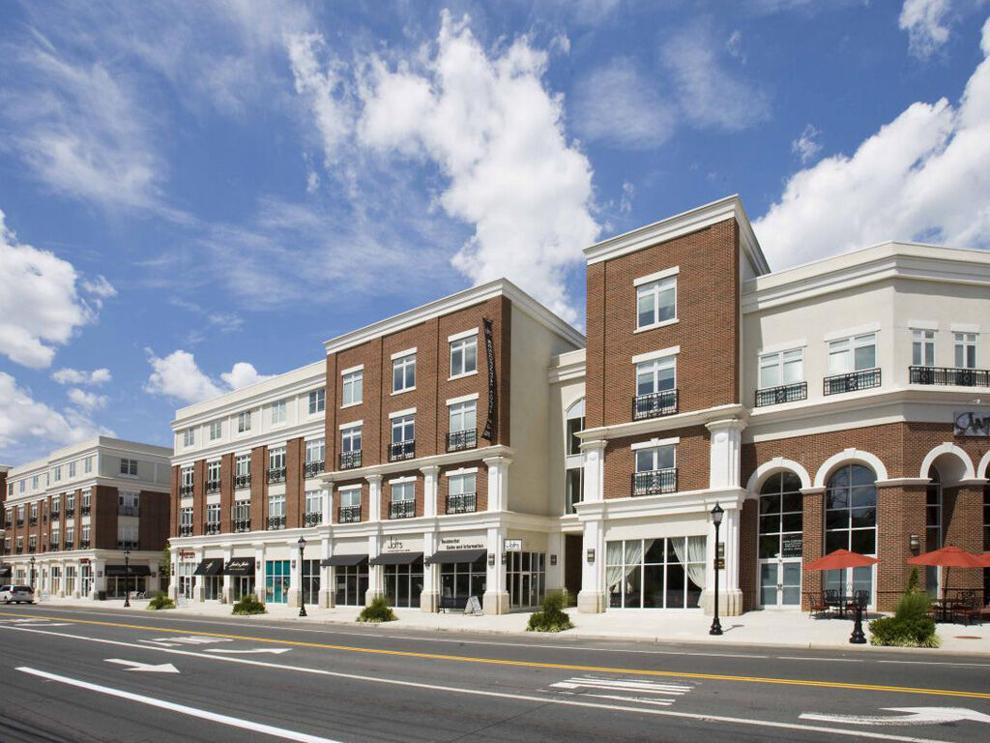 One of the earliest examples of a town center redevelopment is Palmer Square in Princeton, built in the late 1930s while William H. Whyte, the mid-century American urbanist, was a Princeton undergraduate.
When it was completed, in a Colonial revival architecture style that still makes many people think it is much older than it really is, Palmer Square had retails shops at ground level, more than 100 apartments above them, a movie theater, an office building, and an open green flanked by a post office and the Nassau Inn, a 119-room hotel.
But by the late 1970s Palmer Square was facing stiff competition from several regional shopping malls. In the early 1980s a new owner proposed an expansion of the square, including the demolition of the movie theater and the addition of new office space and condominium housing.
Townspeople were angered by the plan and opposed it during public meetings held during the approval process. To make sure the new plan worked "as efficiently as possible, vis-à-vis retail shopping and people gathering," Palmer Square turned to Whyte, by then known nationally as an urbanist with a track record of helping create successful public spaces, including the transformation of New York's Bryant Park.
In his critically acclaimed new biography, American Urbanist: How William H. Whyte's Unconventional Wisdom Reshaped Public Life, author Richard K. Rein, the retired editorial director of the Robbinsville Advance, shows how Whyte applied his urban principles to suburban settings, and how those principles still apply in today's pandemic era.
* * *
Whyte offered some constructive criticism [to the Palmer Square owner and management team]. "I hope you will continue to develop alternative plans for the specific open spaces of the condominium development..
I felt some of the spaces in the previous plan were neither fish nor fowl—ambiguous spaces that would not be really public space, but not very private either."
But Whyte also praised the plan partly for what it did not do. "The mistake many communities make is to strive for one monumental, imposing central space. They usually don't get used very much, for they are out of scale with the individual. A series of smaller spaces usually works out much better." In addition, the storefronts were highly visible and "not arcaded way back out of sight."
The expanded Palmer Square did not attempt to emulate the growing number of shopping malls and big-box retail centers being built just a few miles away on Route 1. Progressive Architecture magazine in 1983 praised the plan for concealing the edges of the parking garage facing the street, for maintaining the mixed-use approach of the original square, and for "[addressing] the classic problem of American towns—reinforcing the center with added commercial and parking facilities as a defense against peripheral shopping sprawl—without turning the town center itself into an introverted, single use shopping center."
Whyte believed the Palmer Square approach would work in Princeton and in similar communities with traditional downtowns fighting for survival in the face of the suburban shopping mall. Small cities "are the ones most immediately hurt by suburban shopping malls and most tempted to fight their tormentors by copying them," Whyte wrote. "Like its suburban model, the city mall will be car-oriented and will require vast amounts of parking." To gain that parking for the downtown, the suburb would often demolish more of the downtown—a vicious circle.
Whyte argued that "a first step to liberation" would be reducing the knee-jerk zoning requirements for a certain number of parking spaces to accompany every new development. That battle continues in the twenty-first century, waged against a generation of planners and consultants that Whyte envisioned in the 1980s. "Now coming of age," Whyte wrote then, "is a whole generation of planners and architects for whom the formative experience of a center was the atrium of a suburban shopping mall."
* * *
Suburbs, which had appeared to be a perpetual engine of growth in the second half of the twentieth century, faced challenges of their own in the 2000s, most visibly the rapid decline of their once dominant shopping malls. In response some mall owners are turning to urban models for salvation. Robert J. Gibbs, a Michigan-based landscape architect, redesigns and repurposes failed shopping malls around the country. Drawing on what he calls Whyte's "mythologies and research," Gibbs helps mall owners convert their properties into mixed-use centers with residential, office, and civic spaces. As e-commerce grows, one can envision malls turned into Amazon warehouses.
Kids who grew up in the suburbs have not always been eager to live there as adults. In studying the influx of bright young people into hip urban centers, economist Richard Florida gave these new city dwellers a name and used it in the title of his 2002 book, The Rise of the Creative Class and How It's Transforming Work, Leisure, Community, and Everyday Life. "Places have replaced companies as the key organizing units in our economy,"
Florida wrote. The coolest places boasted dynamic, walkable, livable mixed-use neighborhoods, usually created with little or no help from city hall. There are now many such places across the country, and new ones keep getting added to the mix. But they all serve as comfortable cocoons for on-the-move and affluent millennials, much as the suburbs did for the corporate families studied by Whyte in the 1950s.
The coolest places might also be the greenest places. In the 1980s Whyte mused that if his hometown of West Chester, Pennsylvania, had expanded its street grid by just two blocks on each side the town could have accommodated about three decades' worth of sprawl in the adjoining countryside.16 Today towns across America are revisiting their twentieth-century zoning ordinances, which by default favored single-family houses on spacious lots, and considering denser housing and mixed uses in walkable neighborhoods. Minimum parking requirements are being replaced with regulations limiting the maximum number. To address the missing middle of housing and make housing more energy efficient, urbanists advocate auxiliary dwelling units. Whyte's Cluster Development, published in 1964, made the same point: clustered housing leaves room for a network of open spaces "that will weave the outdoors into the very heart of the metropolitan areas."
...When the coronavirus pandemic, which would last through 2020 and well into 2021 (as this book was being published), ripped through the major urban centers, some observers immediately raised the old bogeyman: density. Could so many people, so close together, be a fatal combination in the face of this disease? But the coronavirus ultimately hit rural areas just as hard as it hit cities. Overall density appeared to be not so much the problem. Rather it was densely packed places, such as nursing homes, crowded bars and restaurants, raucous political rallies, and celebratory receptions.
Even assuming that vaccines will bring COVID-19 under control, the pandemic experience—and the fear that another one could be on the horizon—will have lingering effects on society as a whole. Whether the residual harm will be greater in cities than in suburbs or rural areas may take years to ascertain. What seems clear, however, is that all the changes that made communities safer and more livable during the pandemic have been the same things that Whyte and other urbanists have advocated for decades: better public spaces, more room on the streets for pedestrians and bicyclists, more outdoor dining and open-air markets. For years cities have considered plans for converting a downtown block or two into a car-free public open space with room for dining and entertainment. The pandemic suddenly turned plans into action in many places.
In 2021 people around the world wished for a return to normal. Some worried that the new normal would leave urban centers with acres of vacant office space, devastated mass transit systems, and bankrupted public works departments. But there is another scenario, a "snap back" to the old ways of doing business. In this scenario young "creative class" workers flock to the city to take advantage of temporarily cheaper rental housing. Work-from-home employees resume some or all of their commuting to escape the grind of domestic partners, children, and household chores and rediscover the "third places" such as coffee shops, bars, and bookstores. Cities thrive, as economist Paul Krugman has written, in part because of "information-sharing and brainstorming . . . over coffee breaks and after-hours beers; Zoom calls aren't an adequate substitute."
Urbanists might hope for a return to something close to normal, but not the same old normal. Some of the lingering effects of the pandemic could become enduring positive changes for urban centers— more people-centered streets, more public spaces that are accessible year-round, and a greater appreciation for the public realm.
* * *
After a reporting career that included stops at Time Magazine and People, Richard K. Rein launched U.S. 1, the business and entertainment journal that helped the Princeton-Route 1 corridor become more than an "edge city."
He founded the West Windsor-Plainsboro News in 2000 as a sister publication to U.S. 1 and became editorial director for Community News Service, which publishes the Robbinsville Advance, in 2012, He retired in 2019.
Now editing a hyperlocal digital news site, TAPinto Princeton, Rein also serves on the board of Princeton Future, a nonprofit that encourages sustainable urbanism in his hometown.
Rein's first book, American Urbanist, was praised by the New York Times as "a marvelous new biography" that serves as an "elegant counterweight" to other books in the urbanism field. The American Conservative called Rein's biography "an excellent examination of [Whyte's] work and advocacy."
American Urbanist: How William H. Whyte's Unconventional Wisdom Reshaped Urban Life by Richard K. Rein. Copyright © 2022. Reproduced by permission of Island Press, Washington, D.C. To purchase the book, go to islandpress.org/books/american-urbanist.