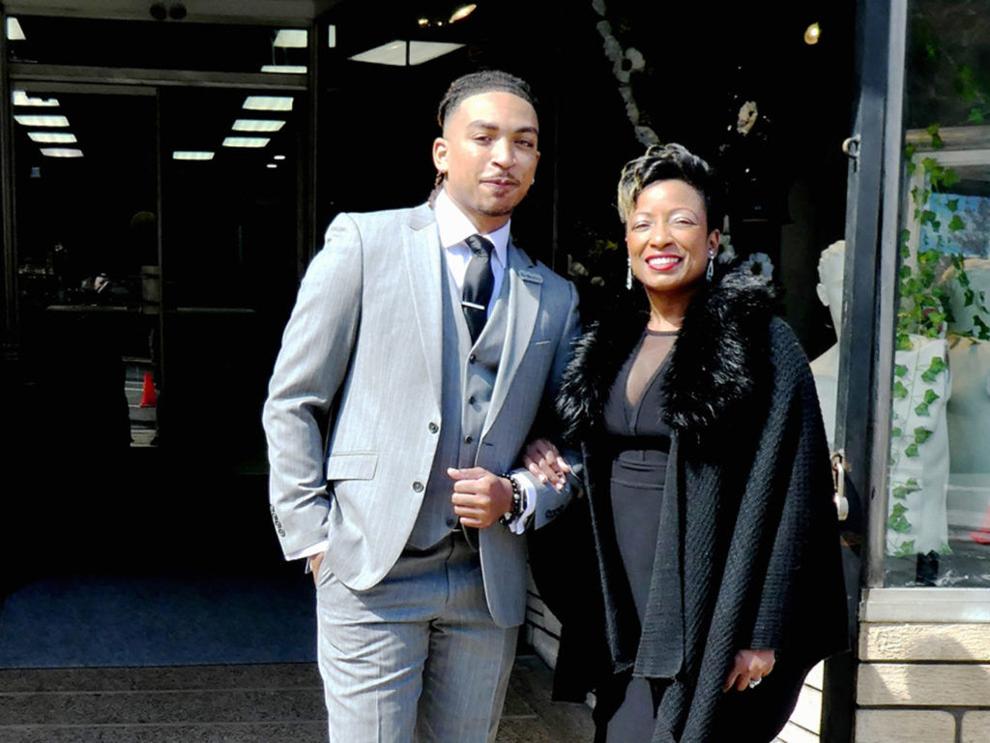 "Here's an example with the mannequin (black polo and burgundy pants). Casual wear to low lunch and office. It's more trendy," says Evan Harris about some of the offerings at his new shop, BeSuited.
Sporting a tie and jacket, the 21-year-old haberdasher continues, "Like today I'm more casual. I have causal shoes. They look like a wingtips but have sneaker bottoms. That's how we're doing it. It's like a mix of both."
It's a Friday afternoon in the 1,200-square-foot shop that Harris operates at 127 North Broad Street, the former home of Byer's Mens Shop — the longtime center for downtown sartorial needs — and Harris is talking about products and services.
"We do off-the-rack suits as well as customized options. It takes four weeks turnaround, and we do casual clothes and accessories."
The latter includes chinos, sweaters, polo shirts, and casual pants. "We also do our own T-shirts and masks. They're the only things that say Be-Suited on them."
With suits the main focus, Harris says he deals mainly with three pieces and that the range is from $350 off the rack to $1,100 custom.
Adapting a contemporary approach of limited inventory, Harris says they deal with vendors for wholesale and use computer software to send measurements to a source in Tennessee. In-store tailoring is also an option through Byer's tailor.
He says what is unique to the store is that he is aiming on a newer and more youthful approach to men's clothing in Trenton.
"We bring a newer product here, a lot cutting edge too," he says, explaining that he wants the shop to have a newer look and an aesthetic.
"I wanted it to have a New York vibe," he says, calling the city the fashion center, and fine tuning as he goes. "When we first started I wanted to do darker colors, once I start to move on, I know people want to wear brighter clothes."
The impetus for opening the shop came last year when COVID-related layoffs ended his six years of work at Men's Warehouse on Route 1. He had also worked at Guess Jeans.
Although he started selling clothes online, he says, "If you asked me a year ago if I would open I store I would have said no, but I prepped myself into it."
He says the deal was sewn up through the friendship his realtor mother and partner, Lisa Wilson, had with the principal of 3MN management, which had purchased the Byer property and owns Just Steaks nearby on Perry Street.
Besides working since he was 16 in clothing retail, Harris says, "I was always into clothes. I was an aspiring model. My friends were photographers and we took a lot of pictures for Instagram. I did 10.Deep photos — streetwear. My cousin in New York was a model. I looked up to him."
Another cousin, Rodney Washington, is also important. The former Byer's employee "knows the clientele and is very outgoing. He's here on the weekends. I need the extra help because it is just me and my mom here during the day.
A Trenton resident, Harris says he was born in South Jersey and "lived in Hainesport. Once my parents divorced, I lived in Philly for some time. I ended up moving back to Trenton where my mom is from. I went to Trenton Catholic from fifth to eighth grade and then four years at Notre Dame." He also attended Mercer County Community College.
In addition to suits, Harris says he also works "at a group home for SERVE Behavioral health. I work overnight there a few days a week. I was doing this before I did this. It kept me afloat."
Although the store had its official opening in March, Harris says he is getting traffic from the older men who frequented Byer's or who saw the NJ.com article about him. "I've been getting clients form New York and DC. People are willing to drive. Someone came from Newark just to get a suit."
He says part of the appeal is that "people like coming because of my age. My confidence (in how they look) is going to rub off on them."
An unanticipated boast also came from how the pandemic gave the opening a boost. Saying that people see it as "a breath of fresh air," Harris and Wilson add, "People are interested in something happening (downtown) and that a young man is doing it."
That young angle is also part of Harris's goal to get a "younger generation, my age, to just dress nicer."
Considering strategies, Harris says he gets inspiration from digital or physical visits to other shops and looking for ways to make the shop "cozy and not filled up. I try to offer drinks, champagne sometimes. You spend more when you're more comfortable."
He's also thinking about how to be more versatile with clothing and not cater to one group.
Looking at the space, he muses, "I was thinking of a fashion show, modeling my own stuff. I want to do events, even a (photo) studio. A lot of people like to have professional pictures to put on Instagram."
But that's all brainstorming. What isn't is his desire to stay focused on men's wear. "People were asking about women's clothes, but there are so many clothes shops for women," adding that there is no other place in downtown Trenton for men.
So what's the current trend in men's fashion?
"It's less formal. Men aren't wearing ties anymore. They are wearing turtlenecks with jackets — mixing causal and informal. No one is dressing head to toe anymore."
That said, he says, "Prom and weddings are coming up. Everyone gets married in the summer. Come visit us — and if people can't come into the store, they can come online.
BeSuited, 127 North Broad Street. 609-508-6267.