That Trenton is a city of secret treasures is reflected in the Peipsimaa Museum in Estonia statement, "The name of artist-icon painter Pimen Sofronov is written with golden letters on the altar of world culture."
As the painter of the interior of St. Vladimir Orthodox Church in South Trenton, Sofronov also contributes to Trenton's rich cultural heritage.
The Trenton church was founded by 30 Russian immigrants in 1915, a year after World War I gripped Europe.
While the group originally used an existing church, they decided to build one that conformed to Russian Orthodox practices.
The parish continued to grow, and in 1951 church leaders decided to enlarge the building and commission Sofronov to adorn it with Byzantine iconography.
Trenton resident Shan Holt notes the following in her Trenton Symposium report on a presentation made on Sofronov by Penn State Abington professor and Russian historian Roy Robson:
Sofronov was trained at the absolute pinnacle of ancient iconographic tradition as an apprentice to Gavriil Frolov. Born in 1898 to an Old Believer family, Sofronov was schooled the ancient Orthodox traditions, including a love of icons. His teacher showed him the technique of using prorisi — paper patterns with pinholes through which the artist could apply colors, reproducing ancient images precisely each time. The point of the art form was to freeze the image as it had earlier been rendered; the artist was not to add or change anything and indeed iconographers avoided drawing attention to themselves by signing their work, as indeed there was nothing individual about it.
Caught up in the Russian Revolution and forced to flee, Sofronov traveled Europe between the 1910s and the 1940s, becoming the quintessential practitioner of the art of "great old Russia" while simultaneously soaking in the diversity of religious art across Europe.
Exiled White Russian aristocrats patronized him generously while he executed works for church and political leaders in Paris, Prague, Belgrade, and Rome. He was still using the ancient technique for his paintings, but in the 1930s in Belgium, he showed some impact of Western European religious art by decorating a shawl around the Virgin Mary with a prayer rendered in ancient Church Slavonic.
Elements of his paintings also soften in these year, especially showing more humanized figures, an influence perhaps from his time among Serbian artists.
In 1939, Sofronov went to Rome at the urging of Pope Pius XI and his successor, Pope Pius XII. His commission was to paint icons for an exhibit about "real Russians." Again revealing Western influences, Sofronov combined Western and Eastern imagery in this Roman work, specifically by including Roman Catholic prayers rendered in Eastern Orthodox lettering. Though Pius XII is notorious for turning a blind eye to Nazi atrocities against European Jews, he did choose to shelter Sofronov from Mussolini through the Second World War. While under papal protection, Sofronov reached the pinnacle of his stature as the representative of ancient Orthodoxy. Thus securely positioned, he began to experiment artistically, even making a sharply Europeanized self-portrait.
In 1945, he left Europe to settle for a time at the Holy Trinity monastery in Jordanville, New York. He was invited, and eager, to introduce Eastern iconography to Orthodox communities in the United States, where religious art had long been only Roman. His greatest commission in this period was to decorate Sts. Peter and Paul Orthodox church in Syracuse, New York.
Here he executed a striking image by including St. Veronica with her veil imprinted with the sweating face of Jesus as he carried his cross. St. Veronica and her veil do not exist in Orthodox tradition, only in Roman Christianity, but Sofronov from this painting forward adds her to every Orthodox church he painted. Robson surmises that he might have been purposefully bringing some ecumenical spirit to the churches, or he might have been making a visual joke … challenging priests and the faithful to actually see what was before them.
His next great work in the United States was St. Vladimir's in Trenton. There was a concentration of Orthodox immigrant communities in the neighborhood of South Broad Street, sufficient to support a number of separate churches within blocks of each other.
Decorating St. Vladimir's took Sofronov four years of painting night and day. He adopted a special diet designed to sustain him through this rigorous practice. He solved some architectural problems with wit and insight in his mural on the dome, locating the electrical anchor for the necessary chandelier on a book held by Christ at the top center of the painting, so that the chandelier actually represented the Light of Christ emerging from the Word.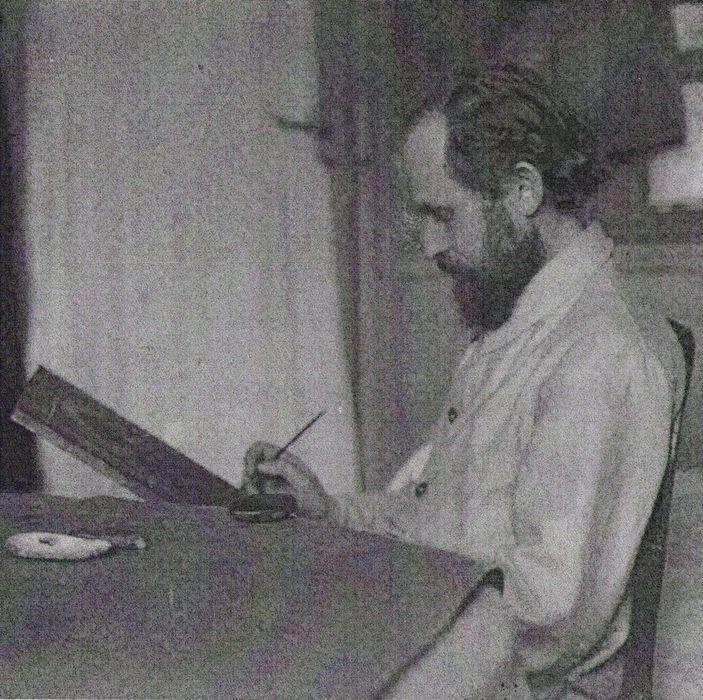 As further evidence of Sofronov's own cosmopolitanism, he provided figures of St. Olga and St. Vladimir, though partisans of each saint competed for the honor of having founded Russian Orthodoxy. His painting seemed to elide these conflicts, inviting immigrant worshipers from Ukraine and Russia to bury their differences. As another gesture toward shared cultural traditions, he featured St. Cyril and St. Methodius, jointly credited with originating Cyrillic writing. Finally, he mixes English and Church Slavonic in legible prayers, including the Roman form of the Lord's Prayer.
Robson argued that by this point in his life, Sofronov was mixing his identity from elements of Orthodox, European, and American experiences, as did many of his immigrant contemporaries in the 1950s.
Sofronov's last big commission was the tomb of St. John of Shanghai and San Francisco, but the detail that marked his earlier work blurs noticeably, suggesting both his waning strength and his failing eyesight. While formally retired in Millville, New Jersey, Sofronov continued to paint, including one striking icon executed (like a painting of Elvis) on red velvet. He died in February, 1973, and was buried in Millville.
Robson indicated that Sofronov's reputation had been eclipsed in the Soviet Union, but since the revival of the Russian church, interest in him in his native Estonia has begun to filter back into Russian circles.
Editor's note: In 1998 and 1999, St. Vladimir's Church contracted restoration experts Sergei and Nadezhda Gavrish and his wife to restore the icons darkened by candle and incense smoke and experiencing the deterioration and flaking of paint.
St. Vladimir Orthodox Church is located at 812 Grand Street. For a virtual tour, visit www.saintvladimir.org.
For information on the Trenton Symposium, go to www.trentonsymposium.org.