Art Funding
IAT & Isles open grant applications
The I Am Trenton Community Foundation and Isles invite applications for the 2023 Old Trenton Neighborhood Spring Grant Round, providing up to $8,000 for community projects, arts, culture, beautification, and business development in the neighborhood bordered by Perry Street, State Street, Route 1, and North Broad Street.
"We look forward to supporting residents putting their insightful ideas into action for our community," said Raj Manimaran, I Am Trenton Community Foundation board president. "These grants will focus resources to enhance the beauty, safety and vibrancy of Old Trenton."
The grant program, established by Isles, is funded by the New Jersey Neighborhood Revitalization Tax Credit Program. The program builds on priorities of the 2007 Old Trenton Neighborhood plan and the 2016 Creek to Canal Creative District plan (available at www.creektocanalcreative.org) to make Old Trenton a safe, active, and vibrant community, with a particular focus on reclaiming underused buildings and spaces, and supporting the arts as an agent of social change.
To be eligible for funding, projects must have a clear community or economic benefit, be non-discriminatory, and benefit the Old Trenton neighborhood and its residents. These grants only support projects physically located inside the Old Trenton neighborhood. Funded projects must focus on either business development or community investment.
IAT expects to offer two rounds of OTN grants in 2023, with applications due in February and October. Each round has a six-month timeframe for project activities.
Applications for this first round are due Wednesday, February 15, at 11:59 p.m. Submit all materials through the online form at iamtrenton.org/oldtrenton.
Grantees will be notified by March 23, with checks awarded at a celebratory gathering within the neighborhood on Saturday, April 1. Funded projects should take place between April 1 and September 30.
Applicants seeking business development funds must be located in the Old Trenton neighborhood, or must use grant funding to create a new location in the Old Trenton neighborhood. Priority is given to applications from entrepreneurs of color serving the Old Trenton community.
Applicants focused on community improvements may be located outside the neighborhood, but all activities must take place inside Old Trenton, and 75 percent of project beneficiaries must be residents of Old Trenton. Applicants should have a strong familiarity with the neighborhood, the ability to access locations in the neighborhood, and the ability to engage residents.
Isles has partnered with I Am Trenton to run the grant application process. IAT has been raising funds and supporting grassroots efforts across the city since 2007, learn more at www.iamtrenton.org.
Trenton Arts Fund announces awards
The Trenton Arts Fund at the Princeton Area Community Foundation has awarded $29,550 in grants to seven local arts, culture, and history nonprofits, in particular programs that support Trenton's young people.
Grants were made at the recommendation of the Trenton Arts Fund Grants Committee, whose members are local residents with a background in the arts.
Grants were awarded as follows:
Artworks Trenton: $5,000 for its Youth Art League, an affordable after-school art-focused program for children ages 9 to 16. Classes on gardening, mixed media art, drawing, painting, anime, sound and media, yoga, cooking, paper mache, and movement are taught with help from the organization's teaching artists and through its partnership with Isles.
Capital Harmony Works: $2,500, to provide operating support for its ensemble music education program, which offers up to 15 hours of weekly programming, enhanced by students' at-home practice time. As students rapidly develop skills, they are inspired to continue to achieve, not only in music, but also in academics and personal goals.
New Jersey Capital Philharmonic: $5,000 to expand its Educational Outreach Program, which brings musicians into Trenton schools, provides students with discounted and free tickets to all performances, offers free concerts in Trenton parks, and offers pre-concert lectures before performances.
Passage Theatre Company: $5,000 to support educational programming for the 2022-23 season, Foundations for Our Future. The theater offers student matinees and in-class postscript sessions to educate students on the dramatic themes. Passage artists also teach theatrical classes in local schools, and the theater created a Studio School for teens, ages 16 and older, which includes affordable theater classes.
Trenton Circus Squad: $4,000 to provide operating support for the program, which offers after-school and summer classes, teaching circus skills to help young people foster personal, emotional, and social development. The organization partners with more than 20 Trenton-area youth organizations to offer free programming for students.
Trenton Museum Society: $3,850, for its Trenton Forward: Youth and Arts Together program. The grant will allow the organization to purchase materials and supplies for its partnership with Trenton Public Schools and allow it to expand its Saturday family art and museum exploration programs.
Trenton United Family Foundation: $4,200 for its TUFF Digital Arts Program, a 10-week series of lectures and workshops for a group of city 8th and 9th grade students. Students will learn how to use photo editing and 3D graphic design skills.
To learn more, visitpacf.org/trenton-arts-endowment.
Art Happenings
Art from art journalists at Trenton Library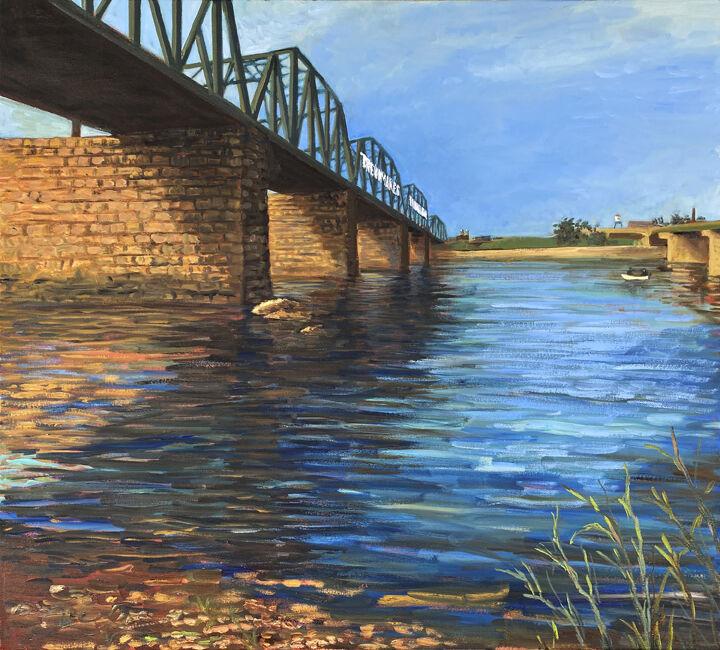 The Trenton Artists Workshop Association (TAWA) and the Trenton Free Public Library present the exhibition "Art from Art News Writers and Photojournalists" at the Trenton Free Public Library from February 8 through March 25. An opening reception is set for Thursday, February 9, from 5 to 7 p.m.
Participating in the exhibition are:
Ricardo Barros is an arts contributing writer to Icon magazine, Bucks County PA, and an internationally known photographer and has done artwork commissioned by Fortune 500 companies. Barros has work in the permanent collections of several museums including the Smithsonian Museum of American Art, the Philadelphia Museum of Art, and the Fogg Art Museum at Harvard University. Barros lives in Princeton.
Ilene Dube is a producer for the PBS series "State of the Arts" and a contributor to tristate media including Princeton Magazine, JerseyArts Features, and Hyperallergic. Her independently produced short documentaries have been screened at the New Jersey Film Festival, Nassau Film Festival, Trenton Film Festival, Princeton Environmental Film Festival, and at arts centers and libraries. Her art, which she considers play, has been exhibited in the Hopewell Tour des Arts, Phillips Mill, Hobart Art in the Native Landscape, Ellarslie Not Quite Open and Salon des Refuses, West Windsor Arts Council, and others. Dube lives in West Windsor.
John Gummere is an arts reviewer for The Trenton Journal. He is an award-winning artist and has exhibited at the d'Art Centre in Norfolk, Virginia, Alfa Art Gallery in New Brunswick, and Marblehead Art Association in Massachusets and is currently exhibiting in several venues in the greater Trenton area. His oil paintings on canvas use a representational style, with an emphasis on city scenes, landscapes, and interior compositions. Some of his favorite painters include Edward Hopper, John Sloan, and landscape painters of the 1800s. Gummere lives in Morrisville.
Aubrey Kauffman writes arts and photography articles for Community News Service (publisher of the Downtowner) and is a past photo and video journalist for New Jersey Network. His photos focus on the urban landscape and man's impact on the environment. He was president of TAWA from 1987 through 1996. His work is included in the collections of the NJ State Museum, Rider University, and Johnson and Johnson's Corporate Headquarters. Kauffman lives in Ewing.
Thomas Kelly writes reviews for the Community News Service and is an award-winning painter. Widely collected, his work has a signature style, which has its roots in Expressionism. His colorful, narrative, acrylic paintings on canvas often create a dialogue with the viewer. Kelly's work can be seen at Walter Wickiser Gallery NYC; Bethlehem House Gallery in Pennsylvania; The Artful Deposit Gallery in Bordentown; and Beauregard Fine Art in Rumson. Kelly lives in Hamilton Township.
Janet Purcell has been an arts writer for The Times of Trenton for more than 25 years. She also contributes to Woman's Day, Design NJ Magazine, and freelances for various magazine publications. She has written several fiction publications, including "Singer Lane," "The Long Way Home," and "Rooster Street-Legacy of a Runaway Slave." She works primarily in oils and pastels. Purcell has shown her work in several venues, including Trenton City Museum at Ellarslie; Brodsky Gallery, Chauncey Conference Center; RF Gallery at Prallsville Mill, Stockton; and Jewish Community Center, Trenton. Purcell lives in Hopewell Township.
TAWA is a Greater Trenton nonprofit organization and has a 40-year history organizing exhibits in such venues as the New Jersey State Museum, Trenton City Museum, Artworks Trenton, Prince Street Gallery in New York City, and more.
Trenton Free Public Library, 120 Academy Street. Mondays through Thursdays, 9 a.m. to 8 p.m.; Friday and Saturdays, 9 a.m. to 5 p.m. 609-392-7188.
For more information on TAWA, visit the organization's Facebook page.