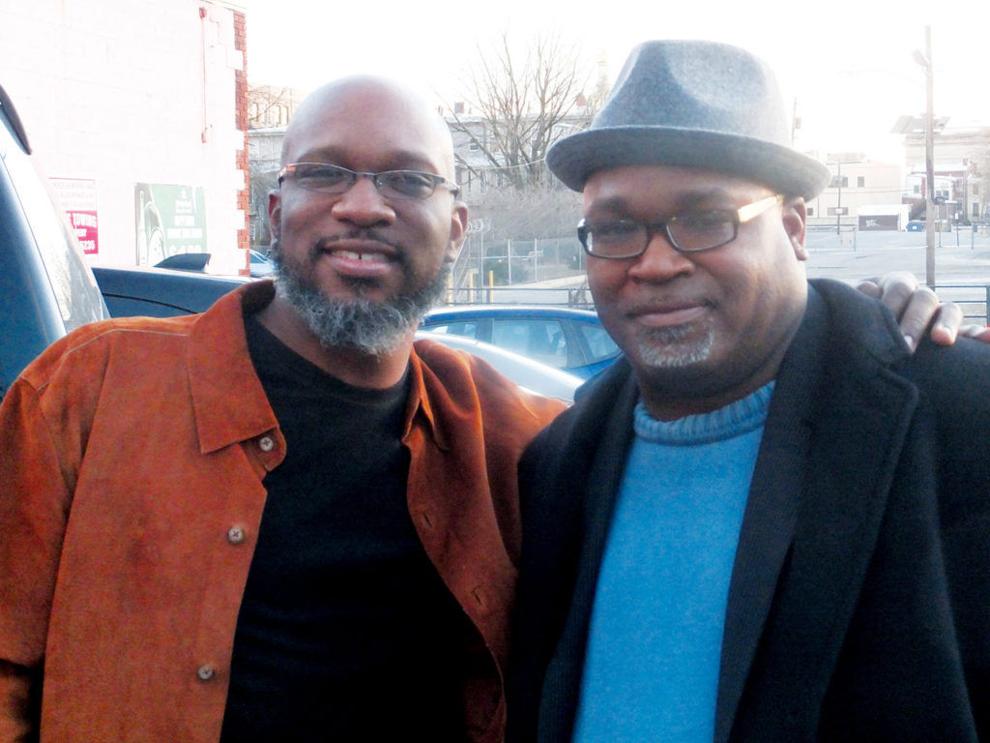 "I am an open mic host, community artistic event organizer, a bit of a poet, and run a community theater group — most, if not all, of my events are free," says Todd Evans.
A ubiquitous presence at poetry readings and spoken word events from Trenton to Princeton, Evans says, "I have been doing this for quite a few years."
Then the 56-year-old father of two biological sons, three foster sons, and four grandchildren adds, "I was looking to 'retire' from it, but when COVID came on and shut so much down artistically, the fire was lit to press on."
While Evans resides in Willingboro with his wife of 34 years, Debbie (aka "a saint and the wisest person I know"), he was born in Trenton to a noted arts family and maintains that connection with the Capital City.
His mother, Francis Evans, was a Trenton teacher and a mezzo-soprano who had performed at the White House.
His father, Don Evans, was a nationally noted playwright whose work examined the lives of Americans of African heritage and included such titles as "Mahalia" (a musical biography of Mahalia Jackson), "One Monkey Don't Stop No Show," and "A Love Song For Miss Lydia," the latter televised by New Jersey Network. He was also a Princeton High School English instructor and an adjunct professor at Princeton University and Rutgers University, where he taught and collaborated with the founders of Crossroads Theater.
Additionally Evans' brother is Grammy-nominated jazz pianist Orrin Evans. His sister, Rachel Evans, is a poet/educator.
Although he calls his parents "a huge influence" and graduated from Notre Dame High School, he dropped out of Morgan State University, a historically Black institution in Baltimore, Maryland. "I tried to follow them but somehow got distracted in a bad addiction and street life that neither of them exposed me to."
As tells it, he remembers his father producing new and classic Black plays in Trenton through the Players Company, seeing "all different kinds of folks coming together," and recalling "the family vibe and unity," and wanted to reconnect with that life.
"It took me quite some time to get back to 'here,' but I am back and have been serving the community ever since."
The road back included a stint in the U.S. Army, an associate's degree from Burlington County College, and a culinary certificate from Burlington County Institute of Technology — he's a fulltime chef.
He says his reentry into the art world was helped by being "mentored and pushed" by Trenton artists who knew his parents. That included the late nationally known poet Doc Long, noted Cool and Gang trombonist Clifford Adams, influential Trenton music teacher and saxophonist Tommy Grice, and the late Players Company actor and director — and Evans' godfather — Ken McClain.
"They saw (the potential) in me and guided me," he says. "The only obstacle is being wary of my own lack of confidence and low self-esteem. I suffer greatly there, but I learned how to 'fake it 'till I make it,' plus I have seen young people achieve from my events, so that is a great push as well."
Recently included in a NorthJersey.Com newspaper article on influential Black leaders, Evans pays tribute to his father through the Don Evans Theater Company, recently presenting a reading of "A Love Song for Miss Lydia" at the Trenton City Museum.
His stage name, Son of Black, also references his father. The elder Evans was a pipe smoker fond of Captain Black tobacco. Brother Orrin also uses the reference for the name of his band.
About his own work, Evans says, "My writing themes started out always being about the horrors of addiction and the freedom of recovery. I wanted to send a message about how bad addiction is and how good recovery can be. But that has broadened into poems about growing up, getting old, and my (grandchildren).
"The underlying intent of my events is for folks to be able to express themselves affordably, and avoid the dreadful 'cliquishness' of some events. You don't have to be the best at my events, but you can be. All are welcome."
Evans says some of the events coming up include "The Doc Long Poetry Through Windows Festival," the month of May I Am Trenton grant supported tribute to the poet that uses the posting of poems in the windows of Trenton establishments and a weekly Saturday open mic readings in front of Trenton's Classic Books (noon to 2 p.m.).
"We are looking for interested establishments, please call 609 346-4329 if you're interested in hosting a poem for a month," he says.
There is also the monthly free Friday open mic at the Ellarslie, the Trenton City Museum, in Cadwalader Park. Evans says, "It is streamed live off (the museum's) Facebook page, but the artists come and perform." The next event takes place Friday, May 30, at 7:30 p.m. To attend, visit www.facebook.com/watch/Ellarslie.