Trenton's art and cultural communities are proving once again they are the vital spark keeping the heartbeat of the Capital City — despite being hit hard by the pandemic.
If not convinced, simply take a look at the ambitious list of social protocol-minded events open to the region:
First Fridays
Art openings and a street festival held on the first Friday of the month are part of the city's summer reopening activities.
The 1911 Smokehouse BBQ Restaurant once again is cooking up street festivals on Front Street between Warren and Barrack streets and providing thematic gatherings featuring music, food, beverages, vendors, and whatever else they can put add to their already flavorful menu. Friday, June 4, 5 to 10 p.m. 11 West Front Street. 609-695-1911 or www.1911bbq.com.
Trenton Social Restaurant is back to hosting its First Friday art openings that launch month-long exhibitions of established and emerging artists mainly from the Greater Trenton area. This month is the work of sneaker artists Dez FlyKickz, June 4 through 30 (see related story, page 4). Coming up on July 2 is an exhibition of photos by noted area street artist Leon Rainbow. Friday, June 4, 7 p.m. to closing. 449 South Broad Street. 609-989-7777 or facebook.com/trentonsocial.
And the Mill Hill Saloon has also restarted its first Friday openings for exhibitions featuring works by regional artists. Summing up the coordinator's attitude, the saloon's website says, "We are all about local art, local music, and cool people mixing" and "respect the fact that the bar is in pandemic mode and hold true to the safety of all patrons. In other words: wear a mask and practice social distancing. Friday, June 4, 6 p.m. to 2 a.m. 300 South Broad Street. 609- 989-1600 or facebook.com/millhillsaloon.
Mill Hill Garden Tour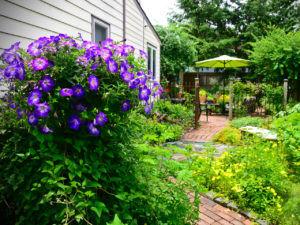 Trenton's historic Mill Hill district presents its 30th annual Garden Tour on Saturday, June 12, noon to 5 p.m., rain or shine.
The tour is run and organized by the Old Mill Hill Society and the residents of the Mill Hill community. The neighborhood, composed primarily of 19th-century row houses, welcomes guests in person to experience this memorable self-guided walking tour. Thoughtfully designed outdoor spaces combine nature and city living while adding residents' own style. In past years hundreds of guests from throughout the region have attended.
Guests can expect to tour approximately 15 gardens. The annual Garden Tour raises funds to support historic preservation in the neighborhood. Tickets are $20 and can be purchased online, where there is also information on parking and transit. Tour participants can also find more information and updates about special features for this year's tour on Facebook: facebook.com/MillHillTours and Instagram: @millhillhouseandgardentours. trentonmillhill.org/events.
Taste Trenton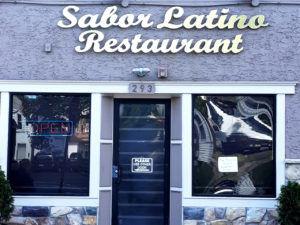 The popular Trenton restaurant crawl returns Friday through Sunday, June 11 through 13.
The nonprofit effort begun in 2016 introduces city residents and visitors to the vast culinary and eating options available in many corners of the city. What began as a day-long event with just a dozen restaurants in the Chambersburg region evolved to three days and 40 establishments across the city in 2019.
The format is a follows: Guests or "food tourists" purchase wristbands ($7 per day; $10 for entire weekend) from Taste Trenton and receive a guide (online this year) that describes participating restaurants (address, contact information, website, type of cuisine, alcohol license status). For their part, restaurants offer a tasting menu of their specialties that guests can sample for a reduced price ($2 to $5).
Wristbands can be purchased at Artworks on Hanover street (across from the Trenton MVC), and participants can visit as many of the restaurants as they wish during the weekend. Some restaurants offer a special Taste Trenton dinner option and many also have developed special "Taste Trenton" drinks and beverages that guests might enjoy. The Taste Trenton website maintains its restaurant listings throughout the year so patrons can learn about those places they missed during the tour weekend.
Participating restaurants include Big Easy Of Trenton, Braulio's Bakery, Casdeluna Restaurant, Cooper's Riverview, El Catador Bar & Grill, El Chapin Family Restaurant, El Manantial Restaurant, El Potrillo Restaurant, Frankyes Restaurant/Bar, Fuente Del Buen Gusto Latin Bakery, Guate Linda Restaurant, Gyro Express, Hummingbird, Ila Mae's Restaurant, La Cabana Bakeshop & Restaurant, La Chapinita, La Parilla Restaurant, Mama D's Soul Food 2, Mi Ranchito, Mill Hill Saloon, 1911 Smokehouse BBQ, North Side Café, Pura Vida Lounge, Restaurante El Buen Sazon, Sabor Latino Bar/Restaurant, Sunrise Luncheonette, 3 Sisters, Tikal Restaurant & Lounge, Tracey's Kitchen, and Zona Gallo. tastetrenton.com.
Juneteenth
Trenton's Juneteenth Weekend — the historic Freedom Day marking the end of slavery —- is set for Friday, June 18, through Sunday, June 20.
Coordinated by the African American Cultural Collaborative of Mercer County, the event includes a Friday night kickoff celebration at the Trenton War Memorial; a Saturday of Mill Hill Park events, including youth art activities, an adult and youth poetry/storytelling event, community stage presentations, bike ride registration, and West African dance and drumming.
Look out for Saturday's Mill Hill performances featuring Showtyme and DA Traffic, 12:15 p.m.; Grace Little Band, 1:15 p.m.; DJ/OG Band, 2:15; James White Band, 3 p.m.; DJ Presentations, 4:30 p.m.; Brooke Alford, Violinist and Band, 5 p.m.; Gerald Veasley, 6 p.m.; and Marcus Johnson and Band, 7 p.m..
And if that isn't enough, there's also Sunday's Gospel Concert at Mill Hill Park. taacf.com.
Art All Night
Trenton's major 24-hour arts event returns in a virtual format on Saturday, June 19, at 3 p.m. for a solid- day of visual viewing, musical performances, artist workshops, and more.
Organizers of Artworks' highly popular signature project hoped to be able to create a public event but once again decided to go virtual to address public health concerns.
The digital event continues to maintain the spirit of the project and includes music, film, lectures, workshops, and an art exhibition open to all artists who want to participate. artallnighttrenton.org.
The OK Project
Passage Theatre, Trenton's only nonprofit professional theater, presents a public reading of "The OK Trenton Project" on Saturday, June 19. The work was inspired by a 2017 event in which 16 students participating in a Trenton summer camp project led by HomeFront and supported by Grounds For Sculpture created a sculpture of hand from discarded materials only to find their "Helping Hands" censored by the City of Trenton and Trenton Police Department because of its potential resemblance to a gang sign. The incident caused a community outcry over police censorship and other issues related to class and race.
With the assistance of 2019 MAP Fund project grant, Passage Theater assembled an artistic team that began a two-year play development process that resulted in a digital draft reading in the February, 2021.
Participating in the artistic team are Passage performers, current and past Passage staff, and local artists, including writer and director Richard Bradford, Passage artistic director C. Ryanne Domingues, regional sculptor Bruce Lindsay, representatives of the "Laramie Project" developing Tectonic Theater Project in New York City, screen and Passage stage performer Johanna Tolentino, and former Passage associate director and resident playwright David Lee White.
The MAP Fund was launched in 1988 by the Rockefeller Foundation to support the development and production of original live performance projects that "embody a spirit of deep inquiry, particularly those that question, disrupt, and complicate notions of social and cultural hierarchies." Now an independent organization, its lead supporters are the New Jersey based Doris Duke Charitable Foundation and the Andrew W. Mellon Foundation in New York City. 609-392-0766 or passagetheatre.org.
The Ellarslie Open
The Trenton City Museum's premier annual juried exhibition runs June 26 through October 3 and features work by established and emerging artists. This year's juror is William R. Valerio, director and CEO of the Woodmere Art Museum in Philadelphia. A free outdoor public opening reception is set for Sunday, June, 27, from 1 to 4 p.m. Advance timed entry signup is required; details subject to change. A curator's talk and related programming are in the works, so check the website for more details — and a virtual exhibition. Trenton City Museum at Ellarslie, Cadwalader Park. Wednesday through Saturday, noon to 4 p.m., Sunday 1 to 4 p.m. Free. 609-989-3632 or ellarslie.org.
Jazz at the Candlelight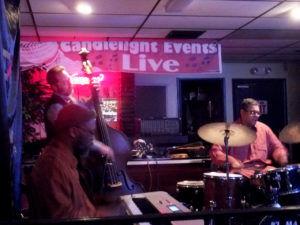 The Candlelight Lounge has reopened its doors and resumed its Saturday jazz offerings after several months being closed for the pandemic — something that hit both jazz musicians and Candlelight owner E. C. Bradley hard.
Bradley attempted to find ways to set up jazz streaming to help the musicians and the lounge but didn't find the support. Although discouraged and unsure of what COVID-19 was going to do to his business, Bradley had begun making Facebook postings in April saying he wanted to hear some live jazz. And then the doors reopened in May for socially distanced presentations by strong jazz pros from the tri-state area.
Yet despite vaccination rates going up and infection levels dropping, there is still an uncertainty in the air and while the lounge may seem like a nonprofit to support jazz musicians, it's a business that needs regional jazz and cultural lovers to show that love.
Here is the current list of quarter driven presentations: June 5, Carl Bartlett Junior; June 12 Andre Mucherson; June 19, Winard Harper: June 26 Monette Sudler; July 3, Rob Landham; July 10, Mike bond; and July 17, Jerry Weldon.
Jazz at the Candlelight Lounge, 24 Passaic Street. Saturdays, 3:30 to 7:30 p.m. $15 cover, food served with show. Masks, social distancing, and temperature check at entrance required. jazztrenton.com.
Old Barracks Museum
The Old Barracks Museum recently reopened for visitors to see this historic building that dates back to 1758, when it was used as winter British quarters during the French and Indian Wars, and later becoming historically important for its role in the Revolutionary War's crucial Battle of Trenton in 1776.
Visitors can meet 18th-century tradespeople who showcase Colonial-era skills, see the bunks where soldiers slept, tour the Officers' House, see a medical room, experience the thrill of a musket firing, and visit the Quartermaster's Shop for souvenirs as well as items from local artisans.
Following pandemic-related protocols, everyone must wear masks at all times. Visitation is limited to one group of no more than 10 people at a time.
The Old Barracks is located at Barracks Street in downtown Trenton and open Tuesday through Saturday, 10 a.m. to 5 p.m. Tickets are $8 to $10, with children under five admitted free. Visitation policy and hours are subject to change.
The Barracks notes that Old Barracks Association, the past year's loss of visitor revenue has presented a financial challenge and asked that people consider making a donation to support this nationally significant Trenton landmark. barracks.org/donate.
Stepping Into Tomorrow
The "Stepping into Tomorrow" art project will be emerging in front of the Trenton Transit Center this June. Trenton was selected for a $25,000 award from Bloomberg Philanthropies as part of its Asphalt Art Initiative, designed to fund visual art interventions on roadways, pedestrian spaces, and public infrastructure in small and medium-sized U.S. cities.
Trenton was one of 16 cities — out of 210 applicants nationwide — looking to use art to improve street safety, revitalize public spaces, and engage their communities.
According to City of Trenton materials, the Trenton Transit Center is one of the busiest train stations in the northeast, with approximately 450,000 riders annually. "Stepping Into Tomorrow" is part of a larger public art project currently underway in partnership with the City of Trenton, Artworks Trenton, and the State of New Jersey.
The overall goal of the project is to improve resident, commuter, and visitor safety as well as promote more individuals walking and biking to their destinations instead of driving.
Trenton was awarded $25,000 in grant funding to finance the first section of this project.
The project will be located at the South Clinton and Barlow Street intersection, heavily trafficked and considered to be the gateway into the city. The project is intended to be a permanent fixture of the transit area, and once complete, will only require minimal maintenance by Trenton's Department of Public Works.
The transit center is only a 10-minute walk from the historic Mill Hill neighborhood, city and state-owned offices, local businesses, and downtown Trenton. However, many individuals choose not to walk to the transit center because of a lack of appropriate signage, poorly maintained crosswalks, and uneven sidewalks that make the route unwelcoming to pedestrians. artworkstrenton.org.
Capital City Farm's 'The Future Is Open Ended'
The Capital City Urban Farm is cultivating both vegetables and the Lenapehoking ~ Watershed project this summer.
Using the Lenape name for the Delaware River watershed, the project was developed by the Alliance for Watershed Education of the Delaware River, a network of organizations with missions related to water-based conservation and education.
In partnership with the D&R Greenway, Mercer County, and the City of Trenton, the AWE commissioned Seattle-based environmental artist Sarah Kavage to create outdoor sculptures at several of its watershed sites.
The Trenton farm adjacent to the Trenton Area Soup Kitchen on Escher Street is partnering with Mercer County Park's Tulpakaking Nature Center, located on tidal watershed waters at Roebling Park in Hamilton.
The Trenton location was selected in part because of the district's connection to the historically destructive practices of "redlining" urban neighborhoods because of race or ethnicity.
The Kavage-led Trenton work is "The Future is Open Ended," a straw bale garden planted in March by community volunteers and designed to be a place for plant growth and community gathering.
Trenton street artist Leon Rainbow is coordinating a series of live events starting in June. watershedalliance.org and kavage.com.
Thunder Baseball
Trenton Thunder baseball returns — after a 2020 COVID shutout — to host the Triple-A Buffalo Bisons and be part of the newly formed MLB Draft League.
The change was made after the New York Yankees abruptly ended its long affiliation with Trenton.
The minor league Buffalo Bisons is a Triple-A East affiliate of the Toronto Blue Jays. The team usually plays its home games at Sahlen Field in Buffalo, New York. However, the Blue Jays are using it during the pandemic due to travel restrictions between the U.S. and Canada.
The 2021 Thunder schedule runs through mid-September and includes the following visiting teams: Lehigh Valley IronPigs, Rochester Red Wings, Scranton/Wilkes-Barre Railroaders, Syracuse Mets, and Worcester Red Sox.
Arm & Hammer Park is operating at 30 percent capacity, with seats sold in socially distant pods for one to six people. Tickets must be purchased in advance and average $15. www.milb.com/trenton.