This article was originally published in the April 2018 Trenton Downtowner.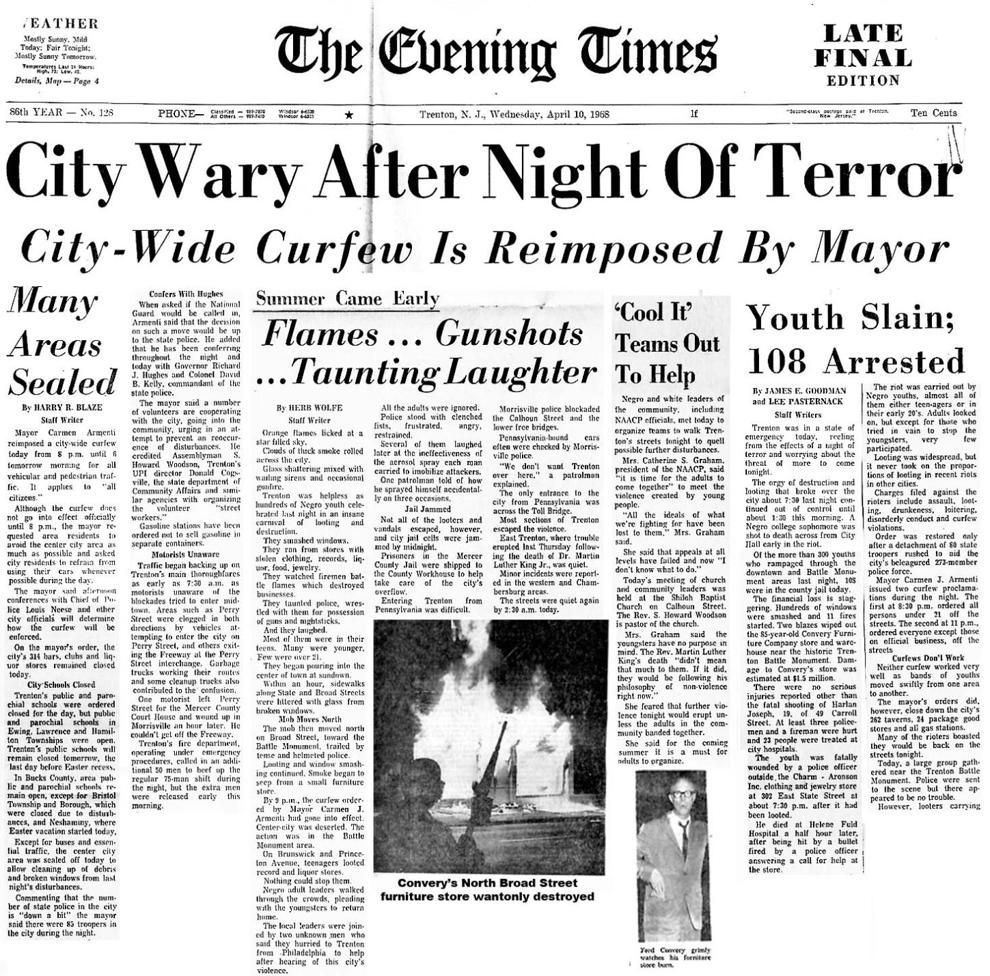 'Trenton is unexamined," says Purcell Carson. "Newark and the New York area get a lot of attention, but not Trenton."
Carson is providing some attention to one of the Trenton's more painful moments: the Trenton riots that took place 50 years ago this month. The program is "The Trenton Project Remembers April 9, 1968," set for Monday, April 9, at Artworks Trenton.
Carson is a documentary filmmaker who teaches urban studies and film at Princeton University. She is also a film editor and has worked on the Oscar-winning "Smile Pinki" and the 2011 film "Semper Fi: Always Faithful," which earned her a best editing award at the Tribeca Film Festival.
But for the past five years Carson has been producing "The Trenton Project" — a series of short films by Princeton University students on various subjects taking place in Trenton.
Recently the filmmaker and Alison Isenberg, a Princeton history professor specializing in the transformation of cities, have been looking into Trenton's past and examining the tumultuous events of the 1960s.
Carson is also making her own Trenton film on the April 9, 1968, shooting of 19-year-old Harlan Bruce Joseph.
Here are the details: Following Dr. Martin Luther King's assassination and funeral on April 9, 1968, Trenton residents took to the streets in grief and protest. Police arrested 300 people, and 200 city businesses were damaged.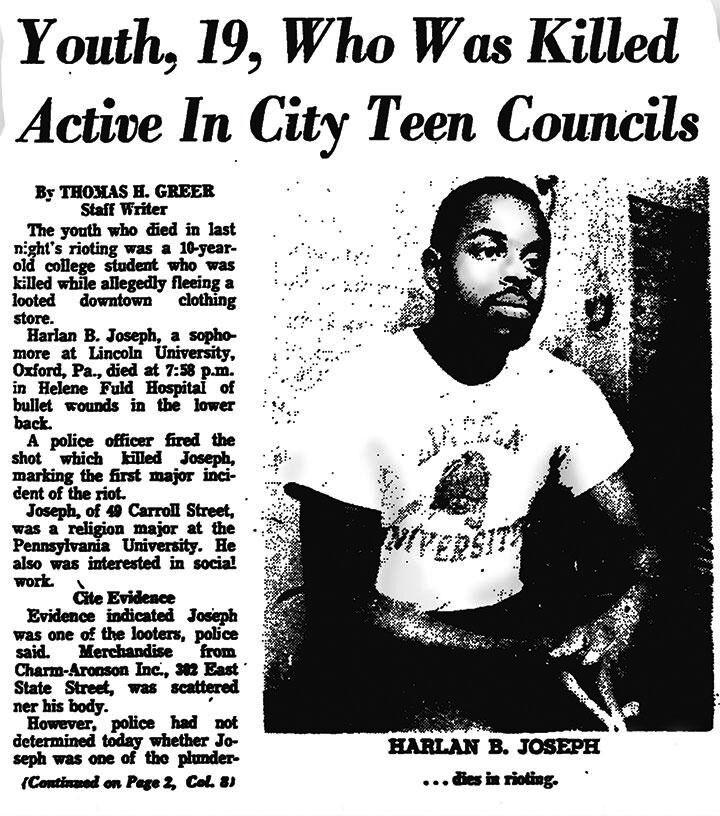 Joseph, a graduate of Trenton High and a member of Mayor Carmen Armenti's Youth Advisory Board, headed downtown, many say in an effort to quell the looting and violence. As the damage increased and tempers flared, shots were fired, and Joseph became the only fatality after being struck by the bullet fired by police officer Mike Castiello.
"Alison Isenberg led me to that story," says Carson as she prepares to film a section on the Joseph film. "(She) was teaching about the 1960s and was able to connect our experiences to a broader national story.
"We were eager to learn more about him. We wanted to tell the story and were lucky to find a Trentonian, Albert Stark, who could introduce us to his family. The film took off from there. In addition to being important local history, these discussions between Alison and me were happening in the year of Ferguson and all the police killings. It was incredibly resonant to the Black Lives Matter movement of today."
"I was interviewing one man who was recalling the riots of 1968," continues Carson. "And he said 'We destroyed our own city.' There are people who really think that. That they are responsible for destroying their own city in a single night. That's not something a population should carry with them. No group of people should think they destroyed their city because that's not what happened. After two years of research, we've come across some surprising details about what happened in Trenton that we're eager to share with audiences. The specifics of what happened say so much about this city, its people, and the 1960s."
While Trenton may be a relatively new topic for Carson, filmmaking is not. The daughter of two college professors, the Virginia-raised Carson studied film at Brown and Stanford universities. She divides her time between New York and Princeton and in 2009 married fellow Stanford student Markus Prior, now a professor of politics and public affairs at Princeton's Woodrow Wilson School.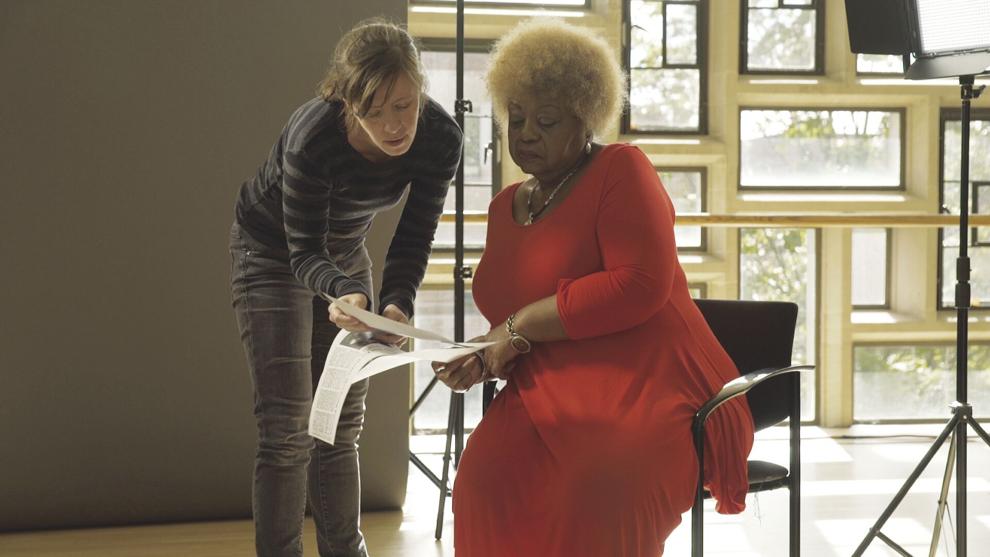 Now Carson's interview subject arrives — Sharon Joseph, Harlan's sister. This is Carson and Isenberg's second interview with Sharon, who currently lives in Covington, Georgia. Once cameraman Dan Quiyu sets up the lights and camera, Sharon takes a seat. "Thanks for coming in again," Isenberg says. Carson continues, "Since we talked to you last year, we've had some questions come up about Bruce and we were hoping you could fill in some details."
"Bruce" refers to Harlan Joseph. It's the name he went by among friends and family.
"Harlan loved to play basketball," Sharon says on camera. "He was active in church. He had a lot of friends. He graduated in 1966. He worked at a hotdog stand in Harlem in the summer of 1967. He had a car — we called it the 'Flintstone car' because the floor was missing. You could look down and see the road. He had such a sense of humor. I still miss him. I miss him terribly. The officer who shot him has never made a statement to the family. He said 'It's time to put 1968 to rest.' But 1968 will never rest. 1968 will never go away until we're all dead and gone. For my family, 1968 will never go away."
The interview continues for an hour or so. Sharon shares more memories of her brother. As she puts on her coat and gets ready to leave, Carson and Isenberg present her with a gift. "The Joseph family had a scrapbook about Bruce that we borrowed," Carson says, "but they only had one copy that they've been trading back and forth all these years. So we made her a copy of it."
"Thank you," says Sharon. "Maybe this movie will finally bring closure or justice to this whole thing."
"Cinema is a powerful tool, but I'm not sure this movie can do all that," Carson says.
Sharon smiles. "Oh, I think it will," she says. "I really think it will."
The Trenton Project Remembers April 9, 1968, Artworks Trenton, 9 Everett Alley, Trenton. Monday, April 9. Free. thetrentonproject.com. Artworks Trenton: 609-394-9436 or artworkstrenton.org.