"Trenton's Treasures: Watercolors by Marge Chavooshian and Robert Sakson" is the upcoming Trenton City Museum show opening October 9 and on view through November 18.
As curator Carol Hill notes, the two Trenton artists "documented the lives and the places" of the city and region.
The long-time Trenton-based artist Marge Chavooshian was born in 1925 in the Bronx, New York, to parents who immigrated to the United States to escape the Armenian genocide in Turkey.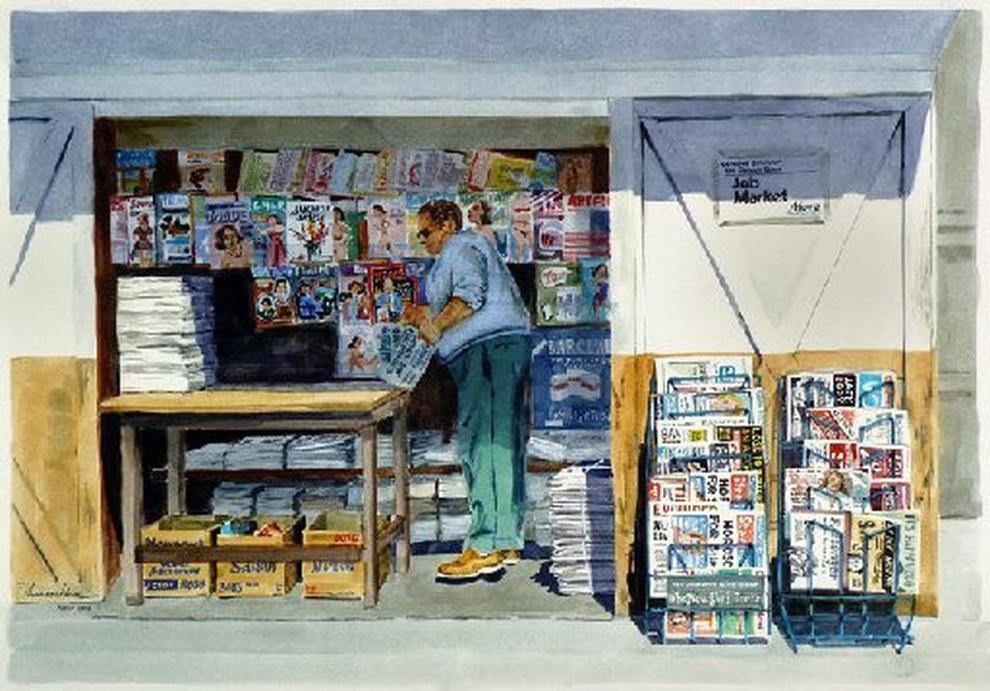 She studied at the Art Students League in New York City with Reginald Marsh and later with Mario Cooper.
As the New Jersey State Museum once described her, "Chavooshian is a plein air painter whose work is often of street scenes, facades, cityscapes, architecture, and landscapes. Her subject matter spans three continents: North America, Europe, and Africa, where she traveled extensively with her husband Budd Chavooshian, an urban planner a professor emeritus at Rutgers University. Marge Chavooshian's artwork concentrates on the geometrical shapes created by sunlight and shadows on buildings, becoming emblematic of her styles."
In addition to having work in national and international collections, including the New Jersey State Museum and Trenton City Museum, Chavooshian exhibited regularly was a member of state and national watercolor associations and a recipient of the first Artist Emeritus Award from the Garden State Watercolor Society. She received more than 163 awards, including a fellowship from the New Jersey State Council on the Arts to preserve, through her paintings, historical buildings threatened by development.
As nationally known Trenton artist Mel Leipzig noted in his introduction to Chavooshian's solo exhibition at the State Museum, "Marge Chavooshian feels that perhaps she was influenced by the big old house in the Bronx where she grew up. But whatever the motivation, she is an artist who is 'turned on' by buildings — not the buildings as literal form but by the shapes and contrasts of tones created by strong shadows. Consequently she usually paints in the afternoon when there is maximum impact from shadows on white wooden buildings, red brick buildings with blind arcades, and shadows that distort the shapes of windows and roofs.
"An insatiable sketcher, she begins her watercolors with black and white drawings and color studies done on location. Later in her studio — sometimes using photographs for additional documentation — she often zooms in on sections of the buildings when she is constructing her compositions. Possibly because the lower parts of many old buildings have been converted in anachronistic stores, she tends to concentrate on the upper parts where the structure has remained unchanged. She likes to play one style of architecture against another, and her wonderful feeling for the texture of buildings reminds one of the intricacies of textiles — another media, but the way, in which she has worked."
In the 1940s the artist studied with Reginald Marsh, who helped develop her love for drawing.
Leipzig says it was Marsh "who helped develop her love for drawing" and that her use of watercolor "started because she wanted a medium that was amenable to immediacy and outdoor sketching." And that the detailing of her work "is never indicative of fussiness but represents, instead, a sense of neatness combined with great energy. Nor is there an appearance of slick, feeling-less architectural renderings. But there is a sense of forthrightness, charm, delight, and enthusiasm for her subject that is source of pleasure and the secret of popularity."
The former Trenton Public Schools art teacher died in 2018.
Robert Sakson was born in Trenton in 1938 and studied at Mercer County Community College in West Windsor before launching a successful career as an art director and illustrator.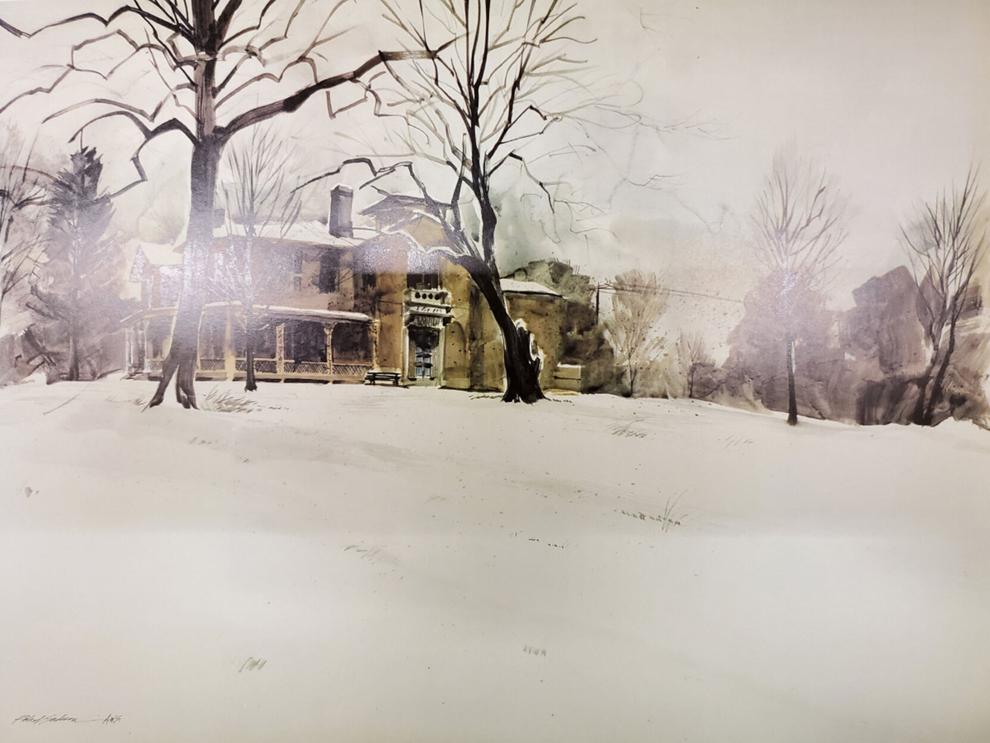 At the same time, he established himself as a fine artist and a member of several national and regional watercolor associations. He works were included in numerous exhibitions, and his works are in private and public collections.
The artist who maintained a Trenton studio said the following about his work:
"No matter how many times I paint farms, rivers, antique shops, homes, and roads winding through the community, I never cease to be inspired. The Delaware Valley is a special place, but I think any artist can find his or her best material right outside the front door. That's what they know best and has the strongest emotional connection."
A frequent visitor to the New Jersey shore, Sakson, who died in 2020, was noted by Echoes of Long Beach Island writer Susan Spicer-McGarry with the following:
"Robert Sakson believed that art chose him. If that is so, art chose well. For during a career that spanned his lifetime, he became a highly lauded water-colorist and was awarded Dolphin Fellowship in the American Watercolor Society.
"With tenderness, intimacy, and bracing inventiveness, Robert's paintings channel scenes of contemporary life, usually of historical places and time-tested landmarks in New Jersey. He was among the first artists to paint these sites on Long Beach Island.
"Robert painted plein air, surrounded by the light and the feel of the day of places that inspired him. His works translate the mood of the landscape and capture the moment. A still-proud lightship on dry land awaiting salvation, 'The Lightship Barnegat,' is a glorious mixture of red hull and blue sky. In 'Fishing at the Light,' anglers stand in quiet solitude; in the background, Barnegat Lighthouse soars skyward — red and white into blue. Some subjects, like 'Shack,' the abandoned hunting hut turned LBI icon, have since been lost to time, progress, or storms. The halcyon summer days of 'Gloucester Avenue, Harvey Cedars' and 'Kelly's Ice Cream' offer glimpses of a not-too-distant past, of an LBI some never knew, and touch the hearts of those who did.
"For more than a decade, Robert's paintings have graced the pages of Echoes of LBI. He leaves behind a body of work that is a monument to his memory. He will be greatly missed."
Trenton's Treasures, Marge Chavooshian and Robert Sakson Trenton City Museum, Cadwalader Park, Trenton. Opens Saturday, October 9, and on view through November 14. Open Saturdays, noon to 4 p.m., and Sundays, 1 to 4 p.m. Free. 609-989-3632 or www.ellarslie.org.