One of the most improved boys' basketball teams in the Colonial Valley Conference has been sparked by one of the conference's most improved players.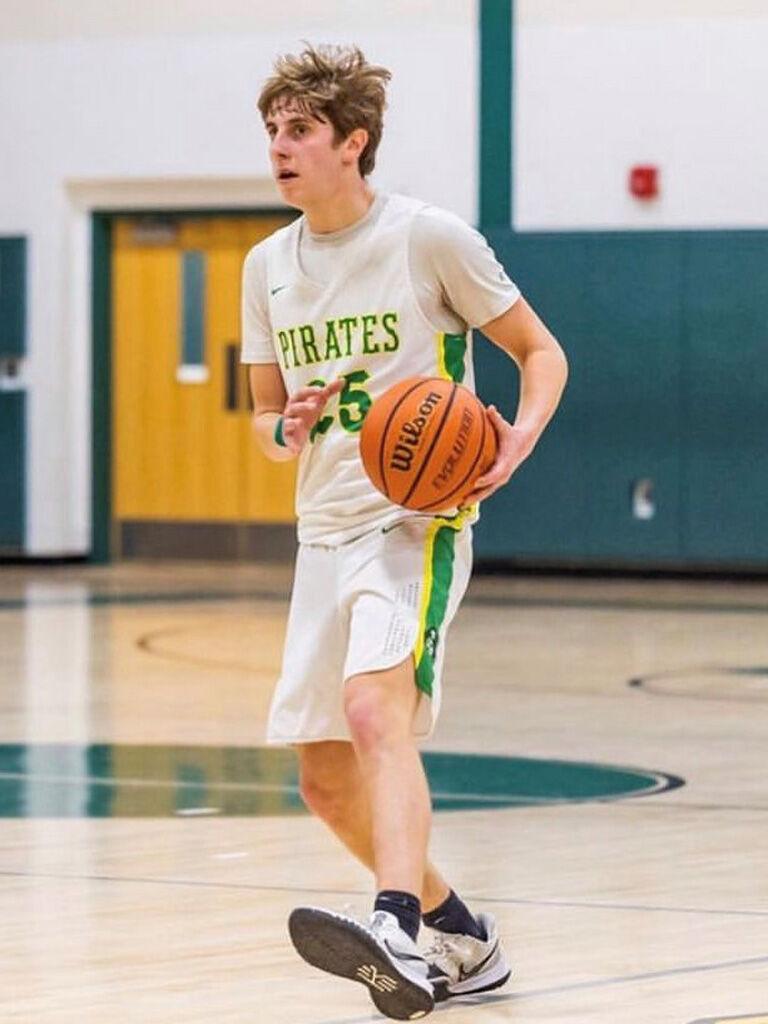 Ben Jaclin was good last year as a junior, but he has taken it to a new level as a senior in helping High School South to a 9-6 record as of Jan. 23 and victories over some of the CVC's top teams. The Pirates were 7-11 last year.
"I definitely feel being an underclassmen on varsity as a sophomore (in a four-game season due to COVID) and also last year, I've been able to learn from upperclassmen at the time," Jaclin said. "Last year it was Ricky Boone, the year before it was a couple of others. I feel I was able to take everything they did and learn from it, and do my own thing along with that.
Among the Pirates successes were victories over Robbinsville, Nottingham and Hightstown, which are considered three of the CVC's top teams along with Trenton and Ewing. They lost to the Blue Devils by just two points. Against the host Rams, South trailed 20-6 after one quarter before Jaclin's 30 points sparked a 55-52 win.
Jaclin is putting together a season-long highlight video. After averaging 16 points with 35 3-pointers, 49 assists and 32 steals last year, he has pumped up those numbers to 18.6 points per game with 55 assists and 19 steals through 15 contests. His 3-pointers are down a bit as he had 25, but there is good reason for that..
"He definitely focuses more on penetrating this year," first-year head coach Chris Gero said. "We run a lot of high pick and roll with Ben and Shubham Bhayana having the ball in their hands, and either J-Hova Bradley or Quintis Crosland setting that screen. A lot of that makes it so they can get downhill and whether they can score from there or have that dump off pass to the roll man or the kickout to the open shooter. That's what's contributing to his three-point attempts being lower."
Jaclin feels part of it is that he looks to set up teammates more. "This year I'm more of a playmaker," he said. "I'm definitely bringing the ball up a lot, so I'm not getting set up for threes, but I'm creating more. I'm trying to get to the basket and kick out to my teammates, while in past years I would just sit around the perimeter more and wait for others to get me the ball."
Jaclin has been hooping all his life, starting West Windsor rec ball in elementary school before joining the Newtown, Pa. Rebels AAU team in fifth grade. He remained with them until this year, and also plays in a rec program in Monroe with his WW-PS teammates, saying "I wanted to keep playing with my guys, keep up the chemistry."
Greco was an assistant during Jaclin's sophomore year and feels he would have been a starter had there been a normal season rather than four games all against WW-P North. Last year, he was the team's second leading scorer behind Ricky Boone.
After the Pirates graduated three seniors and Bryson Whitfield transferred to Trenton Catholic, Jaclin found himself the team's only returning starter. He was ready for the challenge.
"Ben is everything you look for in a student athlete," Greco said. "He's a leader and a basketball player on the court, off the court. We have three captains, Ben, Kai Hanson and Shubham Bhayana. We have leadership across the board, but really, Ben leads all of them."
Jaclin understood immediately what was expected of him; and realized that he had to set an example and be there for the rest of his guys. Burger King and Taco Bell have been put on hold for the winter.
"I know the team this year relies much more on me," he said. "I can't have games where I'm not shooting the ball a lot or creating for my teammates. I need to be locked in every game and just providing for the team. Just having that mindset, that I can't be taking games off.
This past summer, Jaclin went from a camper to an instructor at Pine Forest Basketball Camp in the Poconos, where he attended for years. He coached a few teams at camp and felt that experience aided in his duties as captain.
"I think that's helped with the stuff in basketball that I haven't had to do the past couple years – always keeping my teammates' heads up and holding everyone accountable," he said.
Ben also spent time in the weight room and played on the Pirates soccer team last fall, wanting to be in top shape when the season started.
The 6-foot-1 guard served notice of what this season would be like right from the start. In the opener, he had 26 points, five rebounds and four assists in a win over West Windsor-Plainsboro North. He went for over 20 in the first three games, and exceeded that mark six times in the first 15. He had scored in double figures every game, and had 17 or more 10 times.
But points are only part of his contributions. "He's been amazing on the court," Greco said. "They've put a little extra defensive attention on him, so then he can make plays for others and that's what he's done so well. As we've moved forward he will continue to be the focal point of other teams' defensive approach against us. So it's not only him still scoring to make us successful but him making other plays as well."
He has also improved at the other end of the court.
"I feel in the last two years I wasn't a defensive liability but I hadn't had much of a positive impact on defense," Jaclin said. "This year I'm much stronger than I was. I've learned how to start taking charges, that's a bigger threat to guys on the other team."
And then there are the intangibles. The mindset that can't be taught or coached. It just has to be within a player.
"If he makes a mistake, he's not gonna make it a second time, and that's obviously a huge benefit to the way that he plays," Greco said. "And he wants the ball in his hands at all times. Most of the time this year if we need a play, he's going to make a play and he's gonna put it in the basket for us more often than not; or make a pass that leads to a basket."
Jaclin is also a standout off the court, sporting an unweighted GPA of 3.8 and serving on the school's student council. He is waiting to hear back from University of Maryland, his number one choice in schools, and has already been accepted at Penn State, Indiana, Delaware, Pittsburgh and Massachusetts.
Outside of school, he does work with the West Windsor Boys Charity Group, which aids the township by holding things such as spelling bees and ping pong tournaments. And he belongs to the Jewish Community Youth Foundation, which raises money each month for different charities.
"That definitely makes me feel good," Jaclin said. "I like doing it with my friends. We all like helping out and doing whatever we can."
Those exact same words could apply to what Jaclin does on the court as well. And WW-PS has become a team to watch this year because of his contributions.
"I also feel like I'm taking basketball more seriously off the court. Making sure I'm always eating right and before the games I'm stretching more. Just taking care of my body. I think that contributed a lot. I didn't really change my diet, but I'm being more aware, especially on game days. I'm not eating fast foods and stuff like that. Just making sure I always feel right on the court and I've noticed the difference."